---
Officers and Gentlemen
Some wardroom characters on the
Westminster


In 1939 the commanding officers of Royal Navy warships were all regular Navy but the wardroom contained a mix of RN, RNVR and RNR officers. Derek Tolfree went to HMS Worcester, the Merchant Navy's equivalent of Dartmouth, joined HMS Westminister as an RNR MIdshipman and expressed the widely held view that "In the RNR we were sailors trying to be gentleman and in the RNVR they were gentlemen trying to be sailors". Later in the war both RNVR and RNR officers were given command of their own ships.
Lt.Cdr. Aymé Arthur Carrington Ouvry RN (1904-89) was CO from December 1939 to August 1942 and earned Westminster the title of "E-boat Killer No 1" after an action on 12 October 1941 in defence of Convoy FN.31. His previous ship, the minesweeper, HMS Mastiff, had been blown up in the Thames estuary on the 18 November 1939 while attempting to locate and retrieve one of the new magnetic mines which threatened to close the Thames to shipping.

Derek Tolfree, a young Midshipman who joined

Westminster

in December 1942, described the eccentric first lieutenant:


One early 1st Lt always wore a wing collar, had only 3 buttons on one side of his reefer, kept a monkey on board and went to dances at the North British Hotel, Edinburgh, where he would eventually leap onto a table and eat his wine glass, complaining bitterly of indigestion when we next went to sea. He also insisted on everyone having a nickname and no one was allowed to be addressed by their proper title. Hence we had "Crackers", "Brickwork", "Teddy", "Rough Tough", "Pull Through" (me), "Dizzy", "Titus", "Guff" and "The Gooner".

The most senior lieutenant on
Westminster
in 1941 was John Harmer
. It may be no coincidence that he was treated for abdominal problems. A taste for crunching up glass was it seems not uncommon in the Navy. Frank Donald told me of a submariner who was approached at a reception by the Mayor with a glass nibbled all round and said "look what one of your officers has done". The CO replied "what fools my officers are to leave the best bit" and swallowed the stem. True or false such stories do reveal another aspect to life in the Royal Navy.

John Harmer came from an eccentric family. He was the younger brother of Lt. Richard J.A. Hamer (1911-60), The South Wales Borderers, who was arrested in his army camp and interned for sympathy with the British Union of Fascists (and subsequently sued the Home Secretary for damages) and son of Lt.Col. Frederick Alexander Hamer, RM (1886-1972) who was dismissed the service by sentence of a general court martial on 21 October 1941. The reputation of
Lt John Anthony Hodnet Hamer RN (1916-77)
was not damaged and he briefly succeeded Lt.Cdr. Aymé Arthur Carrington Ouvry as CO before becoming CO of HMS

Worcester

.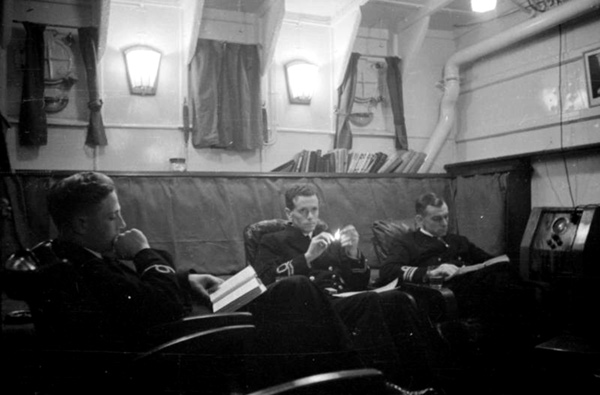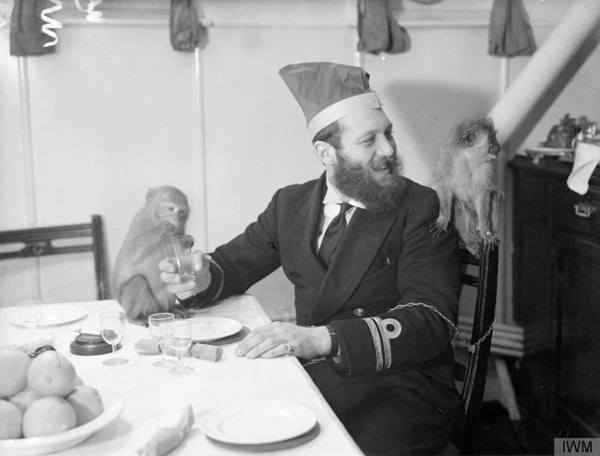 Lt.Cdr. Aymé Arthur Carrington Ouvry RN and his officers relaxing in the Wardroom in October 1940 and the First Lieutenant and his monkeys enjoy their Christmas dinner in 1941
Lt John Anthony Hodnet Hamer RN was the most senior of the three Royal Navy lieutenants (M. Cashman, J.A.H. Hamer & R. Kersley)
on

Westminster

in December 1941
.
He briefly succeeded Lt.Cdr. Aymé Arthur Carrington Ouvry RN as CO of

Westminster

before being appointed as CO of HMS

Worcester



© Crown Copyright: IWM
Lt.Cdr. Harold Godfrey Bowerman, DSC, RN
was CO when Derek Tolfree joined as Midshipman. He was a former submariner who was in command of HMS

Oxley

when she was sunk by HMS

Triton

off Norway on the 10 September 1939. Bowerman and a lookout on the conning tower were the only ones saved. This was the first British warship to be sunk in the war. In May 1940 he was the CO of HMS

Walpole

, a sister ship to

Westminster

, which took three men to Ijmuiden, the gateway to Amsterdam, on the 12 May to snatch industrial diamonds from the Netherlands before they could be seized by German forces. This secret operation was the subject of a book, A

dventure in DIamonds

by David Walker (Norton, 1955) and a British film, "Operation Amsterdam", starring Peter Finch, Eva Bartok and Tony Britton made in 1959. Bowerman commanded HMS

Douglas

and HMS

Leamington

before being made CO of

Westminster

in August 1942.

Bowerman was greatly respected but was very short and stood on a box when on the bridge and was known as "Stumpy". HIs "No 1", Lt A.R.H. Tedford RNVR, was popular in the wardroom and with the men but did not get on well with his CO. Eric Brett, the Wardroom Steward, whose job it was to look after Bowerman and Tedford, said Bowerman would have preferred his other lieutenant, an RNR, as his No 1. He
thought RNVR Officers were "Saturday night sailors".
Lt Tedford died in a tragic accident when he fell overboard
from HMS

Urania
in Sydney harbour and drowned in April 1946. He was only 26.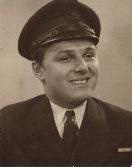 Eric Brett (left) was not yet 16 when he joined the Navy. He wanted to be a Boy Telegraphist but the Navy decided he was too young but could become a Boy Steward. He joined

Westminster

in 1943 and slept in the Tiller Flat at the stern and ate with PO Officers' Steward Tom Gilham from Gosport in the Officers' Pantry.
The CO spent most of his time in the Sea Cabin beneath the bridge and was not often seen in the Wardroom.
Eric took his food from the Officers' Galley at the stern to his cabin using the line strung the length of the deck in heavy weather. He brought soup and sandwiches to the bridge for the Officer of the Watch.

Eric had lots of stories to tell about the "boys in the wardroom" who had as much fun as the boys on the mess decks at the bow. On a run ashore at the end of a convoy they stole the small ornamental brass cannon outside the residence of the Captain of the naval dockyard at Sheerness, took it back to the

Westminster

and blew it up
while attempting to fire a salvo
. Eric also remembered games of rugger (without a ball) in the wardroom which left it a wreck. The Wardroom was quite cosy with a coal fire to keep it warm in winter which was only lit in harbour.

Whenever

Westminster

left harbour Glen Miller's "American Patrol" was played over the Tannoy but music was never played at sea to avoid giving away their position, messages being passed by the Bosun's Mate using his call.
Eric Brett's action station was in the aft magazine where he loaded the 4-inch shells into a "cruet", four at a time, to be hauled up on deck to the Gun Crew. The Guns were mainly a defence against aircraft and mostly used HEHA (High Explosive, High Angle shells) instead of High Explosive Armour Piercing Shells (HESAP).


Lt. John Edwin Dyer, DSC, RN
succeeded Bowerman as CO. Derek Tolfree thought "Johnny Dyer was a wonderful guy". He joined as a lieutenant and had been a senior officer of coastal forces and First Lt on

Samaurez

in the

Scharnhorst

action where he won his DSC.


If you want to find out more about the wartime service of a member of your family who served on HMS

Westminster

you should first obtain a copy of their service record
If you have stories or photographs of HMS Westminster you would like to contribute to the web site please contact Bill Forster or Vic Green

---