---
AB Colin Hugh Seaman JX232260
and the sinking of U-761 on 24 February 1944

Colin Seaman was born in Forest Gate, London, on 19 October 1923, the son of a hairdresser, and was 93 when he died on 2 February 2017. He left school when he was fourteen and had a series of short lasting jobs: a Telegraph boy at the Post Office (he failed his exam and left), a small engineering firm, a "shop boy" doing odd jobs in a grocery shop (scrubbing floors, cleaning windows, delivering customer orders by bike) and as a capstan operator in an engineering company making machine tools. Colin loved cycling and bought a new BSA bicycle with money earned from a paper round and cycled all round the south coast staying at Youth Hostels.


Colin is on the right In the photograph on the left taken at Algiers in December 1942 after the landings in North Africa, Operation Torch, Colin is on the right.
The photograph on the right was taken at Alex in 1943 after the first through convoy from Gib and shortly before the landings in Sicily, Operation Husky.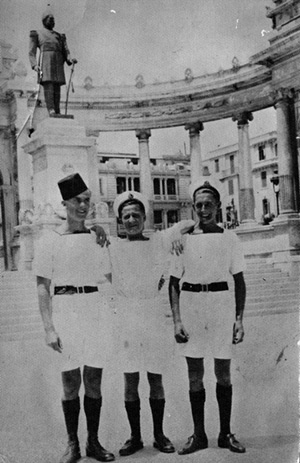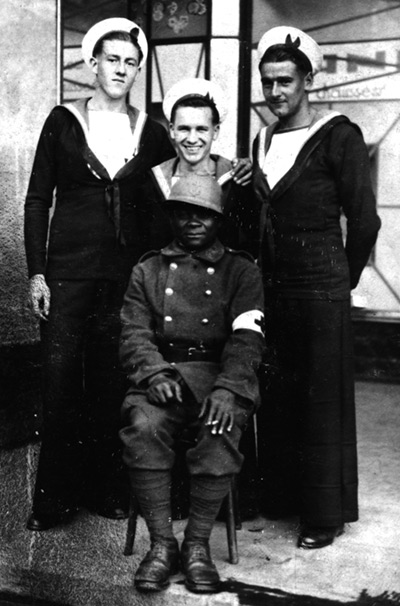 He volunteered for the Navy on 16 December 1941 when he
was eighteen. After three months training at HMS

Collingwood

, and two months at HMS

Victory

, Portsmouth, he was drafted to HMS

Wishart

at Gibraltar and went there on a troop ship, the

Llanstephan Castle.



He joined

Wishart

on 22 April as an OD (Ordinary Seaman), was promoted to AB on 15 October 1942 and remained aboard until 12 May 1944 when she was paid off.

Colin Seaman's action station was on X Gun at the stern.
The big 4.7 inch guns were breech loading without brass cartridges. The gun crew of six or seven men included the captain of the gun operating the breech, the loaders who put the cordite case (of thin leather like a silk stocking) in the breech after the shell had been rammed home. The cordite was detonated by a small cartridge placed in the breech after it was closed. There was also a gun layer (elevation), gun trainer and sight setter receiving orders from the Gunnery Officer on the bridge. Colin was the sight setter. During their "club runs" to Malta they were bombed so often they slept on the gun deck to be close to their guns.

Colin Seaman's name caused some embarrassment on paydays when the crew assembled on deck, caps off, stepped smartly forward to the desk, and gave their name and rank, "Seaman, AB". Curiously, a stoker on

Wishart

was also named Seaman, the only person he ever met who had the same surname as himself.


In June 1943 Cdr Scott in

Wishart

was the senior officer of the Escort for GTX.3, one of the first through convoy from Gib to Alex after the surrender of Axis Forces in North Africa. On arrival at Alex the crew went were given shore leave before returning to their ship to escort the troopships to the landing beaches in Sicily, Operation

Husky

.


When Cdr Scott left at Malta and a Lieutenant was appointed as CO he became his officer's servant. His duties included taking him his breakfast in his cabin when in harbour and when at sea bringing his meals to his sea cabin near the bridge. He did his washing and cleaned his cabin.


One of his most vivid memories was

the sinking of a German U-Boat, U-761,

on 24 February 1944. They were on a regular patrol in the Straits of Gibraltar between Cape Trafalgar and Cape St Vincent when a Catalina flying boat detected a u-boat with an airborne Magnetic Anomaly Detector (MAD) and marked its position with smoke bombs. This is believed to be the first time a u-boat was detected and sunk by this method and there are a remarkable series of aerial photographs of the action taken from the plane. The following description of the action is taken from a posting on the WWII Forum but based on the very detailed account
on U-Boat Net
.
"On the afternoon of the 24th February, 1944, HMS

Anthony,

Wishart

and

Wither­ington

, together with M.A.D. fitted Catalina aircraft were patrolling to the westward of Gibraltar. At 1558 one of the Catalinas obtained contact and smoke floats were dropped between

Anthony

and

Wishart

. The former closed and made contact by asdic ; she did not, however, attack but crossed the target, thereby causing the aircraft to lose their M.A.D. contact.

Anthony

prepared to attack but found herself fouled by Wishart who had also closed and the asdic contact was then lost.
The ships and aircraft began a search. After about an hour the Catalinas regained contact.

Anthony

closed the smoke floats which they dropped and established asdic contact but on the aircraft reporting that they were about to attack, she altered course to port and reduced speed to 7 knots in order to minimize the interference caused by her wake through which contact was, in fact, held. The Catalinas made three attacks with Retro-bombs.
Anthony

attacked herself at 1701 and with a ten-charge pattern brought the U-Boat to the surface, more or less out of control. As she began to submerge

Wishart

attacked with another ten-charge pattern and at 1712

Anthony

dropped a third ten-charge pattern set shallow.
The U-Boat again came to the surface, this time too damaged to continue the fight. Under fire from the ships and attacked by U.S.N. Ventura aircraft and Catalina G/202, her crew abandoned her. She sank within a few minutes. 9 crew died and 41 survived."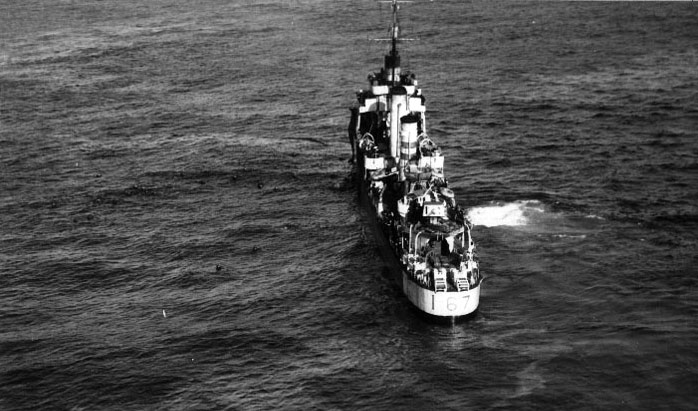 HMS

Wishart

rescuing survivors from U-761



Wishart

depth charged U-761 to the surface, the crew scrambled on deck to escape and the U-Boat rose on end like a cigar and went down vertically taking many of her crew with it. The rescued crew members were put in the Tiller Flat and the CO, OberLt. z.See Horst Geider, in the Wardroom. Colin Seaman was given a pistol and told to stand at the door and make sure he did not leave. You can read his interrogation after capture on U-Boat Net.
You can read his interrogation after capture on U-Boat Net
.



Wishart

also rammed a Vichy French sub, damaged her own bow and had to go into a floating dry dock at Oran for repair. He did not know if the French sub was sunk.

He remained with HMS

Wishart

until she was paid off at Portsmouth in 1944. He was sent on a gunnery course at HMS

Excellent

on Whale Island, Portsmouth, before joining HMS Glenroy, a Landing Ship, Infantry (LSI). They went to the Far East, took troops aboard at various ports in India and took part in the assault on Rangoon in May 1945. The LCI could carry 12 or more Landing Craft Infantry (LCI). They went up the Irrawaddy, anchored and lowered the LCI over the side and they ascended the river to Rangoon to unload their troops. Colin's Action Station was on one of the two Oerlikon mounted on gun platforms either side of the funnel. They also carried out beach landings on the Malay peninsula. He left Glenroy on 9 February 1946 and returned home from Colombo on the cruiser, HMS

Berwick.

His last months in the Navy were spent at HMS

Victory

and he was demobbed on 29 June 1946.

He had no trade and on being discharged worked as a labourer building roads until he got on a Government training course and learned joinery and carpentry and in time became a skilled cabinet maker and worked for a friend, Ken Halmes, who had his own small carpentry and joinery business. Colin Seaman married Doreen White and they had three sons and a daughter.


Colin Seaman lived in his own home in Burnham on Crouch, Essex, with family living neareby and died on Thursday 2 February 2017 at the good age of 93.
If you have stories or photographs of HMS Wishart you would like to contribute to the web site please contact

Bill Forster
---
Return to the Home Page for HMS

Wishart
Return to the Home Page of the V & W Destroyer Association
Return to the Index Page for the 69 V & W Class Destroyers
---