---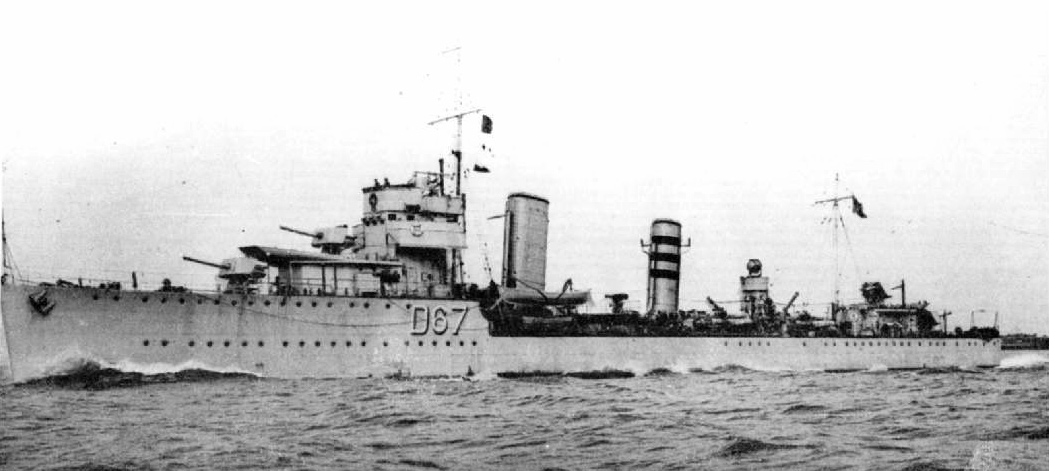 Click on the links within this brief outline for first hand accounts by the men who served on HMS Wishart and for a more detailed chronolgy see www.naval-history.net

HMS Wishart (D67) was a Modified W-Class Destroyer ordered from Thornycroft at Woolston, Southampton, in January 1918. She was launched on 18th July 1919 and named after Admiral Sir James Wishart (1659-1723), Captain of the Fleet at the Battle of Vigo Bay in 1702 and MP for Portsmouth. She was completed in June 1920 and is easily distinguished from other ships of this type by having two funnels of almost equal height. During the inter-war years she served in the Atlantic Fleet and the Mediterranean where she was commanded by Cdr Lord Louis Mountbatten from 1934-6 (see photograph below).

From September 1939 she was based at Gibraltar with the 13th Destroyer Flotilla escorting convoys to Liverpool but in March was transferrred to Freetown, West Africa, for the local escort of Atlantic Convoys. In June 1940 she returned to Gibraltar and operated with H Force escorting carriers flying off aircraft to defend Malta. On 27 June 1941 she sank the Italian submarine, Glauco west of Gibraltar.

In July 1941 she returned to Britain for a refit and conversion to a Long Range Escort (LRE) but because the boiler room arrangements did not allow an increase in her fuel capacity the conversion did not proceed and she remained a high speed Short Range Escort (SRE) with enhanced armament. Cdr. Humphrey Gilbert Scott, RN was appointed CO in September 1941. The photograph of the ship's Company was probably taken at that time. In February 1942 Wishart was adopted by Port Talbot, Glamorgan, after a successful Warships Week National Savings campaign.

After post refit trials she returned to Gibraltar and as part of Force H escorted repeated operations to fly off aircraft to defend Malta. With HMS Wrestler (D35), and aircraft of the Royal Air Force's No. 202 Squadron she sank the German submarine U-74 with all hands east of Cartagena, Spain, in a depth-charge attack on 2 May 1942. In August 1942 she escorted the convoy which broke the blocade of Malta, Operation Pedestal, during which the aircraft carrier, HMS Eagle, was lost.
In November 1942 she escorted convoys to the landing beaches in North Africa, Operation Torch, and was awarded prize money for her help in salvaging the American troopship, Thomas Stone. On 11 December 1942 she rescued survivors from HMS Blean when she was torpedoed by U-443 sixty miles west of Oran. Ten days later she assisted with rescue operations when MV Strathalan was torpedoed on 21 December 1942 with more than 5,000 troops aboard.
Cdr Scott in HMS Wishart was the Senior Officer of the escort for one of the first through Convoy from Gib to Alex after the surrender of Axis Forces in North Africa, Convoy GTX.3, 22 June - 3 July 1943; see his Report of Proceedings, "Only Wishart, Venomous and the trawler Stella Carina were with the convoy for the whole passage from Gib to Alex." A week later on 10 July Wishart with Venomous and HMS Witherington escorted the troop ships to the landing beaches at Augusta in Sicily, Operation Husky.

On 24 February 1944 she took part with HMS Anthony in sinking U-761 which was detected with an airborne Magnetic Anomaly Detector (MAD) by a Catalina flying boat and its position marked with smoke bombs. This is believed to be the first time a u-boat was setected and sunk by this method and the operation was photographed from the air. Throughout 1944 she remained at Gibraltar escorting convoys in the Western Mediterranean and in January 1945 was withdrawn from operational use and returned to Britain, was paid off and reduced to Reserve and then sold for beaking up at Inverkeithing, near Rosyth.


Commanding Officers
Officers
This short list of officers who served on HMS Wishart all have entries on the unithistories.com web site. Further names from the Navy List will be added later.

Who are these men?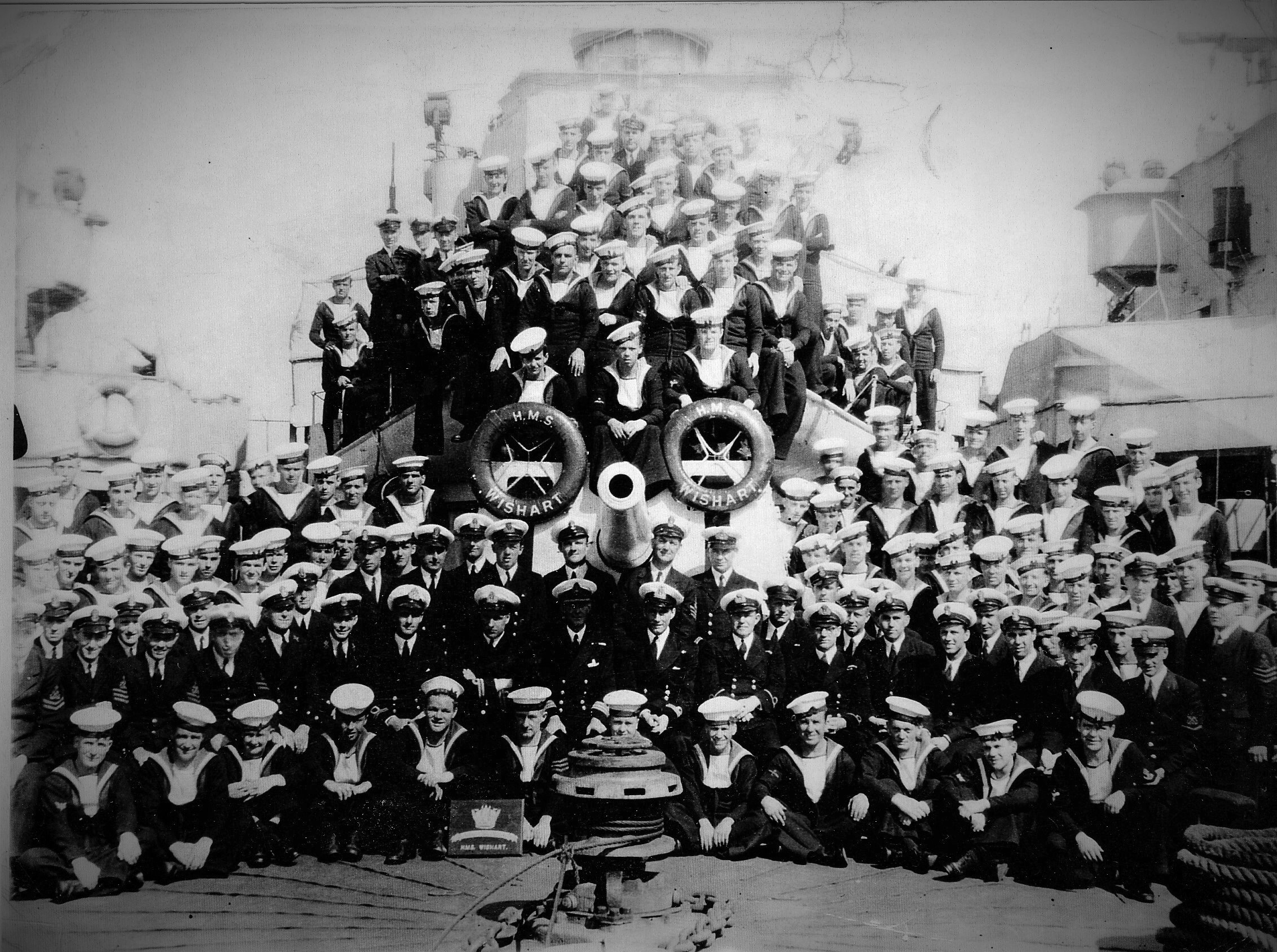 The Ship's Company of HMS Wishart

Double click on the image to display full size

The photograph was probably taken after her refit and recommissioning in September 1941 when
Cdr. Humphrey Gilbert Scott, RN
was appointed CO

The photographs were provided by Kelly Porter and "Gav Mac" whose Grandfathers, were stokers on HMS Wishart.

Can you recognise any of these men?



Who are these men?



Now click on the link to take a look at these

photographs

contributed by the families of men who served on HMS

WIshart

. There were between 120 and 160 men on

WIshart

at any one time and most ratings would only remember the men in their own Mess.
If you recognise a family member who served on

WIshart

do please get in touch and let us know.
They are mostly stokers.

Ron Rendle was a torpedoman on HMS Wishart, 1941-3
And was himself torpedoed twice - on HMS Patroclus (1940) and HMS Bickerton (1944)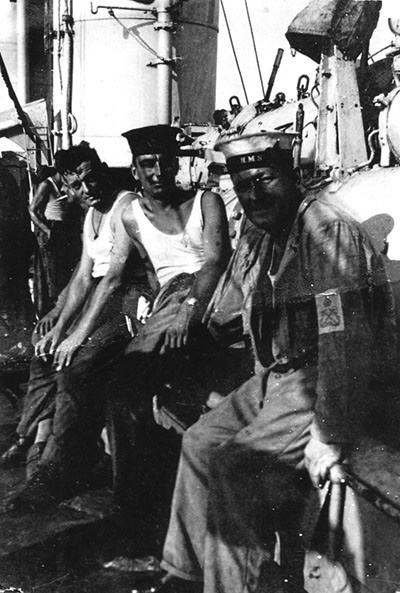 Ronald Walter William Rendle was born on 31 May 1919 in East Ham but brought up in a suburb of Ilford and joined Ilford Borough Council's Treasury Department when he was sixteen. Ron joined the Navy in 1939 and on 26 October was sent to HMS Royal Arthur, Skegness, for basic training and given the service number P/JX 167874. He was drafted to his first ship, the Armed Merchant Cruiser (AMC), HMS Patroclus at Portsmouth, on 13 January 1940.

HMS Patroclus patrolled the Atlantic looking for blocade runners. She was escorting the 6,000 ton steamer SS Casanare and HMS Laurentic when they encountered U-99 commanded by Otto Kretschmer on 3 November. Kretschmer sank more allied tonnage than any U-boat commander. The Patroclus was like a floating block of flats with its hull buoyed up by empty oil barrels. U-99 sank all three ships but it took seven torpedoes to sink HMS Patroclus. After the fourth torpedo Ron Rendle jumped into the water, went down, surfaced and was violently sick. He was picked up the next morning by the destroyer HMS Achates, drank some rum, was lent a hammock and slept for twelve hours.
After two weeks survivors leave Ron was drafted to HMS Dunluce Castle, an accommodation ship at Scapa Flow in Orkney. Most of the survors of the Patroclus were sent there. It was really an opportunity to recover from the trauma of the sinking. Ron as a clerk in local government was given an office job and quite liked his three months at Scapa. From 21 May to 20 August 1941 Ron trained to be a torpedo man at HMS St Vincent, a shore establishment in Gosport, Portsmouth.

On 28 September he was drafted to HMS Wishart at Southampton which had just completed a major refit. Wishart returned to its base as part of Force H at Gibraltar. The V & W's were built as "torpedo boat destroyers" (TBD) and Ron was "on the tubes" but never fired a torpedo, not even in practice. The six torpedo men were really electricians; two on the torpedo tubes and four on the depth charges.The depth charges were rolled off the rails at the stern or thrown from midships. The three torpedo men on the left are lounging in front of the triple torpedo tubes on HMS Wishart.

Their new CO, Cdr. Humphrey Gilbert Scott, RN, was "a good man", a very capable skipper. Wishart "did every Malta convoy" as part of H Force. If the Padre joined a ship it was sure to be attacked so Ron was "not pleased to see him" when he joined Wishart and, sure enough, they were bombed. He saw an ammo ship blown up on one convoy, looked like "a ball of sun", it just vanished. They towed the USS Thomas Stone into Algiers after she was torpedoed on the 7 November 1942 and were paid prize money. They went ashore at Algiers after the landings and "had good times". He saw a "bananna boat aircraft carrier" come out of Algiers with his cousin Clifford on her. He was killed with most of the crew when she sunk in the Atlantic. Cdr Scott was keen on hockey and was there to see the ship's hockey team beat the writers at Gib, the best team on the Rock.

Ron's best friend on Wishartwas AB Arthur Crosby-Clarke who worked for Barclays Bank in Bournemouth before the war and whose regular Watch was "on the Wheel'. Scott liked Ron because he was one of the strongest players in the hockey team and when Wishart docked for repairs at Gib in May 1942 he sent Ron and Crosby-Clark on a short break at the Rest Camp in the Governor's Cottage near the Europa Point light house. Ron served in Wishart until the 13 December 1942 but has no recollection of rescuing survivors from HMS Blean which sank two days earlier. Crosby-Clarke stayed on until Wishart was mothballed in January 1945. They have not met since but Ron still hopes to find out what happened to him.
Ron was relieved at Gib and sent back to Britain to qualify as a Leading Torpedoman at HMS Vernon which had moved to the former girls school, Rodean, which made him "an old boy of Rodean". Ron spent the next four months at shore bases for Coastal Forces: at HMS Attack in Portland from 19 - 25 May, HMS Hornet near the Haslar Gunboat Yard at Portsmouth from 26 May - 14 June and HMS Midge at Great Yarmouth from the 9 August - 14 September 1943. HMS Midge was one of the major coastal force bases on the East Coast and several flotillas of MTBs were based there. The details are recorded in his service record but Ron remembers very little about his time at these Coastal Forces shore bases.

On 15 September he went to Halifax, Nova Scotia, on a troop carrier and from there halfway across Canada by train before heading to New York and Boston where HMS Bickerton, a diesel-electric Captain Class destroyer, was being built. He joined the Bickerton on 5 November 1943 and remained aboard until she was torpedoed. After commissioing at Boston she left for Halifax, Nova Scotia, on a shakedown cruise. They returned to Boston which Ron liked (he had a girl friend there) and then headed south to Norfolk Virginia which he did not care for at all. On her way to Britain the Bickerton spent the morning of Christmas Day in Bermuda and then continued to Liverpool. The skipper of the Bickerton "was very fond of his alcohol" and his "No 1" more or less ran the ship on the way over. Ron made a mistake testing a circuit on Bickerton due to the wiring on US ships being different and was temporarily blinded and hospitalised at HMS Pegasus, Belfast, from 24 February to 12 March 1944.

Capt G.F.W. Macintyre, RN, a brilliant u-boat hunter on Atlantic convoys, took over as CO of Bickerton and was "the best skipper I ever had". Ron Rendle recalled that the survivors they rescued after sinking U-765 were "much the same as us, they mixed in, had good jokes and got on well with us". Ron had a camera and was able to get film from "an old school pal", Bob Patience, who worked at Selo, part of Ilford. Bob had been the tail gunner on a bombing raid over Hamburg when their plane was badly shot up and the entire crew were invalided out. Ron soon had a good business going, selling film to his friends on Bickerton, taking their photographs, developing the film and making prints. Bickerton patrolled the entrance to the Channel during the D-Day landings and sunk U-269. Ron photographed the frigate HMS Mourne (K 261) blowing up after she was hit by a GNAT torpedo from U-767 on the 15 June 1944. When MacIntyre heard that Ron had a camera he transferred him from his action station with the depth charges at the stern (there were no torpedos on Bickerton) to the Bridge where he would be on hand to photograph the sinking of his next u-boat.
In August Bickerton was sent Scapa Flow to escort two carriers, HMS Nabob and Trumpeter, part of Convoy JW.59, to Tromso in Norway to attack the Tirpitz. On the 22 August 1944 HMS Nabob was hit by an acoustic torpedo, a GNAT, fired by U-354 and soon afterwards Bickerton was hit in the stern and all of Ron's friends at his former action station were killed. Macintyre knew the danger of being hit by a GNAT zeroing in on the acoustic noise of a ship's propellors and had ordered a "cat" to be streamed from the stern. This was a device which vibrated like the screws of a destroyer and lured acoustic torpedoes away from the stern of the ship. They were too late getting it out and the man sent from the bridge to speed things up was killed along with all the me in the depth charge team.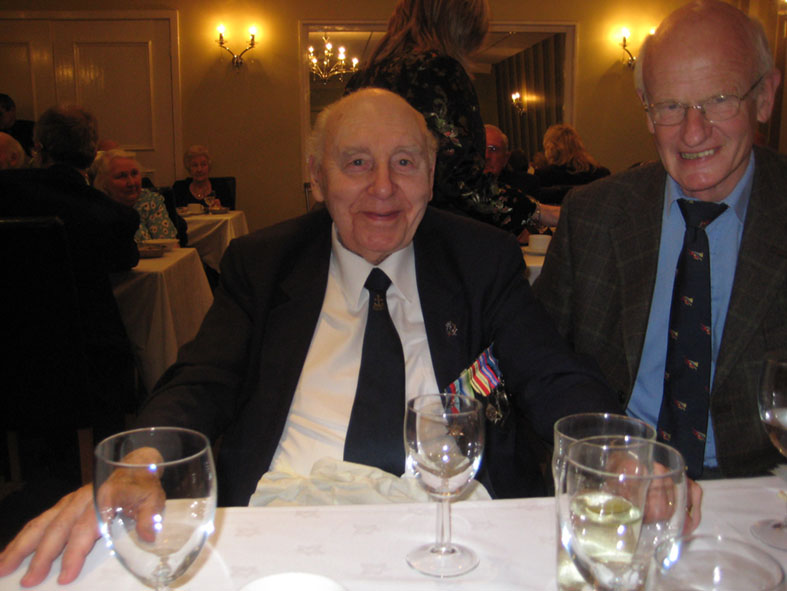 Rescuing survivors from the carrier was given priority and Macintyre told Ron to stay aboard until a launch was sent (one did not last long in Arctic waters) by the Captain Class destroyer, HMS Aylmer. Donald Macintyre described what happened in Chapter 12 of his autobiography, U-Boat Killer (1956), and Ron Rendle gets a brief mention: "A Leading Seaman Rendle and an Electrical Artificer Robinson both set good examples, I remember."
The money Ron made from his business venture was in the ship's safe and went down with the ship along with all of Ron's photographs. After survivor's leave Ron spent almost three months at HMS Victory and HMS Vernon before being drafted to HMS Lanka, the shore base in Ceylon, on 13 December 1944 to await a posting to another ship. HMS Lanka occupied the site of St Josephs College, Colombo. Ron was given the job of organising the guard. He never received another posting and on 2 October 1945 he returned to Britain on the Town Class destroyer, HMS Rotherham. He really liked the ship's company and they wanted him to stay on. They had fought in the Pacific war against Japan, been attacked twice by Kamikaze pilots but last minute evasive action by the CO saved the ship. On 4 September Rotherham was the first RN warship to enter Singapore after the dropping of the Atom bomb and the surrender of Japan. The crew were shocked by the condition of the POWs in the city. Ron returned to England in the Rotherham on 12 November 1945 and was released from the Navy on 31 January 1946 and returned to his prewar career in local government.

He retired as Housing Chief in Kent on a full pension at 55 when local government was reorganised in 1974 and went into business running the Barn nightclub in Braintree with his old friend, Bob Patience. All the stars of the day played at the Barns and he knew them all. Ron Rendle was 97 in May this year (2016) but visits the casino once a week and has never missed an annual reunion of the V & W Destroyer Association. Despite being a keen photographer he has no photographs of himself in naval uniform. They were all lost when HMS Bickerton was torpedoed.

Ron Rendle (on left) was photographed with Bill Forster at the reunion of the V & W Destroyer Association at Derby in 2010
Bill recorded an interview with Ron Rendle at the Reunion of the V & W Association at Warwick on 20 April 2013
Click on the link to listen to Ron describe his wartime service on HMS Wishart
be patient - it takes a couple of minutes before the file opens and Ron starts speaking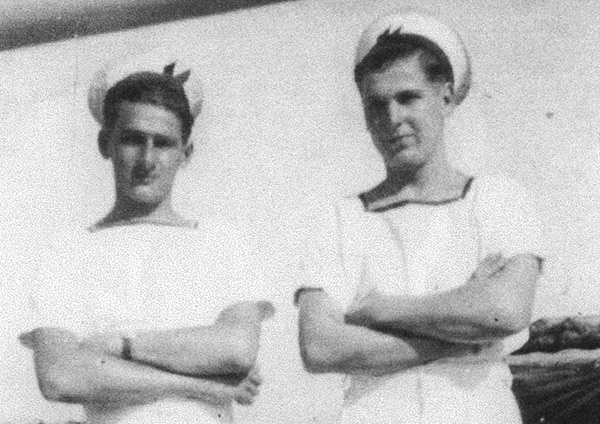 Sixteen young Hostilities Only (HO) ratings joined

Wishart

in February 1942 while she was based at Gibraltar. They went
from Greenock to Gibraltar
on the former passenger liner,
Llanstephen Castle,

which was requisitioned for use as a troop carrier and stayed on the depot ship,

Maidstone

, until the

Wishart

came in.
They joined on the same day, shared the cramped living quarters on the mess decks, drank together when back in Gib and some are still friends today.



Derek Shepherd

(on right) was 15 when he enlisted in the Royal Navy. His best friend was

Colin Seaman

(on the left) who will be 93 in October. They keep in touch by phone since neither are fit enough to attend the reunions of the V & W Association.
Doug Lochhead described his time in

WIshart

in an an article for

Hard Lying

, the magazine of the V & W Destroyer Association and although Doug died some years ago his son attends the annual reunions of the Association.
All at sea in HMS

Wishart

by Doug Lochead

In 1941 I went off to HMS

Colingwood

at Fareham to join the Navy. While I was there they were filming "In Which We Serve".
Some of the men were going to the film studio to jump into a tank of oil and water and were getting thirty bob (shillings) a day for it. Those who were not picked and were still only getting two shillings a day got the hump.
At the end of the film they show the new recruits marching behind the bands, that was us. We were always hungry. One Sunday an old C.P.O. was standing by the serving hatch and said "Anybody want any more cake?" Five tables got broken in the rush.

After training, and leave we ended up in Stockheath Camp, Havant. For anyone who never went there, let me explain. The builders were still in, there was a foot of mud and we had to walk on duck boards, if you fell of it took two to pull you out. At four o'clock the call went out over the tannoy, "One hand from each hut to collect coke and candle issue". No lights and just a combustion stove, we had bets on how many sheets of the roof we could get to glow!

One weekend there was an exercise, us against the Royal Marines. They were trying out new field kitchens as well, and it was going to be for three or four days. After about six hours in a ditch with snow and ice, I said to my 'Oppo', "the first Marines we see, we surrender to". They were chuffed to get two prisoners and took us back to their headquarters, which was an old farmhouse. The Officer took one look and knew that he had a pair of idiots. They put us in the hay loft, twenty minutes later they sent up eggs, bacon, sausages and tea, followed by chicken for dinner, we even got a tot! When it was all over, our hut wanted to know why we were dry and not covered in mud.

I was then given a draft chit to HMS

Wishart

. We caught a troop ship, the

Llanstephen Castle

from Greenock to Gibraltar and stayed on the 'Maidstone' Until the

Wishart

came in. Within five hours we sailed. Two hours later I was down the magazine, with guns firing, God knows what at, and for the first and only time I said "What the hell have I let myself in for?" We did the North African landings and towed a Yankee troop transport the USS

Thomas Stone

that had been torpedoed. After the war I received three guineas (three pounds three shillings) salvage money.

Christmas day 1942 we saw a crowd in Algiers and followed it thinking it was some sporting event, we ended up in Notre Dame looking at Admiral Darlan laying in state. Next it was the Malta convoys with runs ashore as Tunis, Oran, Tripoli and Bizerta. I went ashore to see my cousin who was in the army at a town called Ferryville about twenty miles away. As the only pub was there and an army convoy was just leaving, it seemed natural to join it. When we got back, no

Wishart

! Well it was not the first time I had done 14 day's 10A.

In the 1950's The Royal Naval Association mustered on Horse Guards Parade prior to marching to the Cenotaph for a Naval Service, the back to Horse Guards Parade all lined up to be inspected. That year the inspecting officer was Admiral of the Fleet Sir Andrew Cunningham. I was in the front row. The Admiral got about five men past me when he stopped and came back, looked me in the eye and said "I know you, Main Street Gib' I had you 'off caps', HMS

Wishart

." "I didn't think you would remember" I said. "How many A.B.'s do you think an Admiral knock off? We will have a drink in the festival hall tonight". This was and he said: "Bugger him, you only salute your own officers in Gibraltar and he's not one of ours". The car stopped the Admiral put his head out of the window and called us back and wanted to know the reason why we had not saluted. I got three days stoppage of pay and leave. I wonder how many have been 'done' by an Admiral?

After the two most famous convoys,

Harpoon

and

Pedestal

and the eighth army had beaten Rommel's Africa Corps, we then took a convoy through to Alexandria, the first for a few years. On arrival we were given a few days leave, so down to the race course we went. We stayed at a hotel in Mohammed Ali Square and really lived it up. We mixed in with some army lads who were buying up bales of silk and souvenirs, as there were about thirty troop ships in the harbour, the 'buzz' was going round that they were going home, and of course we thought that we would be escorting them and going home as well.

I was mess caterer and managed to get hold of a few bags of Egyptian potatoes and gammon hocks. A couple of days before we set sail I managed to get tonsillitis, so I had to sling my hammock on the upper deck alongside the Pom-poms. We set sail about 0400 as dawn was breaking. All the troop ships and cruisers were on the move. The Captain came on the tannoy. "Gentlemen" he said "You know bloody well we will not be going home."

So we were off for the invasion of Sicily. As I went down to my mess the surgeon saw me and wanted to know what I was doing out of my hammock, I told him that I was not going to get shot at! One of my mess-mates brought me my dinner of the lovely ham and potatoes that I had acquired. I just could not eat it. That broke my heart, tho' I did manage to get my tot down. I felt sorry for those troops who had bought those bales of silk thinking that they were on their way home. They must have had them packed in their haversacks.

We went to Salerno for the landings, there were rocket firing ships beyond us I said "I hope they know what they are doing" because the rockets were flying over our heads. Suddenly we peeled off and made our way to Malta, refuelled etc; and then off we went to Taranto. Italy had just surrendered. On our arrival at Taranto we went alongside the 42,000 ton Battleship

Vittoria Veneto

, pride of the Italian navy. One officer, one P.O. And five ratings, including me, were armed with 303 Lee Enfield rifles. We were to board her. "What do we do if they don't want to surrender?" Asked someone. "Oh you'll be all right, just sort it out" we were told. Thank God we did not have to use our rifles!

That night laying at anchor, ahead of us lay the mine laying cruiser HMS

Abdial

, at about 0200 on the 10 September 1943 there was an explosion. She got rid of her mines and had Royal Marine Commandoes and their equipment, including trucks on board that had been picked up at Algiers. Whether it was a mine, human torpedo or a saboteur that could have been picked up at Algiers we did not know. We put out scrambling nets and picked up a few survivors, up anchor and crashed out of the harbour. However we eventually arrived back in Gibraltar via Catalina, Salerno and Taranto.

While ashore I met up with an old shipmate who was on HMS

Hurricane

, they were going home, so I asked him to take the bale of silk and other goodies to give to my Mother, but they were sunk in the Bay of Biscay on Christmas Day 1943. Soon after we went back home to have radar towers fitted, and were in Newport South Wales for about four days. We returned to Gib' where

Wishart, Westcott, Witherington, Wivern Verity, Velox, Antelope

and

Antony

were detailed to do a Radar shoot; by then all the destroyers had been fitted with Radar.

Wishart

was detailed to provide a target marking party consisting of a Warrant Gunner and four ratings aboard a trawler. As I was not the flavour of the month, I was to be one of the four aboard the target towing trawler. The first salvo came right through the trawlers rigging. The Radar operators in those days were all seamen who had had no real training on how to operate the Radar.

One of the trawler's officers had a word with the Warrant Gunner, it seemed that one of the stokers had been taken ill. "Don't worry, I'll get one of my men to take his place". Well you can guess who that was going to be. I thought that I could twiddle a few knobs and valves and I'll be out of the Gunner's way. The trouble was that when I got down to the boiler room, there was a shovel and about three tons of coal! I wonder, have we any shipmates or seamen who have had to shovel coal?

I eventually arrived home just before "D" day.

AB Doug Lochead


This article was first published in

Hard Lying


the magazine of the V & W Destroyer Association


1934
"In January of that year Rear Admiral Cunningham as Rear Admiral Destroyers was at Malta and under his command was the 1st Destroyer Flotilla of the V&Ws, led by Earl Mountbatten in

Wishart

which was carrying out manoeuvres and courtesy visits to the many ports in the Mediterranean. I joined the

Defender

, destination, Singapore, there we did a swop with the

Wren

. I soon came to learn what life was like aboard a 'boat'"
; Norman Hollis.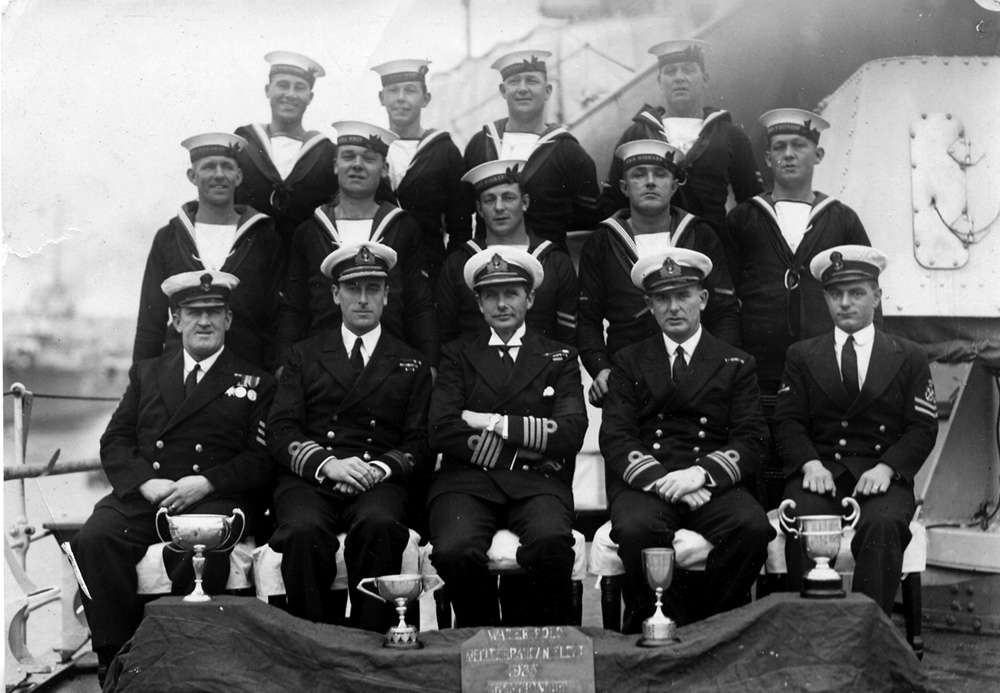 "This photo is from my Grandfather's album and is captioned HMS

Wishart

water polo Mediterranean Fleet 1935 championship winners destroyer flotilla
My Grandfather Eric Sturgess is in the front row far right and in the front row second from the left is Lord Louis Mountbatten."
The officer with the wing collar in the centre is believed to be Captain Baillie-Grohman D.S.O., O.B.E, commanding officer of the Flotilla leader HMS

Keppell

and Captain (D) 1st DF
A team consisted of six players and one goal keeper in the water at any one time - the senior officers were not members of the team.

"Many of the old V&Ws were now being put into reserve, others had been earmarked for alterations and modifications to convert them into the "Wair" type of destroyer. From December 1934 to February 1936 HMS

Wishart

was commanded by
Cdr Lord Louis Mountbatten
and future generations of officers have good reason to be grateful to him for having installed a bathroom;"
J.A. Jolliffe D/MX. 52106.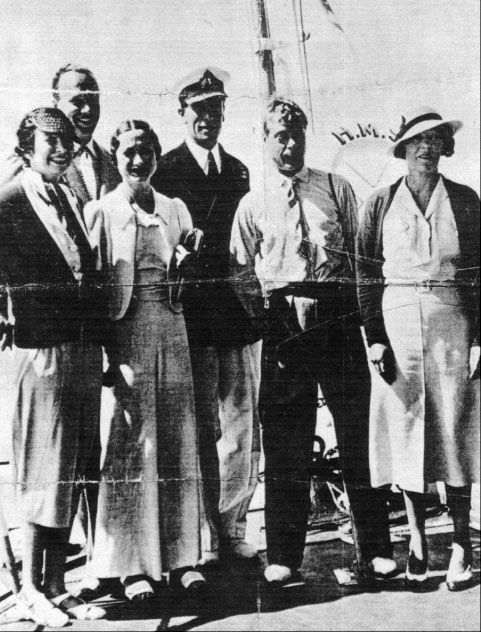 During the summer of 1935 HMS

Wishart

paid a visit to Cannes and Lord Mountbatten welcomed aboard his friend HRH the Prince of Wales accompanied by his mistress, Mrs Wallis Simpson (left).

On 20 January 1936, George V died at Sandringham and Edward ascended the throne as King Edward VIII. Mountbatten left the

Wishart

in February 1936 and was appointed a Personal Naval Aide-de-Camp to King Edward VIII on 23 June. The King abdicated on 10 December 1936 and married Wallis Simpson on 3 June 1937.

In September 1939 Mountbatten brought the Duke and Duchess of Windsor back from exile in France in HMS

Kelly.



1936
, February
General Sir Charles Bonham-Carter was appointed Governor of Malta, and was transported there in the liner

Strathmore

escorted by the destroyers

Wishart

and

Wren

. The courtesy visits were becoming fewer. Royal Navy warships were no longer welcome in Italian ports and because of the fear that Malta would be an early target for the enemy anti-invasion exercises were carried out. The Spanish civil war put an extra burden on the destroyers carrying evacuating British citizens and refugees.