---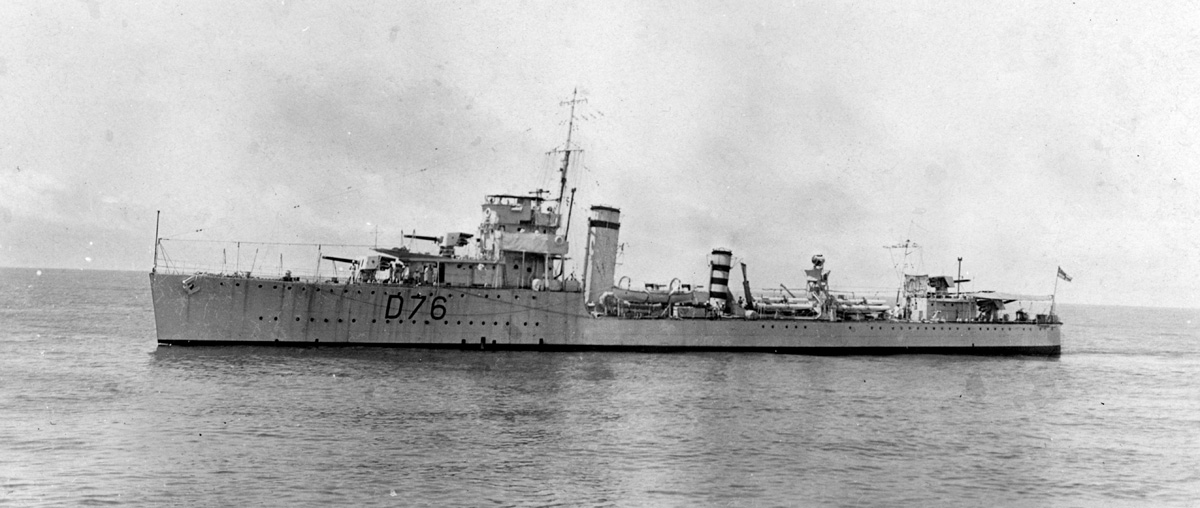 HMS

Witherington

was named after Richard Witherington who 'fought upon his stumps' when his legs were cut off ("Ballad of Chevy Chase") at the Battle of Otterburn (1388). Her keel was laid on 27 September 1918 at the James Samuel White & Co. Ltd. shipyard in Cowes, Isle of Wight, and she was launched on 16 January 1919 and commissioned on 10 October 1919 with pennant number D76.

She was assigned to the 3rd Destroyer Flotilla of the Atlantic Fleet and on 10 November 1920 was one of six V & W Class destroyers which escorted HMS

Verdun

from Boulogne to Dover when she brought the "Unknown Warrior" home for internment in Westminster Abbey.

Witherington

served in 'Home Waters' from May 1920 to July 1923 when the Flotilla was transferred to the Mediterranean Fleet. In 1926 she carried, Ahmad Shah Qajar, the last Shah of the Qajar dynasty of Persia into exile. The 3DF was transferred to the China Station later that year and during the Nanking Incident in March 1927 helped rescue foreign nationals from the Nanking region of China. HMS Woolston,

Witherington,

Veteran and

Wanderer

were based at Hankow (Wuhan) on the Yangste river.

In the early 1930s she underwent a refit and was laid-up in Maintenance Reserve at Rosyth as more modern destroyers came into service. She was reactivated for a Royal Review of the Reserve Fleet at Weymouth in August 1939 and brought to war readiness.

Witherington

joined 15DF in Western Approaches Command at Liverpool escorting convoys to Gibraltar. In April after the German invasion of Norway she was detached to Scapa Flow and assisted in the evacuation. At the end of May her pennant number was changed to I76. OD Lionel Blaxon, one of three CW Candidates for officer training who joined

Witherington

at Plymouth in July, described his six months "sea time" on the lower deck when

she was escorting Atlantic convoys from Liverpool and at Londonderry and Southampton.

On 11 March 1941 HMS

Witherington

(Lt.Cdr. J.B. Palmer, RN) was bombed in the stern at Portsmouth and beached on Whale Island to prevent her sinking. She needed a new stern and the repairs and refit took over five months. Lt Cdr Howard Joseph Instance, a survivor of the sinking of the Royal Oak at Scapa in 1939, joined her as a Gunnery Officer when she was recommissioned at Portsmouth.
He describes i
n an online recorded interview at the IWM (Cat. 11904, Reel 3) six months escorting Atlantic convoys 20° West
from Liverpool
(where her
"short legs"
forced her return with an incoming convoy) and being sent with

Whitshed

and

Viceroy

to escort convoys from Boston to join the Atlantic convoys at Halifax, Nova Scotia. In February 1942

Witherington

had a head on collision in "Cape Cod fog" with a 15,000 ton Norwegian merchant ship and lost 30 feet of her bow. She returned to Boston, stern first, and a prefabricated bow was built in an adjacent dock and welded on.
I
n February 1942 s
he was adopted by the City of Durham after a successful Warships Week fund raising campaign. O
n 23 March 1942 the tanker

British Prudence

was torpedoed and sunk by German U-boat U-754
north-east of Halifax, Nova Scotia
. The crew took to the boats and were picked up by HMS

Witherington
(Lt. R. Horncastle, RN)
in fog on 24 March and landed at Halifax the next day. Four days later U-754 came on a fishing boat, the

Ebb

, and from a distance of 50 yards opened fire killing the skipper and four of the crew and sinking the trawler. The three surviving officers and nine men were rescued fourteen hours later
by

Witherington
and landed at Boston on 30 July. The next day U-754 was sunk by a Hudson bomber. There were no survivors.

HMS

Witherington

was converted to a Short Range Escort (SRE) at ???? between April and September 1942. In March she was part of the escort for Convoy HX.229 from Halifax which was under sustained attack during the night of 16–17 March by five U-Boats of the

Raubgraf

Group, two U-Boats of the

Sturmer

Group and one U-Boat returning to her home port. There was no rescue ship for HX229 and the survivors of the ten merchant ships sunk were rescued by the escorts.

At the end of June 1943 she was transferred to Alexandria in the Mediterranean supporting follow on convoys for the Allied invasion of Sicily. In November she was at Gibraltar for Atlantic Convoy Defence. German U-boat U-340 was sunk at 0430 on 2 November 1943 near Tangier by depth charges from the British sloop HMS

Fleetwood

(Cdr. W.B. Piggott, DSC, RD, RNR), the British destroyers HMS

Active

(Lt.Cdr. P.G. Merriman, DSC, RN) and HMS

Witherington

(Lt.Cdr. R.B.S. Tennant, RN) and depth charges from a British Wellington aircraft (Sqdn. 179/R).

HMS

Witherington

is believed to have been paid off at West Hartlepool in 1944 and was not listed as an active unit in the October 1944 Navy List. In April 1945 she was being towed by tugs from Chatham to the Breaker's yard at Charlestown near Rosyth when she broke her tow rope at the mouth of the Tyne and was wrecked on the ballast stones at the bend in the south pier on the night of 29 April 1945. The towing crew were taken off by the Cullercoats lifeboat

Westmoreland

and the remains of the

Witherington

are a popular shallow water dive site.


For a detailed chronology of ship movements created by an anonymous researcher and sent to me by Jim Witherington in the USA click on the link.
Commanding Officers

Cdr James R. C. Cavendish RN (21 August, 1919 – 19 February, 1920)
Lt Cdr Vernon Hammersley-Heenan, RN (5 February, 1920 – 12 February, 1920)
Cdr Edward McC. W. Lawrie, RN (12 February, 1920 – 3 January, 1922)
Cdr Cecil H. H. Sams, RN ( January, 1922 – January, 1923)
Cdr Eric Q. Carter, RN (3 January, 1923 – July, 1923)
Cdr Edward McC. W. Lawrie, RN (July, 1923 – January, 1924)
Cdr Astley D. C. Cooper-Key, RN (1 January, 1924 – 15 January, 1926)
Cdr Edye K. Boddam-Whetham, RN (15 January, 1926 -
Cdr William E. B. Magee, RN (1 December, 1927 – 24 August, 1928)
Cdr Geoffrey S. Holden, 24 August, RN (1928 – 12 September, 1928)
Lt Cdr Francis Douglas-Watson, RN (12 September, 1928 -

Lt.Cdr. Geoffrey Cecil Fryer, RN (31 July - 4 Dec 1939)
Lt.Cdr. Jack Barrington Palmer, RN (4 Dec 1939 - April 1941)
Lt. William Edward Cranston Fairchild, RN (April - 23 Oct 1941, while under repair)
Lt. Richard Horncastle, RN (23 Oct 1941 - Aug 1942)
Cdr. Charles Graham Thompson, OBE, RN (Aug - 2 Oct 1942)
Lt.Cdr. Marcus Henry Reginald Crichton, RN (2 Oct 1942 - 19 May 1943)
Lt.Cdr. Robert Basil Stewart Tennant, RN (19 May 1943 - July 1944)

Wartime Officers

Lt A R Barrow RN (23 Oct 1941 – early 1943)
Surg Lt J M Berry RNVR (8 Feb 1942 – 3 June 1943)
Lt Hugh Te la Poer, Lord Beresford RN (27 July 1939 - April 1940) 1st Lt
Lt Sir William Blunden Bt RNVR (3 Sept 1941 - May 1944)

in temp command April 1944


Sub Lt J F Borlace RN (19 Feb 1940 – late 1940)
Sub Lt P M Bugle RN (31 Jul 1939 – May 1941)
Surg Lt M Dingwall RCNVR (10 Nov 1941 – 8 Feb 1942)
Wt Eng S R Eastlake RN (11 Dec 1941 – 17 Jan 1944)
Sub Lt Gwilym P. Evans RNVR (3 Feb 1940 - Feb 1941)
Lt. William E.C. Fairchild, RN (1 Sept 1940 - early 1944)

CO while under repair 1941


Sub Lt J D Haig RN (23 Oct 1941 – early 1943)
Gnr (T) J J Hayward RN (Oct 1943 – Aug 1944)
Mid P A Hicks RNVR (31 Oct 1941 – early 1942)
Sub Lt D J G Holroyde RNVR (9 Apr 1941 – May 1944)
Sub Lt David F. Johnson RN (31 July 1939 - April 1940)

Sub Lt D J Loeb RNVR (10 Mar 41 – May 1941)
Lt Surg John C.M. MacDonald RNVR (3 June 1943 - April 1944)
Lt (E) A D Marshall RNR (29 Jun 1944 – Dec 1945)
Lt A I C Murfitt RNVR (9 May 1942 – Aug 1944)
Sub Lt J H D Northcote RNR (8 Nov 1939 – Aug 1944)
Lt William D. O'Brien RN (30 June 1940 - April 1941) 1st Lt
Gnr (T) H J Price RN (15 Aug 1941 – 7 Jan 1943)
Gnr (T) W E G Reeks RN (21 Oct 1939 – 15 Aug 1941)
Wrt Eng W K Revolta RN (16 Aug 1938 – 11 Dec 1941)
Sub Lt J McN Roberts RNVR (10 May 1943 – May 1944)
Surg Lt J E Simpson RNVR (Jan 1940 – 4 Nov 1940)
Sub Lt W B Smith RN (16 Dec 1942 – May 1944)
Lt (E ) G V Steel RN (17 Jan 1944 – 29 Jun 1944)
Surg Lt S F Taylor RNVR (4 Nov 1940 - 10 Nov 1941)
Gnr (T) J H Weatherburn RN (7 Jan 1943 – Oct 1943)

Former full members of the V & W Destroyer Association who served in HMS
Witherington
J. Bardgett (Morecombe, Lancs), R. Cornish (Dunstable), Ted Dawson (Eastbourne), J. Sheader (Scarborough)




Edward William Dawson known as "Ted" Dawson was 94 when he died at Eastbourne in 2018.

He enlisted in the Royal Navy when he was 18 on 23 February 1942 and trained as a Telegraphist. He joined HMS

Witherington

on 17 December 1942 and left her on 21 May 1944.

His daughter has a folder of memoirs of his wartime service in

Witherington

and I am hoping with the assistance of Ted's family to provide a detailed account on this website.

Please get in touch if you knew one of these men or had a family member who served in HMS Witherington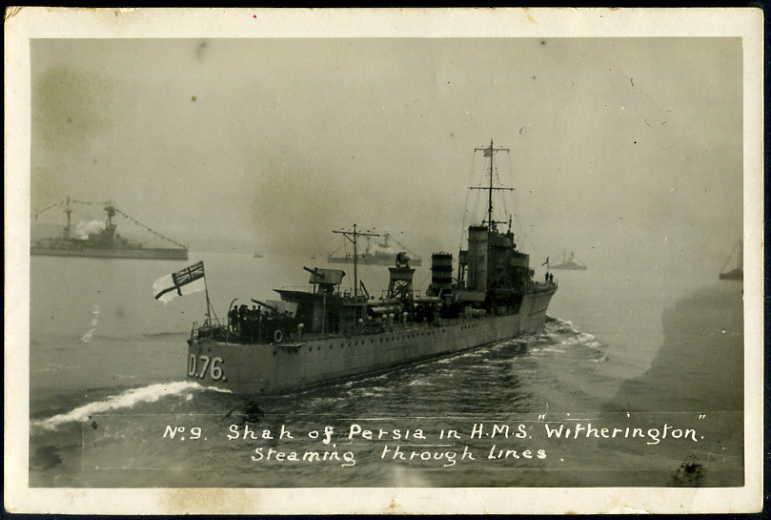 In 1926 HMS
Witherington
carried the Shah of Persia, Ahmad Shah Qajar, into exile, as the old country of Persia was replaced by the country of Iran
and the modernising army officer Reza Shah, became the first shah of the Pahlavi dynasty.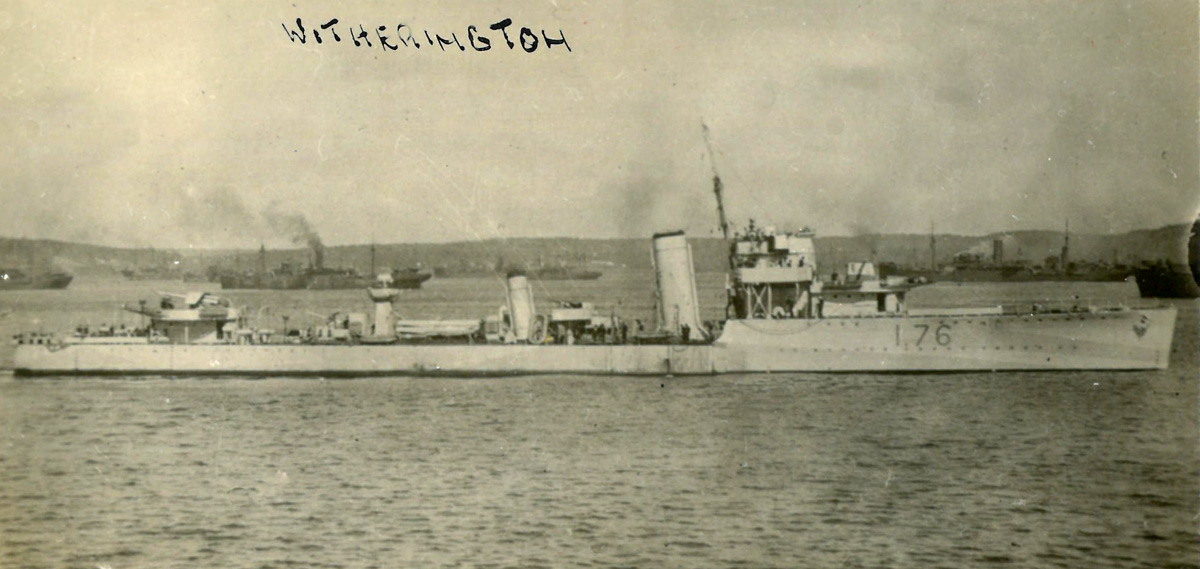 The Pennant Number of HMS
Witherington
changed from D76 to I76 at the end of May 1940

Copyright reserved
Lionel Henry Blaxell was born at Rochford, Essex in 1920, the son of Cdr Henry M. Blaxell RN, and was 19 when he enlisted in the Navy and did his three months basic training at HMS
Collingwood
, a stone frigate at Fareham, Hants, in April 1940. He was selected as "prospective candidate for a Commission RNVR, known as CW Candidates and referred to by those in the know on the lower decks as WC Candidates". If word got out "you might be detailed as 'Captain of the Heads' ie cleaning the lavatories". The brief quotations are from his memoir written in 1988 and self published as

Through the Hawse Pipe 1939-46

(1990).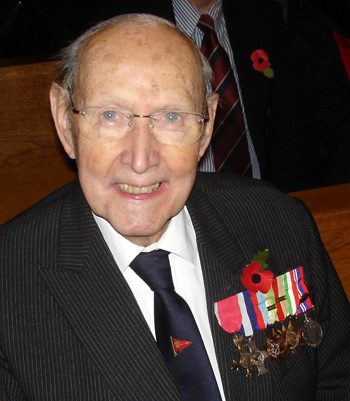 Blaxell was one of three CW Candidates drafted to HMS
Witherington
at Plymouth on 8 July 1940, the other two being Hancock and Chambers. They were among the very few HO (Hostilities Only) rating aboard the ship in 1940. They arrived with kit bags and hammocks and were met by the Quartermaster's Mate (QM), know as the "Buffer" who showed them to the Seamen's Mess and handed them over to the Gunner's Mate, a PO, who gave them a card, the colour of which allocated them to red, white or blue watches for cruising stations and leave purposes. The Leading Seaman of the Mess known as "Killick of the Mess" appointed the "cook of the mess" which changed daily and the CW candidates took their turn. Lockers served as seats at the mess table. The deckhead and bulkheads "sweated" despite being treated with cork compound.

Blaxell belonged to the "forecastle party leaving and entering harbour" and was on B Gun. He was impressed by "Sharkey", the Gun Captain, an "old three badger RNR" who made his own plugs of prique tobacco soaked in rum. On one occasion he showed what he was made of when his gun misfired, a potentially fatal accident, and without hesitation he removed the burning cordite and threw it over the side. Blaxell also recalled the PO Cook, a Lancastrian, who when he went on leave was collected by a chauffeur driven Rolls.

The First Lieutenant would have taken a special interest in the suitability of the three CW Candidates for officer training.
First Lt William D. O'Brien RN had joined

Witherington

in June after a dashing exploit to mine the Rhine, Meuse, Moselle and Seine to hold up the German advance, one of Winston's bright ideas. Witherington was at Southampton when the buzz went round that they were detailed for a special top secret operation known as Lucid. This was another of Churchill's ideas, to singe Mr Hitler's whiskers by launching fire ships at the invasion barges assembling in the Channel ports of Boulogne and Calais. The CO ordered "splice the mainbrace", a tot of rum all round including underage seamen like Blaxell. The First Lt "Paddy" O'Brien was to steer a fireship at the dock gates and escape on a small boat at the last minute. Operation Lucid was canceled after two abortive attempts in September and October 1940.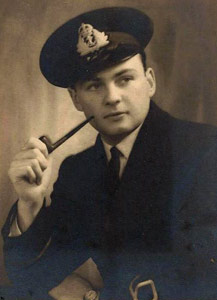 Witherington

was moved to Liverpool before Christmas and escorted convoys 22° West before returning to refuel at Moville on the River Foyle and back to Gladstone Dock at Liverpool. Blaxell wrote in his memoir that "many of our Class were on Merseyside and in Gladstone Dock:

Walpole, Wishart, Whitehall, Wolverine, Vansittart, Witch, Verity, Vanessa, Vimy, Wivern

".

Witherington

and her sister ship

Verity

spent Christmas and Boxing Day at Londonderry and Blaxell recalled a wonderful dance in the Town Hall with lots of local girls. The next day they returned to Liverpool for a boiler clean and leave for half the crew.

In January 1941 at the end of their six months sea time the three CW Candidates left for officer training at HMS

King Alfred

at Hove near Brighton. Two months later

Witherington

was in Portsmouth during the Blitz on March 11 1941 when three bombs passed through the ship and one exploded on the seabed. O'Brien's quick reactions and initiative saved her from sinking. He ran her ashore on Whale Island and a new stern needed fitting before she could go back to sea.


There were 93 cadets on Blaxell's three month course at HMS
King Alfred
. Cadets under 20 who passed the course and the interview Board were given a red lapel badge as Midshipman and those over 20 were appointed Acting Temp Sub Lts. "We were now all commissioned 'through the hawse pipe', meaning from the lower deck". Nothing more is known about the wartime service of Hancock and Chambers but Lionel Blaxell served in Fairmile Motor Gun Boats (MGB) and Motor Torpedo Boats (MTB). He was wounded and awarded a DSC while First Lt in MGB 322 (Lt G.D.A. Price RNVR, on right) in an attack on a German merchant ship being escorted through the Channel by a strong force of E-Boats on 19 July 1942. Most of his memoir,
Through the Hawse Pipe 1939-46
(1990), is about these small ships, the best known of which were the "Dog Boats", Fairmile D MGBs. In December 1943 he was given command of MTB 307 (10th MTB Flotilla) at Alexandria but his last two ships in 1945
, before he was discharged from the Navy as
Lt Lionel H. Blaxell RNVR
(above left), were destroyers, HMS

Easton

(Hunt Class) and HMS

Offa

(O Class). He received an OBE in 1977 for his work as Senior Commercial Officer at HM Embassy, Stockholm, and was 87 when he died there in 2007.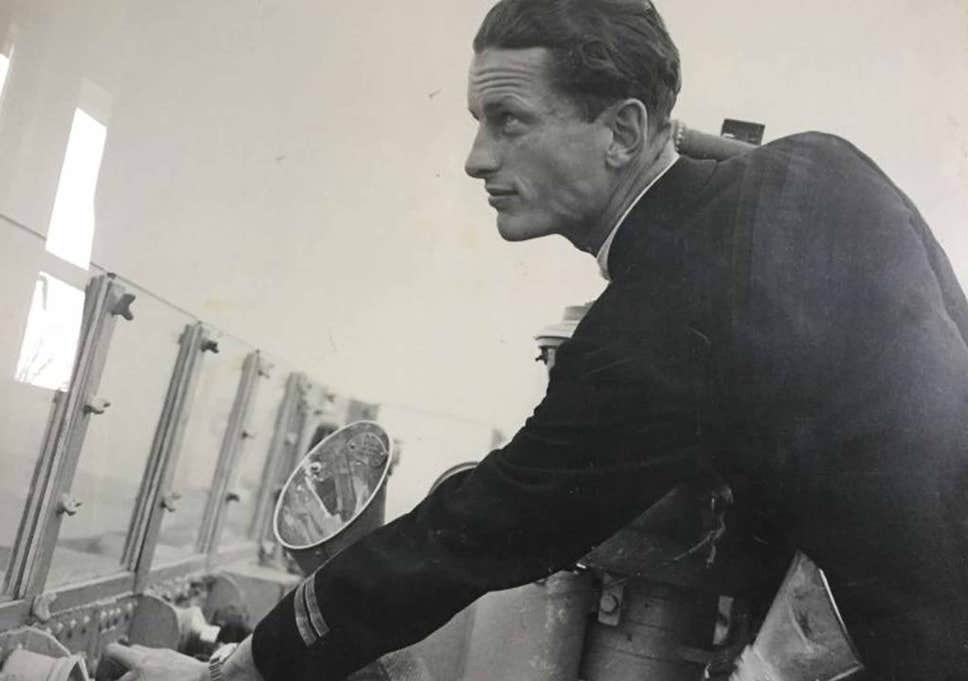 First Lt William D. O'Brien who saved his ship when HMS

WItheringto

n was bombed in Portsmouth harbour on 11 March 1941


"Paddy" O'Brien had a long and distinguished career and retired as Admiral Sir William Donough O'Brien RN in 1971





How Sir Richard Witherington met his death



For Witherington my heart was woe




That ever he slain should be:




For when both his legs were hewn in two




Yet he kneel'd and fought on his knee.





Verse 50,

Ballad of Chevy Chase
The
Witherington
met her end a few days before the end of the war when she was being towed by tugs
from Chatham
to the Breaker's yard at Charlestown near Rosyth. She broke her tow rope at the mouth of the Tyne and was wrecked on the ballast stones at the bend in the south pier on the night of 29 April 1945. The piers at the mouth of the Tyne took forty years to build and were completed in 1895. The South Pier is nearly a mile in length. The rescue by the crew of the

Westmorland

, the lifeboat at the small fishing harbour of Cullercoats two miles north of the Tyne was described in
The Shields Evening News

,
Tuesday May 1st 1945. The towing company, Messrs. France, Fenwick Tyne and Wear Co. Ltd,
was Newcastle based and the towing crew aboard the

Witherington

were all local men as were the crew of the

Westmorland

. The text has been taken from a microfilm which in some places is illegible.
CULLERCOATS LIFEBOAT RESCUE.
DESTROYER WRECKED IN GALE ON TYNE PIER; CREW SAVED.
Caught by the fierce northerly wind which was whipping up the sea into a fury, a destroyer on her way from the Tyne to be broken up in Scotland, parted from her tow ropes and went ashore on the rocks at the south of the South Pier on Sunday night. Her skeleton crew of Shields men was taken off safely by the Cullercoats lifeboat.
The men aboard were Mr. Alexander Mitchell, of 24 Glendale Avenue, North Shields, transport manager of the firm of Messrs. Alexander Mitchell and Son, of North Shields, which provided the following riggers: Ossie Stoker, 5 Abbotsford Park, Monkseaton, Joseph Esdale, 48 Vicarage Street, North Shields, Tom Stringer, 28 Windsor Gardens, North Shields, Albert McCurry, Henry Street, North Shields and (unreadable) Fothergill of Prospect (unreadable) .John Coulson, representing Anchor Line of Steam Tugs, of (unreadable), which provided (unreadable) was also on board.
The vessel had left the Tyne on her last voyage to be broken up at Rosyth.
TOW ROPE PARTED.
She was pounded so fiercely by the waves that her tow rope parted off St. Abbs Head.
Mr. Mitchell told a reporter "When the rope first parted off St. Abbs at about 1.30 on Sunday morning, we drifted helplessly down to Berwick. Finally the tugs got us in tow again, but the weather was so bad that we decided to return to the Tyne and shelter until conditions improved.
We had rather a tough time coming south again as the sea was particularly fierce and as we were nearing the Tyne our tow rope parted again.
The tugs again got us in tow with some difficulty and several ropes were secured to the destroyer. As we reached the harbour, the fierce winds caught the ship again and all the ropes parted, leaving us to drift helplessly until the ship crashed on to the rocks at the south side of the South Pier."
The ship was badly damaged and was being severely pounded by the heavy seas. Tugs raced for assistance and the Cullercoats lifeboat under coxswain James Taylor put to sea.
After a good deal of manoeuvring the lifeboat managed to get alongside and get all the crew off safely.
Because of the bad weather the lifeboat was unable to return to Cullercoats, and the men had to be landed at North Shields Fish Quay.
The South Shields Volunteer Life Brigade was on duty and fired several line-carrying rockets to the ship, but the breeches buoy was not needed.
The destroyer is lying on the rocks with the seas breaking over and pounding her to pieces. She is expected to be a total loss.
Standing up to their waists in water a number of Cullercoats women had to launch the Cullercoats lifeboat

Westmorland

when the alarm was received that a vessel was in distress off the mouth of the Tyne. The lifeboat was in charge of Coxswain J. Taylor.
The South Shields Volunteer Life Brigade
The
South Shields Volunteer Life Brigade (SSVLB)
was established in January 1866 to help the Coastguard prevent the loss of life from shipwrecks on the south side of the River Tyne and the coastal area south as far as Whitburn. The SSVLB Minute Book 4 contains this entry about attempts to rescue the crew of HMS
Witherington:
On the 29th April 1945 HMS WITHERINGTON, a destroyer, which was being towed was wrecked on the South side of the South Pier about three quarters of a mile distant from the Rocket House. This took place about 11.19 p.m. The weather and War Time obstructions on the pier militated against the activities of the Brigade and all our gear had to be hand transported under difficulties, ultimately the life-boat from Cullercoats took seven men off the wreck. The Brigade had gear ready for use when the life-boat came along at 12.30 a.m. on 30th April.




The correct name of the "Rocket House" where the saving equipment including the Breeches Buoy and the rockets was kept was the LSA (Life Saving Apparatus) Store but it seems to have been widely known as the Rocket House and that name has stuck and is used today. It is a brick built building alongside the wooden watch tower near the shore in the above photo from the SSVLB website. The wartime obstructions on the south pier prevented a motor vehicle conveying the equipment to where the
Witherington
lay and by the time it had been manhandled there the Cullercoats lifeboat was already there.
The launch of the

Westmorland

on left and returning from a nightime rescue

From left to right:

Ray Oliver standing on jetty with rope, James Tayloe Coxn (with back to camera), George Taylor 2nd Cox., Robert Taylor in front facing camera and Robert Oliver, father of Ray Oliver
These wartime photographs are not dated and do not show the rescue of survivors from HMS
Witherington
Courtesy of Frank Taylor

The RNLI
Lifeboat Magazine
29 April 1945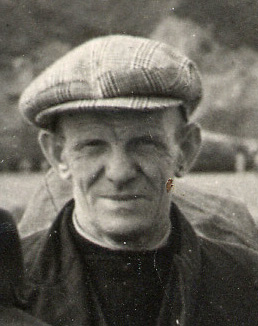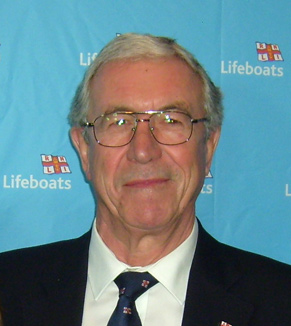 This brief account of the rescue can be seen by clicking on this link to
the RNLI website
but my attention was first drawn to it by Frank Taylor, Operation Manager of the
Cullercoats Lifeboat Station
(on left in 2014) whose father, James Taylor
(right)
, was Coxon of the
Westmoreland
during the rescue and throughout the war. Frank told me that all the Taylors in Cullercoats were related. Robert Taylor (in photo above) was James Taylor's brother and Frank Taylor's grandfather, Joseph Taylor, was a cox'n of the Cullercoats Lifeboat between the wars.
The W

estmorland

was a self-righting lifeboat acquired in 1940 after the loss in 1939 of six members of the crew from the former lifeboat which capsized. The

Westmorland

was in service at Cullercoats from 1940 - 51.
APRIL 29TH. - CULLERCOATS, NORTHUMBERLAND, AND SUNDERLAND, DURHAM.
At 11.30 at night a message was received at Cullercoats from the Blyth coastguard that a destroyer was in need of help at the entrance to the Tyne. A strong west-north-west wind was blowing, with snow squalls and a rough sea. At 11.20 the motor life-boat
Westmorland
was launched. It was low water, and some of the helpers, among whom were several women, had to wade in waist-deep to launch her. Searchlights showed the destroyer ashore on the south side of the south pier. She was HMS
Witherington
, with a skeleton crew of seven on board, being towed to a shipbreaker's yard, and her tow had parted. The life-boat reached her at 12.20, and, after several attempts, was able to go alongside and rescue the seven men. She landed them at North Shields at two next morning. The continuing bad weather prevented her from returning to her station until the 3rd of May.
News of the
Witherington
was also sent by the coastguard to Sunderland, and the motor life-boat
Edward and Isabella Irwin
was launched at 11.40. She reached the
Witherington,
but did not receive any response from her to signals. Her crew had already been rescued. She attempted to get in touch with the coastguard by wireless, but without success, and no reply was received to lamp signals which she made to the beach. She searched for about two hours and then returned to her station at 4.50 next morning.
Messrs. France, Fenwick Tyne and Wear Co., Ltd., who were the employers of the rescued men, gave £100 to the Institution in appreciation of the prompt and efficient help given. An increase in the usual money awards on the standard scale was made to each of the Cullercoats crew and helpers. Standard rewards to crew and helpers, £34 19s; additional rewards to crew and helpers, £11; total rewards, £46 19s. Rewards to Sunderland, £13 1s. 6d.
The Taylor Family of Cullercoats
Frank Taylor's father, grandfather and great grandfather were all coxon of the Cullercoats Lifeboat. Between them the Taylor family has over 400 years service with the Cullercoats Lifeboat Staion. Frank Taylor's father, James Taylor, was coxn of the Cullercoats Lifeboat throughout World War II and for the service to HMS
Witherington.
Other crew were as follows:-

William Gillender 2nd Mechanic
Robert Oliver Bowman
Harry Sabiston Mechanic
David Taylor Crew
George Taylor 2nd Cox
Alfred Tweedy Crew

His Mother was also involved in the RNLI during the war years and was probably one of the women mentioned above who got soaked wet launching the lifeboat through the surf.
The Wreck of HMS

Witherington
The wreck of the
Witherington
is in shallow waters 7 - 12 m in depth and is a popular dive site, the main hazard being the lines of fishermen along the pier. The substantial remains include the boilers, drive shafts, gears, valves and generators. It's worth noting that only the mid portion of HMS

Witherington

was built at Cowes on the Isle of Wight in 1919. The stern was removed by German bombs at Portsmouth in March 1941 and rebuilt at Hull and the bow was destroyed by a collision off the west coast of the USA in February 1942 and a prefabricated replacement fitted at Boston.
The wreck is owned by a local diver, Gordon Ortie, who lives nearby.
You can explore the wreck of the

Witherington

by clicking on the link to a

video of the wreck site

on u-Tube made in 2004.
If you have stories or photographs of HMS
Witherington
you would like to contribute to the web site please contact

Bill Forster
---
Return to the Home Page of the V & W Destroyer Association
Return to the Index Page for the 69 V & W Class Destroyers
---