---
'TIDDLY WIV'
From "Seagulls in my Belfry"
Rear Admiral Charles C. Anderson RN, the last CO of HMS
Wivern
"Tiddly" is 'Jack speak' (naval slang) for smart or tidy but when her 27 year old CO joined her at Devonport's Naval Dockyard at Plymouth
after twenty months under repair
she was looking anything but 'Tiddly'. This account of his time as the last CO of HMS

Wivern

was first published in his autobiography

Seagulls in my Belfry: the very personal story of a naval career

(1997) and republished in

Hard Lying

, the magazine of the V & W Destroyer Association. Most of the Association's members were former ratings and Charles Courtney Anderson (1916-2008) was probably the only flag officer in the V & W Destroyer Association.

Courtney Anderson joined the Royal Navy as an 18 year old cadet in 1934 and served in several V & Ws as a Midshipman but most of his wartime service was in Motor Torpedo Boats (MTBs). In January 1940 he was given command of the newly created 10th MTB Flotilla at Gosport, a motley collection of five small, unreliable, underarmed boats known as the "Wobbly Tenth". He was sent in MTB 67 to rescue Leopold, King of the Belgians, but when the King saw that it did not have either a cabin or a chart table, he declined to come aboard. He was ordered to pick up Lord Gort at Dunkirk who said he would not consider leaving his army at such a time but, under fire, the 10th Flotilla rescued soldiers and ferried them to larger ships offshore.

His Flotilla was shipped
to the Middle East, a two-month voyage around the Cape in a freighter, and in April 1941 they sailed for Crete, the next Axis target for invasion. Three of the five made it to Suda Bay, where they were destroyed in an attack by German fighter-bombers, while their crews were ashore. The wreck of Anderson's boat, MTB 67, has been located on the seabed at Suda Bay. Anderson and his crews were evacuated from Crete by the destroyer

Jaguar

. With the remaining two boats and two seconded Swordfish aircraft Anderson briefly blockaded Vichy French Lebanon from a base in Cyprus, sinking a destroyer. Re-equipped with powerful American MTBs, the now not so "Wobbly Tenth" supported the siege of Tobruk until its fall to Rommel's Afrika Korps in June 1942.

He probably encountered

Wivern

for the first time when he was appointed second-in-command of the sloop

Scarborough

at Londonderry in February 1943, which took part in several hard-fought Atlantic and Freetown convoys. Despite her age and battered appearance he was very proud of his first command which is very evident from this description of his service in her.



The command was HMS
Wivern
. She was one of the most famous of the grand old V&Ws in which I had done my Midshipman's destroyer time, and for nearly a quarter of a century, she had been known to the Navy as "Tiddly Wiv".
I had been long enough in the Atlantic Escort to have an almost unbearable envy of the destroyers which could double our speed and had no fewer than four real working guns,

Wivern

had all this, plus our outfit of torpedoes. I was moving to a infinitely better, faster, more strongly armed ship - a ship which could really take some offensive action. Having been on the helplessly on the receiving end for so long that was cause enough for jubilation.
But this wonderful ship was to be mine. I was to be in command, and in wartime, which must be the zenith of any Naval Officers ambition. Moreover, this was not just any ship, which would be honour enough. This was the 'Tiddly Wiv'. Command of the

Wivern

was more than an honour, it was a trust.
The trust lay alongside the Devonport dockyard wall looking anything but 'Tiddly'. She had gone alongside a sinking Canadian Corvette to rescue survivors and the corvette had sunk during the operation with the depth charges set to twenty-five feet. The resultant explosion would have finished off many new destroyers, but the V&Ws were built to last. With a vast hole in her bottom and her engines lifted clear of their seatings,

Wivern

was towed some hundreds of miles back to Gibraltar and, eventually, to Devonport dockyard where they took the old ship in hand and made her seaworthy once again. There were snags, as we were to discover later, but they were not the ships fault. In all the years I drove her we never once missed a convoy, though on occasions, we had a stokers' sledge hammer knocking wooden wedges back in when the steering engine tried to rattle itself loose from the bulkhead.
Meanwhile, she lay alongside the wall looking as forlorn and derelict as ships do at the end of a refit, dirty unpainted, her upper deck covered with electric cables, unmentionable dockyard intimacies and lethargically squatting dockyard maties. Only a loving and knowledgeable eye could visualise the splendid little ship that would eventually emerge from the grime and filth of it all.
'D' day came and went and the rain poured down. Apart from the Engineer Officer, the whole Wardroom were as new to their jobs as I was to command. Number One was a junior R.N. Lieutenant, Number two, the navigator, was old enough to have been a school master in peace time but had never navigated before. There were two Subs' one R.N., but both brand new, and Gunner 'T' whose thin stripe was equally virginal. Chief on the other hand, was a real old reprobate of a Lieutenant Commander R.N. A man with years of sea time behind him who found himself in the difficult position of having to yield to precedence in the Wardroom to a completely inexperienced R.N. First Lieutenant almost young enough to be his son. With a half stripe more than his Commanding Officer it was a classic formula for difficulties and it said a lot for Chief that there was none.
Some weeks after I joined, the ship commissioned. The rain had stopped at last and it was a sunny summer's evening in the dockyard. I stood on deck, looking down the jetty, waiting for the main bulk of the ship's company to arrive. A couple of three-ton trucks turned up, full of bags and hammocks, and then, round the corner they appeared, a long column of marching sailors. It was a small drama the dockyard had known so many times before over so many years in peace and in war. The dockyard maties did not even look round. A destroyer's ship's company joining their destroyer was no great event in Devonport.
But to every marching sailor a new chapter in his life was about to begin.
Good ship or bad? Home or abroad?
Down past Drakes Island lay the open sea and the war to which they were about to return. What was this commission to hold for them? What were they taking on? I looked at the strange but familiar faces. Soon I should know everyone and the character behind it. Most were even younger than the Wardroom, but there were obviously some very good Petty Officers among them. Already, by the very act of falling in and marching down to their ship together, the first fragile bond had been forged. They were no longer individuals in barracks belonging to no one in particular. Here for the first of so many times came the preparatory order, "Ship's Company". Before they halted and turned left. Now they were looking at the ship with an appraising stare, pointing out things to each other. What in particular? I realised that a lot of eyes were looking at me. Why? Good God I was the skipper of course. What this ship did or failed to do would be my responsibility and mine alone. When my boat was hailed with me in it, the Coxswain would reply, "Wivern". In report I should write not, "Wivern did this" but "I did this".
The Officers stood up when I entered the wardroom. To the sailors I would be the ultimate authority but, for more than that, the man on the bridge whose touch and skill would certainly regulate their living and possibly their dying too. This was Command, and command in wartime at that. This was what all my past training was supposed to have prepared me for. Now, in Wivern there was no one to go to for help. This ship and these men were mine. The whole weight of the Navy and England at war was behind me but, when it came to the crunch. I would be alone. Twenty-seven years old two stripes on my sleeve. I went down to my cabin and sat there while the whole realisation flooded in on me. I felt totally humble and totally proud.
The next morning I addressed the ship's company for the first time. I told them something of our ship's history, how she had always been known as 'Tiddly Wiv', about the depth charges and how she had stood up to them, what we ourselves were now going to do. She may not be the newest and glossiest destroyer in the fleet, but our predecessors who had loved and served her for twenty-five years would look to us in her last commission, to honour their trust. "Always remember", I concluded, "An old violin plays the sweetest tune". It was just what they wanted to hear, and another bond was forged.
Harwich Escort Force

We sailed from Devonport to Harwich, where we joined the Harwich Escort Force. Here, with a sluicing tide behind us and a vicious cross-wind, I had to secure to head and stern buoys. By the time I had mastered that one, ship handling held no further fears.
We went out every night to patrol the off shore convoy route against E-boats. As we passed Felixstowe dock, we could see the MTBs and MGBs (Motor Gun Boats) emerging, great powerful monsters compared with the old First Flotilla and the Wobbly Tenth of my day. Times had indeed changed.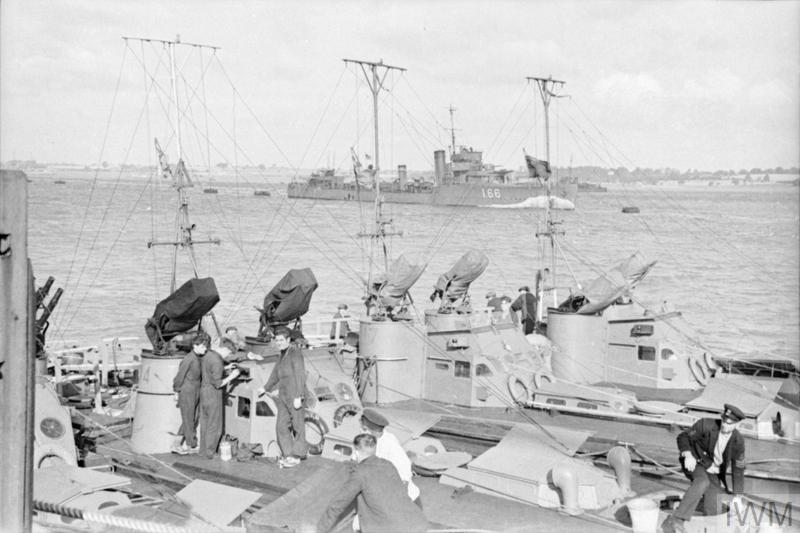 MTBs alongside Parkston Quay, Harwich, HMS

Wivern

underway in the background
Photographed by Lt R.H. Darwall, RN
Crown Copyright (IWM Reference A 1093)
One evening we were steaming up the swept channel off Lowestoft when we heard aircraft. My hackles still rose at the sound, I looked round anxiously to see a huge group of planes coming out from over the land. As I watched the noise increased and I spotted more and more till the whole sky seemed full of them. Even in Crete I had seen nothing like this, but even more were to come. The droning became a roar till the very air above us seemed to be throbbing. Low over the sea and at all heights till they were specks above, from horizon to horizon, the whole world seemed full of aircraft. The ship's company had emerged on deck and we all stood in awe, faces turned up, looking at the limitless aerial armada the sky literally saturated with aircraft. It was a thousand bomber raid on its way to Germany and anyone who had been on the receiving end could only feel horror-stricken pity for the city which was to receive this load. How far we had come from the days of Dunkirk.
Escorting East Coast Convoys with the Rosyth Escort Force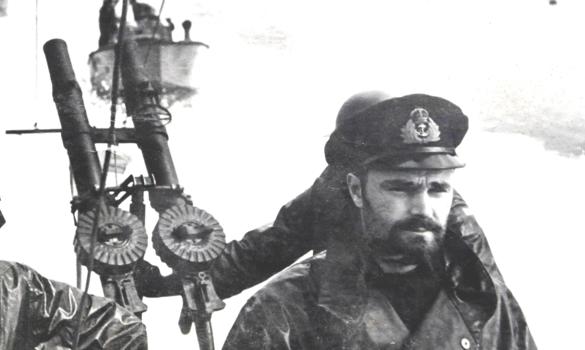 After we had operated from Harwich for a bit and shaken ourselves down into an efficient fighting unit, it was decided to combine all the small Hunt class destroyers to form the Harwich Force and concentrate the bigger V&Ws at Rosyth to escort East coast convoys.
The job entailed taking some thirty or forty ships down the East Coast to the Thames and we soon learned that the bigger and better the merchant ships the greater the problems. We sailed from Methil early in the morning, formed the convoy up in the middle of the night off Newcastle and the Hartlepools, and entered E-boat Alley the following evening. This was the bulge of the East Anglian coast where the southbound route went to seawards of the dangerous sand banks and shoals off Yarmouth and the North bound route passed up inside. The third night was spent in Sheerness, sailing the next morning with a north bound convoy and backing up its escort as far as the Humber, then returning the next night to Sheerness having reinforced the southbound. After this, we took we took the next day's northbound convoy the whole way back to the Forth and Rosyth.
The main problem was usually fog. The ships had to sail in two long lines and a big convoy was often ten or fifteen miles long by the time one had included the stragglers. The lead escort was essentially a bellwether showing the way because the big ships came first and the deep sea masters' coastal navigation was often primitive. The escort at the rear would be chasing up stragglers or running up and down the long line at twenty knots, keeping a general sheepdog eye open. Fog produced immediate shambles. Some ships forged hopefully on. Others hauled out of the channel and anchored Others anchored on the spot, which raised difficulties if a forgeon man happened to be behind them. Close control and co-ordination was impossible.
Off the south east coast of the Wash where the two swept channels split, there was one particular narrow passage between the sand banks marked by two buoy's. Deep sea Masters were liable to take a horrified look at the closeness of the two markers, lose their nerves and pull sideways like a frightened horse refusing a jump. This left the big merchant ships beam on to the channel and with inadequate room to manoeuvre even if the Master possessed the skill to handle his ship in such confined waters. The tide moved fast, the remainder of the convoy bore inexorably down and the CO of the escort aged before his time.
The other indigenous danger was drunken merchant ship's Masters. On one occasion, the Master of a large passenger ship was so drunk in the early morning that he could not be awakened when it was time to start from Methil. His Chief Officer said that he was not paid to take responsibilities of command, and refused to sail, so the ship missed the convoy and remained at anchor.
Another worse example happened when a merchant ship suddenly veered out of our southbound convoy and crossed the vicious shoals off Yarmouth straight towards the northbound convoy in the inshore channel. It was a pitch-dark night, luckily high tide. I followed horribly conscious of the big vulnerable propeller which must have been sweeping round literally inches above the sand. Morse lamp, a ten-inch lighting up his bridge from almost alongside, blasts on the siren, none had any effect. Finally, I opened fire with the Oerlikon just ahead of his lifeless bridge and we brought him to a halt just as he was about to ground on the inshore banks. Fortunately, the northbound convoy was running late or there would have been a veritable motorway pile up. As it was, I had to put my navigator on board to take the ship into Sheerness because the Master and all his officers were too drunk to understand what was happening. It was all in day's work.
All through the autumn and winter we flogged up and down the East Coast, Christmas came and went. (We sailed at 0400 on Christmas morning with loudspeakers blaring 'Silent Night, Holy Night' across the waters of the Forth. Gales and fog gave way to gales and snow. Early in the New Year we actually met a freak calm. I saw the last of my convoy safely into Newcastle and increased speed for home. It was just after midnight and the sea was glassy. I stood on the bridge and peered ahead. Out on the Starboard bow, the darkness of the night looking wrong. There seemed to be a white tinge to the blackness. "Must be snow" said someone idly and went on to wonder if we were due for leave when we got in.
The wind hit us with a sudden brutal force, made all the worse by its total unexpectedness. One minute we were gossiping peacefully in a still, quiet middle watch, the next the wind was howling and shrieking around our ears as if we had suddenly entered a typhoon.
Quickly, the calm water became transformed into a mass of racing tumbling waves and still the wind increased. After half an hour, the world was a terrifying, screaming hell. The seas were now mountainous and, with the comparatively shallow depth, infinitely more dangerous than those in the Atlantic.
In the wheel house the Coxswain took over. I stood on the bridge peering over the windscreen watching the forecastle buried in water one minute, then lurching up, up, up the next as the bow lifted out of the water. The whole mad inferno had a dreadful exhilaration and I felt a crazy urge to shout back into the storm.
But after a while I began to feel that something was wrong. At first, I could not identify it. Then I realised that the bows were not lifting up as they had been. Now she was putting her nose down, but the forecastle no longer came surging buoyantly up, it stayed submerged and sluggish, as the great waves washed over.
Chief appeared on the bridge beside me. Putting his arm round my neck, he pulled my head down and screamed into my ear over the noise of the wind. He told me that the forward magazine was flooded. Devonport dockyard had earned speed for the speed in which they got

Wivern

back to sea but, to do it they must have skimped on the welding. Now a weak bit had gone and we had tons of water where we desperately needed buoyancy. And the leak was beyond pumping.
All night the Coxswain wrestled with the wheel, trying to keep
Wivern
's head into the sea. On the bridge I hung on grimly, working the engines to help him. Down in the engine room exhausted men clutched their wheels, trying to give us the response we needed. The rest of the ship's company, wakeful and appalled, hung on in the shambles of their mess decks. Everyone knew that, if that waterlogged bow took charge, the end would come terrifying and sudden.
I broke radio silence to send a storm warning down the coast of winds gusting force twelve, but the Commodore behind us refused to believe it. "Force twelve", he said, "I doubt it". He was quickly convinced. Even in the sheltered waters behind the sand banks, he lost four ships. One was blown into a minefield, two ran aground and one was simply never heard of again. To the North of us, another destroyer lost bridge, funnel, mast and upper works, but had the buoyancy to stay afloat. Happily, we did not know this at the time.
In Wivern our world was our own staggering, stricken ship, overburdened bows trying desperately to lift the great waves which thundered and crashed down on to the forecastle. Inside flinching to every hideous blow, feeling the sluggishness, knowing of the water compartments beneath their feet, the sailors had nothing to do but listen, think, and wait.
On the little open bridge, peering out into the ghastly night, soaked to the skin and very frightened, I remembered the Navy Prayer - "Oh Lord preserve me from the dangers of the sea and the violence of the enemy". For so long, I had thought only of the possibility of death coming from the Germans. Now, suddenly, it seemed very likely that it could be the sea which would kill me. And so the long hours passed.
With the dawn, the wind decreased to force eight and we looked out to a tumultuous sea with thrashing, wild white waves but only with the normal gale sized strength.
Slowly I risked more speed. With dreadful reluctance she answered to the helm and we set course for the Firth of Fourth. When we got to Rosyth, there was no question about leave. The ship entered the dockyard for repairs and we returned thankfully to homes that we had thought never to see again. But one thing I knew, she was a wonderful little ship.
After our storm damage had been repaired, we did another convoy during which one of our ships, SS

Dalemoor

, was mined in E-boat alley. I went to her as she sank. Some of the crew, unfortunately led by the Master, had already jumped overboard into the sea and the presence of these swimmers in the water made getting alongside rather difficult, but I managed it and eventually succeeded in saving everyone.
When they were all safely on board the errant Master came up on the bridge. He turned out to be one of the most famous characters who had run the Franco blockade during the Spanish civil war when, apart from more strategic cargo, he had taken crates of Scotch to the Republicans. A suitably grateful General in the Republican forces had presented him with the Spanish King's own cigarette box which the General had appropriated from the Royal desk whilst looting the Palace. Now the Master said he would like to give it to me in thanks for their safe deliverance. I rather suspected this was subtle way of asking me not to mention his unworthy conduct in my Report of Proceedings, but whether it was or not I shall never know because I didn't anyhow. There seemed no point in crucifying this sad shivering, frightened old man. He did send me the box a few weeks later.
We sailed again at 0800 on the 14th March. We were now running on familiar tram lines. North of Newcastle, no problems, Newcastle to the Humber, routine navigational and convoy stuff, Humber to Sheerness. E-boats, mines, and generally stimulating nights. We knew just what to expect. With this background in our minds, we picked up two merchant ships from Methil. As usual we would be alone with the convoy until reinforced by the escorts from the Humber for the run down E-boat Ally.
Even with a well buoyed swept channel, leading some twenty plus old merchant ships through fog and gales was quite a job. (I was still in my twenties and the ship's company were mostly even younger) and it was made no easier by E-boats, U boats (we sank one) and recalcitrant old masters in little pre-war one funnel tramp steamers who didn't like being in convoy anyhow and tended to go their own way. It was one of these, in a convoy code named "Pug Dog", who must have provoked me into verse during the long night watches.
Anyhow, I found it in the back of the Night Order Book and, as a view from the Bridge, it may serve to amuse, so, with apologies to Lewis Carol, here it is:
"You are straggling my Pugdog" the young escort said,
The merchantman close by his side
"And you passed twenty-one buoy some five miles to port.
"Why don't you allow for the tide?"
"In my youth said the ancient, we didn't have buoys
But we got to the Thames just the same
And the tide in six hours will be sweeping me back,
This police persecution's a shame".
You are straggling my Pugdog the young Escort said,
In fact, you are ten miles behind,
You are making us late for our rendezvous time
Don't you think you are being rather unkind?"
"I am doing my utmost" the ancient replied
And I don't care when we pass Tyne,
I'm doing six knots and the convoy's speed is six,
Tell the Commodore not to go nine."
"You are straggling my Pugdog," the young Escort said
Trying bravely to still be polite,
"And in spite of my signals by R/T and lamp
You are still showing a very bright light".
Said the ancient "I've shown it for forty-five years,
And, although I'm not saying it's right
It's been that way now during nine years of war,
What the hell is the difference tonight?"
"You are romping my Pugdog" the young Escort said
As the merchantman shot down the deep,
"After straggling like that you have 48 hours.
Your behaviour is really too steep".
Not a word said the ancient. Hull down in smoke,
He was lost out of sight far ahead.
But a senile old chuckle came back on the wind,
It was all that the old-timer said.
The sinking of U-417

It was Sunday, and one of those rare, sunny, early spring days that make one think, quite unjustifiably, that winter had gone at last. I wanted to get some sleep in the afternoon so that I would be reasonably fresh when around midnight I had to start assembling the darkened shapes of the unpredictable individuals who would come milling out of Newcastle; I had an early lunch, looked at the two merchant ships steaming placidly along behind and left the bridge for my sea cabin. The Officer of the Watch took over and the Asdic operator sat in his little office, listening with boredom to the ping, ping, ping in his headphones as we swept through the sea ahead. We had never heard a U-boat's echo and indeed, we had never even had the opportunity to exercise with one of our own submarines. U-boats did not operate off the East Coast and, though we had the set and operators, it had never occurred to anyone on the board or to the staff ashore that we should ever need to use them seriously. The set had not been modernised during our refit and the operators were out of practice and needed experience. To seawards as I drifted off to sleep.
Kapitšnleutnant

Hans Joachim Schwebke watched the scene through his periscope. He too had reason to be proud of his command, U-417 was a brand new 770-ton, type V11 U-boat which had just arrived for its first patrol between the Firth of Forth and Flamborough Head.
This, and the thinking behind his orders, became clear from post war studies of captured German Naval records. Doenitz, suffering from heavy losses in the Atlantic, had reverted to his old trick of trying to find weak or unguarded points to attack and had guessed correctly, that there might be easy pickings down our East Coast. Schwebke was therefore a guinea pig. If he was successful, his friends would all come over for the easy kills. If our defences proved too strong - well, nothing had been lost except one U-boat and Doenitz would try somewhere else.
Schwebke fired at 1400 on the Sunday afternoon and the old, familiar thump of the exploding torpedo shattered my sleep. Within seconds I was on the bridge looking back unbelievingly at the Norwegian
Magne
, the last ship in the line, already sinking fast.
Wivern

turned into a beautiful circle of foaming water, white against the blue sea, and raced back to the sinking ship to use her for a datum point for the search. Luckily, experience in the Atlantic had made correct action almost second nature. One did not even think before automatically starting the requisite search. As I did so the lookout reported another ship approaching up the swept channel from the Southward. It was the South African 'Loch' class frigate,
Natal.
Never had I been so thankful to see another ship. Not only did the hunt require a minimum of two A/S vessels, but I had a feeling in my bones that I knew where the U-boat was, that it was in the other half of the search area, which by the book, I should not reach for some time. And here,
au moment critique
, was a beautiful brand-new anti-submarine frigate with all the latest Asdic's and even better, the new wonder weapon - an A/S mortar known as Squid which was supposed to be really lethal. I told
Natal
what had happened and gave her the position to start her search.
Natal
altered her course and sure enough, gained almost immediate contact. A few minutes later we saw the Squid missiles arch through the sky and the sea reared up through the heavy explosions.
There followed the short anxious wait to see what, if anything, came up. A large amount of wreckage, or best of all, bodies live or dead were what we hoped for. A little oil, or only some wreckage, was no good. We had learned that such misleading debris could be ejected from a U-boat as it escaped. More was required to be sure of a kill.
In fact, a little did appear but certainly not enough to prove success. The sea resumed its calm, untroubled blue and I prepared for a long hunt. There were two of us, one a superbly equipped ship, and I had no need to run after the convoy. We might well get him.
However, the South African had other ideas. He was only on his way to Scapa Flow to work up, but apparently, he thought it more important to keep to his schedule than to help sink a U-boat. Explaining his unusual idea of priorities, he wished me luck and left
Wivern
to it.
Rosyth in the meantime, was humming like a disturbed bee hive. Every conceivable ship was ordered to sea forthwith to join the hunt for the intruder. This was one U-boat which, on our very doorstep, must be destroyed. I continued the search without much hope. If we had both lost him after our first attack,
Wivern
alone was not likely to find him again, and it would be hours before we got the support so urgently needed.
The long afternoon and evening passed and the light began to fade. We were ten miles away from the position of Natal's attack and still searching. Then as dark crept over the sea we saw it - a long slick of diesel oil staining the calm water.
Steaming up, I investigated all round the source, but never an echo could
Wivern
's elderly Asdic pick up. However, the U-boat must be there, and its position was clearly marked. I hauled off and came back, steaming right to the centre of the slick. Getting to the end I plastered the position with depth charges. Then I did it again and again.
When we had spent all of our twenty-five depth charges, we had still brought up no wreckage, but the oil was coming up thick, sluggish and hard. It was obvious that the U-boat would not be leaving. By now all available ships from Rosyth were just over the horizon and, with no depth charges left, it was time to think of rejoining the convoy. Fixing the position exactly to Berwick Lighthouse, which had been clearly visible all day, I reported the situation and left.
On arrival at Sheerness I got down to the detailed analysis of the action. A specialist Officer from C-in- C Nore's staff kindly came and helped and, between us a few hours work produced a text book Report of Proceedings, complete with sketch maps and narrative of the operation of both ships. It was obvious that
Natal
's initial attack had damaged the U-boat, but it had still managed to withdraw at about three knots and, left in peace, Schebke would presumably have surfaced after dark and withdrawn to seawards and safety. However, the damage, though it produced no visible oil at the time, had eventually resulted in the tell-tale slick which had given away its hiding place, ten miles from the original attack and thus offered us the chance which our primitive ping would have otherwise denied us. Although
Natal
's sense of priorities may have seemed odd, his Squid had certainly handed us the U-boat on a plate.
We carried out the usual convoy cycle via the Humber, had an extremely successful brush with some E-boats, and returned to Rosyth to find ourselves heroes. It turned out that none of the ships that turned out from the Forth had found anything. Darkness had fallen by the time they arrived on the scene and the oils slick had disappeared in the night. With equally old and useless Asdic's, they had picked up no contact and, after searching all night, they returned to harbour. With the lack of hard evidence, this left an obvious doubt in the minds of the Admiralty as to whether the U-boat had been destroyed.
The experts in London were only too aware of how important it was to make sure that Doenitz was discouraged in this particular gambit. They guessed that success would produce a plague of U-boat attacks on the East Coast which was simply not geared up to meet. A hunter killer group had therefore been sent to Scapa Flow to investigate. These highly skilled specialist had no difficulty in finding the U-boat in the exact position I had reported and, three days after
Wivern
had left, they blasted the wreck open and gained all the evidence needed to prove destruction. Because no living U-boat could remain submerged for three days, Wivern had been credited with the kill.
Messages of congratulations poured in. Our gin bills quintupled overnight. Nobody, ourselves included, could get over the fact that an old V&W from Rosyth had sunk a U-boat. It was if a pedestrian had run over a car.
We sailed for another convoy, came back - and found that we had been sold down the river. It appeared, unbelievably, that the First Sea Lord didn't like South African's and his staff thought it would only be politically desirable but useful with their master if the story could read that a South African frigate unworked up, had casually destroyed the U-boat in passing.
Natal
had put in no proper records because she lacked the bridge organisation to do so. Mine, so comprehensively and carefully produced, had been suppressed and replaced by an imaginative if inaccurate 'narrative concocted in Rosyth. All the signals and letters of congratulations from C in C downwards were forgotten and
Natal
was given the sole credit for the kill.
As a result, Roskill's 'War at Sea', based on Admiralty records, and the Confidential Book listing U-boat actions and the ships that were present at the scene, show U-714 as being sunk by
Natal
alone with no other ship's in company.
Under the circumstances, it is not remarkable that
Natal
collected two DSC's two DSM's and five Mention in Despatches. What is surprising is that
Wivern
actually earned three Mention in Despatches for her success in an action in which, officially, she never took part!
It was very demoralising to find the Admiralty behaving like this but, by now, events in the war were moving so fast that the vast canvas of Germany's defeat began to fill our minds to the exclusion of all else.
Liberating Norway and working with the Norwegian Resistance

Then came 'V.E' day and our role changed. With the East Coast convoys no longer necessary, the Rosyth Escort Force was redeployed to run a shuttle service to liberated Norway.
Wivern
was one of the first to cross the North Sea to Stavanger, Kristiansand, and the Oslo run and, as a result, we had the privilege of taking back to their country two members of the Central Leadership of the
Milorg
(Underground Resistance) who had been forced to escape to London, via Sweden, with the Gestapo hot on their heels. Through them I was introduced to the Milorg leaders in each of the ports that we visited, so that a close and fascinating liaison developed between Wivern and the Norwegian Underground movement.
Apart from this we quickly found that wherever we went, children came up smiling shyly, took our hands and walked beside us. I explored the town with two kids each side of me and met all my sailors, hands equally gripped by enchanting little blonde boys and girls of five or six years old. A Norwegian friend explained, "Ever since they can remember, they have heard of Father Christmas, who will bring them presents, and the British who will bring them freedom. You just happened to turn up first. Now you know what would happen to Father Christmas if he ever came to town. It was greatly humbling and very moving. Our nutty (chocolate) ration soon disappeared.
We sailed for Kristiansand which was being run entirely by the Milorg under one of the most famous of underground leaders, a huge man called Robstadt, and here the
Wivern
and Milorg friendship really blossomed. Robstadt had taken over the old Gestapo headquarters, a pretty little villa in a pinewood on the outskirts of the town. In the cells below, the entire Gestapo team were locked up. A Milorg man showed me his wrists, the scars plainly visible where a device had been clamped on it which tightened a turn every few hours producing excruciating agony, and the Gestapo men who had done this to him were locked up below, but the Norwegian had never gone down and as much as kicked his backsides. Would we have had such decency and discipline under the same circumstances? I was shown their Gestapo captives. Blonde, blue eyed, good looking Aryans and dark, sulky young men sitting in a cell with their dhobeying strung up on a line. Germans are very clean. As the door opened, the Gestapo men sprang up rigidly to attention. They considered themselves to be soldiers and this was the correct military way to behave. The Norwegians closed the doors and smiled ruefully. "It is most interesting for us", said one, "to see now how professionals should behave in defeat. We were only amateurs and disappointed our visitors dreadfully."
I was invited to sit in on the Gestapo chief's interrogation by a government representative from Oslo. The Gestapo chief, Koener, was a short, squat, ape like man whose muscles bulged obscenely through his tightly fitting uniform. He came into the room, handcuffed, and bowed to me correctly on his way to face his interrogator. Sitting on a stool, words spilt from his mouth denunciating his ex-colleagues. Nothing had ever been his fault. He was only a soldier obeying orders. He had never known of torture. Everyone else was to blame. The Norwegian interrogator listened and encouraged the damaging confidences (amongst other things, the German Naval Liaison officer was denounced as a Gestapo agent. I had him arrested the next day). At the end I was given the little leather thronged cat 'o nine tails he had used on the faces of his victims when he was the interrogator. He had christened it "Wotan" and carved the name on the wooden handle. It is beside me as I write. We went on to Oslo where we finally landed our Milorg leaders, and then we spent the next few weeks on the Rosyth, Stavanger, Kristiansand, Oslo run, but time for Wivern was running out. The end of the European war meant a concentration in the Pacific, but there was no call for elderly V&Ws in that area.
On our last trip I discovered that the army mails were taking three weeks to reach home, so I offered to take the lot, letters and parcels, and have them in the U.K. mails in forty-eight hours. This offer was rapturously received and a convoy of three-ton trucks turned up loaded with mail, the army were ecstatic. What could they do for me? I suggested that they might loose some of the champagne they had "liberated" from the Germans, who had stolen it from the French.
As a result, at a time when champagne had been unavailable in the UK for years, every one of my sailors was able to take a free bottle in his kit bag to celebrate his homecoming.
But even with this and the end of the war, there was a remarkable atmosphere of subdued sadness on board because, on our return to Rosyth we must turn over our much-loved ship to the knackers yard. It had been a wonderfully successful and happy last commission and it really hurt to think that the end had come - and particularly such an end like this.
Our thoughts and feelings must have been obvious to the Norwegians. We were due to leave Kristiansand for the last time, early in the morning, just before we sailed a deputation of the Milorg marched down the jetty carrying a huge garland which was presented to the ship with the words, "Good Bye, Good Luck
Wivern
".
On arrival back at Rosyth the customs were duly notified about the champagne, (which was listed as sparkling wine) after having a share. Every member of the crew received a bottle, the remainder went to the wardroom for the departure celebrations, for sadly, Wivern had finished her active life and the crew and officers were to be sent on leave and then had to report back to their respective depots after the expiry of their leave.
The ship had been de-stored and stripped of her bell, name plates and badges. With them went her personality and the 'Tiddly' from 'Wiv'.
I said goodbye to my ship's company and my thoughts were with that opening talk by the wall in Devonport Dockyard which now seemed so long ago. I looked round at the faces around me, the familiar, well known characters.
They had been a splendid ship' company and they had maintained our trust. We all knew it and we all knew that, with the death of this small stricken hull on which we stood for the last time, something precious and a corner of our hearts would have left our lives forever.
She was towed away from the grey waters of the Firth like a tired old dog, collar removed going slowly off to be put down. But on her final journey, where my commissioning pendant had flown, she wore at her mast head our own honour - 'Goodbye, Good Luck,
Wivern
'.
******************

After the Japanese surrender, Anderson took the frigate HMS
Loch Killisport
to the Far East. Morale in
Loch Killisport
was very low as there were many "hostilities-only" ratings and everyone wanted go home. By strong leadership, Anderson won his people round, demonstrating that there was still a task for the Royal Navy amid the chaotic events in Java where Indonesian nationalists who did not want the return of the Dutch had obtained Japanese arms and were killing British servicemen and massacring Dutch prisoners. He rescued more than 100 Dutch women and children under fire and transported them to Singapore.
A shortage of ships and a surplus of eligible captains now prompted the Admiralty to create what became known as the "wet" and "dry" lists. Anderson was labelled "dry" and his subsequent career was land-based. He retired as Rear-Admiral Courtney Anderson CB, Flag Officer Admiralty Interview Board, on 7 January 1969 but edited the "Boards Bulletin" from 1971-8. Obituaries were published in
The Times
and
The Telegraph
and a list of his various appointments throughout his lengthy career can be seen on the
unithistories website.
If you have stories or photographs of HMS
Wivern
you would like to contribute to the web site please contact

Bill Forster
---
Return to the Home Page for HMS

Wivern



Return to the Home Page of the V & W Destroyer Association
Return to the Index Page for the 69 V & W Class Destroyers

---