---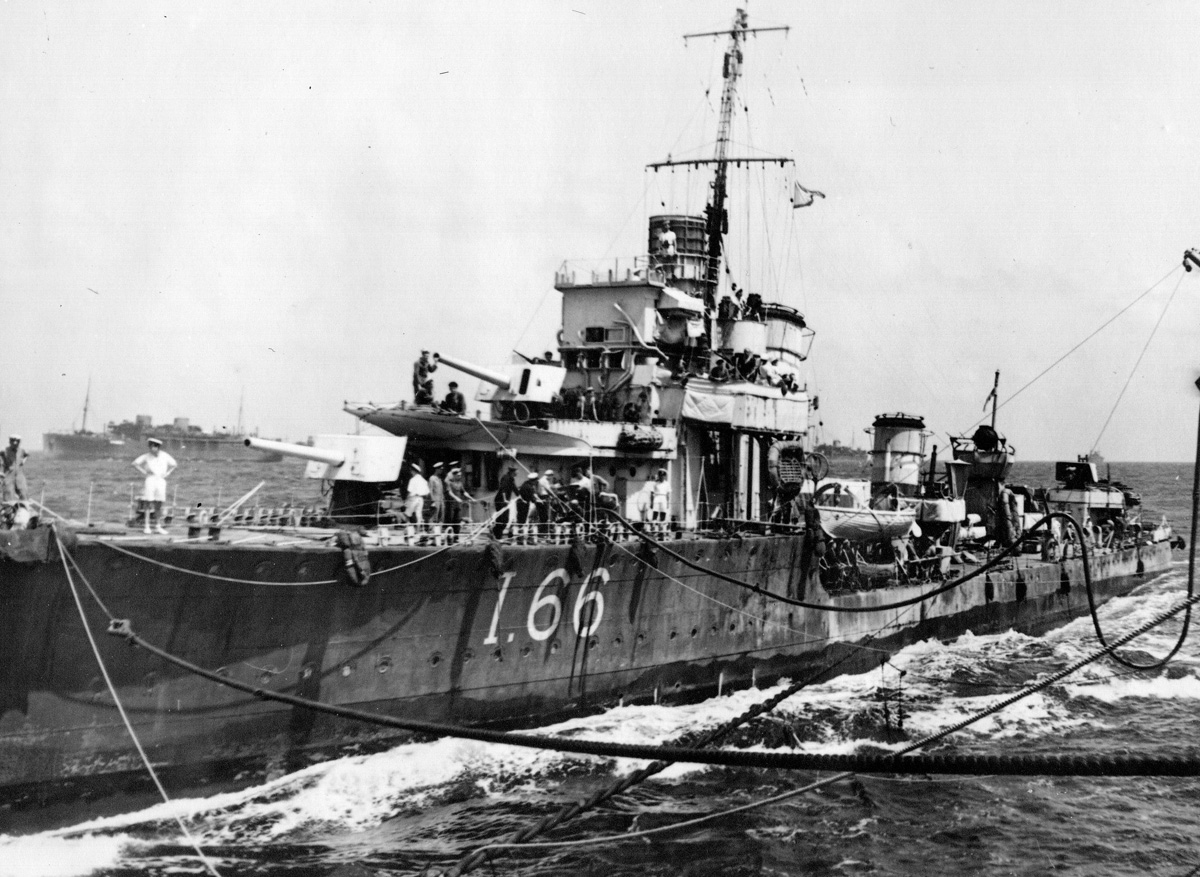 HMS

Wivern

oilin

g

at sea (RAS) on convoy duty in the Mediterranean in 1943 with the former Polish passenger liner SS

Batory

behind

Courtesy of Don Morris, son of Petty Officer Charles Morris, HMS W

ivern

, June 1941 - May 1943



HMS

Wivern

was named after a Wyvern, a legendary two legged dragon with a tail often ending in a diamond or arrow-shaped tip, the sea-wyvern has a fishtail in place of a barbed dragon's tail. HMS

Wivern

was the second ship in the Royal Navy to bear this name. She was built by J. Samuel White at Cowes, Isle of Wight, launched on 16 April 1919, completed 23 December 1919 and commissioned the same day with the pennant number D66.

HMS

Wivern

was assigned to the 3rd Destroyer Flotilla, serving in the Atlantic Fleet and Mediterranean Fleet before being transferred to the China Station on 22 September 1926, departing Hong Kong for home on 6 September 1928. Ordinary Telegraphist P.D. Baker describes his service in HMS

Wivern

on the China Station with the 3DF in his diaries at the IWM London.



Wivern

spent the 1930s in Reserve but was recommissioned in 1939 in time to attend the Review of the Reserve Fleet in August at Weymouth Bay. When the war began she was with the 16th Destroyer Flotilla (16 DF) at Portsmouth escorting former LNER ferries requisitioned for use as troop carriers to take the British Expeditionary Force to France. On 17 January 1940 Lt Cdr Bushell

(Vansittart

) and Lt W. Evershed

(Wivern

) exchanged commands with Bushell taking command of HMS

Wivern

and Evershed taking command of

Vansittart

. The reason for the change of command is not known but Lt Cdr Bushell took most of his officers with him to

Wivern.





In May 1940 her pennant number changed from D66 to to I66 and German forces swept into the low countries and France.

This period is illustrated by

the vivid photographs in small pocket album belonging to Reg Panton

, a stoker in

Wivern,

sent to me by his step Grandson, Philip Watkins. The early photographs were taken from HMS

Vansittart

and they were all taken before 14 May 1940 when

Wivern

was bombed off the coast of the Netherlands with 25 ratings killed and 32 wounded. They may have been taken by Midshipman Briggs who joined

Wivern

from

Vansittart

on 17 January and was killed when

Wivern

was bombed.



Wivern

departed Dover at 0415/11th with Major General Heywood and a British Military Mission for Hook of Holland but was diverted to Flushing where the mission was landed. On 14 May HMS

Wivern

was one of a dozen destroyers (including seven V & Ws) which took part in Operation

Ordnance

to evacuate troops landed by HMS

Wild Swan

at the Hook of Holland on 12 May to defend the "demo party" sent to destroy oil reserves at Rotterdam (Operation XD "B") and 651 Irish Guards defending the harbour for the Hague (Operation

Harpoon

). At 2230/14 the remaining 350 Guards were embarked on HMS

Vesper

.

Keith, Wivern, Verity

and

Wolsey

fired torpedoes at the North Breakwater to silt up the harbour.

While this was going on

Wivern

was badly damaged (ADM 358/3653) by two bombs with Mid K. T. Briggs RNR, S/Lt R. S. Brown RNVR and 25 ratings killed and 32 wounded, including Sub Lt S. E. Pritchard.

Wivern

returned to Dover arriving at 2330/14 and was under repair at Portsmouth until 20 June. She returned to service with her flotilla at Harwich in July until her transfer to the 5th Escort Group at Liverpool, for convoy escort work.



Wivern

was assigned to convoy escort duty at Freetown in Siera Leone on 18 June 1941 but on 3 August she left for a refit at Gibraltar. Bill Poulton joined the

Wivern

on the 2nd October 1941 at Sierra Leone as a replacement ERA. Bill Poulton described his fifteen months as an ERA on HMS

Wivern

in

Hard Lying

, the magazine of the V & W Destroyer Association.

Wivern

returned to Portsmouth for the fitting of the latest Type RDF and was sent to Londonderry as part of the escort for the newly built Battleship HMS

Duke of York

which left on 13 December to take Winston Churchill to Chesapeake Bay to meet President Roosevelt in atrocious weather. After repairs at Greenock

Wivern

rejoined the Freetown Escort Force.

In March 1942, the civil community of West Hartlepool in County Durham adopted

Wivern

after a successful Warship Week national savings campaign. In October 1942

Wivern

proceeded to Gibraltar to support Operation

Torch

, the Allied amphibious landings in French Morocco and French Algeria scheduled for November 1942. On 10 November 1942 she was escorting Convoy TE.3 when she took part with

Verity

, the destroyer

Westcott

, and the corvettes

Lotus

and

Starwor

t in a depth-charge attack on the German submarine U-660 off Oran, Algeria.



On 22 February 1943 she came to the assistance of the Royal Canadian Navy corvette HMCS

Weyburn

, which had struck a German mine and was sinking east of Gibraltar. While rescuing

Weyburn

's survivors,

Wivern

suffered severe structural damage when depth charges aboard

Weyburn

exploded as she sank.

Bill Poulton and two members of the Medical Team named Evans,

Sick Berth Attendant

Idris Evans and

Lt (Surg) Philip Evans RNVR, described what happened.

In March 1943,

Wivern

was towed to the United Kingdom for repairs, and in April 1943 she entered the Royal Navy Dockyard at Plymouth for 20 months.



Wivern

joined the Harwich Escort Force in October 1944 but was soon transferred to the Rosyth Escort Force, escorting convoys between Rosyth and the Thames estuary. She was part of the escort of Convoy FS 56 on 14 March 1945 when the German submarine U-714 sank the Danish cargo ship

Magne

off St. Abbs, Scotland.

Wivern

claimed the credit for the sinking of U-714 but the South African Navy frigate HMSAS

Natal

, a new ship that had left the River Tyne only four hours earlier was given sole credit by the Admiralty.

After VE Day

Wivern

deployed for support of the re-occupation of Norway and her CO made close friends in the Millorg, the Norwegian Resistance. Her last CO, Lt Charles Courtney Anderson, later Rear Admiral C.C. Anderson, described events in his book

Seagulls in my Belfry

(1997) and on this website.



Heraldic Data

Badge: On a field Red, a Lion Rampant Silver Motto: Pro Patria, "For the Fatherland"

Commanding Officers
Lt Cdr John I. Hallett (28 Nov, 1919 – 13 July, 1920)
Lt Cdr Ralph G. H. Izat (13 July, 1920 – 4 May, 1922)
Lt Cdr Cecil H. J. Harcourt (April, 1922 – 27 June 1925)
Lt Cdr Philip H. Calderon (27 June, 1925 – July, 1927)
Lt Cdr Edward Lyon Berthon (July 1927 - June 1928)


Lt.Cdr. Walter Evershed, RN (31 Jul 1939 - 17 Jan 1940)
Lt.Cdr. William Charles Bushell, RN (17 Jan - May 1940)
Lt. John Wychard Harbottle, RN (May 1940 - 26 Jun 1940)
Lt.Cdr. Michael Donston Capel Meyrick, RN (26 June 1940 - early 1943)
Lt. John Malcolm Hay, RN (early 1943 - mid 1943)
Lt. Charles Courtney Anderson, RN (26 Jun 1944 - mid 1945)

Officers

Mid Kenneth T.Briggs RNR (Sep[t 1939-15 May 1940)
Sub Lt C.C. Butt RN (31 July 1939 -
Sub Lt D.S.C. Currey RN (3 Nov. 1939 -
Sub Lt George Philip Griggs RN (29 May - Dec 1940)
Lt R.G.C. Haines RN (24 July 1939 -

Sub Lt S. E. Pritchard RN (17 Jan 1940 -
Cd Eng S. Smith (12 March 1938 -
Gunner (T) H.F. Steer (24 July 1939 -
Gunner (T) J. Walker NZD (17 Jan 1940
Lt Kenneth M. White RNVR (4 July 1944 - April 1945)

HMS

Wivern

, known affectionately as the

"Tiddly Wiv",

looks very smart with her awnings up in this peacetime photograph in the Mediterranean

She is practising "making smoke" to avoid detection

Courtesy of Stormy Fairweather




Reg Panton's album of photographs tells a moving story From Royal Review in Weymouth Bay on 9 August 1939 to
Bombed of the Dutch coast on 14 May 1940

Philip Watkins sent me a small pocket album of photograph which belonged to Reg Panton in March 2020. The name of the photographer is not recorded in the album. Philip Watkins' Grandmother married Reginald Edward Panton (1902-75) after the death of her husband in 1921 and Reg became Philip's step Grandfather. Reg Panton joined the Navy for 12 years in 1920 and on being discharged in 1932 he joined the Royal Fleet Reserve (RFR) and was recalled in 1938. He was mobilised on 28 September 1938 during the Munich Crisis, demobbed a week later and recalled again on 31 July 1939. He was drafted to HMS V

ansittart

as a Stoker but joined HMS

Wivern

on 26 January 1940. The entries in the Naval Lists for the two ships show that most of the officers in HMS

Vansittart

transferred to HMS

Wivern

on 17 January 1940.



Officers in HMS

Vansittart

and HMS

Wivern

Naval Lists



February 1940





December 1939

On 17 January 1940 all the officers in HMS

Wivern

changed.

The new CO, Lt Cdr Bushell, Sub Lt Keyes, Warrant Officer Walker Gunner(T) and Mid Briggs were posted from HMS

Vansittart




May 1940


All the photographs may have been taken on HMS

Vansittart

- but some may have been taken on

Wivern

. The first photographs were taken from

Vansittart

on 9 August 1939 at the Review of the Reserve Fleet in Weymouth Bay by King George VI and page six is of HMS

Wivern

(D66) so must also have been taken from

Vansittart

. They were all taken before 14 May 1940 when

Wivern

was bombed off the coast of the Netherlands with 25 ratings killed and 32 wounded. The last photograph in the album was taken at Le Havre in Northern France and non were taken off the coast of the Netherlands. This limits the time period covered to the "phoney war" before Germany swept into the Netherlands on 10 May 1940 and on into Northern France. Reg Panton is unlikely to have taken the photographs but he may have acquired the album after after the owner was killed. It was the custom to sell the possessions of a rating killed in action and send the money raised to his family.

If one looks at the captions written beneath each photograph one can learn much more. They must have been written after the bombing since the death of Midshipman Briggs in that action is mentioned. There are no photographs of ratings apart from the "captain's servant" standing alongside Mid Briggs. The only named persons are the Captain, Lt Cdr William Charles Bushell RN, Midshipman Briggs (four photographs) and Sub Lt Keyes the "grandson of Roger Keys" (sic) but there is also a photograph of an officer taking sights on the bridge whose name is not given.

The omission of the e in Sir Roger Keyes name and the fact that the Sub Lt was his son and not his grandson suggests the captions were written by a rating, probably Reg Panton. They must have been added later as they are often misleading, sometimes quite wrong so have to be treated with caution. The photographs may have been mounted in the album by the photographer - or later by Reg Panton. The camera was capable of taking sharp photographs in poor light conditions so had an excellent lens. I think the owner of the camera was Midshipman Briggs since there are more photographs of him than anybody else and the album was found on HMS

Wivern

after his death but they could have been taken by a fellow officer. The photograph of Mi dshipman Briggs are particularly poignant and I would like to trace his family and find out more about his short life.


The pictures and captions in the album tell the story of the men in HMS

Vansittart

and HMS

Wivern

during the first ten months of the war. There are 17 pages in the album and each page measures 6 x 4.5 inches with one photograph per page and a hand written caption beneath as shown above. I scanned each double facing page in the album at 1200 dpi so that they could be enlarged. If details were obscured at the corners I removed them from the album and scanned them again.

I decided to link from a thumbnail scan of each double page to cleaned enlarged images on a separate page with further details added mainly obtained by Googling the web since libraries and archives are closed during the Cornona pandemic. You can click on the links to view cleaned up enlarged images with the results of our research. If you can add further details of the individuals and the events shown please contact me by e-mail.



Click on the links above the thumbnail images to view full size with the results of our research.

If you can add further details of the individuals and the events please

contact Bill Forster by e-mail.



Pages two and three in Reg Panton's Album

Left: "16 DF at Weymouth from HMS

Vansittart"


Right: "Destroyer Leader HMS Malcolm"




Pages 14 to 15 in Reg Panton's Album

Left: "Mid Briggs and Capt. servant"
Right: "Taking sights for navigation purpose"



Pages four and five in Reg Panton's Album

Left:

"HMS

Verity

on patrol" Right: "HMS

Verity

and HMS

Wivern

"

Error: Both photographs are of HMS

Venomous (

D75) not

Verity




Left: "Mid Briggs Navigator Killed in Action 14th May"

Right: "Captain William Charles Bushell, Lt Cdr in Command of

Wivern

Dutch Coast"

Pages six to nine in Reg Panton's Album



Left 6 & 7:

"

Vansittart

" and "Midshipman Briggs"


Right 8 & 9:

"Leading in the Troopship" and "Sir Roger Keyes Grandson" (sic)




Pages 18 to 19 in Reg Panton's Album

Left: "HMS

Vansittar

t at Harwich"
Right: "Mid Briggs"


Pages 20 to 21 in Reg Panton's Album

Left: "Sub Lt Keys Sir Roger Keys Grandson"
Right: "Slewing to avoid subs"




Pages ten to thirteen in Reg Panton's Album

Left 10 & 11: "

Vansittart

at Parkstone Key" and "Searchlight Platform and for'd torpedo tubes"
Right 12 & 13: "Depth charging" and "Another for luck"




Pages 22 to 23 of Reg Panton's Album

Left: "On the Lookout Trooping"
Right: "French vessel bombed at Le Havre"



Pages 24 to 25 of Reg Panton's Album

Left: "Another view of Liner"
Right: "French Liner at Le Havre"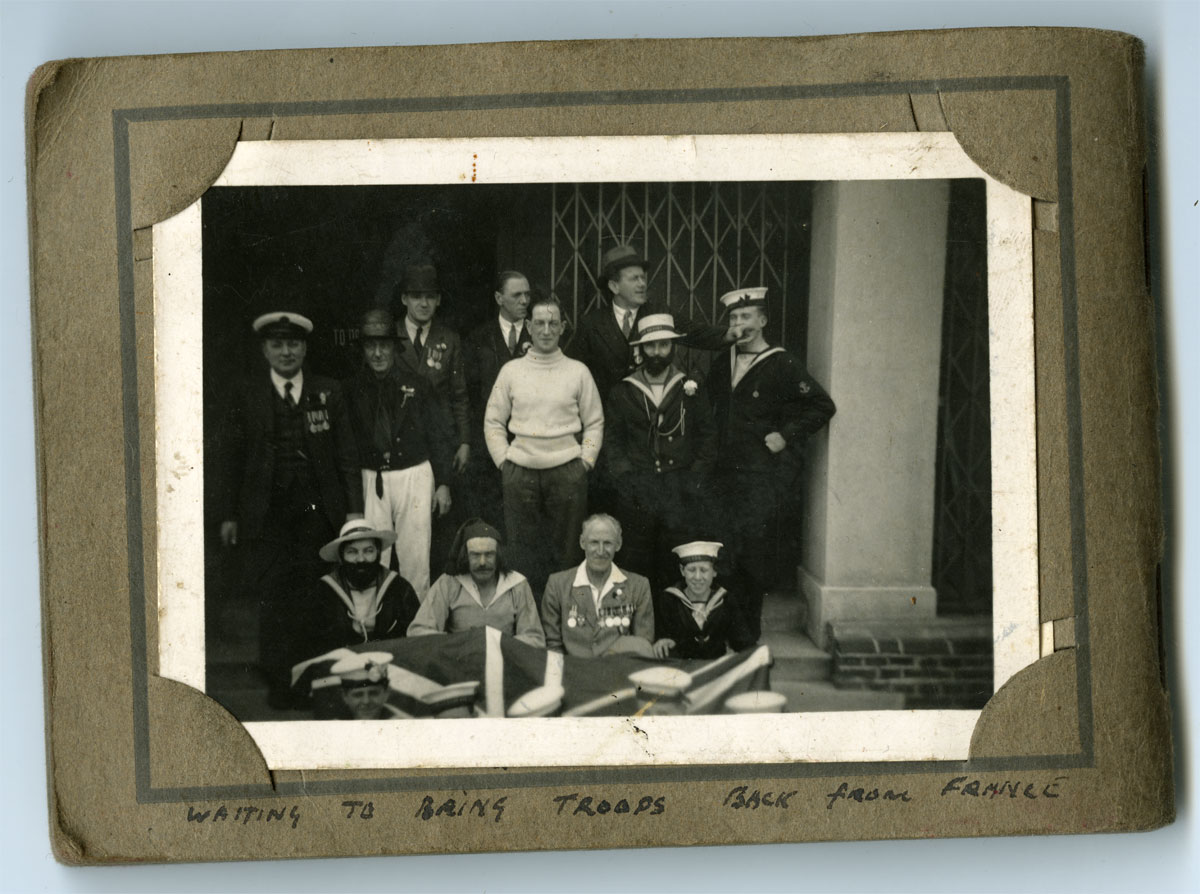 The final page is a bit of an anomaly!

I have my own theory as to what it is but perhaps you have a better idea?
If you do please let me know
Bombed off the Dutch coast
14 May 1940
HMS

Wivern

spent the 1930s in Reserve but was recommissioned in 1939 and took part with her sister ships in the 16th Destroyer Flotilla in the Review of the Reserve Fleet in Weymouth Bay by King Gorge VI. The 16DF was initially based at Portsmouth and spent the "phoney war" escorting the troopships, mostly requisitioned ferries, taking the British Expedionary Force (BEF) to ports in Northern France, as illustrated above in George Cohen's photograph album. In October she was in Nore Command at Harwich on convoy and patrol duty in the North Sea until May 1940, the month her pennant number changed to I66, and German forces swept into the low countries and France.



Wivern

departed Dover at 0415/11th with Major General Heywood and a British Military Mission for Hook of Holland but after her arrival, she was diverted to Flushing where the mission was landed. On 14 May HMS

Wivern

was one of a dozen destroyers (including seven V & Ws) which took part in Operation Ordnance to evacuate British troops landed by

Wild Swan

at the Hook of Holland on 12 May to defend the demolition party to destroy oil reserves (Operation XD "B") and 13 May (for Operation Harpoon). At 2230 the remaining 350 Guards were embarked on HMS

Vesper.



To block the Hook of Holland, torpedoes were fired at the North Breakwater by

Keith, Wivern, Verity, Wolsey

to silt up the harbour.

Wivern

was damaged by the near miss of two air bombs with Mid K. T. Briggs RNR, S/Lt R. S. Brown RNVR and 25 ratings killed and 32 wounded, including Lt S. E. Pritchard.

Wivern

returned to Dover arriving at 2330/14th and was under repair at Portsmouth until 20 June.

Wivern

returned to service with her flotilla at Harwich in July 1940 until her transfer to the 5th Escort Group at Liverpool, for convoy escort work.

A more detailed account of the part played by HMS

Wivern

in events off the Dutch coast and the bombing will have to wait until the Nstional Archives at Kew reopens and I can drive there to photograph the key documents including:


HMS

Wivern

: 14 May 1940; damaged by enemy action, aircraft attack during Operation Ordnance, the evacuation of Allied personnel from the Hook of Holland
ADM 358/3653

In the meantime I am hoping this page will be seen by the families of the men serving in HMS

Wivern

in 1940 and they will be able to provide first hand accounts of events off the Dutch coast or at least share with visitors to this website a few of the stories told to them when they were children plus scans of photographs of the ship and its officers and men.

Casualties
The names of the men Killed, Died of Wounds (DOW), Wounded in Action (WIA) or Missing
| SURNAME | FORENAME | | RATE / RANK | | CAUSE |
| --- | --- | --- | --- | --- | --- |
| ABRAMS | FREDERICK | | AB | P/J 110800 | DOW |
| AIREY | ARTHUR | | ERA5C | P/MX 61505 | KILLED |
| BACKSHALL | FREDERICK | | AB | P/SD/X 1328 | KILLED |
| BAXTER | N | S | CHIEF ENGINE ROOM ARTICIFER | P/MX 47583 | WIA |
| BLACKBOROUGH | A | D | AB | | WIA |
| BLACKWELL | W | | AB | | WIA |
| BOYNTON | STANLEY | | AB | P/SSX 31567 | KILLED |
| BRIGGS | KENNETH | THEODORE | MIDSHIPMAN | RNR | KILLED |
| BROWN | RICHARD | STEPHEN | S/LT | RNVR | KILLED |
| CASSELL | JOHN | FREDERICK | PO | P/JX 136813 | DOW |
| CHING | ROBERT | JOHN LEWIS | AB | P/JX 143272 | WIA |
| CLEMENTS | F | W | PO | P/JX 127026 | WIA |
| CRAMMAN | ROBERT | PALLISTER | ERA2C | P/X 2873/EA | WIA |
| DUNNE | ALFRED | | AB | D/SSX 122624 D 490 | MISSING |
| ELLIOTT | T | | L/STOKER | P/KX 76266 | WIA |
| ELPHICK | OTTO | JAN HAMILTON | CHIEF PETTY OFFICER | P/J 53291 | WIA |
| FINDLAY | W | M | AB | P/X 19883 | WIA |
| FINNERTY | THOMAS | | STEWARD | P/LX 22692 | KILLED |
| GLOVER | G | C | AB | S/DX 1341 | WIA |
| GOUGH | E | A | PO | P/JX 135203 | WIA |
| GRAY | JOSEPH | | STOKER1C | P/SS 120823 | KILLED |
| GREENWOOD | JOHN | | OD | P/SSX 32192 | KILLED |
| HALLIDAY | EDWARD | | STOKER1C | P/K 64869 | WIA |
| HAMILTON | CHARLES | | AB | P/JX 139840 | KILLED |
| HANSELL | J | G | AB | P/JX 145423 | WIA |
| HARMAN | W | P | OD | S/DX 1179 | WIA |
| HAYDEN | FREDERICK | WILLIAM | AB | P/J 22737 | MISSING |
| HERRIDGE | THOMAS | HENRY | AB | P/JX 133933 | KILLED |
| HORTON | HERBERT | SAMUEL | STOKER1C | P/KX 84007 | DOW |
| LITTLE | ALFRED | BRITTON | STOKER2C | P/KX 100059 | DOW - 1/6/40 |
| MACDONALD | L | | AB | P/X 9404/B | WIA |
| MACIVER | MALCOLM | | SEAMAN | P/X 19992/A | DOW - 16/5/40 |
| MACLEAN | MURDO | | SEAMAN | P/X 19703/A | KILLED |
| MACLEOD | PETER | JOHN | SEAMAN | P/X 19754/A | KILLED |
| MAIR | J | | AB | P/X 5754/B | WIA |
| MANNING | EDWARD | | COOK (S) | P/MX 52387 | DOW - 15/5/40 |
| MAYNARD | WALTER | | CHIEF PETTY OFFICER COOK | P/M 16148 | KILLED |
| MEADEN | FREDERICK | | AB | P/J 115219 | KILLED |
| MOORE | FRANCIS | JOSEPH | PO STEWARD | P/L 3630 | KILLED |
| MORTIMER | REGINALD | JOSEPH | STOKER PO | P/K 98381 | DOW - 16/5/40 |
| PRITCHARD | SYDNEY | EVELYN | S/LT | RN | WIA |
| QUARRELL | ALFRED | FRANK | OFFICER'S COOK 2c | P/L 14554 | KILLED |
| RALPHSON | ROBERT | | L/STOKER | P/KX 76360 | DOW - 15/5/40 |
| ROWE | BERNARD | | AB | P/J 89472 | WIA |
| SAUL | S | | AB | P/JX 125843 | WIA |
| SMITH | ALFRED | | ERA | P/X 973/BED | DOW - 23/5/40 |
| SMITH | LESLIE | | AB | P/SSX 29930 | KILLED |
| SWEENEY | DANIEL | JOSEPH | STOKER2C | P/KX 104043 | MISSING |
| THOMPSON | GEORGE | LYALL | STOKER1C | D/KX 87321 | DOW - 19/7/40 |
| THORP | THOMAS | WILLIAM | PO | C/JX 135052 | WIA |
| WALSH | R | R | L/SEAMAN | P/JX 132915 | WIA |
| WELLFARE | JAMES | WILLIAM | AB | P/J 30102 | WIA |
| WOOD | THOMAS | REGINALD | AB | P/SD/X 898 | KILLED |

Fifteen months as an ERA on the
Wivern
Bill Poulton's account of his time in HMS

Wivern

was first published in

Hard Lying
I joined the
Wivern
on the 2nd October 1941 at Sierra Leone as a replacement for an Engine Room Artificer (ERA) that had gone sick with the inevitable malaria. At the time
Wivern
was under the command of Lt Cmdr M.D. Meyrick, who later as Commander Meyrick was Captain of the destroyer
Savage
, involved in the sinking of the
Scharnhorst.
After a few weeks escorting convoys and carrying out anti-submarine patrols in the South Atlantic,
Wivern
returned to her home base at Portsmouth for a refit and the fitting of the latest Radar. We called at Bathurst (now Banjul), Gambia and Gibraltar on the way home. During the time in Portsmouth I recall a meeting of dockyard maties being addressed by the current Minister of Labour, Ernest Bevin. One of the maties called. "We want more air raid shelters." With only a slight hesitation, Bevin replied "You cannot work in air raid shelters, we want more effort to repair our warships." The meeting then went very quiet and broke up shortly afterwards.
After the refit,
Wivern
sailed to Londonderry and was then involved in escorting the battleship HMS
Duke of York
, with Winston Churchill on board on his way to meet President Roosevelt for another Atlantic Conference in December 1941. The weather during this voyage was the worst that I can recall, hurricane force winds and of course heavy seas. The escort destroyers requested permission to reduce speed but were refused due to the importance of the
Duke of York
's passengers. Most of the destroyers were damaged, the
Wivern
had cracks in the upper deck and had to go to Greenock on her return to have them welded. In a book on the history of Winston Churchill it states that he had a very uncomfortable journey aboard the
Duke of York
and decided to fly back to this country via Bermuda.
The
Wivern
then escorted a convoy to Freetown. This convoy was obviously an important one as part of the convoy consisted of the two liners that always seemed to be part of the fast troop convoys. The Polish liner
MS
Batory
and the French liner
Louis Pasteur
. From Freetown.
Wivern
joined in the escorting of convoys and carried out Anti-submarine (A/S) patrols in the South Atlantic, refueling at Bathurst, Takoradi Accra or Lagos.
In June 1942
Wivern
was dispatched at high speed to an abandoned merchant vessel, the
Empire Arun
, formerly the Italian ship
Savoia
, which had been captured earlier in the war and now used by the Allies. The vessel was located and a boarding party put aboard then a tow line was passed over and the vessel was towed to Freetown. All the
Wivern
crew shared the salvage money in varying proportions. Another exciting episode was a 31 knot dash to Liberia and back to Freetown with survivors from torpedoed merchant ships.
In August 1942,
Wivern
was involved in the escorting of a troop convoy carrying reinforcements for the British at Alamein, the
Batory
and
Pasteur
appeared again. As the
Wivern
had not been converted to a long-range escort, and still had the third boiler instead of extra fuel tanks, refueling the ship had to be made at Bathurst, Lagos, Point Noire, Walvis Bay, Simonstown and Durban.
Wivern
then left the convoy and went out to Durban where we were greeted by usual South African hospitality, including being taken home by families for three or four days where we were made most welcome, no rationing or blackout, so it was 'Bright Lights and Big Eats' all round. Then it was Simonstown for boiler cleaning, with more hospitality in Capetown and suburbs with families that took us on tours of the local sights and best restaurants. All this of course had to come to an end and so she returned to Freetown calling at St Helena on the way back.
Soon after returning to Freetown,
Wivern
visited the Portuguese Azores for the permitted twenty-four hours, we were besieged by the local population offering a British one pound note and a Half crown for every West African pound note.
Wivern
then steamed to Gibraltar. From there she was involved in patrolling the Straits and convoy escorting, and was responsible for the capture of the Vichy French blockade runner the
Courdebec
. A prize crew were put on board and escorted it to Gibraltar.
Following the escorting of the Armada for the 'Torch' landings in Algeria.
Wivern
was at the Oran/Mers el Kebir section of the invasion. After the landings she carried out A/S patrols and assisted in the sinking of a U-boat. Our whaler picked up some of the survivors, including the Captain, who strutted along the deck like a little Hitler, a real dyed in the wool Nazi. Then came the escorting of a convoy of captured French liners and Merchant ships en route to the UK.

Then came the escorting of a convoy of captured Vichy French liners and merchant ships en route to the UK. Just after passing through the Straits of Gibraltar, at 10.56 a.m. on the 2nd February 1943, the Canadian corvette HMCS
Weyburn
, struck a mine four miles off Cape Spartel (35-46N 06-02W) and started to sink. HMS
Wivern
, now under the command of Lieutenant Hay, formerly the ship's 1st Lieutenant, went alongside
Weyburn
to take off survivors. Lieutenant Hay called across to the Captain of
Weyburn
, "Are your depth charges set to safe?" I did not hear the reply, but presume the answer was in the affirmative, as rescue work continued, including lowering of the
Wivern
's whaler to recover survivors from the water.
As the
Weyburn
sank, her depth charges exploded, and I swear the Wivern's focsle lifted a foot out of the water, causing many casualties to

Wivern'

s crew and

Weyburn's

survivors that were gathered forward. I lost a friend, Stoker PO Nobby Clark, who was killed trying to save the Captain of the
Weyburn
. Both were killed while they were in the water when the depth charges exploded as the
Weyburn
sank. Nobby had been with me when we stayed with the South African families in Durban and Capetown, and was a sad loss. He was buried at sea in Gibraltar Bay.
I was one of the lucky ones, as just before the
Weyburn
sank, I went down into the engine room to see if the watch keeper needed a hand on the throttles whilst maneuvering. As I reached the footplates, the CERA called out to me to contact the Chief Stoker and ask him to ensure we were using a full fuel tank while maneuvering. Just as I climbed the ladder and reached the upper deck, the depth charges detonated. If this had occurred a few seconds earlier, I would have finished up in the bilges when the engine room footplates came up. The
Wivern
lost all power. Only emergency lighting was available, as both dynamos were lying on their sides. A list to starboard was noticeable and the ship started to drift towards the coast of Morocco, near Tangier. A frigate came to our rescue, which I believe was the
Black Swan
, and was able to prevent
Wivern
drifting any nearer to the coast. A paddle tug came out from Gibraltar, lashed herself to
Wivern
's starboard side and took us the 50 miles into Gibraltar Harbour.
After the injured were taken to hospital, those of us that were left were billeted overnight in what we stood up in and the
Wivern
put into dockyard hands. We returned on board next morning to find our belongings had been rifled and money and any items of value had been stolen. Whilst in dockyard hands, we were able to visit our injured shipmates in hospital and I was able to join the burial party for my friend Nobby. All of
Wivern
's crew received a letter from the Canadian Naval Authorities thanking them for their efforts in saving as many of
Weyburn
's crew as possible and expressing regret for the damage and casualties caused to HMS
Wivern
.
After patching up, and with only a skeleton crew,
Wivern
was taken in tow by the deep-sea salvage tug "Destiny" and left Gibraltar, bound for Devonport. A signal was received from Gibraltar, which read, "Good luck
Wivern
, your Destiny is ahead." How very apt. HMS
Wivern
arrived safely at Devonport on the 17th March 1943, after some 14 days under tow, unescorted. My role during the voyage was to keep the large diesel-driven pump operating, to control the ingress of water from various leaks – a full time job, which took ones mind off the slow speed of the journey. After a few weeks in Devonport, the
Wivern
paid off and we all went our various ways. I was pleasantly surprised to find the
Wivern
had rejoined the fleet, as I thought she would have been considered a constructional total loss and scrapped in 1943.
Bill Poulton
Engine Room Artificer (ERA), 1941-3



The medical team in

Wivern



My father, Mr Idris Edwin Evans, was a sick berth attendant in the Royal Navy throughout the Second World War. He sadly died in 2002 so I will try and relate some of his story. He served on board several destroyers and worked alongside some distinguished medical doctors and surgeons.

Early in March 1943 he was on board HMS

Wivern

when HMS

Weyburn

was mined. The Officers and Ships Company of the "

Wyver

n" were responsible for saving practically all hands of the Canadian ship, which eventually sank taking one of the petty officers from the Wyvern. My father was left with a number of patients including the head of his Sick Berth Department, Dr Phillip Evans who had sustained damage to both his legs. He also nursed a number of survivors of the

Weyburn

. The badly damaged

Wyvern

was towed for more than 12 hours from the Mediterranean to Gibraltar where my father safely transferred all his patients including Dr Phillip Evans to hospital.

Surgeon Commander Button at Gibraltar sent for my father and thanked him for all he had done and stated that he had been "recommended" for the good work he had carried out. The

Wyvern

was patched up and my father was part of the skeleton crew of 60 — 70 men to remain onboard and to be towed by Ocean going tug "Destiny" from Gibraltar to Devonport. While he was at Dalditch marine Camp in Devon, he was informed that he had been "mentioned in dispatches" in June 1943 and together with his citation he received the coveted Bronze Oak Leaf emblem from First Lord of the Admiralty. Dr Phillip Evans received the George Medal as Head of the Sick Berth Department.

My father received letters after the war from Dr Evans himself in addition to some quite moving letters of gratitude from his family, including his wife and mother. Many years later, my parents received a visit from Dr Evans and his wife. The meeting was one of high emotion and reminiscence.

Gwyneth Harvey

Lt (Surg) Philip Evans RNVR

I am one of the sons of Dr Philip Evans (who died in 1984) so I was very interested to read Gwyneth Harvey's contribution about her father, Idris Evans. My father did not often describe this incident but, when he did, he was full of praise for what Idris Evans had done.

This is what I have learned from various sources about the incident. On 22nd February 1943 the Canadian corvette HMCS

Weyburn

, after refuelling at Gibraltar and while joining the U.K.-bound section of a convoy, hit a mine (laid by U-118 on 1st February) 4 miles West of Cape Spartel at the Western entrance to the Straits of Gibraltar. HMS

Wivern

, which was part of the escort for the U.S.-bound section of the convoy, came to her assistance. When all of the crew of Weyburn were either in the sea or transferred to

Wivern, Weyburn

sank very quickly in a few seconds at 1056. The primers on

Weyburn

's depth charges had been removed with the exception of two which were inaccessible because of damage. When

Weyburn

sank, these two depth charges detonated causing significant damage to Wivern. 8 RCN crew (including the commanding officer, T.M.W.Golby) and 1 RN crew, some of them in the sea, were lost. The

Wivern

, with 68 members of

Weyburn'

s crew, was towed to Gibraltar.

The citation for my father's award of the George Medal read that "Enduring great pain, and with both his ankles broken, Surgeon-Lieutenant Evans continued to tend the wounded for many hours".

It is said that the field of 66 mines laid by U-118 in an Allied safe lane was one of the most fertile of the war. As well as the

Weyburn

, 3 British freighters were sunk and a Norwegian tanker and a Spanish freighter were damaged. U-118 became a tanker providing fuel for 9 U-boats. It was itself sunk in June 1943.



Department of National Defence Naval Service
HMCS
Ville de Quebec
2 March 1943
Sir, I feel confident that I conform to the wishes of my Admiral in writing to you to express the deep gratitude of the Royal Canadian Navy to the Commanding Officer, Officers and ships company of HMS

Wivern

who performed such a fine rescue and saved practically all hands of HMCS

Weyburn.
My regret is that HMS

Wivern

should sustain casualties and damage.
I have the honour to be Sir,
Yours faithfully A.R.E. Coleman Lt Cdr RCNR
Commanding Officer
Lt Courtney C. Anderson RN



Her next (and last) CO, Lt Charles Courtney Anderson RN, took command of HMS
Wivern
on 26 June 1944 after her twenty month repair at Devonport and described her condition when she arrived at the dockyard for repair:
"The
Wivern
lay alongside the Devonport dockyard wall looking anything but 'Tiddly'. She had gone alongside a sinking Canadian Corvette to rescue survivors and the corvette had sunk during the operation with the depth charges set to twenty-five feet. The resultant explosion would have finished off many new destroyers, but the V&Ws were built to last. With a vast hole in her bottom and her engines lifted clear of their seatings,
Wivern
was towed some hundreds of miles back to Gibraltar and, eventually, to Devonport dockyard where they took the old ship in hand and made her seaworthy once again. There were snags, as we were to discover later, but they were not the ships fault. In all the years I drove her we never once missed a convoy, though on occasions, we had a stokers' sledge hammer knocking wooden wedges back in when the steering engine tried to rattle itself loose from the bulkhead."
His
frank and occasionally indiscrete account of his time as as CO of "Tiddly Wiv"
in his autobiography
Seagulls in my Belfry
(1997) was also published in
Hard Lying
, the magazine of the V & W Destroyer Association, and is republished here. A Force 12 storm opened up the repairs while escorting an east coast convoy and almost led to the loss of

Wivern

a few months from the end of the war. She survived until sent to the breakers yard at Charlestown, Fife, in October 1948.

If you have stories or photographs of HMS Wivern you would like to contribute to the web site please contact

Bill Forster
---
Return to the Home Page of the V & W Destroyer Association
Return to the Index Page for the 69 V & W Class Destroyers
---