---

HMS

Stuart

(D00)

Courtesy of Paul Seal, grandson of AB George Gale Worsfold
It is hoped to add links within this brief outline to first hand accounts by the men who served on HMS
Stuart
prior to her transfer to the Royal Australian Navy in 1934 as part of the "Scrap Iron Flotilla".
HMS
Stuart
was a British Scott-class flotilla leader built by Hawthorn Leslie and Company for the Royal Navy during World War I, which entered service at the end of 1918. The majority of the destroyer's service was in the Mediterranean but in 1919–20 she was part of Royal Navy operations
in the Black Sea
during the Allied intervention in the Russian Civil War and she asisted the Greeks

in

operations against the Turks during the collapse of the Ottoman empire.
Stuart
re-commissioned at Malta on 9 December 1920 and by March 1925 was the flotilla leader of Second Destroyer Flotilla in the Mediterranean. Her Commanding Officer from 1923 - 4 was Captain Dashwood F. Moir, the Senior Officer of Torpedo Boat Destroyers (TBD) on the Mediterranean Station. She returned to her home port of Portsmouth in 1927 and 1929 and after recommissioning resumed her role as Leader of the Second Destroyer Flotilla in the Mediterranean. In 1932 after recommissioning at Portsmouth in May 1932 she worked with the Second Submarine Flotilla in the Mediterranean.
The main items of interest on this page are the scans of photographs supplied by Paul Seal, from the collection of his Grandfather, former AB George Gale Worsfold, who served in the Mediterranean on HMS
Stuart
from 1930-1; sadly apart from the captions nothing is know about these remarkable photographs but they must have been taken on a camera with a good lens by a talented photographer serving in HMS
Stuart
. It would be interesting if "a view from the Wardroom" could be added - the names of the officers during George Worsfold service are given below.
The Washington Naval Treaty of 1922, the Five-Power Treaty, was intended to prevent a peacetime arms race between the allies who had defeated Germany by limiting the construction of Battleships and Cruisers. Destroyers were not included but postwar austerity led to the decision to scrap some of the V & W Class destroyers and place others in Reserve with a small care and maintenance crew commanded by an engineering officer. In 1933 the Admiralty agreed to loan the Flotilla Leader
Stuart
and
Vampire, Vendetta, Voyager
and
Waterhen
to the Royal Australian Navy as replacements for five S Class destroyers and their Flotilla Leader
Anzac
, due for scrapping.
In June 1933 her bell was one of about 100 surplus bells announced as being for sale at prices ranging from £1 to £10. Preference was given to offers from men with a special connection to HMS

Stuart

(the bell's present owner is not known). She was commissioned in the Royal Australian Navy as HMAS
Stuart
with
Capt Austen G. Lilley
in command (and a new bell) on 11 October, 1933. Ironically, this was the year that President Paul von Hindenburg appointed Adolf Hitler as Germany's new Chancellor. The group was derisively named the Scrap Iron Flotilla by Nazi Propaganda Minister Joseph Goebbels.

The history of HMAS

Stuart

and the other members of the "Scrap Iron Flotilla" are recorded on
the website of the Royal Australian Navy.
Commanding Officers
With acknowledgment to the Dreadnought Project

Cdr Lewis G. E. Crabbe (Nov 1918 - Jan 1919)
Capt William S. Leveson-Gower (Jan 1919 – 5 Jan 1921)
Capt Charles A. Fremantle (1 Jan 1921 - Sept 1922)
Capt Humphrey T. Walwyn (1 Oct 1922 – October, 1923)
Capt Dashwood F. Moir (20 Oc 1923 – Nov 1924)

Killed, 1942


Capt Eric G. Robinson (Nov 924 – 30 May, 1925)
(and as Captain (D) of Second Destroyer Flotilla)
Capt George H. D'O. Lyon (11 May, 1925 – 7 May, 1927)


Capt Montague G. B. Legge (2 May, 1927 – 19 Dec, 1928)
Capt William J. Whitworth (9 Dec 1928 – Feb 1931)
Capt Alfred H. Taylor (5 July, 1931 – 12 May, 1932)
Cdr Edward M. C. Barraclough (6 May, 1932 – 9 July, 1932)
Capt Ronald W. Blacklock (9 July, 1932 – 15 Nov 1932)
Capt Philip E. Phillips (5 Nov 1932 – 12 Dec 1934)
Capt Austen G. Lilley (11 Oct 1933, ship is now HMAS Stuart)
Also CO of: HMS Venturous, Wanderer, Woolston, Vanquisher, Windsor and Watchman


From 1919 - 21

| | | | |
| --- | --- | --- | --- |
| | Navy List January 1920 | Navy List January 1921 | |

October 1930 - 1933


| | | | |
| --- | --- | --- | --- |
| Navy List October 1930 | Navy List July 1931 | Navy List February 1932 | Navy List January 1933 |
AB George Gale Worsfold JX 126628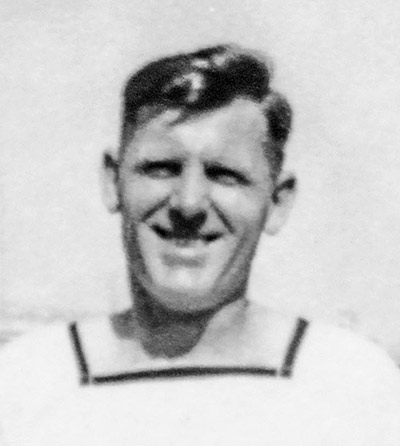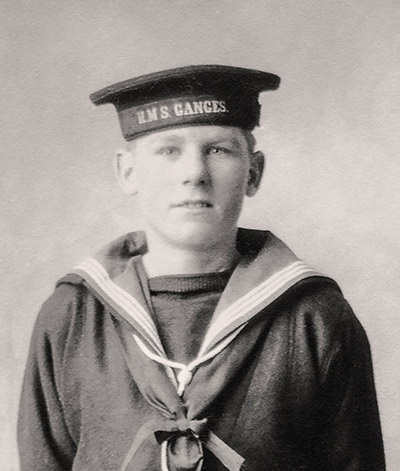 George Gale Worsfold was born in the affluent village of Claygate in Surrey, three miles south of Thames Ditton, across the Thames from Hampton Court Palace. He was one of five children, the second son of Nicholas Worsfold and Mary Worsfold (nee Gale). His father served in the Army during the Great War but his two oldest sons joined the Royal Navy as boy sailors, Nicholas Ayling Worsfold, born in 1904 joined in 1920 and signed on for 12 years when he was eighteen. George was born in 1910 and photographed during training at HMS

Ganges

(on the left) when he was sixteen, signed on for 12 years on 9 October 1928.

He was rated as Able Seaman when he joined HMS

Stuart

on 6 March 1931 after service as an Ordinary Seaman in the "big ships" of the Navy,

Iron Duke, Revenge, Renown

and the V & W destroyer HMS

Vendetta

which was transferred to the RAN with HMAS

Stuart

in 1933. He looks more mature in the photograph on the right in "whites" after joining HMS

Stuart

in the Med.
The name of the photographer who took the very professional photographs below is not know and nor do we know a great deal about the photographs themselves and we would welcome your assistance in putting names to faces and providing further details. Please
e-mail Bill Forster
if you can help.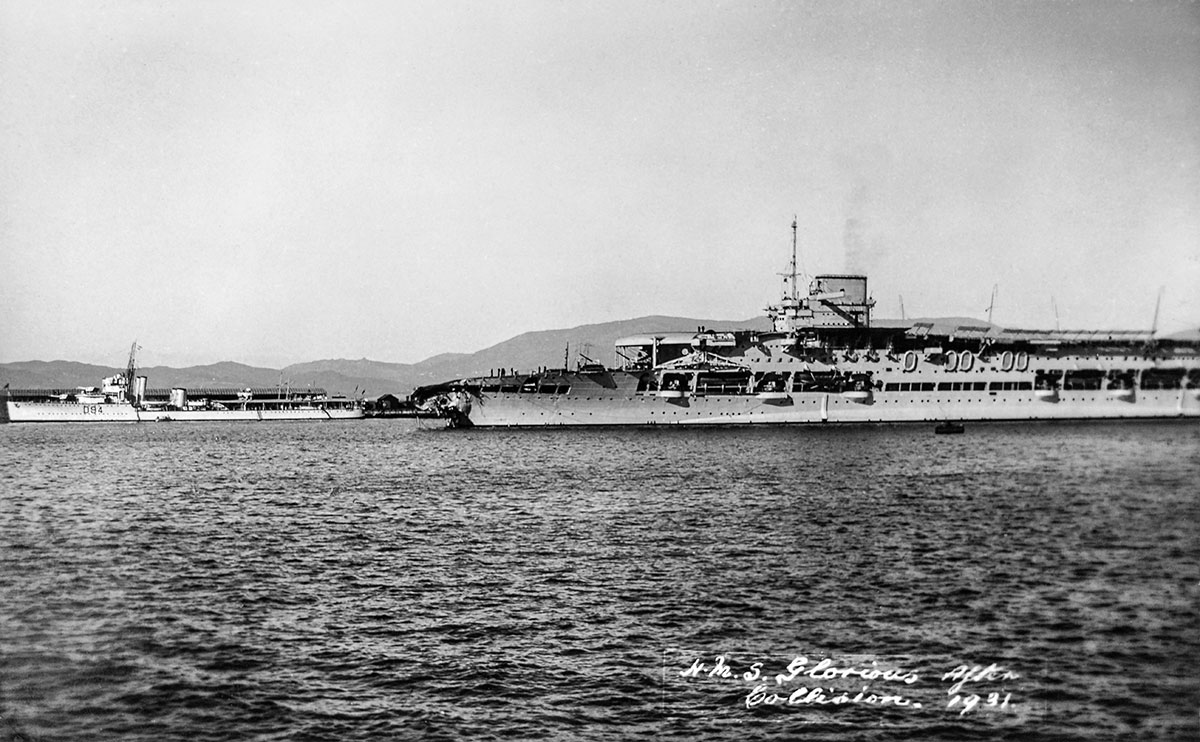 HMS
Courageous
at Malta for repairs
after her collision with the liner SS
Florida
near Gibraltar on 1 April 1931
Photographed from HMS
Stuart
with HMS
Whitehall
(D94) on left
The Mediterranean Fleet was based at Malta and the photograph was probably taken there during a refit

George Worsfold is second from right peering over the rail at his shipmates painting ship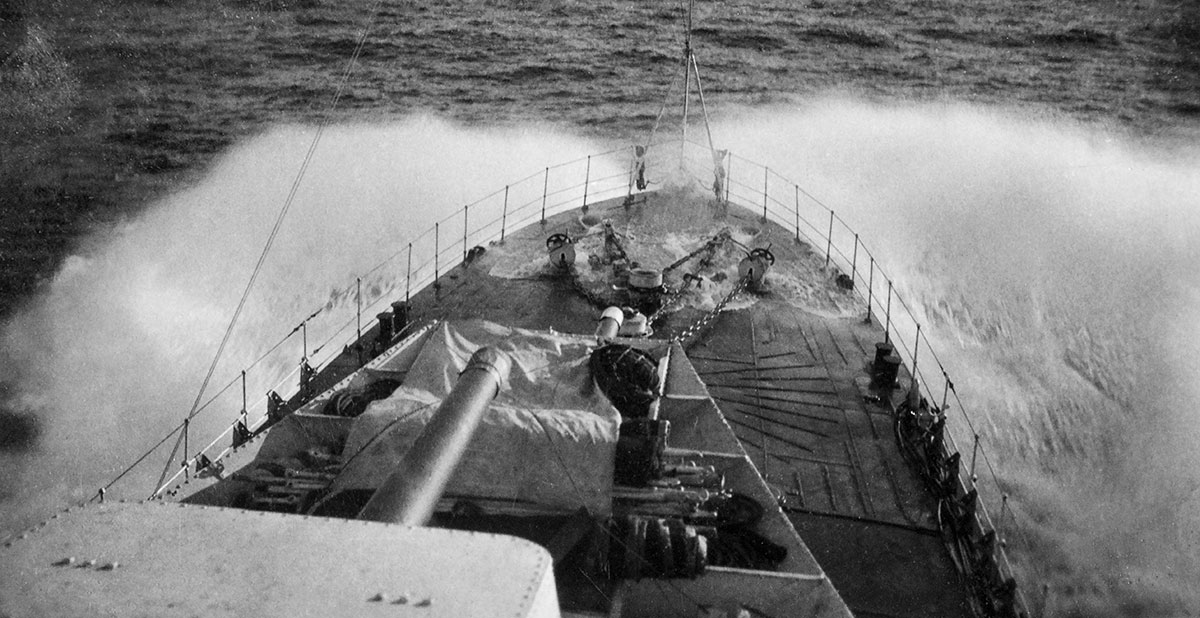 Speed trials - after refit in dry dock?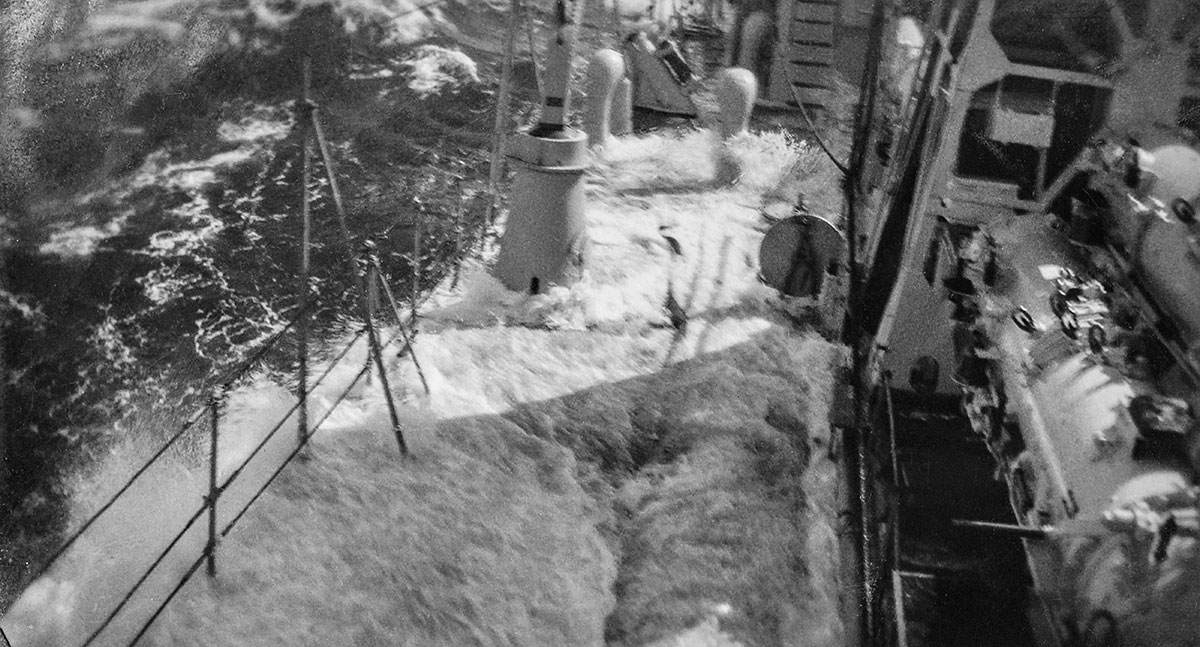 "Washing over" during speed trials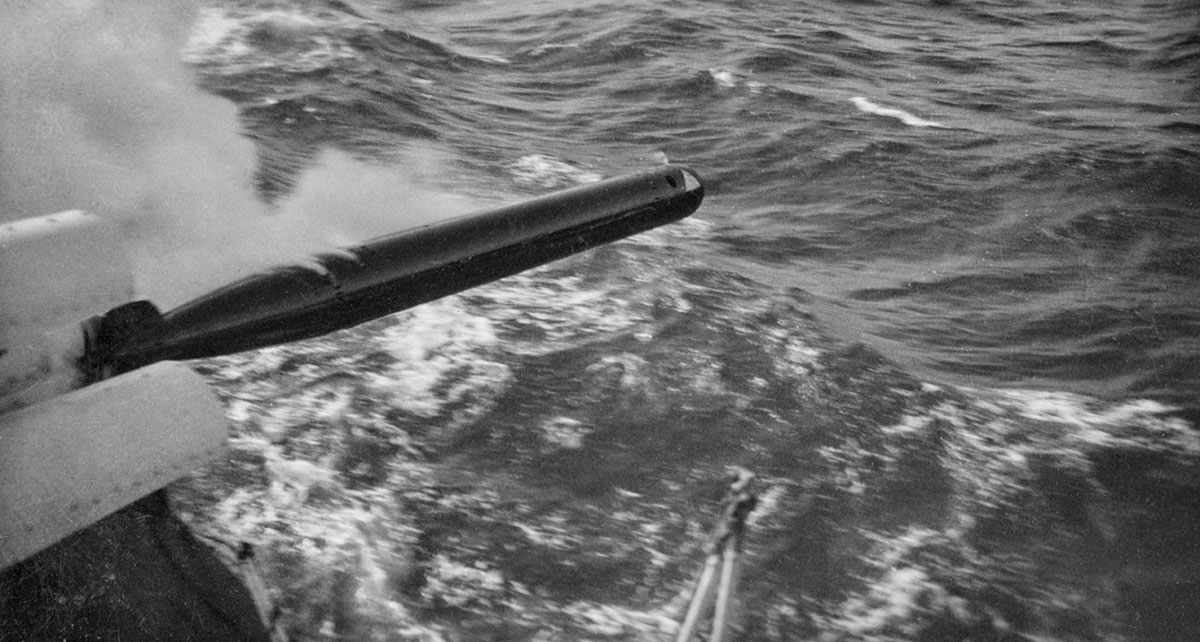 Torpedo Trials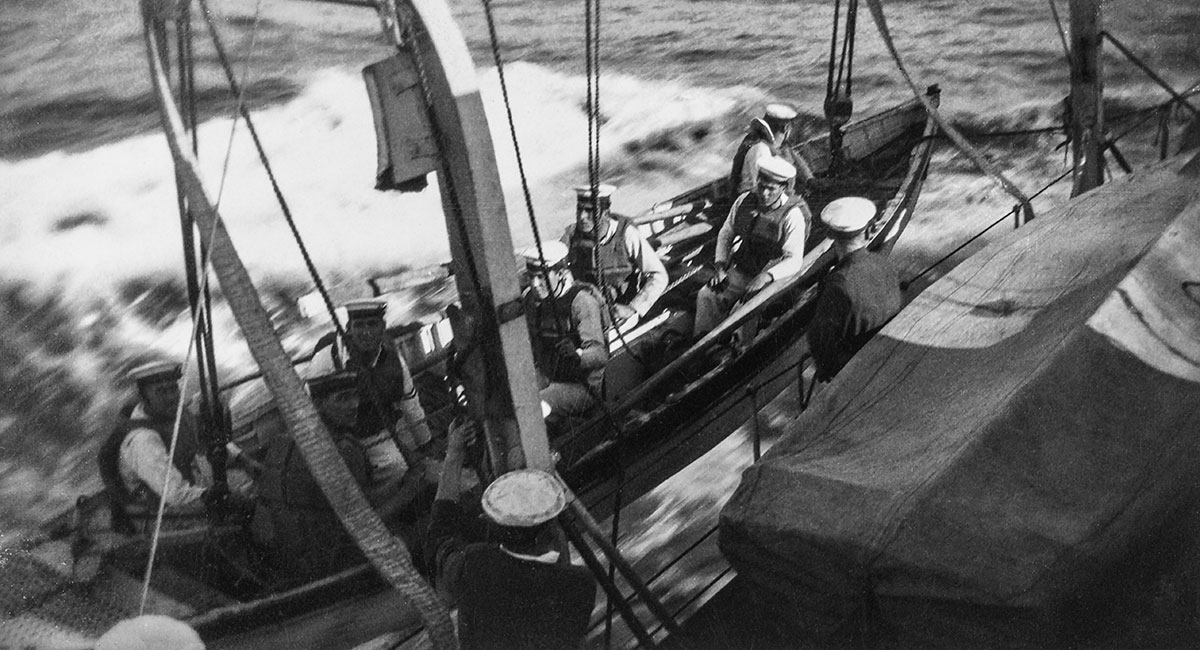 Lowering the double ended Montagu Whaler with the much smaller motor dinghy with its square transom on the inward side

To find out more about the boats on V & W Class destroyers see this page about
restoring the motor dinghy of HMS

Vivien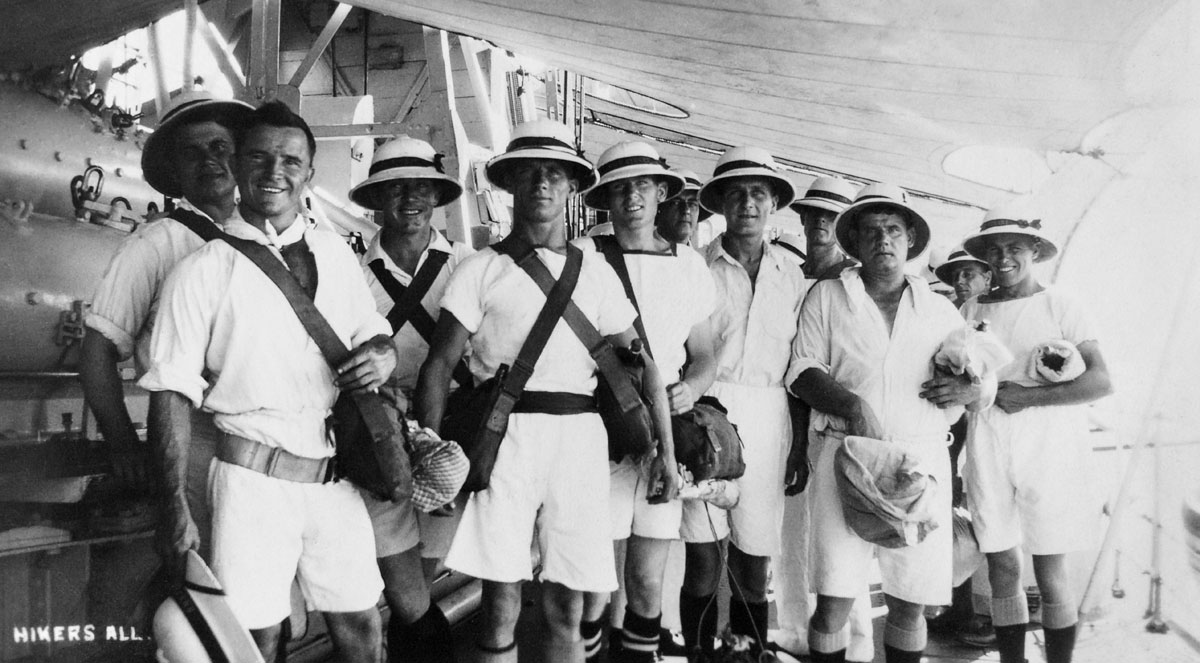 Wearing pith helmts standing below canvas awnings and carrying satchels and towells for a trip to Argostoli on Kefalonia in the Ionian Islands off the west coast of Greece
Note the triple torpedo tubes of HMS
Stuart
on the left
Guard Duty

George Worsfold is third from right in the first of these two photographs taken on the stern of HMS
Stuart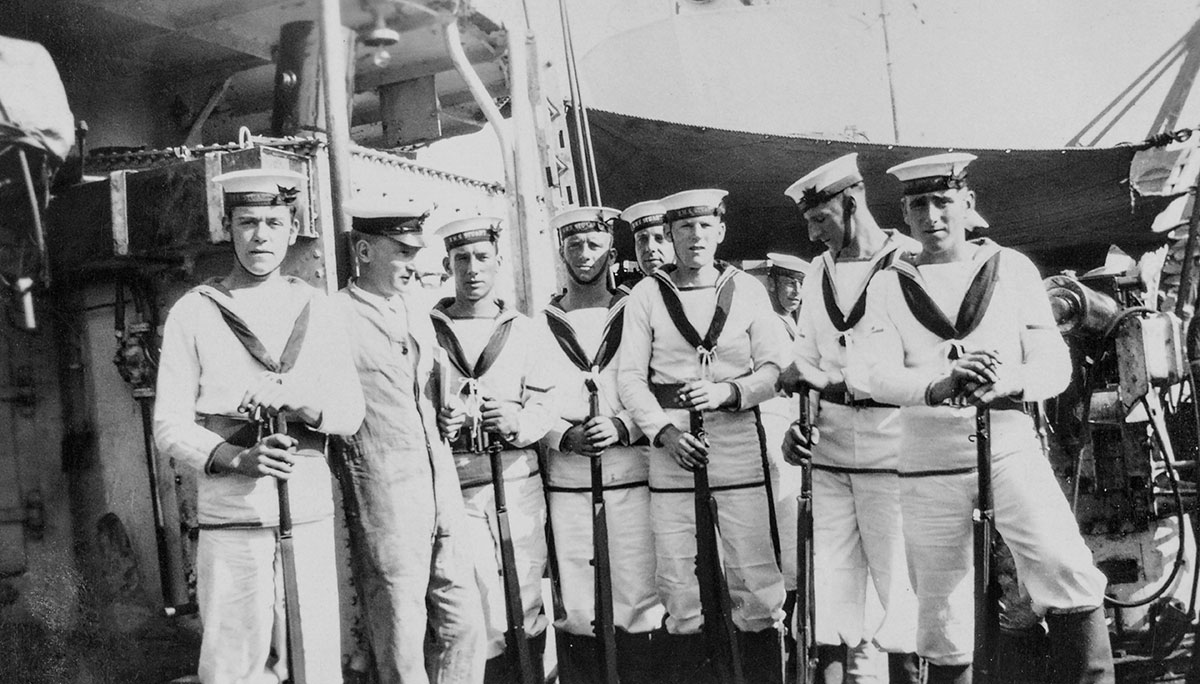 The gun on the right is thought to be a 2 pounder single barrel pom-pom gun with water jacket for cooling the barrel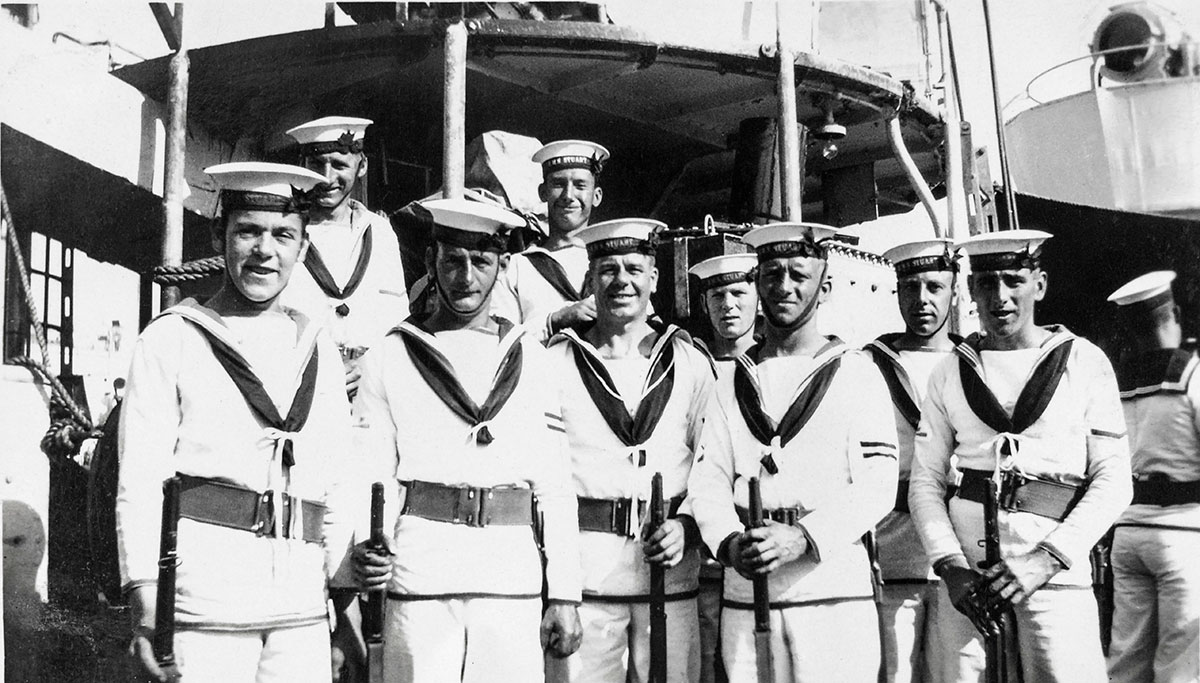 Sailors as soldiers
Were they guarding the ship or going ashore to "keep the peace" between Greeks and Ottomanns?
Without further details it is impossible to tell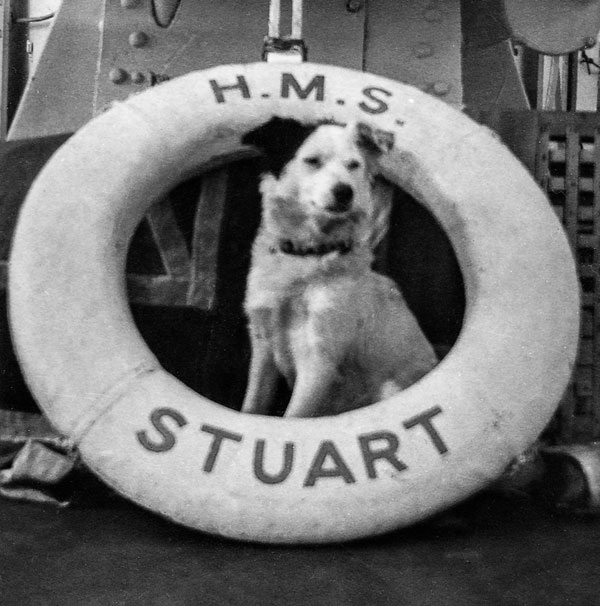 "Our Mascot", the ship's dog
AB George G Worsfold left HMS
Stuart
after her return to Britain on 31 March 1932 and after a month at her home port of Portsmouth joined the V & W Destroyer HMS
Wrestler
, on 10 June and seven months later her sister ship HMS
Vortigern
for four months. His next ship would be very different, a County Class Heavy Cruiser, HMS
Suffolk
, commissioned in 1928 which spent most of her prewar service on the China Station. George joined her on 19 July 1933 when
Capt Errol Manners
took command. His son,
Lt Cdr John Manners
, commanded HMS
Viceroy
in 1944 and was 105 when he died in 2020. HMS
Suffolk
left for Hong Kong soon afterwards with the Commander-in-Chief of the China Station,
Admiral Sir Frederic Charles Dreyer
, aboard. George crossed the Equator on the voyage south and was awarded a "Crossing the Line Certificate" by King Neptune.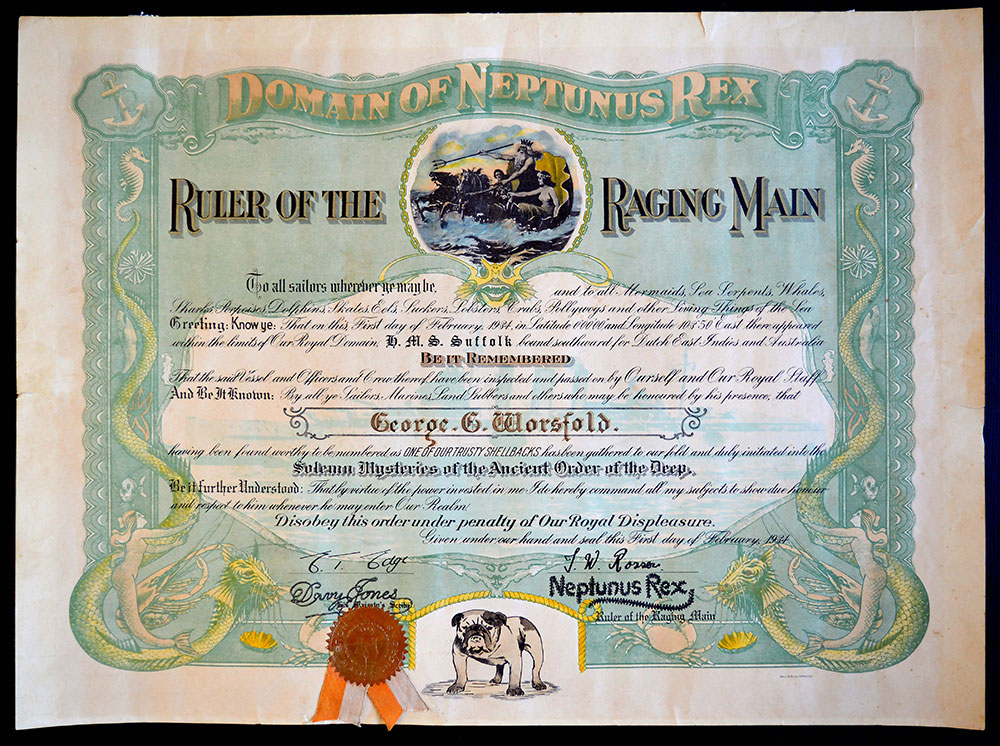 They called in at Darwin in Australia on their long voyage south and on 27 February 1934
the

Northern Standard

carried a lengthy report
on their visit. HMS S
tuart
had been lent to the Royal Australian Navy as HMAS
Stuart
and was completing a refit at Sydney when George was at Darwin aboard HMS
Suffolk.
An illustrated history of HMS Suffolk's
Third Commission on the China Station 1933 - 1935
edited by R.G. Howard was published by the Victoria Printing Press, Hong Kong, in 1935. It includes the names of all the officers and men who served in her during this Commission and many photographs. A
reference copy
can be seen by prior arrangement in the
Library of the Imperial War Museum
.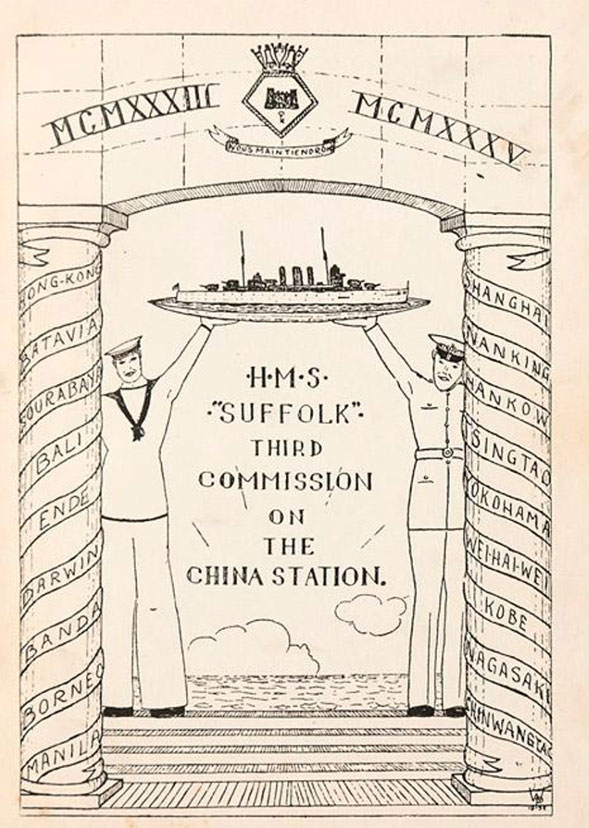 The cover bears the ship's crest followed by her Latin Motto "Nous Maintiendrons"
and the two columns record the places visited between 1933- 5
He spent more than two years on the China Station with HMS
Suffolk
and rejoined her on 12 September 1939 a week after the start of the Second World War. George Worsfold's story will be continued on the website of HMS
Verity
which he joined on 6 June 1940 and served in until 21 October 1943.
Members of the V & W Destroyer Assoociation
The veterans did not regard the Flotilla Leaders as true V & Ws as they were larger to accommodate the additional staff required.
As far as is known non of the officers and men who served in HMS
Stuart
or any of the Flotilla Leaders with the exception of HMS
Wallace
were members of the V & W Destroyer Association
But the Association was proud to have Prince Philip as its Patron and since he served as First Lieutenant in
HMS

Wallace
her veterans were encouraged to join
---
Return to the Home Page of the V & W Destroyer Association
Return to the Index Page for the 69 V & W Class Destroyers
---