---
Not one of the V & W Class destroyers built in the last two years of the Great War and used as convoy escorts in World War 2 exist today. Within three years of the war ending they all went to the breakers yard. The traditional two ended pulling boats known as whalers which hung from davits on the port side of V & W Class destroyers and the ships motor launch with its single cylinder inboard motor which hung on the starboard side often outlived their parent ships and a few are still in use today. The motor dinghy aboard HMS

Vivien

between 24 October 1939 and 18 April 1941 is being restored for family use by Jamie Williams in Portsmouth and will be relaunched in Spring 2022. The families of the men who served in her will be welcome to attend.




Th

e plaques presnted to V & W Class destroyers by the towns which adopted them during Warships Weeks in 1941 - 2 were returned to the towns. Their ship's bells and massive bronze screen plaques, the tampions which protected the muzzles of their guns and the boat badges bearing the ship's crest mounted on their whalers and motor launches were highly collectable and can be bought for high prices on the web.

Sea Cadet Units were often formed in the towns which adopted V & Ws during Warship Weeks and when the V & W Destroyer Association was dissolved in 2017 and this website was created to keep the memory of the ships and the men who served in them alive the funds of the V & W Destroyer Association were donated to Sea Cadet Units with Training Ships named after a V & W Class destroyer.



Whalers



"Montagu Whalers" were designed by Rear Admiral Victor Alexander Montagu (1841–1915) in the 1880s and remained in use in the Royal Navy until after the Second World War. They were intended for boarding enemy ships but in the last war were mainly used as lifeboats
, s
aving survivors from merchant ships in convoys which ran aground, detonated mines, were bombed by enemy aircraft or torpedoed by u-boats.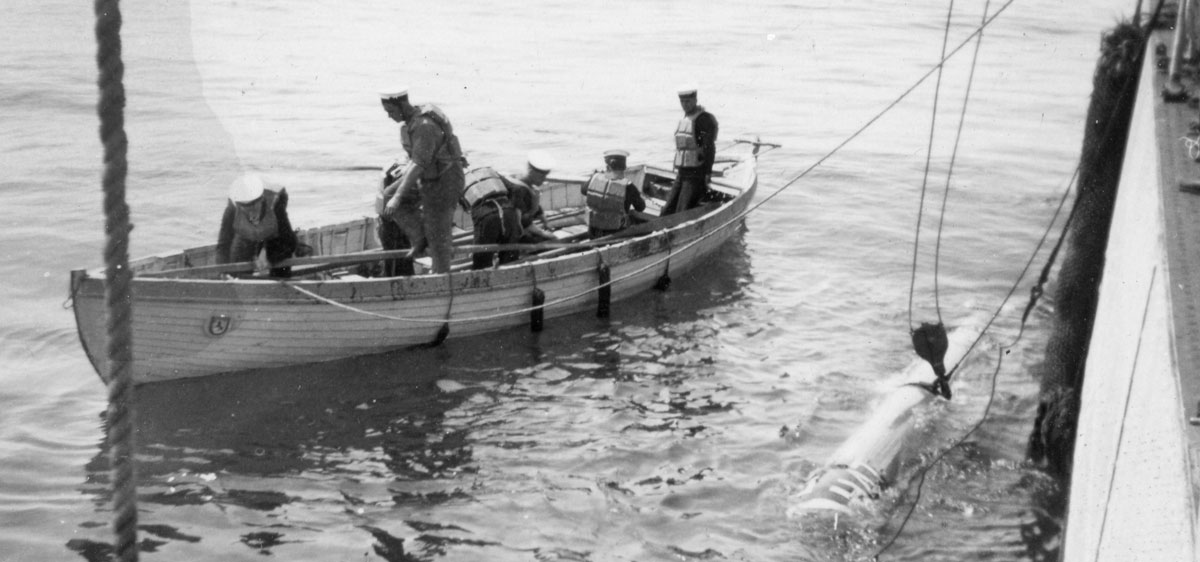 The ship's whaler of HMS

Wren

with boat badge recovering the body of the pilot of the German reconnaissance plane shot down off Narwik on 28 May 1940
"A German reconnaissance plane appeared but the

Glorious

sent up a fighter and clawed it out of the sky"
Ten days later on 8 June HMS

Glorious

was sunk by the

Scharnhorst

and Gneisenau
Photographed by Petty Officer Telegraphist Bill Baker

On the 14 May 1945

Vivien

lowered her whaler to take a boarding party to the surrendered German minesweeper M607 and conduct her to the Firth of Forth
Whalers were slung from davits on the port side of V & W Class destroyers - note the Carley float on the right


This photograph was taken by a photographer from The Scotsman





Whalers were double ended cinker built pullng boats used by the Royal Navy since 1810 to take boarding parties to enemy ships but in the last war mainly used as lifeboats
A diagram of a 27 ft Ship's Whaler from the 1951 edition of

The Manual of Seamanship



In at least one case the whaler and ship's motor boat of a V & W were presented to the Sea Cadet Unit of a town after a succcessful Warship Week led to the ship's adoption and remained in use by the cadets for many years. Lt Cdr Cecil Holmes pulled strings to see that the Cheshire town of Northwich where his son Jasper Holmes was born in November 1941 was allocated HMS

Witch

, his new command, for adoption.

On 7 March 1942 the ship's boats of HMS

Witch

were used in the heroic rescue of survivors from the American steamer SS

Independence Hall

which ran aground on Sable Island on the Northumberland Banks off the coast of Canada and Leading Seaman Bannister from Northwich was one of the men who crewed the whaler. LS Bannister gave up a week of his leave to raise money for the adoption of HMS

Witch

by describing the rescue in talks to schools in Northwich during their Warships Week. Sadly, the whaler and ship's motor boat from HMS

Witch

rotted away and were burned many years ago and even TS

Witch

, the Sea Cadet Unit in Northwich named after HMS

Witch

, is no more.

Bob Edwards joined the Northwich Sea Cadet Unit in 1952 and recalled:


"We had two dories and a couple of whalers from HMS

Witch

and on Regatta Day we towed them with a motor boat up through Hunts Lock and helped out where we could. The motor boat was an old ship's lifeboat we built cabins into with an old petrol engine, a Ford 100 E side valve if my memory is correct." What happened to the two whalers? Bob Edwards recalled that the two whalers from HMS

Witch

'were broken up at Hunts Lock and used for firewood, I presume by the lock keepers' ".
Vivien
's Motor Dinghy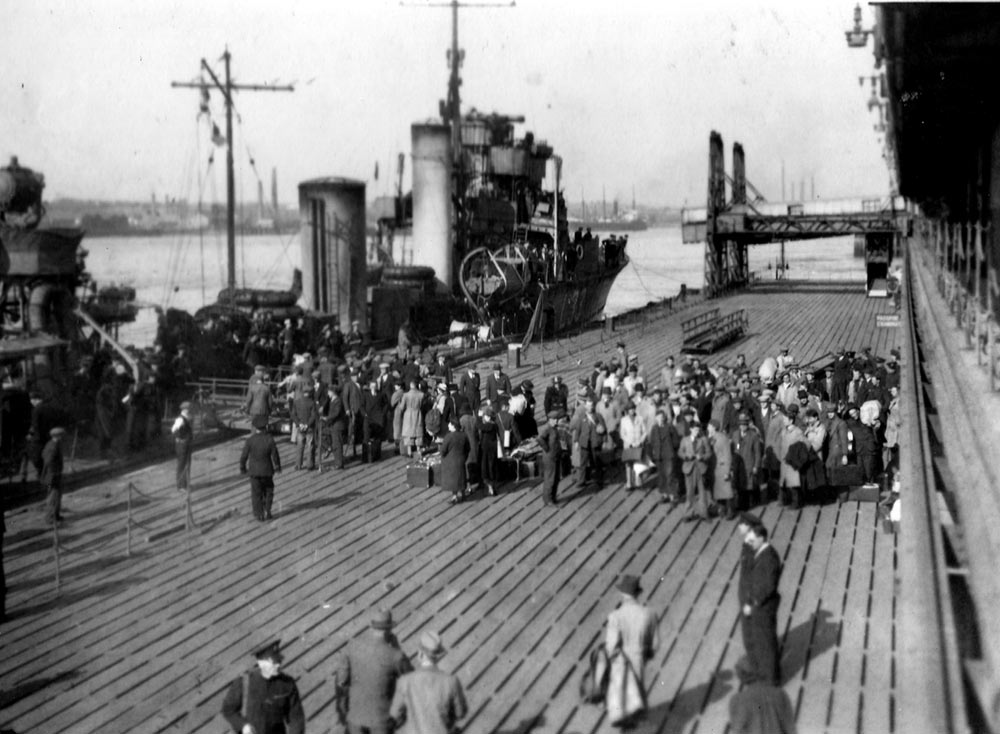 The late afternoon sun shines on the transom of the Motor Dinghy hanging from the davits on the inboard starboard side of HMS
Vivien
HMS
Vivien
berthed at Tilbury discharging the refugees she took aboard at Hook of Holland on 13 May 1940
Photographed by Sub Lt Herbert Walkinshaw RNVR and reproduced courtesy of Graham Cherry
The motor dinghy had a transom at the rear and a small diesel fueled IC engine which made it useful as a fast rescue boat but was smaller and less seaworthy than the 27 ft whaler on the port side of

Vivien

which carried a bigger crew and had no engine, being rowed or sailed when riggged with sails.
Restoring Vivien's Motor Dinghy

In September 2021 I was contacted by Jamie Williams who has recently acquired the original 16 ft motor dinghy which hung on the starbord side of HMS

VIvien.

It may have been used in the rescue of survivors from SS

Voreda

when she was bombd off the Norfolk coast on 30 January 1940 and in the retrieval of items from the HE111 bomber 6998 shot dwn by RAF fighters half a mile from

Vivien

south of Kirkwall in Orkney on 9 April and survivors from the collier SS

Brixton

mined near Orford Ness on 15 August. These events were photographed from HMS

Vivien

by Sub Lt Herbert A. Walkinshaw RNVR.
| | |
| --- | --- |
| | |
The provenance of the motor dinghy is well established by records in the library of the NMRN at Portsmouth and confirmed by the Admiralty's broad arrow, boat number 3830 and the year 1938 carved on her stem. 3830 is a 16ft Motor Surveying Dinghy, 16ft x 5ft 7 ½" x 1ft 3" ordered on 16 March 1938 and built by Boats & Cars (Kingston) Ltd. of Kingston on Thames. She was allocated to HMS

Scott

(J79), a Halcyon Class survey ship, on 10 June 1938 and despatched to Caledon Shipbuilding Co on the Clyde on 3 November 1938. HMS

Scott

was employed on survey work in connection with the proposal to lay a Channel Mine Barrage during the first two months of the war.

On 24 October 1939 the motor surveying dinghy was transferred to HMS

Vivien

and remained aboard

Vivien

until 18 April 1941 when she was allocated to HMS

Bishopsgate

. She was "landed and reported for disposal on 24 August 1948" and was at Rosyth until 12 July 1957 when "she was deemed beyond economic repair" and sold to a Mr A Jackson for £30 on 18 August 1959. She was at Huntington for 33 years until August 2007 when she was offered to Portsmouth Naval Dockyard Property Trust in February 2013 but was turned down and offered again in May 2015 but rejected.

These are the dry facts as recorded in the Admiralty records but one gets a far more vivid picture of her activities during the eighteen months she was aboard HMS

Vivien

from the photographs of Sub Lt Herbert Walkinshaw RNVR and the reports of her Commanding Officers. Unlike the Montagu whalers the design of the ships motor boats on V & W Class destroyers changed significantly during the war. In keeping with their more usual role as a lifeboat the length increased to 25 ft and they were fitted wiith a cabin. Frank Donald recalled that at Dartmouth in the 1950s "we had 25 foot motor cutters and the coxn used a whistle to pass engine orders to the "stoker", a fellow cadet or midshipman".
They continued in use after the war until they were replaced by inflatables in the 1960s.

Admiralty drawing
dated 1967
of a 16 ft motor launch
I have been sent several photographs of the original motor dinghy alocated to HMS

Vivien

as she is now by Jamie Williams. He plans to restore her but not to her original condition as he has four small children and he wants to use her as a family boat. The original single cylinder Enfield diesel engine had been replaced by a previous owner with an Enfield twin diesel. He will fit a small fore and aft deck and install a Stuart Turner P66 engine. I shall give reports on progress on this page. Jamie Williams hopes to complete the restoration by Spring 2022 and hold an informal launch at Portsmouth and would welcome members of the families of the men who served in HMS

Vivien

to the launch.

Please e-mail me if you would like to receive further details nearer the date.


Jamie also sent me several photographs of very similar dinghies in use along the British coast. The basic design was adopted by boat builders for small leisure boats after the war which are still in use today. Some of them may, indeed, be wartime Admiralty dinghies previously used on warships and only identifiable by the Admiralty's marks carved on the stem. Whalers were unlikely to find a new market and as we have seen most were left to rot and burned as firewood.


You can read how a Montague whaler named the

Swan

was saved by enthusiats at the Underfall Yard in Falmouth and and Steve Evans of All Aboard Shedmen in Bristol updates her story below:


"Our Monty was about to be burnt on the banks of the Tamar when Burney Bruan and Colour Sergeant Fiddler saved her in 1978. She was reportedly built in 1936 in Malta but sadly no ships history with her. We think she was used by the local command in Malta and somehow found her way to UK no doubt on the side of a serving ship. We saved her once again and brought her back from Falmouth four years ago. We got her sailing and rowing with an original set of sails and rowed her in the great river race in London as well as sailing her in the Gold De Morbihan Brittany France. She is now undergoing further hull repair in our shed next to the Sea Cadet TS

Adventure

centre in Bristol City Docks."
One of the last Montagu whalers restored and still afloat is in Tasmania and can be seen on the website of the Living Boat Trust.
and there is a restored Montagu whaler in the Museum of the Historic Naval Dockyard at Chatham.
At present I am not aware of any other whalers in museums or private ownership in Britain and would like to be contacted by anybody who is.
---
Return to Home Page for HMS

Vivien
Return to the Home Page of the V & W Destroyer Association
Return to the Index Page for the 69 V & W Class Destroyers
---