---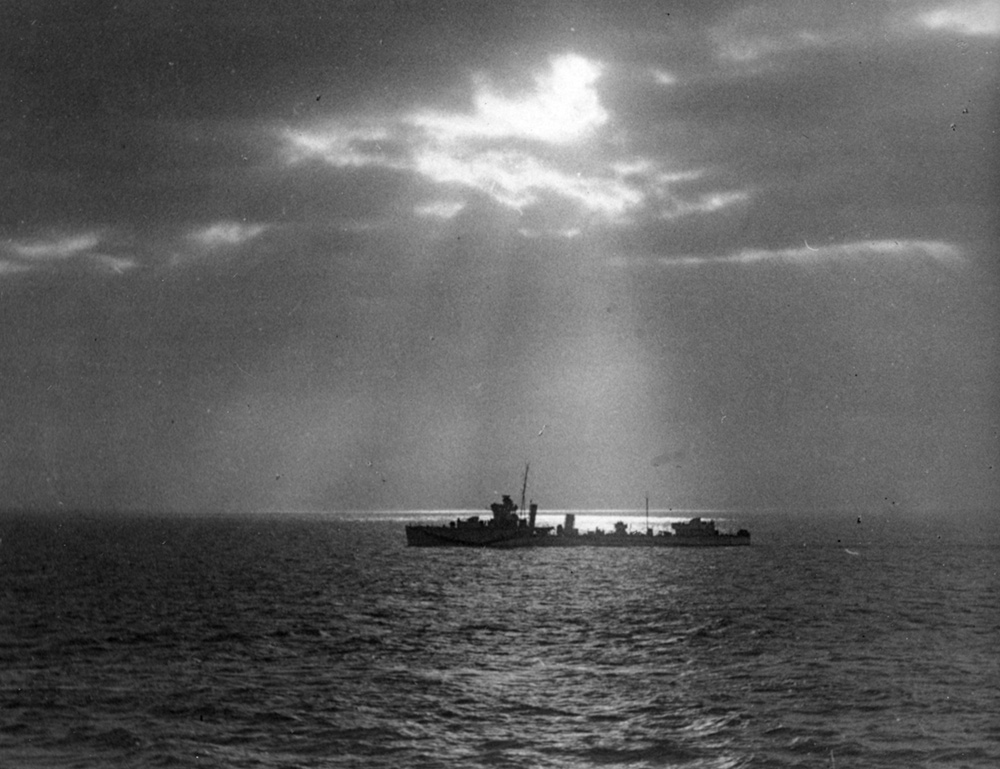 HMS

Vega

as part of the Rosyth Escort Force in 1944

Photographed by Lt Cdr John E. Manners RN from HMS
Viceroy

After the Great War HMS

Vega

served with the Second Destroyer Flotilla in the Mediterranean. She joined the Reserve Fleet at Portsmouth on 4 November 1936.

In May 1939 HMS

Vega

entered Chatham Dockyard to begin conversion
to an anti-aircraft escort, a WAIR.
She reported to the Rosyth Escort Force and began convoy duty in December 1939. Her pennant number became L41 when she re-entered service in 1939. On 11 November 1940 she struck a naval mine off Sunk Head, Harwich, and suffered heavy damage. While still under repair in December 1941, she was "adopted" by the civil community of Godalming, Surrey, in a Warship Week fundraising campaign.



Vega

's repairs were not completed until 14 November 1942. While under repair she was fitted with Type 285 fire-control radar for her main guns, as well as a Type 286 air search radar to warn of the approach of aircraft. She returned to her convoy escort duties in the North Sea for the rest of the war. She operated in support of Allied reoccupation forces in Europe during the summer of 1945 and after the armistice with Japan was decommissioned and placed in reserve.

She was sold on 4 March 1947 to BISCO for scrapping by Clayton and Davies at Dunston on Tyne and arrived at the shipbreaker's yard at on 26 March 1947.


Commanding Officers
Cdr David V. F. Erskine, RN (21 Dec. 1917 – 27 May 1920)
Cdr Richard M. Welby, RN (27 May 1920 – 27 July 1921)
Lt Cdr Geoffrey S. Holden, RN (20 July 1921 – 2 Feb. 1923)
Lt Cdr Kenneth L. Campbell, RN (2 Feb. – 6 Sept. 1923)
Lt Cdr Hugh B. Wrey, RN (31 Aug. – 24 Nov. 1923)
Lt Cdr Edward N. Mortimer, RN (24 Nov. 1923 – 8 April 1924)
Lt Cdr Ralph G. H. Izat, RN (1 April 1924 – 1 Dec. 1926)
Lt Cdr Henry A. Simpson, RN (1 Dec. 1926 – 3 Nov. 1928)
Lt Cdr William D. G. Weir, RN (15 Nov. 1928 - ?)
Lt Cdr William S. Thomas, RN (2 Jan. 1933 - ?)
Lt Cdr Ian R. H. Black, RN (14 Nov. 1930 - ?)

Cdr. Cyril Ivan Horton, RN (19 Sep 1939 - 4 Aug 1940)
Cdr. Richard Graham Stewart, RN (4 Aug - 30 Oct 1940)
A/Cdr. Thomas Bennett Brunton, RN (30 Oct - 6 Nov 1940)
Lt.Cdr. Robert Fergus Jenks, RN (6 Nov - late 1940)
Lt. Clement Francis Parker, RN (15 Sep 1942 - 31 Mar 1943)
Lt. Charles Gerald Forsberg, RN (31 Mar 1943 - mid 1945)


Officers

| | |
| --- | --- |
| Temp ???? (Apr 1941 - 1942) | Sub Lt ???? RN (2 Apr 41 -1943) |
Former full members of the V & W Destroyer Association who served in HMS

Vega


J. Freebourne (Havant, Hants), R. Jones (Sherbourne, Dorset), G. Ludbrook (Sudbury, Suffolk)

Please get in touch if you knew these men or had a family member who served in HMS
Vega
If you have stories or photographs of HMS
Vega
you would like to contribute to the web site please contact
Bill Forster
---
Return to the Home Page of the V & W Destroyer Association
Return to the Index Page for the 69 V & W Class Destroyers
---