---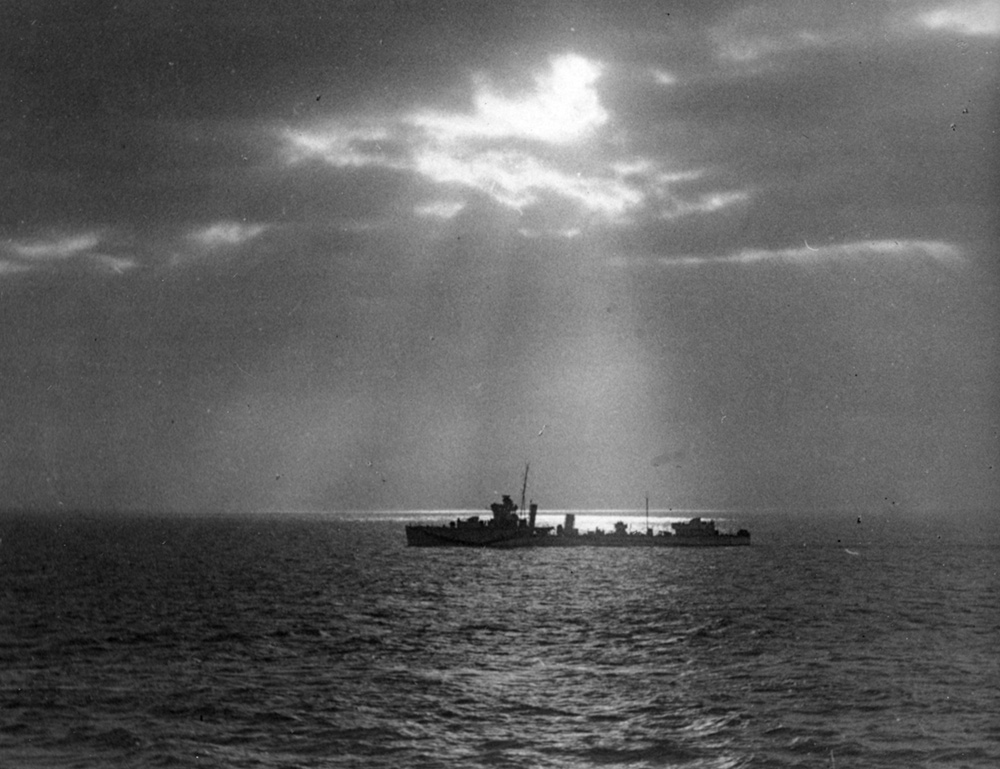 HMS

Vega

as part of the Rosyth Escort Force in 1944

Photographed by Lt Cdr John E. Manners RN from HMS
Viceroy

After the Great War HMS

Vega

served with the Second Destroyer Flotilla in the Mediterranean. She joined the Reserve Fleet at Portsmouth on 4 November 1936.

In May 1939 HMS

Vega

entered Chatham Dockyard to begin conversion
to an anti-aircraft escort, a WAIR.
She reported to the Rosyth Escort Force and began convoy duty in December 1939. Her pennant number became L41 when she re-entered service in 1939. On 11 November 1940 she struck a naval mine off Sunk Head, Harwich, and suffered heavy damage. While still under repair in December 1941, she was "adopted" by the civil community of Godalming, Surrey, in a Warship Week fundraising campaign.



Vega

's repairs were not completed until 14 November 1942. While under repair she was fitted with Type 285 fire-control radar for her main guns, as well as a Type 286 air search radar to warn of the approach of aircraft. She returned to her convoy escort duties in the North Sea for the rest of the war. She operated in support of Allied reoccupation forces in Europe during the summer of 1945 and after the armistice with Japan was decommissioned and placed in reserve.

She was sold on 4 March 1947 to BISCO for scrapping by Clayton and Davies at Dunston on Tyne and arrived at the shipbreaker's yard at on 26 March 1947.


Commanding Officers
Cdr David V. F. Erskine, RN (21 Dec. 1917 – 27 May 1920)
Cdr Richard M. Welby, RN (27 May 1920 – 27 July 1921)
Lt Cdr Geoffrey S. Holden, RN (20 July 1921 – 2 Feb. 1923)
Lt Cdr Kenneth L. Campbell, RN (2 Feb. – 6 Sept. 1923)
Lt Cdr Hugh B. Wrey, RN (31 Aug. – 24 Nov. 1923)
Lt Cdr Edward N. Mortimer, RN (24 Nov. 1923 – 8 April 1924)
Lt Cdr Ralph G. H. Izat, RN (1 April 1924 – 1 Dec. 1926)
Lt Cdr Henry A. Simpson, RN (1 Dec. 1926 – 3 Nov. 1928)
Lt Cdr William D. G. Weir, RN (15 Nov. 1928 - ?)
Lt Cdr William S. Thomas, RN (2 Jan. 1933 - ?)
Lt Cdr Ian R. H. Black, RN (14 Nov. 1930 - ?)

Cdr. Cyril Ivan Horton, RN (19 Sep 1939 - 4 Aug 1940)
Cdr. Richard Graham Stewart, RN (4 Aug - 30 Oct 1940)
A/Cdr. Thomas Bennett Brunton, RN (30 Oct - 6 Nov 1940)
Lt.Cdr. Robert Fergus Jenks, RN (6 Nov - late 1940)
Lt. Clement Francis Parker, RN (15 Sep 1942 - 31 Mar 1943)
Lt. Charles Gerald Forsberg, RN (31 Mar 1943 - mid 1945)


Officers

Former full members of the V & W Destroyer Association who served in HMS

Vega


J. Freebourne (Havant, Hants), R. Jones (Sherbourne, Dorset), G. Ludbrook (Sudbury, Suffolk)

Please get in touch if you knew these men or had a family member who served in HMS
Vega
Lieutenant Commander S.G.T. Ewles RN

Navy Days,
1 January 1926 to 14 May 1960

Stanley George Thomas Ewles was born at Portsmouth on 15 May 1910, the son of William Ewles (1875-1930), a Chief Petty Officer in the Royal Navy. His father served in HMS

Murray

and took part in the Raid on Zeebrugge on St George's Day 1918. Stan joined the Navy as an Artificer Apprentice on 1 January 1926
and
retired as Lieutenant Commander S.G.T. Ewles RN after thirty five years service in 1975.

His first ship was HMS

Walker

which he joined as an Artificer in August 1930 and he served in two more V & W Class Destroyers, HMS W

indsor

which he joined in November 1939 after his marriage and a brief honeymoon until joining the Flower Class corvette HMS

Tulip

on 6 January 1941. His third V & W was MS V

ega

which he joined on 28 November 1944 and left on 7 March 1945 shortly before the war ended.

Part 3: HMS
Vega
1944-1945
North Sea convoys again
My promotion was due in six months' time - April 1945 - so I went back to Portsmouth and out again the next day as Chief ERA on HMS
Vega
, an old destroyer of the same type and class as the
Windsor
. The
Vega
was built at the end of World War I, in 1917-18, and was employed on convoy duties up and down the North Sea from Rosyth to Sheerness and back. Ships would come round the north of Scotland and some would be for Edinburgh, others for Newcastle, the Humber or London docks. Other ships, mainly colliers, would join us from Newcastle and to be escorted south.
The crew were at action stations at dawn and dusk every day, but it was relatively quiet with the main danger from mines or E boats. We also sometimes saw the doodle bug bombs being fired from the Dutch and Belgian coasts to blow up over London.
But the war was changing. At times we could see literally hundreds of aircraft forming up in the sky from the airfields in the eastern counties, on their way to bomb Germany, an amazing sight compared with 1940. We also sometimes saw the doodle bug bombs being fired from the Dutch and Belgian coasts to blow up over London.
I had problems. The Engineer Officer in charge was an RNVR lieutenant whom I never saw when we were at sea; I think he was a permanent alcoholic. So I ran the department completely alone. In addition to this bad example, the Chief I had relieved had been very weak, and one of the ERAs, a Canadian, was causing trouble in the mess. He was a bullying type, shouting down anyone, so one day after he had had his tot and started arguing after I had told him to shut up, and warned him to no avail, I hit him and knocked him out. I never had any more trouble from him, and he remained quiet for the rest of the time I was aboard.
This ship was the only one in which I served during the war which had any amenities for the ship's company. I used to run the cinema in harbour, on the seamen's mess deck for the ratings and in the Wardroom, usually on Sunday nights, for the officers.
A Warrant Officer at VE Day
Finally my Warrant came through and I left. I was given clothing coupons and a lump sum to kit myself out as a Warrant Engineer Officer. We were living then in a flat in Southsea, so for about a month I was more or less on leave, looking in at the Warrant Officers' mess in Portsmouth and getting used to being saluted. I nearly fell off my bike when on the first day a sailor saluted me when I was cycling down Queen Street!
The most momentous day was VE Day when the war in Europe was over at last. There were no great celebrations, just a great sense of relief that at least part of the war was over


This is the third part of an account of Stan Ewles "Navy Days" aboard three V & W Class destroyers from

HMS

Walker

in 1930

to

HMS

Windsor

in 1940

when she helped evacuate the troops from Dunkirk and defended the "narrow sea" against the expected invasion to

the closing months of the war aboard HMS

Vega

. Click on the links to read Stan's story.

In his 70s Stanley Ewles decided to write an account of his life in the Navy from a boy of 15 in 1926 to a man of 50. He called it "Navy Days" and wrote it by hand in blue ink on a pad of ruled A4 paper kept in a ring binder which his daughter Linda Ewles still has. Stanley Ewles died in 1994 and his widow, Betty (born Beatrice Lilly Morris), typed it up and copies circulated around the family. Linda Ewles produced an audio recording for an elderly aunt whose eyesight was too poor to read the story of her bother's life.

Betty Ewles died in 2004 and two years later when Linda Ewles turned 60 she decided to edit her father's memoir and publish it.

Navy Days

(2009) is out of print but available as part of a longer family history,

'Navy Days' and other tales: people and places in the Ewles family history

(ISBN ISBN 978-0-9570857-3-2), for £13 including p&p in the UK (e-mail Linda Ewles).

If you have stories or photographs of HMS
Vega
you would like to contribute to the web site please contact
Bill Forster
---
Return to the Home Page of the V & W Destroyer Association
Return to the Index Page for the 69 V & W Class Destroyers
---