---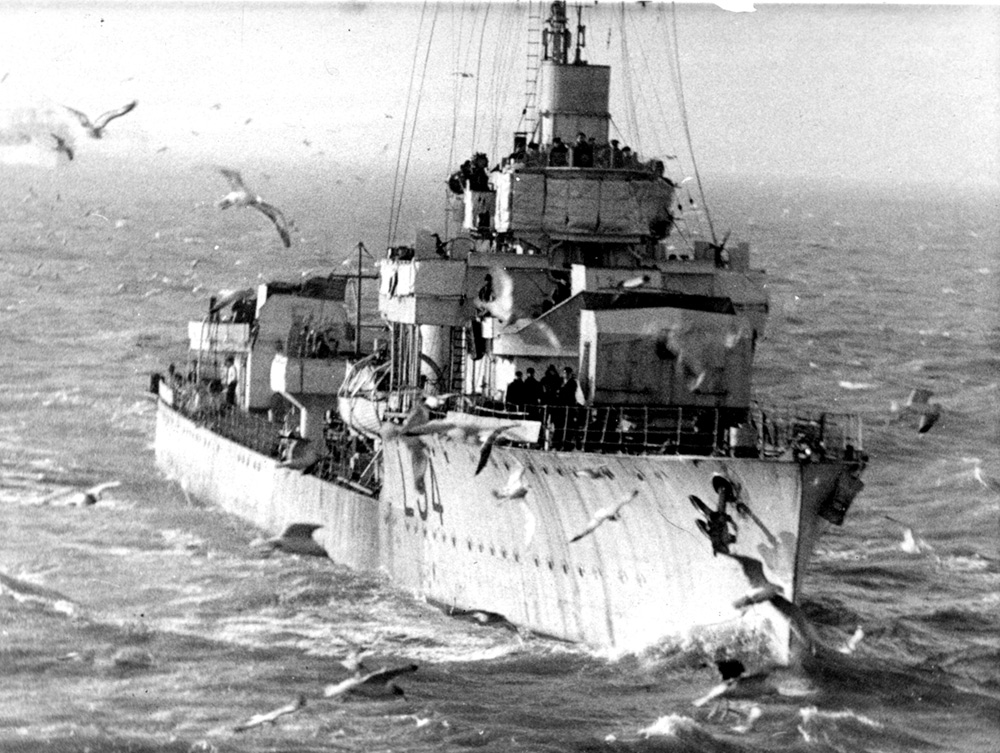 HMS
Windsor, a member of the Rosyth Escort Force,
with pennant number L34 escorting East Coast Convoys in 1944
Photograhed by Lt Cdr John Manners RN DSC from HMS Viceroy

HMS

Windsor

, the 3rd ship of that name in the Royal Navy, was an Admiralty W Class Destroyer laid down at Scott's Yard, Greenock, in April 1917, was launched on 21st June 1918. On completion on 28th August 1918 she was given the pennant number D42 and joined the Grand Fleet. She was present at the surrender of the German High Seas Fleet in November.

Windsor was assigned to the 6th Flotilla in the Atlantic Fleet in 1921, and was part of the Portsmouth Local Flotilla in 1928.

At the beginning of World War 2

Windsor

was assigned to the 18th Destroyer Flotilla at Portland, Dorset, for convoy escort and patrol duty in the English Channel and Southwestern Approaches. In October 1939 she was transferred to Western Approaches Command in continuation of these duties and was later based at Plymouth.

In May 1940

Windsor

transferred to the 19th Destroyer Flotilla at Dover, in support of operations opposing the German offensive. On the evening of 13 May she evacuated the Government of the Netherlands from the Hook of Holland. On 23 May she patrolled off Boulogne in company with HMS

Venetia

engaging German troops and tanks and later took part in the evacuation of the port, rescuing 600 Guards and supporting troops. Lt Cdr Peter D.H.R. Pelly's Report of Proceedings on the evacuation of the Guards from Boulogne can be seen on the website of the publisher of

A Hard Fought Ship

along with the RoPs of the other V&Ws which took part in the operation.

On May 26

Windsor

was assigned to Operation

Dynamo

, patrolling off the Dunkirk beachhead and escorting ships involved in the evacuation. That day she came to the aid of the passenger ship

Mona's Isle

, which had come under German air attack with 1000 troops onboard, suffering 23 dead and 60 wounded. After rendering medical assistance she escorted

Mona's Isle

to Dover. On 28 May the

Windsor

herself came under heavy and sustained attack by 15 German aircraft, which bombed and strafed her, inflicting 30 casualties and causing significant damage, forcing her to return to Dover. Despite the damage she remained in action, evacuating 606 troops from Dunkirk on 20 May, 658 troops and 588 troops in two trips on 31 May, 493 on 1 June, and 644 in two trips on 2 June. Her final visit to Dunkirk was on 3 June, evacuating 1022 men, bringing her total to 4011.



Windsor

proceed to Liverpool on 4 June for repairs and refit. After completion of repairs, on 1 July 1940 she and HMS

Vesper

rescued 111 survivors of the British merchant ship

Beignon

, torpedoed and sunk by U-30 in the North Atlantic 300 nm west of Ushant.

Later in July

Windsor

joined the 16th Destroyer Flotilla with the Leader HMS

Montrose

and destroyers HMS

Whitshed

and

Walpole

, based at Harwich for convoy escort and patrol duty in the North Sea. On 28 October

Windsor

towed

Walpole

which had been disabled by a magnetic mine to Sheerness. On 8 December

Windsor

herself detonated a mine off Aldeburgh, Suffolk, and entered Chatham Dockyard for repairs.

1941


Windsor

's repairs were completed on 24 April. In May she detached from her North Sea duties for service with the Home Fleet based at Scapa Flow. She escorted major warships, including the battleship HMS

King George V

, during exercises in the North Western Approaches. She rejoined the 16th DF at Harwich in July 1941.

1942
By January 1942 the North Sea duties had begun to include operations to intercept German motor torpedo boats, S-Boats, known to the Allies as E-Boats, in the North Sea before they could mount attacks on allied ships. On 13 March the

Windsor, Walpole

, and the escort destroyers

Blencathra, Calpe

, and

Fernie

deployed in the English Channel to intercept the German merchant raider

Michel

sailing from Flushing in the Netherlands to German occupied France under escort by five torpedo boats and nine minesweepers.

Windsor

exchanged gunfire with the German ships on 14 March and made a torpedo attack, sustaining superficial damage from German gunfire.

Following the Warship Week National Savings campaign in March 1942 she was adopted by the civil community of the Urban District of Windsor, Berkshire.

In August

Montrose, Windsor, Walpole

and

Worcester

detached for duty with the Home Fleet, and deployed in the North Western Approaches to escort major warships and conduct antisubmarine patrols. In September Windsor was assigned to escort Arctic convoys PQ 18 and QP 14 during their voyages to and from the Soviet Union. She joined the escort of PQ 18 on 8 September, but on 9 September she detached from the convoy to form Force P, consisting of

Windsor

, the escort destroyers

Cowdray

and

Oakley

, and the Royal Fleet Auxiliary tankers

Blue Ranger

and

Oligarch

. Force P proceeded to Lowe Sound at Spitsbergen to establish a fuelling base.

Windsor

operated as guard ship there from 12 September, to 21 September when refuelling operations were complete and she departed for Iceland, before rejoining the 16th DF on North Sea convoy and patrol duties. In December 1942

Windsor

again detached for a tour of duty with the Home Fleet at Scapa Flow.

1943
In mid-January

Windsor

rejoined the 16th DF, and on 24 January she and the escort destroyer HMS

Mendip

drove off a German E-Boat attack against the North Sea convoy they were escorting. On 4 March

Windsor

, the escort destroyer

Southdown

and the corvette

Sheldrake

fought an action against E-boats off Great Yarmouth.

Windsor

joined the

Blencathra

and the motor gunboats MGB 321 and MGB 333 in driving off an attack by E-Boats against Convoy FS1074 off Smith Knoll on 28 March.

1944


Windsor

continued her escort and patrol operations in the North Sea until May 1944 when she was assigned to support the upcoming Allied invasion of Normandy. At the beginning of June she joined the corvette HMS

Starwort

, and two Motor Launches of Coastal Forces off Southend as Escort Group 132 for Convoy ETC2Y. The Convoy consisted of 13 Coasters taking pre-loaded transport, 5 Water Carriers and Ten Oil Tankers. On 4 July the Convoy took passage to the Solent, with the Escort Group supplemented by the corvette HMS

Buttercup

and a Motor Minesweeper.

The invasion was postponed from 5 to 6 June due to bad weather and on 7 June, the day after the initial landings, the convoy arrived off the invasion beaches to discharge its cargo, and then returned to the Nore to begin a convoy cycle supporting the build-up of Allied forces and supplies in Normandy.

In July

Windsor

returned to patrol and escort duty in the North Sea with the Rosyth Escort Force, which she continued until the surrender of Germany in May 1945.

During the summer of 1945

Windsor

was decommissioned, transferred to the Reserve Fleet, and was no longer listed by July. After the surrender of Japan on 15 August she was placed on the disposal list.

Windsor

was sold to Metal Industries for scrapping on 4 March 1947, arriving at the ship breakers yard in Charleston, Fife, in May 1949.



ATLANTIC 1939 – 40 DUNKIRK 1940 ARCTIC 1942 ENGLISH CHANNEL 1942 – 43 NORTH SEA 1942 – 43 NORMANDY 1944

Commanding Officers
Officers

Temp Lt F J E I Allen RNVR (Apr 1941 - 1942)
Mid R W Anstice RN (20 Sep 1924 - Jan 1925)
Temp Act Surg Lt H M Balfour RNVR (15 Oct 1940 – 7 Jan 41)
Lt S H Beattie RN (14 Aug 1930 - May 1933)
Mid B J Benson Dare RNR ((29 Aug 1939 - 1941)
Wt Eng J H Bignell RN (24 Feb 1941 - Oct 1942)
Sub Lt M S Blois-Brook RNR (29 Jul 1942 - 1944)
Act Sub Lt C Bourne RN (12 Dec 1942 - 1943)
Lt CGH Brown RN (5 Sep 1939 - 1941)
Lt J A Bryant RCNVR (1 Oct 1941 - 1942)
Act Gnr (T) T C Chennell (19 Jan 1943 – Jun 1945)
Sub Lt M H Collar RN (14 Feb 1940 - 1941)
Gunr (T) L F Cook RN (28 Mar 1941 - Jan 1943)
Cmd Eng E A Court Hampton RN (Jan 1941 – 1941)
Gunr (T) C Covey RN (7 Jan 1941 - Mar 1941)
Cmd Gunr H J Dennis RN Retd (23 Sep 1939 - Jan 1941)
Temp Act Sub Lt R Dodds RNVR (6 Mar 1944 - Jun 1945)
Temp Lt J E B Drake RNVR (20 Apr 1942 - 1944)
Sub Lt H D C Gibson RN (16 Sep 1944 - Jun 1945)
Lt (E) A L Green RN (9 Mar 1944 -Jun 1945)
Temp Surg Lt A C Hammer RNVR (2 Apr 1941 - 1943)

Sub Lt B C Hutchinson RN (2 Apr 1941 -1943)
Surg Lt W M Lancaster RNVR (Oct 1944 - Jun 1945)
Cmd Eng R A Marsh RN (13 Jan 1938 - Jan 1941)
Temp Sub Lt R Miller RNR (11 May 1944 - Jun 1945)
Temp Lt J G G Muir DSC? RNVR (7 Mar 1944 – Jun 1945)
Mid M A Myers RNVR (18 Aug 1941 - 1942)
Temp Sub Lt R M J O'Connor RNZNVR (21 Jan 1942 - 1943)
Temp Sub Lt R J Phelps RN (2 Mar 1944 - Jun 1945)
Act Gnr(T) W A Rugman RN (19 Nov 1935 – Feb 1936)
Sub Lt R A E Sharp RN (4 Nov 1939 - 1941)
Lt A E H Sladen RN (1 Dec 1943 - Jun 1945)
Temp Act Sub Lt T L Smith RNZNVR (Jul 1943 - Jun 1945)
Lt M R S Smithwick RN (17 Mar 1941 - 1943)
Temp Surg Lt P N Shutte RNVR (12 Feb - 15 Oct 1940)
Lt D C Souter RNVR (Oct 1943 - 1944)
Lt H A Stuart-Menteth RN (6 Sep 1935 - Feb 1936)
Temp Act Wt Eng W C Ward RN (6 Oct 1942 - Mar 1944)
Temp Act Sub Lt T Waldemeyer RNVR (7 Oct 1944 - Jun 1945)
Mid R Westlake RNVR (4 Nov 1939 - 1941)
Sub Lt R S Woolwrych RN (1 Apr 1941 - 1942)


Former Full Members of the V & W Destroyer Assoociation
R. Salter (Poole, Dorset), F. Skelton (Worthing, Sussex), Tommy Vann (Leicester)
Please get in touch if a family member served in HMS Windsor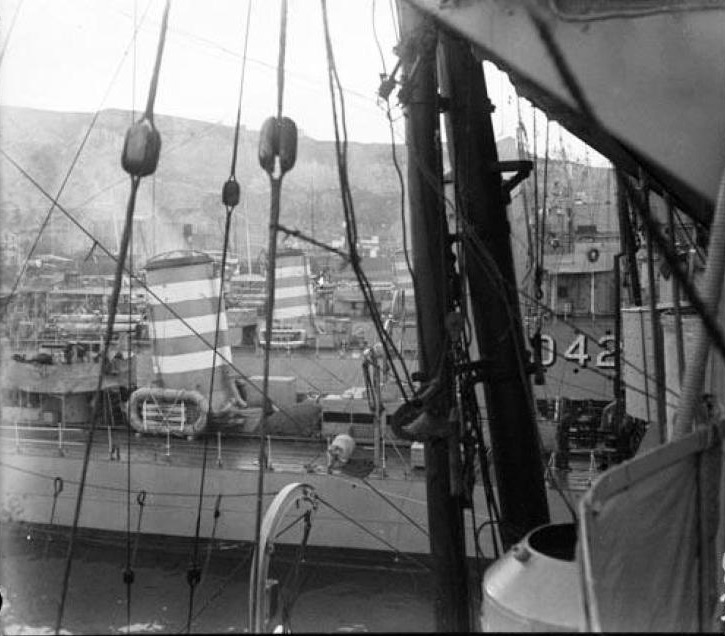 HMS

Windsor

(D42) visited Barcelona with her Flotilla in February 1930 (Cdr Ralph Kerr RN)

Centre Excursionista de Catalunya AFCEC_OLIVERAS_X_00472
Link supplied by Senior Chief Erling Baldorf Royal Danish Navy (Ret)
Dunkirk


13 May 13th


Admiral Ramsey ordered HMS

Windsor

and HMS

Codrington

to go to a small jetty west of La Panne to evacuate some civilian personnel. Both destroyers approached the area with caution, as it was not known if the group would still be there or not, it was also getting dark. As the two destroyers approached the jetty they could see some civilians, so they came alongside the jetty and took the passengers aboard. We wasted no time in getting away. Later, when approaching Dover we found out that our passengers were the Dutch government and members of the Dutch Royal Family. They had with them a nanny who was carrying a small baby. That baby is now Queen Beatrix of Holland.



May 23rd


At 2130 hours Admiral Ramsey ordered Windsor who, at the time was off Calais to proceed to Boulogne. She arrived almost an hour after the others had departed. Despite the confusion she managed to get alongside and take aboard some 600 troops as well as all the wounded and the rest of the demolition party without damage to herself there were still more troops there so Ramsey ordered two more destroyers, the Vimera and Wessex to assist.



May 25th.




Windsor

and

Verity

left Dover to cover the withdrawal of small vessels waiting off Calais to carry out the evacuation when ordered.



May 26th



0140

Windsor

picked up three soldiers from a raft off Calais.
At 0300 it was decided not to evacuate Calais, so assisted

Verity

to escort small craft back to Dover.

0645 An attack by dive-bombers, no hits due to the expert handling of the ship by the skipper.

0745. Anchored in the Downs disembarked the three soldiers into a boat from the Fervent.

1700 Returned to Dover.



May 27th 0635


Left Dover to patrol: 0904, closed Mona's Isle who was loaded full of soldiers, she had been machine gunned so we escorted her back to Dover then resumed patrol at 1515.



May 28th, 1145.


We were close to number one buoy (near south Goodwin light house vessel) with several hundred soldiers aboard when we were attacked by fifteen dive-bombers supported by ten fighters. No direct hits but we received extensive damage from bomb splinters and bullets, the wireless telegraph was out of action, the violent evasive action made things rather precarious, again we were attacked but managed to avoid all the bombs aimed at us, but a near miss caused some damage to the boiler room and there were between twenty and thirty casualties on her crowded decks. We made Dover harbour and repairs were put in hand immediately.



May 30th 093

0
We sailed from Dover for Dunkirk arriving at La Panne at 1330 and proceeded to embark troops from small boats for the journey to Dover.

1530: Rear Admiral Dover transferred his staff from M/S

Hebe

to the

Windsor

, and he was landed at La Panne to visit Lord Gort to discuss the situation.
1700 The Rear Admiral and his staff were transferred to the

Worcester

so

Windsor

proceeded back to Dover, landing 606 more troops.



May 31st 0200




Windsor

sailed from Dover once again bound for Dunkirk arriving at 0600 and began embarking more troops, returning to Dover at 1000 and disembarked another 658 soldiers.
Within two hours she was once again on her way back to Dunkirk and on arrival secured alongside the

Icarus

which was alongside the East Pier taking aboard yet more troops, returning to Dover with 588 of the tired out soldiers.



June 1st ; 0545


Departed from Dover on the now familiar run to Dunkirk this time tied up alongside the

Vanquisher

and Icarus and the P/V

Maid of Orleans.





June 1 - 2, overnight.


The German heavy guns had now the control of all three routes into Dunkirk, which meant that the final stages of the evacuation had to be carried out under the cover of darkness on the night of the 1st-2nd June. Admiral Ramsey reported that there were many more troops ashore, and more ships were required, but there would never be enough. During the night, the destroyers

Codrington, Sabre, Whitshed, Windsor

and

Winchelsea

managed to bring out a large number of those stranded troops of which there was a large assortment, French and Belgian besides our own, it was impossible to tell which regiments they belonged.



June 2nd


The German U-boats were still at work and one of their victims was the anti-submarine trawler

Blackrover

. She was torpedoed and sunk near "T" buoy at 1618. Her sister ship

Westella

went to her rescue, and whilst picking up survivors she too received the same treatment by the same U-boat. Because of the urgency of the operation accidents were bound to happen and sure enough two of the destroyers were damaged when they were in collision damaging the bows and propeller of the

Malcolm, Whitshed

collided with the

Java

but both carried on with their desperate task despite the damage they had received. Eleven destroyers, which included

Venomous, Winchelsea

and

Windsor

with the help of thirteen personnel ships which included the

King George V,

the

Rouen, Royal Sovereign

and

St Helier

between them they brought back to Dover 26,257 men. Sadly some ships had to return empty as the troops failed to show up. BY 2330 Capt Tennent who was ashore was able to send the signal "B.E.F Evacuated".

HMS

Windsor

herself brought back 8,991 troops in seven trips across the channel. She was one of the first to go to Dunkirk and one of the last to leave. An achievement to be proud of.



Skirmish with German commerce raider
Michel
in the English Channel
14 March 1942
In July 1940,
Windsor
with the destroyer leader HMS
Montrose
and HMS
Walpole
, and HMS
Whitshed
was assigned to the 16th Destroyer Flotilla at Harwich for convoy escort and patrol duty in the North Sea. On 28 October 1940,
Windsor
towed
Walpole
to Sheerness after
Walpole
detonated a magnetic mine and became disabled and on 8 December
Windsor
herself struck a naval mine off Aldeburgh, Suffolk, and entered Chatham Dockyard for repairs.
Windsor
returned to the 16th Destroyer Flotilla at Harwich in July 1941 and resumed her North Sea convoy and patrol duties. On 13 March 1942,
Windsor, Walpole
, and the escort destroyers HMS
Blencathra
, HMS C
alpe
, and HMS
Fernie
intercepted the German merchant raider
Michel
. during her voyage from Flushing in the Netherlands to German-occupied France. She
was being escorted through the English Channel by five torpedo boats and nine minesweepers.
Windsor
exchanged gunfire with the German ships on 14 March and made a torpedo attack against them, sustaining superficial damage from the German gunfire.


***************


0552.. Altered course in succession to 135, and received 'Enemy in sight to Starboard".

0553.. Received "Stand by to turn to Starboard to fire torpedoes" Tubes were brought to the ready Port

0554.. Received "Enemy in sight to Port" While altering back in succession to 100 degrees, tubes were trained for and aft, as it was not clear at this stage on which side the torpedo target lay. Fire was opened on a destroyer bearing 130. 'B' gun illuminated with star shell. Short range weapons opened fire on destroyer and E-boats.

0555..

Walpole

was observed to turn away to Port. At the same moment a merchant ship was sighted bearing approximately 100, range 4000, approximate course 230. Tubes were brought to the ready Starboard. Enemy sped was estimated at 15 knots. Speed was increased to 25 knots.

0557..

Windsor

turned to Port and fired torpedoes at an estimated range of 2,500 yards and enemy inclination m090 right.

0559.. Ship was steadied up on a retiring course 315, with

Walpole

on the Starboard beam, distance 2 cables.

0600.. A large explosion was seen amidships in the merchant ship. Fire was ceased after torpedoes had been fired at

Calpe

and

Fernie

were by this time somewhere between

Windsor

and the enemy, and a large amount of smoke made it impossible to select targets.

0605..

Windsor

took station astern of

Walpole

.

Windsor

was under erratic fire from 0554 to 0559 a number of shells fell close, at 0556 she received a direct hit, a shell estimated as 3 or 4inch caliber demolished the motor boat and caused superficial damage.


*************

Michel
was "on the loose" until she was torpedoed and sunk by the US submarine
Tarpon
on 20 October 1943 within 50 miles of Japan. Her Captain and 290 crew members were lost. The 116 survivors reached safety in Japan after a three-day journey in open boats. Her loss marked the end of the cruises of German auxiliary commerce raiders.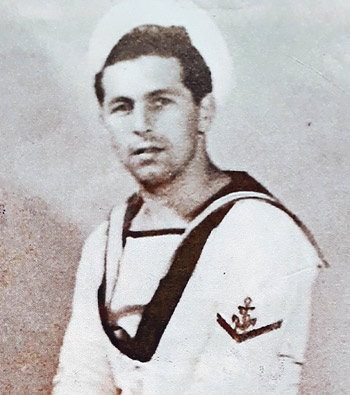 Whilst in convoy in the Channel during 1942, a thick fog descended upon us. We were therefore making our way slowly when there was a tremendous crash, one of the merchant ships that we were escorting the

Methol Hill

had collided with us and made a fourteen hole in the side of us. Fortunately the water tight doors were closed so only the store room was flooded.
Our nearest port was Hull so we made our way there as fast as possible. While underway Chief E.R.A. Standing DSM went down to retrieve the rum, he was heard to say "Sod the rest of the stores". On arrival in Hull, the only dock that could possibly accommodate us was a large Arctic trawler dock, we managed to get in with approximately a foot to spare each end.
Half the ships company was sent on fourteen days leave subject to recall. I had the second leave, that is if the ship would be in that long. Being an engine room rating I had to turn to and clean ship. All damaged stores were to be put on the jetty. When going ashore one night I noticed four tea chests drying out on the jetty with the rest of the stores. I said to my 'oppo' (mate), Chopper Charman, (you've probably guessed why he was called 'Chopper', need I say more) "I'm going to play a little joke". So I put my mother's name and address on the chest. Low and behold, I received a letter telling me that it had arrived by an R.N. Truck that had been to our Naval Stores in town, Leicester. I just could not believe it.
Anyway the tea was shared with the neighbours in the street and sometime later I received a letter from one of those neighbours, thanking me for the tea, they enjoyed it very much, even if it did taste a bit salty, One dear old lady said that it must have been the sea air that had made it taste like that. I of course knew better.
How Many Lumps of Sugar?

After completing my training at the new barracks at Gosport and also at St Vincent I was drafted to HMS
Windsor
. She was laying alongside at Parkestone quay near Harwich. We soon set sail for Rosyth, it was a fairly rough passage, any way I felt rough, so much so that I gave my packet of 20 'Players' with 19 still in it away, that was the end of smoking for me. I found drinking much better, 'an eighteen year old trying to grow up'.
Later we found ourselves in Scapa and preparing to escort two tankers to Spitzbergen in order to fuel North bound convoys to Russia. Shortly after sailing one of the generators packed up, so there was no heating on the mess decks. As we approached the Arctic circle and among the ice, the ship of course went stone cold and never seemed to warm up.

Windsor

and

Worcester

took the tankers up the fjord to Spitzbergen where we lowered the whaler and a party went ashore.
They came back with various articles, including boxes of lump sugar. One 'Jolly Jack' had a fur coat and a spear. What he hoped to do with the spear, heaven only knows. On the way back we met up with a south bound convoy (QP14). The
Worcester
lost a man overboard, also a Tribal class destroyer, HMS

Somali

, was sunk. The sugar was divided among the lads when we got back to Chatham.
Unfortunately some of the lads in my mess lost out when the dock yard matey's loosened the pipe gland leading to the 'heads' (toilets) and sprayed the sugar that was left in the box!
Traditionally, the destroyer is the first of all fighting ships to leave port, the first to fight and the last to return to the relative inactivity of an anchorage. There is the vivid instance of HMS
Vimy
which lost a screw when ramming a U-boat, and escorted a convoy 6,000 miles to North Africa before putting in for repairs. Again there is the amazing mileage of the old
Windsor
, one of the first destroyers to reach Dunkirk for the evacuation of our troops from France. In eight months she steamed 30,000 miles and in one month completed 4,060 miles. In 1941 a six month commission involved 16,000 miles and in 1942 she logged another 24,000. One of her sister ships HMS
Woolston
celebrated her 25th birthday by escorting a convoy towards the landing beaches in Sicily. "The army is dependant on us. We will not let them down". Lieut. F. W. Hawkins had told his ships company. For nine days the
Woolston
patrolled for lurking U-boats off Sicily, brought enemy planes crashing in flames, and of 62 days, spent 60 of them at sea!
If you have stories or photographs of HMS
Windsor
you would like to contribute to the web site please contact

Frank Donald
---
Return to the Home Page of the V & W Destroyer Association
Return to the Index Page for the 69 V & W Class Destroyers
---