---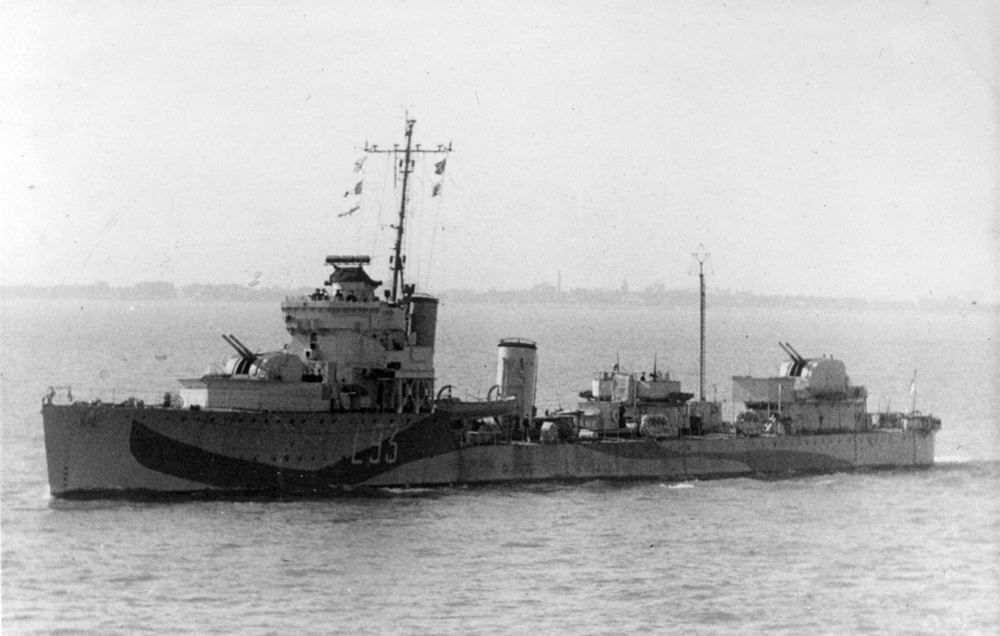 HMS

Verdun

was launched on 21 August 1917 at the Hawthorn Leslie shipyard in Hebburn on Tyneside and completed in November of the same year. When the German High Seas Fleet was interned at the Royal Navy's base at Scapa Flow it was escorted by sixty allied battleships (Operation ZZ) and on 20 November 1918 King George V, Queen Mary and the Prince of Wales embarked in HMS

Oak

and, preceded by the

Verdun

, steamed through the fleet.



Verdun

was selected to carry the Unknown Warrior across the English Channel as a tribute to the French people and berthed at the Quai Carnot at Boulogne-sur-Mer
on 10 November 1920
. Marshal Foch made a speech on the dockside before the White Ensign was lowered to half mast while the coffin was carried up the gangplank and piped aboard with an admiral's salute. An escort of six battleships accompanied

Verdun

through the mist to Dover where six high-ranking officers from the three Armed Services bore the coffin ashore. The Unknown Warrior was taken by train to London for burial the following day at Westminster Abbey.

HMS

Verdun

went into reserve at Rosyth as part of the 9th Destroyer Flotilla until September 1939, when she was converted into an anti-aircraft escort (WAIR) at Chatham Dockyard and operated as a member of the Rosyth Escort Force. On 1 November 1940 she was bombed with 11 dead including her captain, Lt.Cdr. Francis Jack Cartwright, RN. She was repaired at Harwich and spent the rest of the war escorting convoys along the east coast. In November 1941 an attack by German E-boats sunk three British merchant ships in her convoy.

She formed part of the escort screen for heavy units of the Home Fleet supporting the Arctic convoys from
February to April 1942.


Verdun was adopted by the seaside town of Hoylake in Cheshire after a successful
"Warship Week" National Savings campaign in March 1942,
Commanding Officers
Cdr Geoffrey Corlett, October, RN (1917 – 17 October, 1917)
Cdr Evelyn C. O. Thomson, RN (16 Oct. 1917 – 30 April 1919)
Lt Cdr James R. C. Cavendish, RN (26 July – September, 1918)
Lt Cdr Colin S. Thomson, RN (30 April, 1919 – 20 Nov. 1921)
Lt Cdr Valentine M. Wyndham-Quin, RN (20 Nov. 1921 – 22 Aug. 1922)
Lt Cdr Franklin Ratsey, RN (25 Aug. 1922 – 16 Jan. 1923)
Lt Cdr John M. Porter, RN (16 Jan. 1923 – 12 Dec. 1923)
Lt Cdr Hamilton E. Snepp, RN (12 Dec. 1923 – 2 Dec. 1924)
Lt Cdr Herbert Owen, RN (3 Dec. 1924 – 23 Nov. 1925)

Lt.Cdr. Francis Jack Cartwright, RN (20 May - Nov 1940)
Cdr. Alfred Charles Behague, RN (Nov 1940 - 12 Jul 1941)
Lt.Cdr. William Spooner Donald, DSC, RN (12 Jul 1941 - 4 May 1943)
Lt.Cdr. Derry Parsons, RD, RNR (4 May 1943 - Mar 1945)
Lt. Ronald Cameron Henley, RN (Mar 1945 - mid 1945)

Officers

| | |
| --- | --- |
| Temp Lt F J E I Allen RNVR (Apr 1941 - 1942) | Sub Lt B C Hutchinson RN (2 Apr 41 -1943) |
Former full members of the V & W Destroyer Association who served in HMS

Verdun


J. Ainsworth (Birmingham), A. Beer (Maidenhead, Berks), Lt Cdr R. Bush (Chelmsford, Essex), R. Charles (Derby), Cdr William S. Donald RN (Keswick, Cumb). C. Gare (Norwich), D. Lynch (London),
S. Morley (Cuffley, Herts), D. Peddie (Woking, Surrey), L. Wadsworth (Menstrie, Clackmananshire, Scotland)

Please get in touch if you knew these men or had a family member who served in HMS
Verdun
As told in

Hard Lying


by an anonymous Telegraphist

This aricle from
Hard Lying
by an anonymous telegraphist is a fine tribute to the human qualities of their skipper, Lt.Cdr. William Spooner Donald, DSC, RN. Donald was born at Keswick in Cumberland in 1910 and spent his early years in the Navy in small warships mainly on the China Station. In 1939 he joined the sloop HMS

Black Swan

as First Lt under Captain A.L. Poland DSC as part of the Rosyth Escort Force protecting the east convoys between Methil and the Thames. Donald won his first DSC
during the campaign in Norway when
when

Black Swan

provided
anti-aircraft defence to the troops landed at Andalsnes, on Romdals fjord, which led to Trondheim. Black Swan returned to escorting East Coast convoys and Donald was promoted to Lt Cdr and given command of HMS

Guillemomot

, a Bird Class corvette, and was made CO of

Verdun

on 12 July 1941. He spent most of his war escorting convoys along the east coast, a dull repetitive task but one which required constant vigilance to guard against attacks by e-boats and Ju 87 bombers.



My association with my first V&W commenced in January 1941 when I returned to Chatham Barracks soon after Christmas 1940 from a spell of survivors leave following the sinking in the North Atlantic of HMS

Forfar

, an armed merchant cruiser. The night before my leave ended, I had witnessed the awesome sight of one of the heaviest raids on the city of London from high ground near my parents' home in Charlton SE7. I was somewhat relieved when told that my next draft was to a destroyer of the Rosyth Escort Force although some of the old 'barrack stanchions' did their best to cheer me up with pointed remarks about the perils of 'E-boat Alley', as part of the convoy route was known. At least a destroyer has speed and 'teeth'.

HMS

Verdun

was to be my home for almost the next three years. She had been named after the French town of that name, the scene of much desperate fighting in 1916. The ship's motto '

Ils ne Passeront Pas

' which means 'They shall not pass' was the battle cry of the French defenders which they upheld until the bitter end. It was most appropriate therefore that she should be chosen to carry the body of 'The Unknown Soldier' across the channel on the afternoon of 10th November 1920. A brass plaque was fixed aft to commemorate the occasion. Thus begun one of the most momentous and best-remembered periods of my life. This comradeship was something the like of which I have not experienced before or since. My immediate boss was a regular Navy Petty Officer Telegraphist, an expert in all aspects of his job with a never failing sense of humour and the ability to get the best out of people by example and encouragement.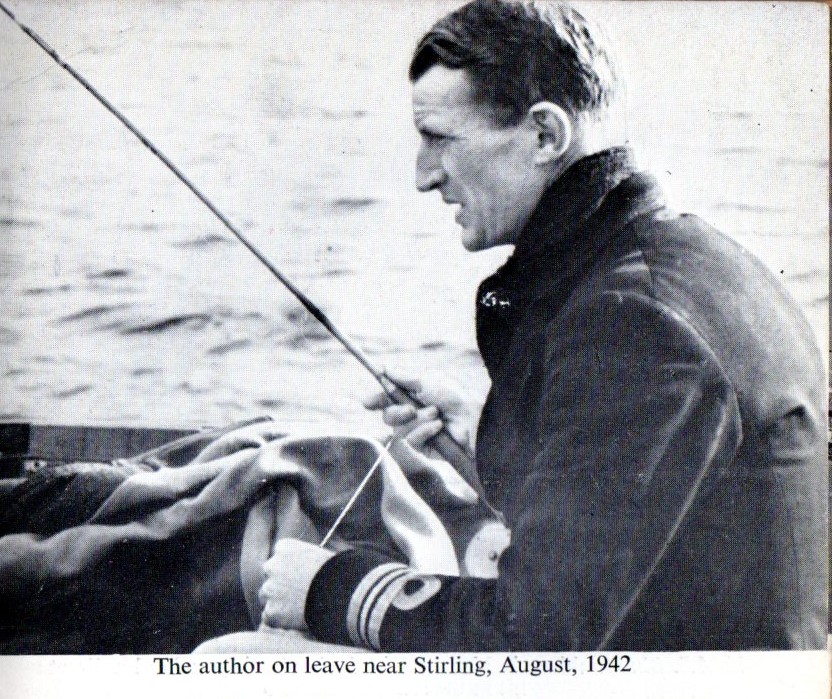 The Captain was a regular Navy Lieutenant Commander, slightly built and quietly spoken, he instinctively inspired confidence and loyalty and was greatly respected and admired by all of us, so much so that when he was 'drafted', the ships company presented his wife (gifts to officers were forbidden under KR's and AI's (Kings Regulations and Admiralty Instructions), with an inscribed silver salver, something which our hard bitten and long serving Coxswain had never known happen before. [Lt.Cdr. William Spooner Donald, DSC, RN (on right) wrote a popular autobiography of his wartime service,

Stand by for Action

(1956), reissued by Seaforth as a print and Kindle edition in 2009.]


Life on East Coast convoys was roughly 10 per cent action and 90 per cent suspense and boredom. The suspense came from the ever-present threat of mines (contact, magnetic and finally acoustic) which were liberally distributed by German aircraft and E-boats in the narrow shallow shipping lanes, especially from the Humber southwards. Despite all the efforts of our minesweeping colleagues, they still claimed their victims. Skirmishes with enemy aircraft and E-boats were infrequent but could be quite hair-raising while they lasted. In between, we passed the time in less dangerous stretches of water listening to record requests on the ships Tannoy (including, naturally, Vera Lynn and more surprisingly movements from Tchaikovsky's Piano Concerto and Beethoven, 5th symphony), the occasional quiz programme and the Brains Trust. I can even recall organising a scrum practice on the quarter deck for the ship's rugby team - without a ball of course! A few of us endeavoured to keep fit by pacing up and down the length of the iron deck when the sea was not too rough.
Living conditions were cramped and uncomfortable but good humour somehow managed to prevail most of the time. I handled hundreds of signals, including a number not addressed to the ship, such as news of the sinking of HMS

Hood

and the subsequent chase and sinking of the

Bismark

. But those I find easiest to recall are the humorous ones.
Except in an emergency we were under strict orders not to break W/T silence, but we did have to make one signal on every trip towards the Northern end of the convoy run from Sheerness; this was our expected time of arrival (ETA) off Methill. To confuse the enemy code breakers we were instructed to vary the wording of our routine signals as much as possible. Ships vied with one another in the search for originality with quotations from the Bible, Shakespeare, etc. and as a result signals grew longer and longer. Eventually Captain 'D' of the Rosyth Escort Force felt compelled to intervene. A plain language signal was sent to all the ships in his force when they were next in harbour which went like this:
"Fun is fun and I don't mind a bit
Your rhymes and ETA's to fit
But don't o'er do the signal chit
For brevity is the soul of wit."
On another occasion our arrival back at Rosyth was delayed and since half the ship's company were due for an eagerly awaited four days boiler cleaning leave it was obvious that if we proceeded into the destroyer pens there was no chance of the liberty men catching the day train from Edinburgh to the South where most of us lived. So without as much as a by your leave the Captain hove to under the Forth Bridge and the lucky lads were landed at South Queens Ferry, using the ships motor-boat and whaler, in time to catch the train. This provoked the following from Captain 'D' -"Your manoeuvre under the Forth Bridge this morning very well executed. Do NOT repeat Not repeat".
Finally as a variation from our normal convoy duty, we were detailed to act as part of the anti-submarine screen for a brand new battleship undergoing speed trials. It was soon evident that we lacked the legs of the new ship and we began to fall behind which caused the battleship to tersely signal, "You are losing station" to which our Captain literally flashed back "I am 25 years old". Nevertheless there was life in the old ship yet as she proved right up to the end of the war.


On the 4th May 1943 Donald handed over command of HMS

Verdun

to Lt.Cdr. Derry Parsons, RD, RNR and was given command of a new destroyer, HMS

Ulster

, and earned a bar to his DSC in a fierce engagement with three German destroyers in the Western Channel. He served in the Mediterranean at the Anzio landings but was under great strain, suffered from battle fatigue and asked to be relieved of his command prior to the D-Day landings in Normandy. He was later appointed second in command of HMS

Glengyle

a fast passenger liner converted to an infantry assault vessel for landings on the coast of Japan. The dropping of the atomic bomds did away for the need for that and

Glengyle

repatriated internees from Hong Kong where he had served in the 1930s. He was invalided out of the Navy in 1948 as a result of deafness brought on by gunfire and retired to run an angling business in his native Cumbria.
Lt.Cdr. William Spooner Donald, DSC, RN wrote a popular autobiography of his wartime service,

Stand by for Action

(1956), reissued by Seaforth as a print and Kindle edition in 2009. The photograph of him fishing was taken when

Verdun

was having a refit at Grangemouth and is from the 1956 edition of his book. He died in 2002 aged 91 and and an obituary was published in the

Daily Telegraph

.


If you have stories or photographs of HMS
Verdun
you would like to contribute to the web site please contact

Bill Forster
---
Return to the Home Page of the V & W Destroyer Association
Return to the Index Page for the 69 V & W Class Destroyers
---