---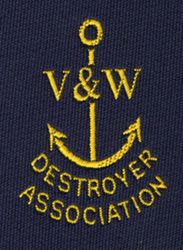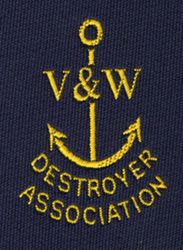 HMS
VESPER
---
The HMS

Vesper

Association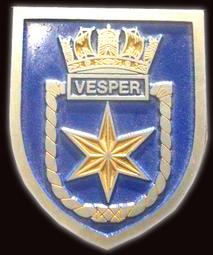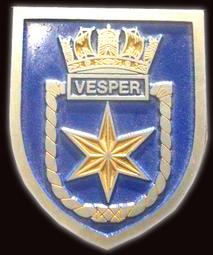 The HMS
Vesper
Association was formed in 1985 and met annually at Skipton, Yorkshire, between 1986 and 2013. Skipton raised £492,887 to adopt her during a Warships Week fund raising campaign in February 1942. Plaques to commemorate

Vesper

's link with the town were placed in Skipton's canal basin in 2007 and a letter wishing the association well was received from its patron, HRH Prince Philip, the Duke of Edinburgh, who served on HMS
Wallace
. Another patron was Sandy Stephen, the grandson of Alexander Stephen, the founder of the shipbuilder which built HMS
Vesper
at Govan on the Clyde in 1917. He and he and his wife, Sue, have attended many reunion weekends over the years.
The HMS

Vesper

Association held its last meeting at Skipton in 2013 and the V & W Destroyer Association was dissolved at at Derby in April 2017 but some members of both Associations are alive today. I met 96 year old young Frank Witton who served in HMS

Woolston

wearing his Arctic Star on a black sweater shopping with his wife Kath in our home town of St Albans a week ago. Barry Wright is the only surviving member of the HMS

Vesper

Association. He served in her for only four months from August to December 1943 but despite his 94 years still has an exceptionally good memory. His description of life on the lower deck of
Vesper
is based on notes I made of a phone call to him at his home in Ayrshire in 2015 and further phone calls in June - July 2019.

There was no subscription to join the HMS

Vesper

Association and the names of some 150 men who served in HMS

Vesper

are on the Association's membership list. Most did not attend reunions but I would be pleased to hear from their families if they have stories or photographs to contribute to this website. Their names are given below in alphabetical order.



CPO George Adby
Ian "Bud" M. Allen (Dundee)
Lt Humphrey Atkins RN
LS Tom Backlog
Jack Bailes
Frederic Barton, Chief TI (Bournemouth)
Lt Brian Benson-Dear (Eastbourne)
Tom "Tubby" Bicknell, Coder
AB George Blower ASDIC (Hythe, Kent)
Ldg Stoker John Blundell (Liverpool)
LS Cyril Boyes (Paddock Wood, Kent)
Lee Breton Cox'n
Capt D.H.R. "Hard Over" Bromley (Devon)
AB Dennis Broughton (Derby)
AB Norman Brown (Birmingham)
Nick Carter Cox'n (Harpenden)

AB Walter Causer, Asdic (Bedford)
AB James Chapman (Basildon, Essex)
John Christie, Ship's Writer (Perth)
Tom "Nobby" Clarke, Yeoman of Signals (Ontario, Can)
AB George Cumbridge (Louth, Lincs)
AB Derek Deakin (Leeds)
AB Thomas Dixon (York)
AB John Dupré, Asdic (Jersey, CI)
Artghur Elliott (Stourbridge)
LS Frederick Englasnd, Asdic (Wolverhampton)
Lawson French, Telegraphist (Edinburgh)
Capt I.G.H. Garnett (Blandford Forum, Dorset)
AB L. Gilbert (Leicester)
LS William R Goode (Daventry)
Eric "Jimmy" Green
Chris Green, ERA (Warsash, Hants)
Philip Grimmett, Telegraphist / HRDF (Croydon)
Reg Haines, AB RDF (Douglas, Isle of Man)
Roy Hale (Southal, Middx)
Stanley Hatter, Stoker (Hillingdon, Middx)
AB George Haynes, RDF (London)
Lt Cdr D.I. Haywood (Launceston, Cornwall)
AB John Herring (Dunbar, Easat Lothian)
AB Jim H. Hiscock (Bow, London)
AB Eric J.H. Hollingshead (Welling, Kent)
Stanley J. Holmes, Telegraphist (Consett, Co Durham)
Sub Lt Hoyle
AB Colin "Taffy" Hughes (Telford, Salop)
Lt Cdr Hussey
Bernard "Jacko" Jackson, LTO (Ontario, Canada)
AB James
john Jarred, Stoker (Orpington, Kent)

D.H. Jolliffe, RDF mechanic
William "Taff" Jones
Terry Kingsley, Stoker (York)
David C Kirk, Sgnalman (Hanworth, Middx)
AB Jim Lawlet (Lowestoft)
Sub Lt Bob Leathes (Swanmore)
William Leslie, HFDF (Dunmow, Essex)
Norman L Lewin (Norwich)
Frank Lovatt
Jack Marsh, Leading Signalman (Sheffield)
Charles F. Matthews (Brentwood, Essex)
K. McLellen Stoker"Jock" McCulloch Telegraphist
Duncan McIver AB RDF (Hull)
AB F.George McLean RNVR (Eastbourne)
George Meager, AB RDF (Dartford)
Victor Millis

Harry Oldfield (Alfreton, Derbyshire)
"Doc" Ogden, SBA
Thomas O'Kell AB Asdic (Wolverhampton)
Bill Park, "Jack Dusty" (Spalding, Lincs)
Bob Pettit
William Vaughan Powell, Torpedoman (Bristol)
W.P.A. Pursey, AB RFR (Norfolk)
Jim Ramsden, HFDF
AB Anthony Razey (Derby)
AB Fred Read (Southampton)
AB Ronald G Redford (Manchester)
Lt Cdr Rodgers RN (Bude)
AB J.W.Eric Rowse (Haywards Heath)
George Sims, Telegraphist (Sunbury on Thames)
LS Alf Smith, RDF (Shropshire)
Charles "Stripey" Spinner Stoker (Gillingham, Kent)

LS Eric E Stenning (East Molesley, Surrey)
AB Alan Stewart (Fife)
Sussex, Ldg Stoker
Victor Taylor, Stoker (Twickenham)
AB Paul Tin (Ontario, Canada)
Peter Tin (Guildford, Surrey)
LS Joseph Vaughan (Kidderminster)
LS Charles Vickers, Asdic
AB Joe Waldron, Asdic (East Grinstead, W. Sussex)
Simon Warboys, Signalman (Kent)
AB James Wass, RDF
William Arthur Webb, Jack Dusty
Raymond A. Williams, Stoker (Holsworthy, Devon)
Sub Lt Cyril Wickstead (Colchester, Essex)
George Woodcock (Lymington, Hants)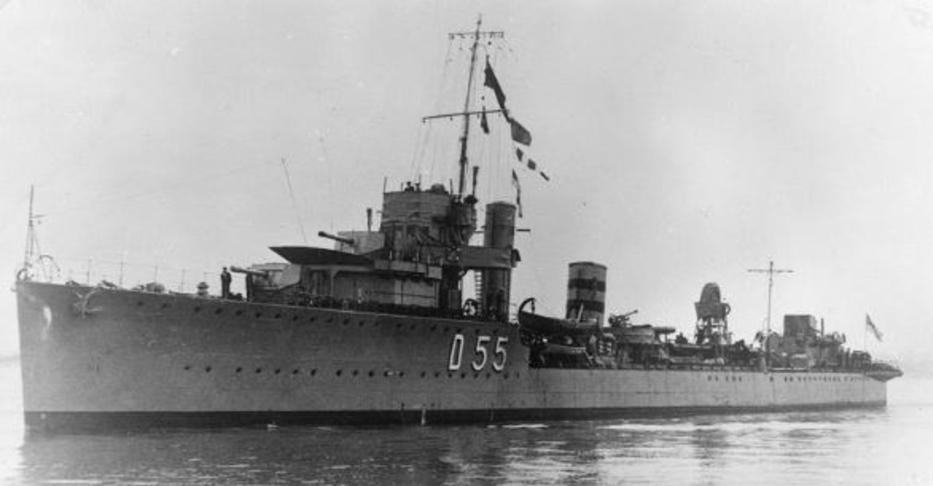 HMS

Vesper

, the ...

Following .....


Commanding Officers

Lt.Cdr. William Frederick Eyre Hussey, RN (31 Jul 1939 - 24 Feb 1941)
Lt. Peter William Furneaux Stubbs, RN (24 Feb 1941 - 14 May 1942)
Lt. Douglas Henry Reid Bromley, RN (14 May 1942 - early 1943)

Lt.Cdr. John Malcolm Rodgers, RN (8 May 1943 - 1 Apr 1944)
Lt.Cdr. Vernon Dudley Ravenscroft, RN (1 Apr 1944 - mid 1945)

Officers
Part list of wartime officers taken from the quarterly Navy Lists

Sub Lt N.A. Bartlett RNR (19 Apr 1940 -
Lt D. H. R. Bromley (14 May 1942 -
Engineer. A. J. Eames (23 May 1943 -
Lt H. R. Evans (29 July 1941 -
Gunner (T) C. F. J. Fishenden (18 May 1942 -
Engineer A.J. Fisher (9 Nov 1940 -
Gunner E. T. Goodwin (20 Feb 1940 -
Lt P.R. Hancox RNVR (21 Jan 1944 -
Lt D. I. Haywood (20 Apr 1943 -
Sub Lt B.Healcy (24 Jan 1942
Lt J.C. Holland (8 Sept 1941 -
Sub Lt. W. H. Hoyle RNR (3 June 1943 -

Sub Lt D. G. Humphreys RNVR (23 May 1943 -
Lt Cdr W. F. E. Hussey, DSC (31 July 1940 -
Lt G. D. W. Ram (Nov 1939 -
Lt D. W. Souter RNVR (13 May 1942 -
Sub Lt W. B. Taylor RNR (31 July 1939 -
Lt J. A. Tricker (2 Mar 1940 -
Surg. Lt W. F. Viret, MRCS, LRCP (17 Jan 1940 -
Sub Lt C. Wickstead RNVR (9 June 1943 -
WO Gunner G. S. Williamson (15 Dec 1943 -
Surg. Lt P. N. Wilman, MB, BS (15 June 1943 -
Lt H. J. A. Wilson RNVR (5 May 1943 -

Barrie Wright lives in a cottage overlooking the Firth of Clyde at Portencross, Ayrshire, which his father rented as a weekend holiday cottage when the family lived in Glasgow.
He was born at Edinburgh on 27 April 1925, the only child of Douglas Macpherson Wright and his wife Margaret Anne (nee Stocks). He was given the family names of Thomas Bardner but was always known as "Barrie". His father worked for the Bank of Scotland and the family moved to Glasgow when he was promoted to chief accountant and to London when he became assistant manager at its first branch in England. They lived in Hampstead Garden village and Barry was sent to a prep school, not a happy experience.

They returned to Glasgow in 1934 and Barrie was sent to Kelvinside, a school with an excellent reputation where he later sent his own sons.
At the outbreak of war the family moved from Glasgow to Ayrshire to escape the bombing of the shipyards along the Clyde and his Mother took on responsibility for finding homes for evacuated children. Ingrid Wolf, a young Jewish girl from Dortmund who came to Britain with the

Kindertransport

lived with his family for six months and met and married her husband (
Henry Wuga, also a Jewish child saved by the Kindertransport)
in Glasgow
.
In the photograph below Barrie is standing on the shore of the Firth of Clyde where the escort carrier HMS

Dasher

exploded on 27 March 1943 shortly before his eighteenth birthday. Barrie had a puncture and was pushing his bicycle home from Ardrossan along the shore of the FIrth of Clyde. HMS

Dasher

was four miles offshore heading for the open sea when she exploded. Barrie looked up to see
her in a sea of flames with hundreds of men struggling in the water. She sunk in eight minutes and 379 men died.
Barrie tried to enlist in the Royal Navy at 17 but was told to go home until they sent for him.
He was was more interested in fishing and working with his hands, neglected his studies
and did not matriculate.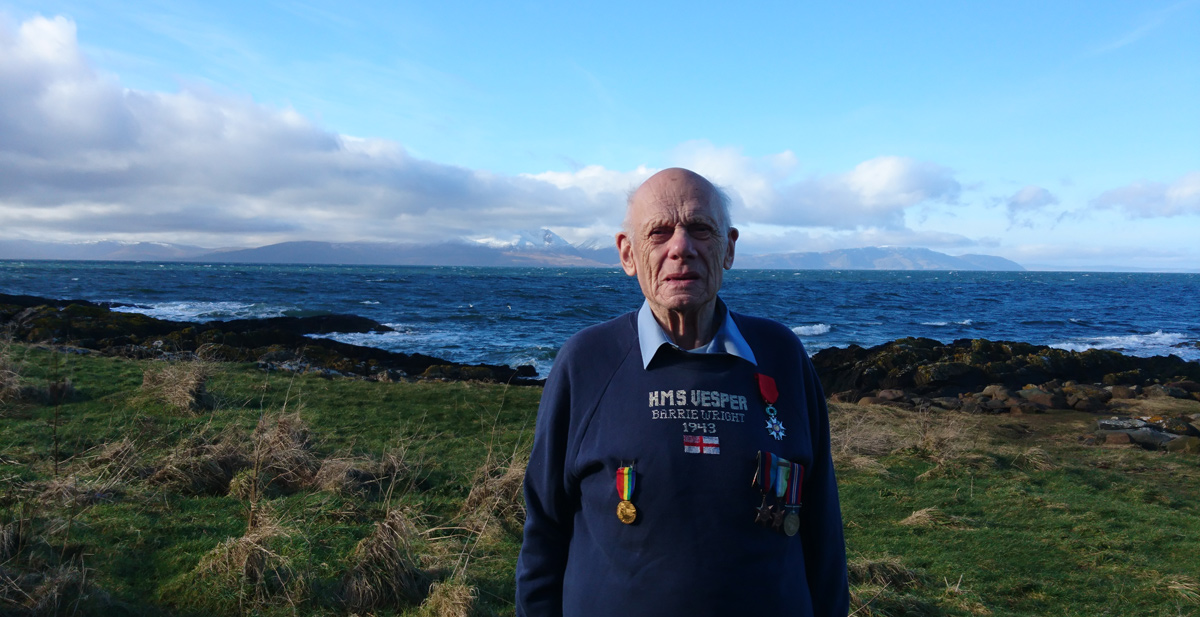 Barrie Wright with the Firth of Clyde and the Isle of Arran in the background where HMS
Dasher
exploded and sank on 27 March 1943
Barrie is "the last man standing", the only veteran member of the
HMS Vesper Association
alive today
Courtesy of Peter Wright

The Navy sent for him in 1943
and Barrie did his basic training at HMS
Ganges
, Shotley, and was sent to Chatham barracks and from there to HMS
Vesper
at Liverpool in August.
Vesper
had been badly "knocked about" while attacking an enemy convoy near Dieppe on 11 December 1942 and was being cannibalised for spares when the Admiralty decided to convert her to a Long Range Escort (LRE) for Atlantic convoys at Southampton by removing one of her boilers which freed up space for more fuel to extend her range. She was also fitted with the "Hedgehog", a 24 spigot marine version of an army spigot mortar which replaced A Gun on the bow and was looked on with suspicion by the crew as it was in a very exposed position and men could be washed overboard in bad weather. It hurled grenades ahead of the ship and proved a very effective anti-submarine weapon but accidents happened during reloading and in shallow water a mortar could blow a hole in the hull. HMS

Vesper

had been re-commissioned and completed her sea trials after her conversion to an LRE when Barry Wright joined her as an Ordinary Seaman, an OD.

Life on the lower deck of HMS

Vesper



Barrie was only aboard HMS
Vesper for
four months but she was first ship and the V & Ws won the affection of their crews despite poor handling in bad weather for which they received a "Hard Lying" allowance. Everything was new to him and he had a lot to learn. He was ignored by his new shipmates in the seamen's mess deck in the bow of

Vesper

and had to pick up on the routine as best he could. Sixty men lived in the seamen's mess in the f'csle, an area they shared with the capstan which filled it with steam when used. The "heads" were at the break of the f'csle, next came a NAAFI shop in the canteen flat and the entrance to the galley where bread could be baked on a coal fired range if flour was available. The hammocks were hung in a vertical grating like a wall at the entrance to the living area with three mess tables with seamen's lockers along the hull
as seats
and stools on the other side of the tables.


Men only really got to know the members of their own Mess.
There were nine messes with three for the seamen. Barry was in Mess 2 with LS "Connie" Boswell, a prewar RNVR London Division Leading Seaman in charge.
There were five or six elderly reservists in Barry's mess, men in their 40s, who were not required to keep watch and spent every night in their hammocks.
He can still remember the names of most of the men in his Mess:


AB Curtis, AB Tom Giddings from London, LS "Connie" Boswell from London, LS Bernard Jackson from St John's Newfoundland, AB McManus, Navigators Yeoman, AB Scott, Ordnance Artificer, from Newcastle, AB "Ginger" Evans from London, AB "Reggie" Rivers, London, AB Ron Redford from Manchester, OD Snow and AB "Danky" Hawkins from London.
Men were coming and going all the time according to their watch.
While on "cruising station" a three watch system was in use. Men were allocated to red, yellow and blue watches and the watches changed every four hours. After four hours on the men went down below to eat and then sleep, or sleep and eat, depending on the time of day - or night. Even this routine was broken by the two hour first and second "dog watches" from 16 - 18 hours and 18 - 20 hours which meant a watch would advance by two hours every day. When at "action stations" a two watch system operated, with 12 hour port and starboard watches. In harbour the port or starboard watch might if they were lucky be given leave ashore.

On cruising stations the Watch would assemble in the Canteen Flat five minutes before going on watch where they were allocated their duties
while their eyes got accustomed to the light
. Men might be sent to the wheelhouse, one for each telegraph (there were two turbines), as starboard and port lookouts or in the crows nest. The remainder huddled under the shield of B Gun out of the wind in case the gun was required. Barry helped out on B Gun on cruising stations but his action station was with the three man crew for the forward depth charge thrower on the port side. There were two depth charge throwers either side of the wardroom screen on which X Gun was mounted at the stern of the ship.

Escort Group B2

HMS

Vesper

was a member of Escort Group B2, part of the Mid-Ocean Escort Force (MOEF) which provided convoy protection in the dangerous midsection of the North Atlantic route.
It consisted of
A (American), B (British) and C (Canadian) Escort Groups and
took a short great circle route south of Iceland.
Capt Donald MacIntyre was the Senior Officer of the Escort Group in HMS

Hesperus

.
MacIntyre commanded

HMS Venomous

at the outbreak of war and was in command HMS

Walker

when the three u-boat aces attacking Convoy HX 112 were sunk in March 1941.
The Escort Groups helped tip the balance in the Battle of the Atlantic which was effectively won by the time Barry Wright joined

Vesper

in August.
MacIntyre tells his own story in

U-Boat Killer

(Weidenfield and Nicolson, 1956) but makes little mention of this period and Barry Wright's memory of events offer a different perspective to that of the SO of the Escort.
Next in seniority to Mackenzie in HMS

Hesperus

was a River Class Frigate HMS

Mourne

(Lt.Cdr. Raymond Spurr Holland, RNR), HMS

Vesper

had the third most senior CO in
Lt.Cdr. John Malcolm Rodgers, RN
. There were six Flower Class Corvettes including

Gentian, Campanula, Camelia

and

Heather

(Barry could not remember the others), two armed trawlers and a sea-going long range tug.
The Group was often accompanied by a rescue ship,

Rathlan

, a prewar passenger ship.
HMS

Mourne

and the corvettes could escort cross the Atlantic to the ports of St John's and Argentia in Newfoundland without refueling but despite her conversion to a Long Range Escort HMS

Vesper

had to to take every opportunity to top up with oil.


Lt Cdr John M. Rodgers RN, known as Sam Rodgers by his fellow officers, was the CO of

Vesper.

He was born in Yorkshire in 1901 where his family owned a cutlery business in Sheffield but Barry remembered him as being from Bude in North Cornwall. He was CO of HMS

Whirlwind

when she was torpedoed off Lands End in July 1940 and CO of HMS

Watchman

before joining

Vesper

in May. Barrie also remembered the First Lieutenant, Lt Douglas Haywood, RN, the Gunnery Officer Lt Humphrey E.G. Atkins RN (a Conservative politician who resigned with Lord Carrington over the Falklands War and was made a life Peer as Baron Colnbrook when he left the Commons) and Warrant Officer Essenside RN, Gunner (T), who worked for Southern Railways between the wars and had a Watch Keeping Certificate so could stand watch.

Escort Group B2 was based at Liverpool in the Gladstone Dock when Barrie joined

Vesper

as an OD. Gladstone Dock was not a tidal dock and if the locks which gave access to the sea were bombed the ships inside would be left stranded on the mud. Barrie recalled the EG B2 always seemed to leave to escort an Atlantic Convoy on a Friday afternoon. The locks could take two ships at a time and HMS

Vesper

was often the last to leave. She would divert to Movile in the estuary of the River Foyle on the Donegal side in the Irish Republic to berth alongside an old tanker to top up with fuel and use her high speed to catch up with the other escorts before they met the outgoing convoy. On the way across to Newfoundland she would would often follow an escort oiler, crewed by merchant seamen and chartered by the Admiralty, to top-up again. Replenishment at sea through pipes slung between the oiler and the escort was a difficult operation in the rough Atlantic weather. By this stage in the war the convoys were accompanied by former merchant ships converted into escort carriers, sister ships of HMS

Dasher

, to detect u-boats on the surface and defend againt attack from the air.

They never lost a ship in the four months Barrie Wright served in HMS

Vesper

escorting Atlantic convoys but Barrie recalled one night on awakening being told they had hit a surfaced u-boat a glancing blow without being called to action stations.
Barrie was not a smoker or a drinker and was too young to be eligible to the daily tot of Navy rum served to ratings on all RN ships. The only time he drank a tot was on 19 September 1943, the day the Italian fleet surrendered, when the CO ordered "splice the mainbrace".

They only called in at St John's in Newfoundland for a weekend and berthed alongside the fish quay. They got fresh cod from a couple of schooners berthed there with twenty dinghies piled on deck for catching cod with land lines. When they called in at the US naval base of Argentia they stayed five days, enjoyed the luxury of hot showers ashore, fresh baked bread made from good wheat flour - and ice-cream. When

Vesper

's rails, vegetable racks and meat safes were swept away by an Atlantic gale they berthed alongside USS

Prairie,

the mother ship for the destroyers at Argentia

,

for repairs.

They escorted a convoy to Gibraltar, going a thousand miles out into the Atlantic to stay well clear of the u-boat bases on the coast of France before turning back to Gib. The bread they bought ashore in Liverpool was soon covered with green mould and had to be toasted to make it edible.
Barrie recalled the wonderful fresh white bread made by "Chef" Jock White from white flour, kneaded in a tapered box and baked in the galley on the coal heated range.
You were only entitled to two slices a day and had to eat it right away or hide it before somebody else got their hands on it.
Small luxuries like this stood out in his memory.
Like all the V & Ws

Vesper

had problems with her condensers and blocked tubes. On arrival at Gib their condensers were changed and the old ones lashed to the deck and brought back to Liverpool for repair. They had to join a later convoy returning from Newfoundland in mid Atlantic and were followed by a German spotter aircraft on the way home but were not attacked. They ran short of fresh water and were told to save water by growing beards instead of shaving.



Officer Training



Barrie had volunteered to serve in the Navy when still at school and once he settled in found that

Vesper

"was a very happy ship". His education and family background identified him as potential officer material and he had been selected as a "CW Candidate" for training as a Commissioned or Warrant Officer. After the standard four months service on the lower deck of HMS

Vesper

he was sent to Lancing College near Brighton and then to HMS

KIng Alfred

at Hove.

King Alfred

was a former leisure centre and swimming pool requisitioned by the Admiralty and adapted for training RNVR officers. It was very damp and unhealthy. Near the end of the course Barrie became quite ill with flue and had to go into the sick bay for a few days. He rejoined a later course but by then was completely disillusioned and wanted to get back on the mess decks.



HMS

Balsam

, a Flower Class Corvette



294 Flower Class corvettes were built in Britain and Canada as convoy escorts between 1939 and 1945. They were powered by triple expansion engines instead oil steam turbines which limited their speed to 16 knots but extended their range. They pitched and rolled and were cold, wet and uncomfortable but very safe and nobody was lost overboard from a Flower Class corvette when not in action. HMS

Balsam

was an improved Flower Class corvette built at Grenock on the Clyde in November 1942 "boxed in" without rails for greater safety in bad weather and with a timber deck laid on top of the iron deck for coolnes on the mess decks below. She had both RDF and PPI radar with a rotating beam and also IGG, Identification Friend or Foe. All signals were brought together on a display which the Navigation Officer and Barrie Wrightt were responsible for which displayed signals on a perspex screen.

Barrie Wright joined her in early 1944 in the run up to the Normandy landings. The pontoons for assembling the Mulberry harbour were built in the USA and towed across the Atlantic to Falmouth. They needed adapting and

Balsam

was one of the ships which towed them through the Irish Sea to dockyards for modifications to be made. She towed two units a time, an unwieldy tow and on one occasion a pontoon broke loose and rammed

Balsam

leaving a door sized hole in her hull.

Balsam

had to go to Greenock for a quick repair with wire mesh and a few wheel barrels of concrete.

Vice-Admiral Sir Gilbert Stephenson KBE, CB, CMG was born in 1878 and earned his reputation as "the terror of Tobermory" while running two week training courses for the undisciplined former fishermen commanding the trawlers in the Royal Navy Patrol Service and was now given the job of running ten day ASW courses for escorts based at Londonderry selected for the Normandy landings. They were held at Larne where Stephenson had his base aboard HMS

Philante

, the luxurious yacht built for Sir Thomas Sopwith in 1937 and requisitioned by the Royal Navy.
HMS

Balsam

went on one of the courses with several Canadian corvettes.

Balsam

had an expert gun layer and was the only corvette to hit the target towed by a tug, virtually destroying it.
Philante

was bought by Norway after the war as the Royal Yacht

Norge

for King Haakon and is still afloat.

HMS

Balsam

escorted six Liberty Ships from Faslane at Gare Loch on the Clyde in the early evening of 5 June and made 4 or 5 trips to Normandy, escorting Liberty Ships to Utah Beach one of the two beaches where American troops landed. There was a 30 ft tidal range and the Liberty Ships were run up the beach to unload and could get off on the rising tide.

Balsam

had an easy time on Utah Beach but HMS

Vesper

had a bad time on Omaha Beach. The American troops suffered heavy losses and the escorting destroyers including HMS

Vesper

sailed right up to the beaches to give the beleaguered army close support, knocking out artillery emplacements, machine gun pillboxes and German infantry emplacements.
The cruiser sized flag flown by HMS

Vesper

at Omaha now hangs in the cathedral at Skipton.

Barry Wright left HMS

Balsam

in August or September 1944. The Navy still wanted to make an officer of him and he was selected as one of 300 candidates to attend a week long assessment course at Alsager near Crewe but
much to his relief
was not one of the six successful candidates.
He returned to barracks and was sent on a gunnery course at Devonport followed by a radio course at a technical college in Walthamstow, London. This was during the height of the V1 and V2 attacks on London which came as quite a shock to a sailor boy. When he returned to Chatham barracks he had a lazy time but was eventually drafted to the light cruiser HMS

Dido

and chased her all around the south coast before he caught up with her at Chatham shortly before she was paid off and spent one night on her before being ordered back to
barracks at Chatham. He was selected to take part in London's Victory Parade which required lots of square bashing but after all this he missed out on the Parade and was posted to a new Battle Class destroyer, HMS

Gabbard

, being built on the Tyne. In between these non events he was able to spend leave at Suttons Hyde Farm between St Albans and Hatfield where he was the welcome guest of a Mr McKay, a friend of his father who was Chairman of the Ayrshire Cattle Association.
He recalled the noise of planes taking off from the De Havilland aircraft factory at Hatfield. Barrie was discharged from the Royal Navy in 1946 as Able Seaman Thomas Bardner Wright.


Barrie's father thought banking was the best job in the world and persuaded his son to give it a try but Barrie found working as an apprentice bank clerk dull work and he could not afford to marry on £4 a week. He decided it was not for him and went into business working a for an older man who ran a saving club employing 40 salesmen selling credit door to door. Barrie ran the office for twenty five years. He married Mairi McClean Howie on 17 May 1951 and they had four sons. By the time Barrie's boss retired this type of business based on free credit had ceased to be profitable and Barrie went into a sheet metal business with a friend making canopies for cookers in restaurants. His four sons are all doing well in their own very different ways but Barrie lost his wife and now lives alone in the holiday cottage rented by his father on the Ayrshire coast south west of Glasgow.

On the 70th Anniversary of D-Day, 6 June 2014, President Hollande of France announced that all British servicemen involved were eligible for the

Legion d'Honneur

. Barrie's son Peter mailed me that: "He is now officially not Mr Barrie Wright, but Chevalier Barrie Wright, we call him Maurice for short". He is wearing his

Chavelier d'Honeur

in the photograph at the top of this page. Ingrid Wolf, the young Jewish girl who lived with Barry's family for six months, came to Barry's 90th birthday party on 27 April 2015. On the 27 March this year Barrie and his son Peter boarded the ferry from Ardrossan to Arran which stopped where HMS

Dasher

exploded and sunk in 1943 while they dropped a wreath in the water in memory of the 379 men who died.

Barrie still drives a car and leads an active life and at the age of 94 his memory is razor sharp which enabled him to give this vivid account of his wartime service in the Royal Navy.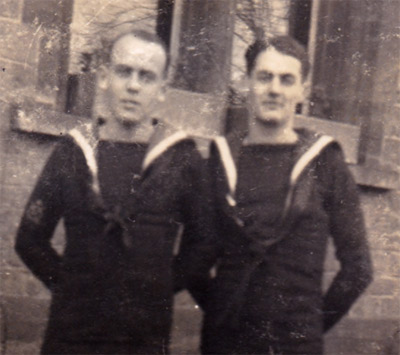 John Dupré was born in 1918 at St Helier, Jersey, in the Channel Islands. The best known member of the family is, of course, Jacqueline du Pré, the cellist. John's nephew, Robin Dupré, explained how and why the two branches of the family choose to spell and pronounce their family name in different ways:
"There have been Duprés in Jersey since at least 1331 and most have chosen to spell their name as one word. John's family used a High French pronunciation of the name, (last syllable said as 'pray') but other families preferred the Jersey French pronunciation (where the last syllable rhymes with 'sea'). From at least the early 1900s James Wilfrid Dupré (the grandfather of Jacqueline) started writing his name as "du Pré" which follows a spelling of the name used in the past and this has been followed by his descendants."

John Dupré and Derek du Pré, the father of Jacqueline, were second cousins. Derek du Pré was born in 1908 and worked for Lloyds Bank in St Helier. He left Jersey in 1928 to work at a branch of Lloyds in London. John Dupré was born ten years later
and worked in the Treasury Department of the States of Jersey.

John's elder sister, Mavis Lilian Dupré, had married a Methodist Minister in 1935 and moved to Banbury in Oxfordshire. John and Wyndham
Dupré
and their sister Pearl left Jersey to join them before the island was occupied by German forces in June 1940. Their parents ran a wholesale and retail grocery business in St Helier and remained in Jersey throughout the occupation. Letters home from England were heavily censored and
delivered by the Red Cross
.

Their two sons, John and Wyndham Dupré, joined the Royal Navy. John had applied while still in Jersey but his younger brother enlisted after being evacuated
on reaching the age of 18
and spent much of the war in hospital being treated for suspected TB. He joined the Fleet Air Arm towards the end of the war. John had a more interesting war including service on HMS

Euryalis

in the Mediterranean, and on HMS

Vesper.
John is on the left in the photograph taken in 1943.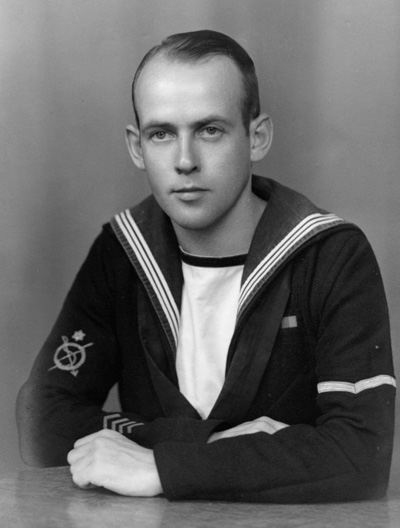 This account of the Dupré family and the wartime service of John Dupré could not have been written without the assistance of Robin Dupré. John and Wyndham Dupré are both dead and their widows live in care homes in St Helier. Robin Dupré was a teacher in Jersey and on retirement he was ordained as a Minister in the Church of England and leads a busy life but as he explained "as the only one of my grandparents eight grandchildren still in the island, I am looking after the affairs of both". John Dupré's house has been sold and Robin is going thought his papers including wartime correspondence.
If you have stories or photographs of HMS
Vesper
you would like to contribute to the web site please contact

Bill Forster
---
Return to the Home Page of the V & W Destroyer Association
Return to the Index Page for the 69 V & W Class Destroyers
---