---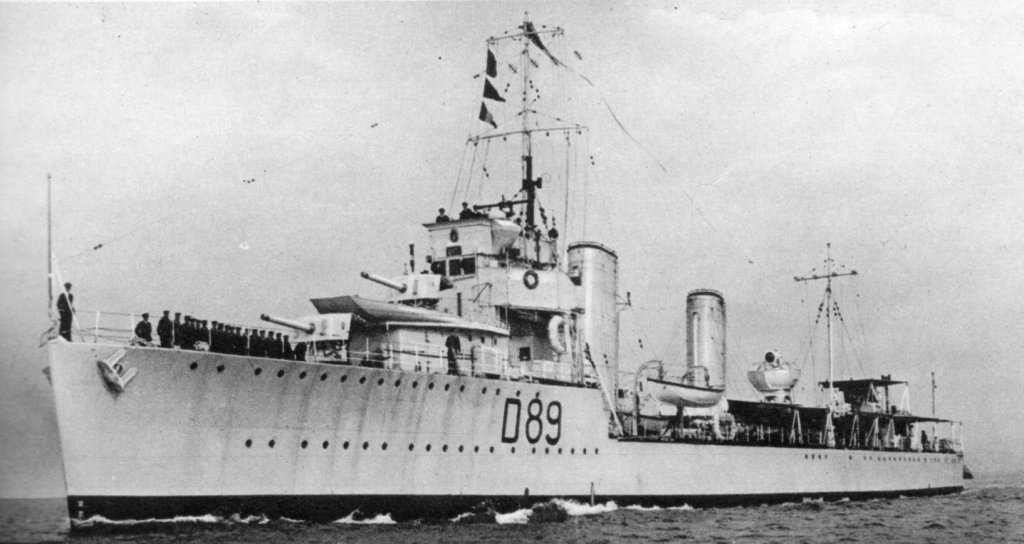 HMS
Witch
Copoyright reserved

HMS

Witch

, the first Royal Navy ship of the name, was laid down on 13 June 1918 by John I. Thornycroft & Company at Woolston, Hampshire. Her construction slowed after the Armistice with Germany brought World War I to an end and she was not launched until 11 November 1919. She then was towed to Devonport Dockyard at Devonport, Devon, where her fitting-out took place slowly, and she was not completed until March 1924.

Witch

was commissioned in March 1924. She saw little service and was soon decommissioned and placed in reserve at Rosyth, Scotland.



Witch

was recommissioned for the Royal Review of the Reserve Fleet by King George VI in 1939. After a month at Rosyth escorting east coast convoys she was transferred to Western Appproaches Command st Plymouth and then ast LIverpool. On 9 Ap[ril 1940 she took passage to Scapa Flow for service with Home escorting military convoys to Norway after the German invasion (Operation RUPERT/R4). In June 1940 she returned to Rosyth escorting east coast Convoys.

Witch continued her convoy escort duties in the North Atlantic into 1942 and was "adopted" by Northwich, Cheshire, in March 1942 as a result of a Warship Week National Savings campaign. In 1942, she underwent conversion into a short-range escort.

In February 1943

Witc

h ransfered to Freetown, Sierra Leone, for service with local escort forces there. In April 1943,

Witch

and

Wolverine

rescued 53 survivors of the British merchant ship

Empire Whimbrel

, which the German submarine U-181 had sunk on 11 April 1943 420 nautical miles (778 km) southwest of Freetown.

By May 1944 she had returned to the UK and begun operations in the North Sea, which she continued until the surrender of Germany in early May 1945.


Commanding Officers
Cdr Augustus "Gus" W.S. Agar RN (22 April 1926 - July 1927)
Cdr Bernard A.W. Warburton-Lee RN (17 Dec 1934 - Feb 1936)
Lt Cdr John Lee-Barber RN (1937-8)
Lt.Cdr. John Richard Barnes, RN (31 Jul 1939 - 4 May 1941)

Lt.Cdr. Cecil Hamilton Holmes, RN (4 May 1941 - Jul 1942)
Lt.Cdr. Sidney Richard James Woods, RD, RNR (Jul 1942 - late 1943)
T/Lt. Arthur Reginald Browne, RNVR (late 1943 - 6 May 1944)
Lt. Walter James Taylor, RN (6 May 1944 - 4 Mar 1946)

Officers

Former Full Members of the V & W Destroyer Assoociation
J. Clarke (London), T. Davies (Prescot, Merseyside), Cdr C.H. Fothergill RN (Wolking, Surrey), R. Hodgson (Kettering),
A. Miles (Ludlow, Shropshire), E. Restall (Bristol), J. Whistance (Darlaston, West Mid)

Please get in touch if you have a family member who served in HMS
Witch
The peacetime Navy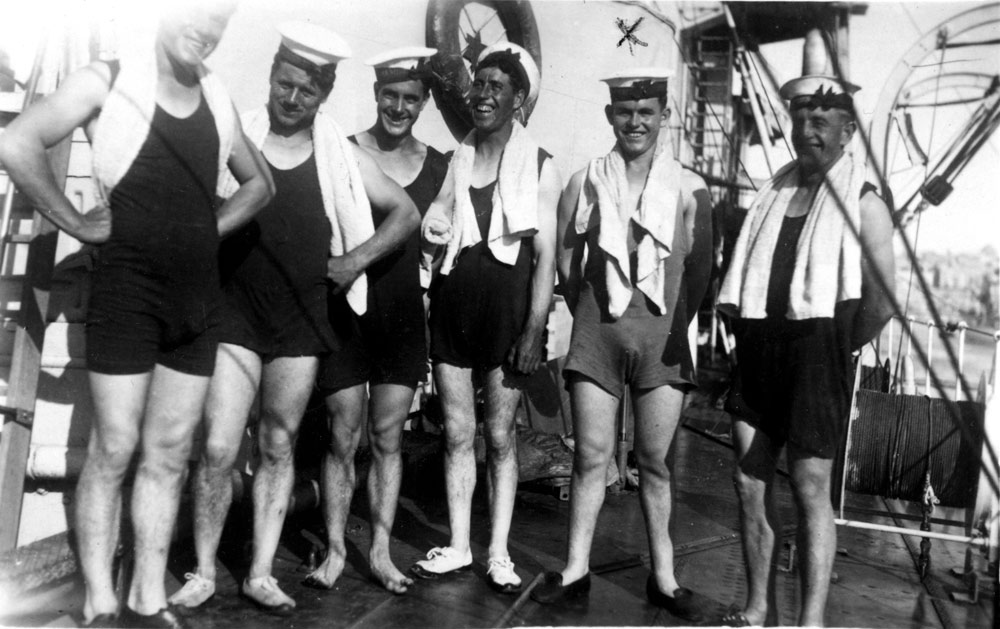 Crossing the Line, 1927
From Hard Lying - Courtesy of Stormy Fairweather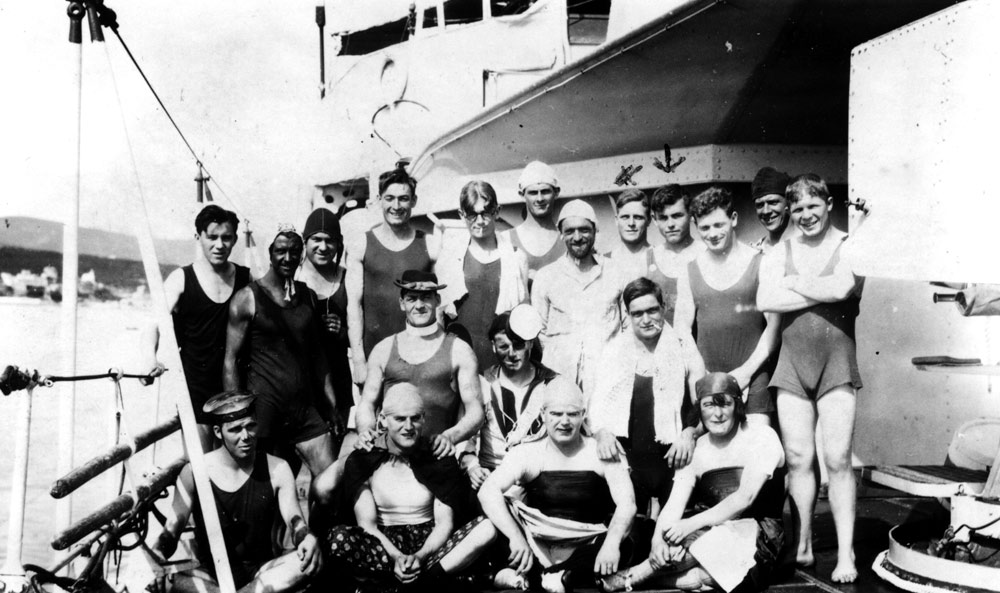 Dressed up for a water polo match with a team from HMS

Whitshed

, 1928
Or should the captions for these two photographs be reversed?
From Hard Lying - Courtesy of Stormy Fairweather
Rescue of Seamen from
American Steamship
Independence Hall
7 March 1942
"HMS
Witch
was my home for three and a half years. I was an H.O. (Hostilities only) Telegraphist and although my seamanship was not brilliant, I could read Morse at 22 words per minute - that was my job. The following is a report of the rescue of 24 survivors from the American Steamship

Independence Hall

. The boats crew in the rescue were mainly Officers and men of the seaman branch. The only way that I could assist was (with others) in the lowering and heightening of the rescue boats. I was able to witness most of the operation and I was in awe of those brave men of the boats crews who risked their lives to save others. The sea was heavy and very, very cold. I and others were so proud of the rescuers who did their job with the minimum of fuss in difficult conditions."
Ray Hodgson
**************

Philip F. Gresser, Palm Beach, Florida

An apprentice on the
SS
Independence Hall


I enrolled in the apprentice seaman's programme Of the U.S. Maritime Service in July 1941. I was eighteen years old and the U.S. had not yet entered the second world war. My Father was second engineer on a Moore McCormack vessel
Independence Hall
, a world war one Hog Islander. He telephoned me in New York where we lived and advised me that there was a fireman/water tenders job open on the ship which was then loading cargo at Philadelphia.
So I reported to the seaman's union hall and was assigned to the vessel. On arrival I noticed that she was loading a complete cargo of war materials. Barbed wire, munitions and finally 13 tanks on the deck, six forward and seven aft of the midship house. We sailed unescorted to New York, Boston and finally Halifax, Nova Scotia where we were to become part of the convoy SC73 to sail first to Scotland, then on to Murmansk. We sailed from Halifax on March 6th 1942 in single file, we were to form a convoy either some hours later or the following day. We were the third ship from last, the last two, one of which was torpedoed and sunk. During the day the weather worsened and by the following morning it was horrible.
On the morning of March the 7th, the Bosun and other crew members were either trying to swing out or swing in the two lifeboats on the lee side of the mid ships house when the Bosun was gashed in the head by one of the round bars. The third mate, Mr Lee, came back from the bridge with the medical kit to stitch the Bosun's wound, and ultimately this is what saved Mr Lee's life. Suddenly there was a tremendous bang and the fire room bilge started filling with water, when the bang happened the engine room telegraph went full astern and the engine was so set. The oiler started the bilge pump to drain number three hold, but the fire room continued to fill with water (none of us in the machinery space knew that we had broken in two). By noon when I was supposed to be relieved, the fire room floor plates were already starting to float around and I was probably smoking two cigarettes at the same time and already thinking that I would be dead before the day was over. My relief was standing at the top of the boiler room yelling at me that he was afraid to come down. The third engineer tied a rope round me so that I could be pulled out of the fire room in the event that I was injured or completely flooded out.
Sometime later someone came down (it may have been my Father) and told me to come up on deck via the engine room ladders. I went topside and out on deck, the first thing I noticed was what appeared to be another vessel a few hundred yards away from us. I asked what ship it was and was told, the other half of our ship. About an hour later, the third officer, Mr Lee, told us to prepare to abandon ship. We were told to get into the lifeboats on the weather side, this we did, but as soon as we started to lower them it became obvious that if we touched water we would be slammed into the side of the ship and probably killed. We pulled the boats back up on deck and went into one of the rooms. The house had rooms on both port and starboard sides with two open passage ways running through from for to aft. We all went into the crews mess rooms where there was some food, and after we had broken into the slop chest. Those of us who were wet were able to get some dry clothes, cigarettes and boots.
We had just settled into the mess room when some lube oil drums on the upper deck us broke loose and as we rolled over from side to side, so did the oil drums. Eventually they began to break through the overhead. We decided to abandon the mess room for the top of the engine room. This was not as easy as it sounds because great waves were coming through both the midships passage ways and any movement had to be carefully timed and quickly done between the waves. We made these moves one at a time until most of us were inside the engine room fidley. The wiper, Richard Nathan (known to us as 'Shorty') made his move, his timing was off and a wave caught him and carried him through the passage way and over the rail. He managed to grasp on of the cargo masts and hold on for about half a minute, screaming 'Help me, help me' but all we could do was to stand there and watch him being swept away by a wave. Those few minutes haunted me for a long time afterwards and it was a long time before I stopped dreaming about the whole incident.
The weather was still bad and we were all cold and wet some of us hugged each other to try and get warm. There were now known to be seven dead. By now we had no food or water and many of us were thirsty. We dare not smoke because of the lube oil and kerosene which we afraid might catch fire. The radio operator thought that he had got out an S.O.S. before the ship broke and the antenna parted. We were aground off Sable Island and sinking slowly, all we could do was to stay where we were and hope and pray that our plight was known. We remained like this all night. In the morning we heard an aircraft flying nearby, and as it had calmed down slightly we all went to the top deck of the house and waved whatever we could lay pour hands on to attract the planes attention. It flew overhead and banked to let us know that he had seen us and then flew off. We hoped that whoever he notified would be there soon because the weather was still bad and we were still slowly sinking.
A couple of hours later a Canadian corvette showed up and came as close as it could and proceeded to try and launch a boat. Almost immediately the boat capsized but luckily all the men were able to get back on board the corvette. Signals were exchanged and they advised us that they would try again later when the weather subsided. An hour or so later a British destroyer, HMS

Witch

approached, again as close as it could in the very shallow water and proceeded to launch one of it's boats. This boat also capsized and one man was lost in the effort. When we heard this we really began to give up hope. We thought that no one would do anything until the weather had calmed down, we did not think that we could last much longer.
The "Witch" launched another boat, this one made it to us and proceeded to remove us, several at a time. At this point there were 38 of us. The chief cook and the oiler had died during the night. The cook by his own hand and the oiler had gone crazy. A total of ten were now dead.

Witch

's boat made several trips back and forth, using oars only, until we were all safely on board. We were taken below, our clothes dried out for us, given food and water and made to feel comfortable. I was given a hammock to sleep in. The next morning we arrived in Halifax where we were met by people of the Canadian Red Cross.


Letter of commendation to the Admiralty
W.J. Lee, Third Officer

From:
W. J. Lee, surviving third officer, steamship

Independence Hall.
To:
The Honourable The First Sea Lord of the Admiralty.
Subject:
HMS Witch. Commendations of Officers and crew.
1) As a private citizen of the U.S.A. I feel it my duty to bring to the attention of the Admiralty the heroic efforts of the Commander, Officers and the crew of HMS Witch. Lieut, Cdr Holmes in Command.
2) At about 1430, 7th March 1942, with the wind at gale force and seas mountainous, the American steamship Independence was broken in half and grounded on a shoal off Sable Island. Tremendous seas destroyed all lifeboats. At about noon 8th March, three units of the Royal Canadian Navy arrived on the scene and launched lifeboats which made valiant but unsuccessful efforts to reach the wreckage. At 1700 that day HMS Witch approached and laid his ship close to the shoal. Through his tenacity and seamanship and the ability and courage of the pulling boat officers and crew, four trips were made through extremely high surf which was now doubly dangerous due to cross tide and wind. Thirty -seven survivors, all remaining on the wreckage were taken off, the last after nightfall. One crew member of HMS Witch, the Boatswain, was lost during the rescue attempts.
3) Sub Lieut. Fothergill, who was in charge of the first two rescue attempts, was responsible for the removal of 24 Survivors. His seamanship is deserving of the highest praise. While seas were running most dangerously, he brought his boat back and forth through white water, a distance of about a mile each way. At times his boat actually stood on end, yet he and his crew maintained stroke and control.
4) Lieut. Eric Peterson, of the Royal Canadian Navy, who made the final two trips, removed a total of 14 survivors. He too is deserving of praise for bringing his boat through safely after nightfall.
5) After arrival on board, the survivors were taken in hand by Officers and crew and every attention and courtesy was shown us.
6) Lest it may not be brought to your attention by official report. I should tell you that when the Witch's boatswain was lost, Lieut. Janion went overboard in an endeavour to rescue him, risking his life in extremely high seas.
7) I append a list of those, by no means complete, who did their utmost for our comfort and arrival ashore.
8) I trust that you will regard this as an expression or our sincere gratitude and admiration for the splendid seamanship and high courage of these men of His Majesty's Navy. Their actions were indeed in keeping with the highest traditions of the Royal Navy.
New York
Signed Walter J. Lee March 18th 1942.
Sole surviving deck Officer.
Steamship Independence Hall
Personnel of H.M.S. Witch referred to in para 7.
Lieut. Commodore Holes R.N. Lieut. Janion. R.N.V.R Lieut. Souter R.N.V.R. Surgeon Lieut. Gates R.N. Sub-Lieut Fothergill R.N.V.R. Commissioned Engineer Saunders R.N.
Sub- Lieut. Breckell, R.N.V.R.
Midshipman Bickett, R.N.V.R.
Those manning the rescue boats:-
Sailing whaler
First Lieut. Terence L.
Janion RNVR


From

Crediton Courie

r Newspaper: "Terry was Mentioned In Despatches for an action which occurred off Sable Island, off the coast of Newfoundland. An American ship, the USS

Independence Hall,

had foundered on a reef in gale force winds and had broken in half. Many men were lost but 37 survivors remained on the forward section of the ship. HMS Witch responded and positioned herself downwind of the

Independence Hall

and as close as she dared. Terry and another Sub Lt by the name of Fothergill each skippered a whaler and attempted to pull across to the stricken ship. The seas were mountainous and the whalers were frequently stood on their ends by the huge waves. Together with another rescue boat from a Canadian ship, and after several extremely dangerous approaches, they managed to rescue all 37 survivors but in doing so Terry's whaler was capsized. All the crew were thrown into the sea. One crew member, Petty Officer Trick rapidly drifted away from the overturned hull of the whaler and Terry desperately swam after him. He was unable to save him and PO Trick was the only casualty of the rescue."
Gunner (T) B.C. Kavanaugh
P.O. W. Trick,
Yeo' Sigs C. Johnson.
L/Sea J Witley. A/B S. Welch
1st Whaler
S/Lt Fothergill P.O. J. Taylor
Ldg/Sea F. Hardman,
A/B H. Dalby,
A/B J. Dodd,
A/B H Bannister.
2nd Whaler:-
S/Lt Fothergill, P.O. C. Dean,
A/B S. Hale,
A/B H Duncan,
and one R.C.N. Rating
The two Canadian ships in attendance:-
H.M.C.S. Niagara, Chedabucto also launched boats.
Petty Officer Jan Trick lost his life in the rescue attempt.


If you have stories or photographs of HMS
Witch
you would like to contribute to the web site please contact

Bill Forster
---
Return to the Home Page of the V & W Destroyer Association
Return to the Index Page for the 69 V & W Class Destroyers
---