---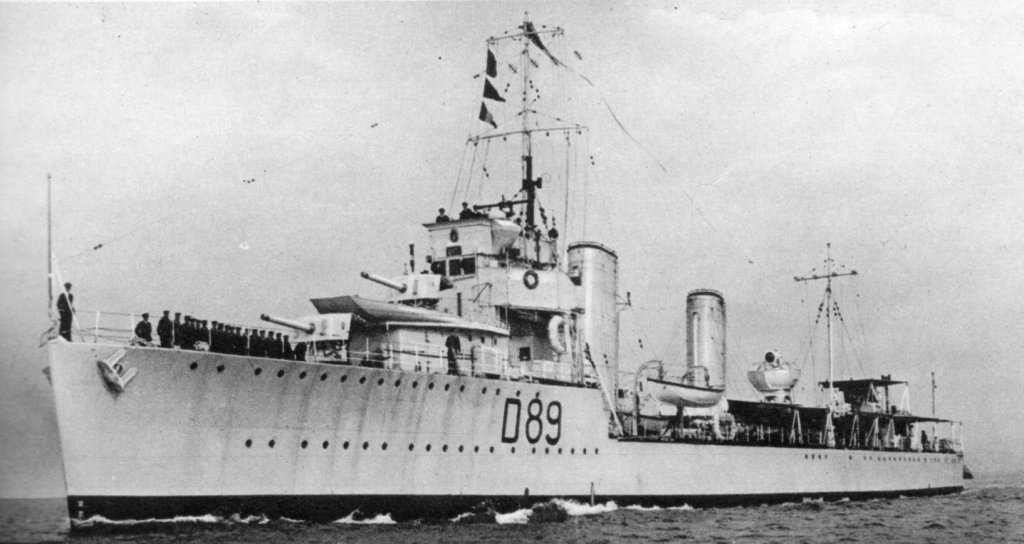 HMS
Witch
Copyright reserved

This short summary of the story of HMS

Witch

is also a guide to the website
The links in bold are to pages on this website
and those in plain blue type are to information elsewhere on the web



HMS

Witch

, the first Royal Navy ship of the name, was laid down on 13 June 1918 by John I. Thornycroft & Company at Woolston, Hampshire. Her construction slowed after the Armistice with Germany and she was not launched until 11 November 1919. She was towed to Devonport Dockyard at Devonport, Devon, where her fitting-out took place slowly, and she was not completed until March 1924.

Witch was commissioned in March 1924 and served with the 4th Destroyer Flotillan in the Mediterranean until 1931 when she recommissioned for service on the China Station with the 8th Destroyer Flotilla. In December 1934 the V & W destroyers in the 8DF swopped ships with the 1st DF at Singapore and took over their role in the Mediterranean. Arthur Horrocks joined HMS

Witch

as Chief Stoker at Singapore in December 1934. The outbreak of the Spanish Civil War in 1936 persuaded the Foreign Office to repatriate the remaining British citizens in Spain and on 22 July 1936 HMS

Witch

, captained by Cdr B.A. Warburton-Lee, departed from Ferrol in northwestern Spain for Britain. She was soon decommissioned and placed in reserve at Rosyth, Scotland.



Witch

was recommissioned for the Royal Review of the Reserve Fleet by King George VI in 1939. After a month at Rosyth escorting east coast convoys she was transferred to Western Appproaches Command at Plymouth and then at LIverpool. On 9 April 1940 she took passage to Scapa Flow for service with the Home Fleet escorting military convoys to Norway after the German invasion (Operation RUPERT/R4). In June 1940 she returned to Rosyth escorting east coast Convoys.

Witch continued her convoy escort duties in the North Atlantic into 1942 and was "adopted" by Northwich, Cheshire, in March 1942 as a result of a Warship Week National Savings campaign. In that same month she rescued the crew of the

American merchant ship SS

Independence Hall

which ran aground off Sable Island on the Grand Banks of Newfoundland, Nova Scotia, as described by Lt Cdr Cecil Hamilton Holmes

.

Before Lt Cdr C.H. Holmes left HMS

Witch

as CO in July he arranged for the two whalers used in the rescue to be presented to TS

Witch

, the Sea Cadet Unit at Northwich

.



Until August 1942 HMS

Witch

was being converted into a short-range escort. In February 1943

Witc

h transfered to Freetown, Sierra Leone, for service with local escort forces there. In April 1943,

Witch

and

Wolverine

rescued 53 survivors of the British merchant ship

Empire Whimbrel

, sunk
420 nautical miles southwest of Freetown
by U-181 on 11 April 1943 .

By May 1944 she returned to the UK and began operations in the North Sea, which she continued until the surrender of Germany in early May 1945. She is thought to have been converted into an Air Target Ship for the pilots of Torpedo Bomber Reconnaisance (TBR) planes based at RNAS

Crail

near Rosyth, but the evidence for this is not conclusive.

Commanding Officers
Lt Cdr Charles R. Peploe, RN (4 Feb. 1924 – Aug. 1925)
Lt Cdr Ralph Kerr, RN (13 July 1925 – 22 April, 1926)
Cdr Augustus "Gus" W.S. Agar RN (22 April 1926 - July 1927)
Cdr Eric P. Vivian, RN (10 Sept. 1927 – Sept. 1929)
Lt Cdr William G. Davis, RN (9 April 1928 – 16 May 1931)
Cdr Lawrence F. N. Ommanney, RN (14 Feb. 1932 – April 1933)
Cdr John M. Howson, RN (3 May, 1933 -
Cdr Bernard A.W. Warburton-Lee RN (17 Dec 1934 - Feb 1936)
Lt Cdr John Lee-Barber RN (1937-8)
Lt Cdr Henry T. Pawsey, RN (28 Sept. 1938 – 14 Oct. 1938)

Lt.Cdr. John Richard Barnes, RN (31 Jul 1939 - 4 May 1941)
Lt.Cdr. Cecil Hamilton Holmes, RN (4 May 1941 - Jul 1942)
Lt.Cdr. Sidney Richard James Woods, RD, RNR (Jul 1942 - late 1943)
T/Lt. Arthur Reginald Browne, RNVR (late 1943 - 6 May 1944)
Lt. Walter James Taylor, RN (6 May 1944 - 4 Mar 1946)

Officers

Former Full Members of the V & W Destroyer Assoociation
J. Clarke (London), T. Davies (Prescot, Merseyside), Cdr Christopher H. Fothergill RN (Woking, Surrey), Ray Hodgson (Kettering),
A. Miles (Ludlow, Shropshire), E. Restall (Bristol), J. Whistance (Darlaston, West Mid)

Please get in touch if you have a family member who served in HMS
Witch
Between the Wars



Dressed up for a water polo match with a team from HMS

Whitshed

, 1928

From Hard Lying - Courtesy of Stormy Fairweather




Crossing the Line - on her way to the China Station?

From Hard Lying - Courtesy of Stormy Fairweather



Arthur Horrocks, Chief Stoker
During the 1930s HMS
Witch
was on the China Station and
in the Fourth and First Destroyer Flotillas with the Mediteranean Fleet based at Valetta, Malta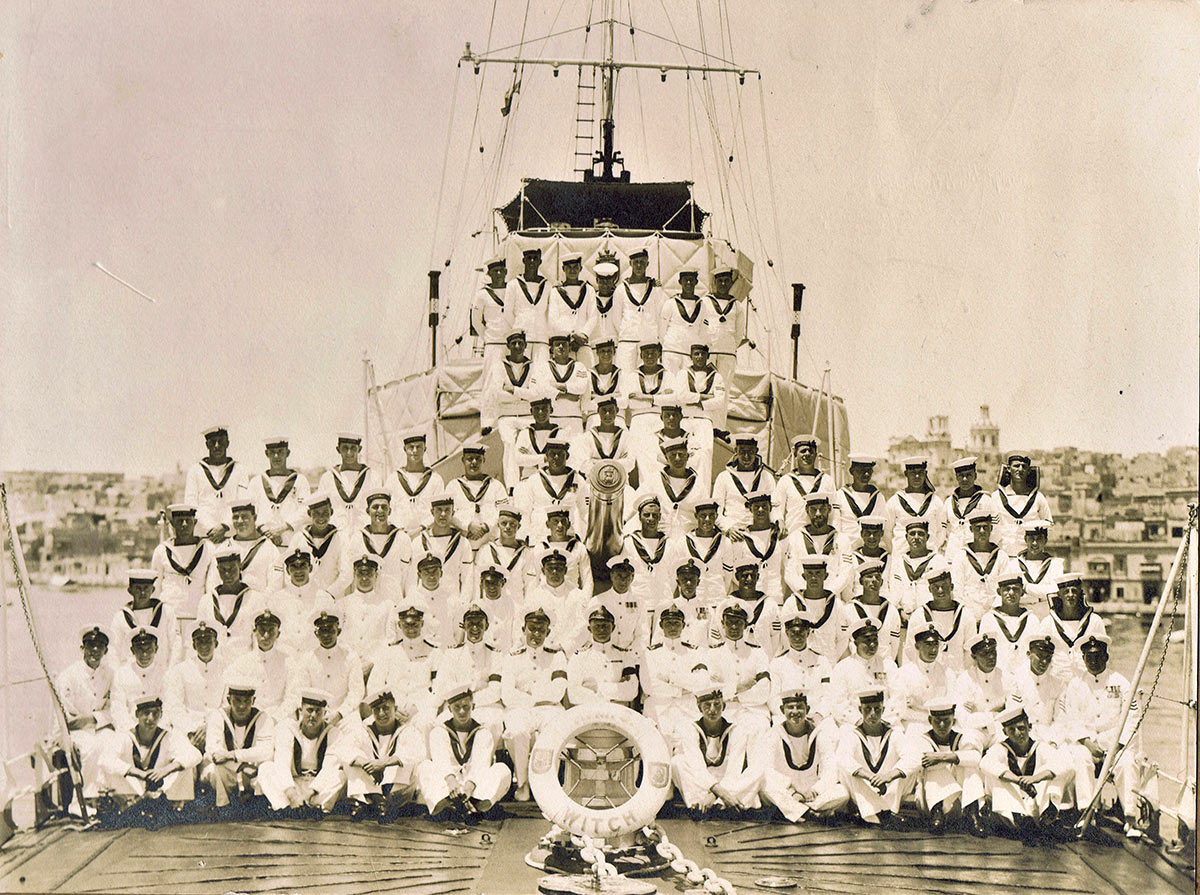 Cdr Bernard A.W. Warburton-Lee RN and the Ship's Company of HMS

Witch

in the Grand Harbour at Valetta, Malta, between 1935-36

Courtesy of Elizabeth Moon, the Grand daughter of Arthur Horrrocks, Chief Stoker, fourth from left in the second row from the front





Three portraits of Arthur Horrocks, Stoker




In 1920 (left) and older and more senior - centre & right






Arthur Horrock's story is based on the childhood memories of his grand daughter Elizabeth Moon,
his service certificates
and the few photographs which survived when the family home in Devonport, Plymouth, was bombed.


"Arthur Horrocks came from Bolton and after working in the mills joined the navy in 1917; his service records state his height and weight which showed he was very underweight and short for his age but both showed rapid improvement on the navy diet. He met my grandmother in Plymouth in 1920, captivated by her beautiful red hair and decided in short order that she was the girl for him"; Elizabeth Moon.
He was born at Bolton, Lancashire, on 14 November 1899 and was a "spinner's assistant" in a cotton mill when he enlisted in the Navy on his eighteenth birthday for 5 + 7 years. He joined as a "Boy Sailor" but was rated as an Able Seaman when he joined
HMS

New Zealand

, one of three Indefatigable-class battlecruisers, in February 1919, but was "recategorised" as as a Stoker i
n April
. HMS

New Zealand

made a world tour with Admiral John Jellicoe onboard on his 'Review of Dominion Defences' visiting India, Australia, New Zealand, Fiji and other Pacific Islands including Hawaii. He was only 19 and was tempted to jump ship in Australia (girl friend) but thought better of it and and returned to Devonport
in HMS

New Zealand
where she 'Paid Off' on 15th March 1920.
He had "seen the world" and had a lot of fun and may have been surprised to receive a "war gratuity" for three years service in HMS

New Zealand

o
n 14 November 1920. On returning to Plymouth he met and married Eliza Ann Eales, the girl with "beautiful red hair", who came from an old Devon family whiich sealed his links with that county.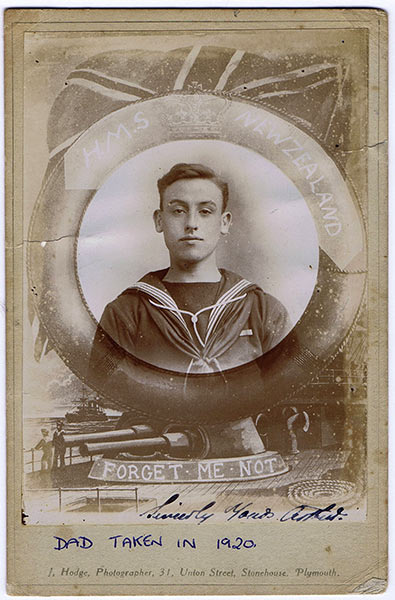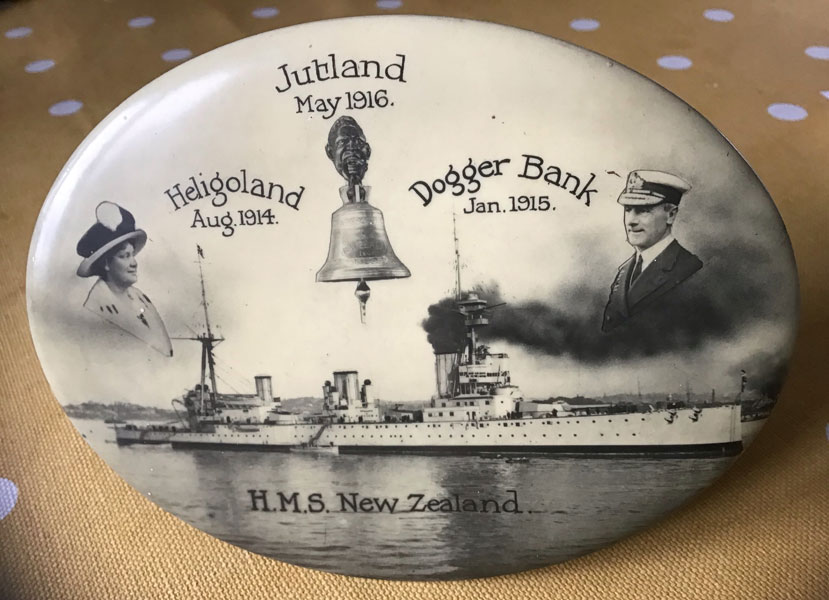 Arthur Horrocks was photographed in a Plymouth studio before leaving home to join Admiral Jellicoe on a world tour aboard HMS
New Zealand

The commemorative tin plaque measuring
5" by 3.5" on
a little wire stand records the three battles in which she fought with portraits of

Capt John F.E. Green RN,

her CO at the Battle of Jutland, and his wife

His next ship was HMS

Douglas

, a V & W Class Leader which was put in Reserve in June 1921 and he then joined HMS

Warspite

a Queen Elizabeth Class Battleship completed in 1915. She was the first large capital ship to heat her boilers with diesel oil instead of coal, an innovation which impacted on the role of stokers who were by now stoker mechanics.

In September 1925 Arthur volunteered for the Submarine Course at HMS

Dolphin

at Gosport and for the next five years served in submarines.
There had been no steam engines in submarines
since the K Class (the "Kalamity Class")
and Arthur would now be working on Internal Combustion Engines (ICE).
Submarines were powered by diesel engines when surfaced and electric motors when submerged. After Submarine training he was drafted to the Submarine Depot Ship HMS

Maidstone

(1912) 'for Submarine H52' (sse photograph by Abrahams, Devonport) on 10th February 1926.
He was advanced to Acting Leading Stoker in Augut 1926 and in January 1927 was drafted to the Submarine Depot Ship, HMS

Cyclops

, at Malta and served in Submarine L23. He returned to Britain a
nd
was drafted to
submarine depot ship HMS

Lucia

and
from 6 May 1929 until May 1931
served in L71, an L Class submarine built in 1919. The photographs below are from the family album.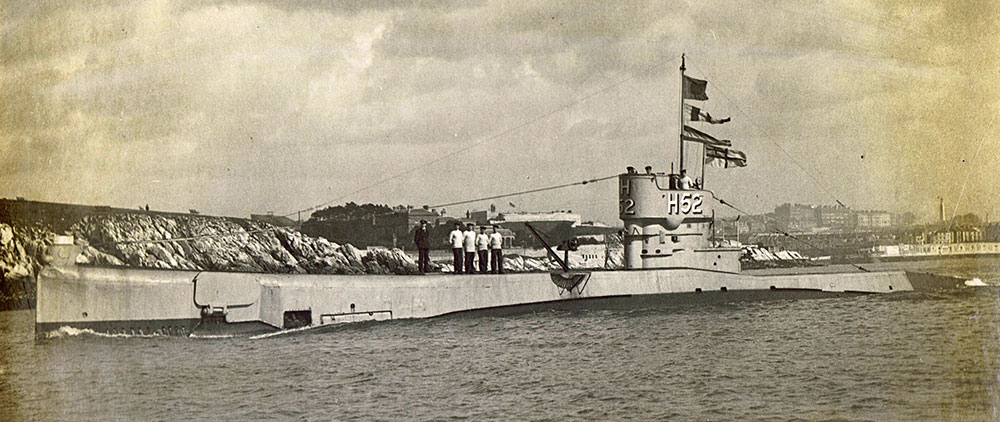 T
he diesel engines in submarines charged the batteries which powered the electric motors used when submerged.
The L Class submarines had two diesel engines for use on the surface and two electric motors for use submerged. They could cruise at 17 knots (20 mph) while surfaced and had a top speed of 10.5 knots (12.1 mph) while submerged. The L71, a Type-III boat, had a range of 4,500 nautical miles (5,200 miles) at 8 knots ( 9.2 mph).


Elizabeth Moon recalls a story from this period:


"He served in early submarines and had a near fatal accident when there was a blowback in the heads. He was only wearing overall and boots as it was so hot and his clothes were blown off him so he emerged naked apart from the boots. Someone laughed and in shock he took a swing at him, possibly with a spanner, but was let off due to the circs."

On 13 May 1931 Arthur Horrocks joined HMS

Walker

, his second V & W Class Destroyer (Lt Cdr G B O'B Harding, 5th Destroyer Flotilla, Atlantic Fleet). He returned to the Royal Navy Barracks at Devonport, HMS

Vivid

, in September and
on 23 October 1931
joined HMS

Whitehall

(Lt Cdr F R G Maunsell) on recommissioning 'for service with the 8th Destroyer Flotilla, China Station'. China had been in a state of political turmoil since the death of Sun Yat Sen and the start of the Civil War in 1926 between Chiang Kai Shek's Nationalist Party, the Kuominstang, and the Chinese Communist Party and the instability threatened British interests at Shanghai and British and foreign concessions and trading posts on China's biggest river, the Yangste. To find out more about the part played by the Royal Navy in the "Alice in Wonderland" world of the China Station visit this page about Wuhan. The 3rd Destroyer Flotilla had been sent to the China Station from the Mediterranean in 1926 but the following year a new Flotilla, the 8th DF, provided a permanent presence to protect British interests. In 1932 the eight S Class destroyers in the 8th Destroyer Flotilla on the China Station were replaced by V & Ws:

Verity, Veteran, Whitehall, Whitshed, Wild Swan, Wishart, Witch

and

Wren.




The China Station made a big impression on men who served there. It was so completely different from service with the Atlantic and Mediterranean Fleets. Even a rating found he was wealthy and could have his laundry done by lady Amahs and spend time off ashore drinking with younger ladies in bars.
As a married man Arthur may have had his service on the China Station cut short.
He was advanced to Stoker Petty Officer on 12 March 1932 and returned home on 1 April 1933.
He brought with him many souvenirs of his time on the China Station which his grand daughter has now including shoes for bound feet, a skull cap with pigtail attached,
a beautiful working model of a rickshaw carved out of ivory which has been lost,
a tortoise shell vanity set in a case and a big wooden chest
carved with Chinese scenes
lined with camphor wood in which he brought these souvenirs home. British sailors knew very little about the Chinese apart from the stereotypes that girls had to wear small shoes to impede growth, men grew pigtails and pulled rickshaws and the story of the three monkeys who 'See no evil, hear no evil, speak no evil' - but that fable is from Japan.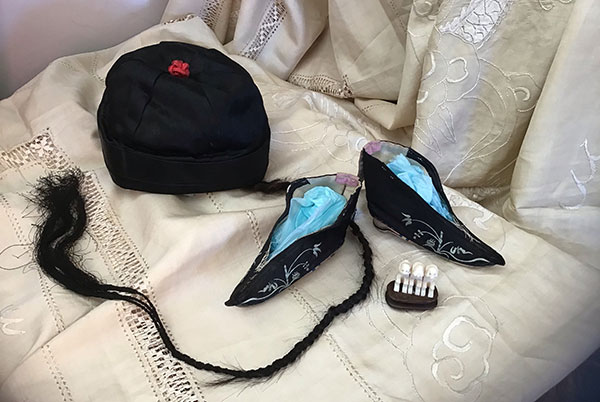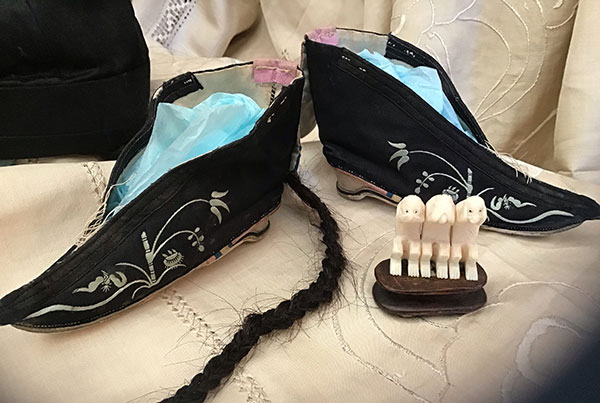 The cap with the pigtail of real hair and the five inch long shoes with paper soles are lying with the ivory carving on an embroidered silk bedspread
These beautiful objects would be popular souvenirs for British sailors to bring home from the exotic East


On 1st July 1933 Arthur Horrocks was drafted to HMS

Defiance

, the Torpedo School Ship at Devonport, until December 1933 when he joined the 31,100-ton Battleship HMS

Malaya

(Captain G W Hallifax), the Flag Ship of the 2nd Battle Squadron, Home Fleet.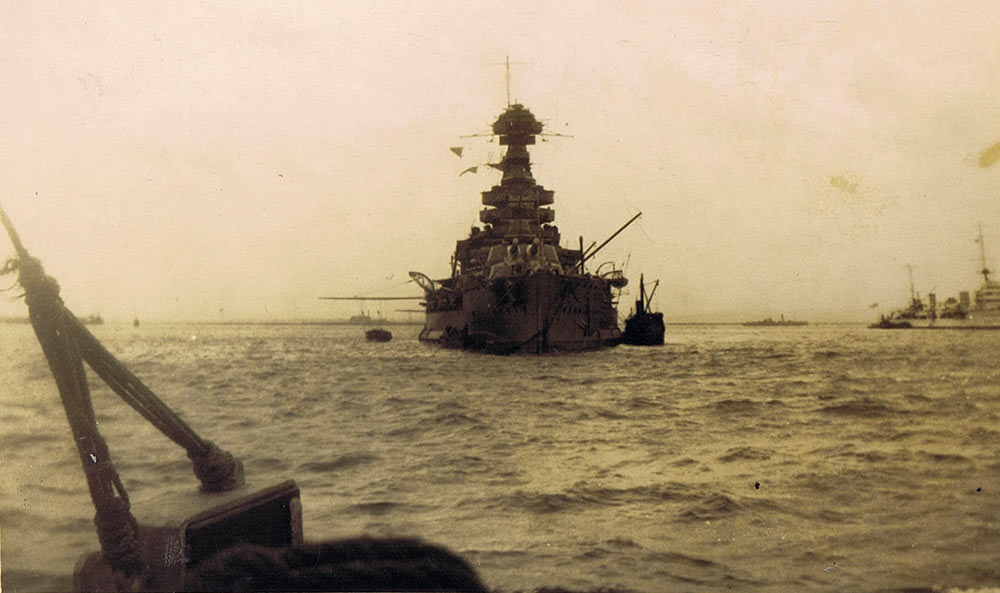 HMS

Malaya -
photographed from the "liberty boat" while returning from a trip ashore
HMS

Malaya

was a Queen Elizabeth Class Battleship, a sister ship of HMS

Warspite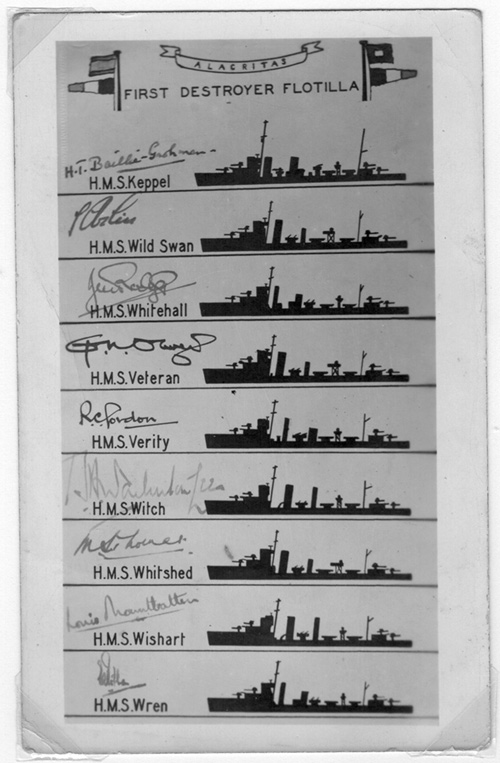 In October he was drafted to HMS

Decoy

, one of the D Class destroyers sent to Singapore to swop ships with the elderly V & W Class destroyers on the China Station.
The 8th DF swopped their V & Ws for modern D Class destroyers at Singapore in December 1934 and their crews
returned in their new ships to the China Station while HMS

Witch

and her sister V & Ws took on the role of the First Destroyer Flotilla
(1DF) in the Mediterranean. The card on the right list their names and is signed by their Commanding Officers. The return voyage to the Med and the Mediterranean years are described by Lord Louis Mountbatten, the CO of HMS

Daring

on the outward voyage and of HMS

Wishart

on the return voyage.

Arthur Horrocks and his shipmates left HMS

Decoy

at Singapore and joined HMS

Witch
(Cdr B A Warburton-Lee)
on 17 December 1934 and served in her as part of the 1DF in the Mediterranean until she returned to Britain on 30 August 1936. Hitler and his Nationalist Socialist Party had been elected to power in 1933 and Germany was rearming, Mussolini invaded Abyssinia in October 1935 which appealed to the League of Nationals for help. Britain and France were members and this was a potentias threat to theii interests but the Leagues response was ineffective.

In July 1936 the Spanish Civil War started when General Franco revolted against the left wing government of the Republican Party which was supported by the USSR. The Italians attacked merchant ships carrying arms to the Republican Government and the Royal Navy became involved in the evacuation of British nationals, tourists (it was the height of the holiday season), residents and volunteers fighting for the Republican government. It was a confusing and chaotic situation and Commanding Officers occasionally took decisions guided more by personal bias than British interests. Questions were asked in Parliament about steps taken to protect British citizens and by August 1936 some 59 ships of the Royal Navy were taking part, including nine V & W Class destroyers: HMS

Keppel, Veteran, Vanoc, Vanity, Verity, Wishart, Wren, Witch and Whitshed.

British citizens were transported to the safety of Gibraltar and Republican refugees to the safety of the loyalist ports of Malaga, Valencia and Barcelona.

HMS

Witch,

commanded by

Lt Cdr Bernard Armitage Warburton-Lee (1895-1940)

,
was sent from Gibraltar to Ferrol, Galicia, in North West Spain, and on the 22 July 1936
evacuated British citizens employed by the part British owned

Sociedad Española de Construcción Naval

building warships for the Spanish Navy and brought them home to Britain. On 3 August 1936 Arthur Horrocks was advanced to Chief Stroker and left HMS

Witch

at the end of the month when she was decomissioned and placed in Reserve at Rosyth. He returned to HMS

Drake

, the naval barracks at Devonport, Plymouth, formerly known as HMS

Vivid,

and on the 17 October was drafted to HMS

Foresight

(Lt Cdr J H Huntley), 6th Destroyer Flotilla, Home Fleet.




Service certificates are often semi-legible and always difficult to interpret but family stories even when censored can add a bit of "colour" as demonstrated by Elizabeth Moon's childhood memories:
"Stories were heavily edited for young ears, and I'm not sure are fit for publication! But nearly getting Shanghai'd in a rickshaw and being rescued by a Sikh policeman, a couple of crew members getting rolled over in a bar and the ships company descending on it the next night and taking it apart, where I don't know! Near mutiny possibly fleet wide where the order to change from blue serge to whites hadn't been given and it was obviously somewhere hot. My mum and dad knew these less salubrious tales and told us much later. A story he did like to tell us as kids was trying octopus for the first time and chewing and chewing and not getting anywhere."

A trip ashore to a port in North Africa - probably the Spanish enclave of Ceuta - for a sporting event
Written on the back: "team and selection committee with a few locals on arrival"
Stamped in Spanish: "TAJETA POSTAL union universal de correos"
Arthur Horrocks returned to HMS

Witch

as Chief Stoker when she came out of Reserve on 10 July 1939 and with Lt.Cdr. John Richard Barnes, RN in command attended the Royal Review of the Reserve Fleet by King George VI in August. Arthur had been in the Royal Navy for twenty years but had never been in action but that was now about to change but his Grand daughter had no stories to tell of his wartime service in the Navy and it is not possible to carry out further research apart from Googling the web to extract a few sparse details from standard souurces such as Wikipedia and navalhistory-net due to the Corona pandemic.

The entries in his service record are very few from this point onwards. He appears to have remained aboard HMS

Witch

until 6 May 1941 and left during a six week refit at the Vickers Yard at Barrow in Furness and was then drafted to HMS

Orlando

, a Shore Establishment and Gunnery School at Navy House, Greenock, Scotland. A search by the Navy Records Office, Restore Records Management, of the Pay and Victualing records showed that apart from brief periods in RN Sick quarters he remained at HMS

Orlando

with the rate of Chief Stoker until he was invalided out as "Physically unfit for naval service" (PUNS) due to loss of hearing on 9 October 1945.

After leaving the Navy Arthur worked as a clerk in the Engineers Department of Plymouth City Council, until his retirement. Arthur Horrocks and Eliza Ann Eales, the Devonshire girl he married in 1920, had two daughters, Grace and Violet. Elizabeth Moon was the daughter of Violet and her husband John Sorbie. Arthur Horrocks was 80 when he died on 5 March 1980.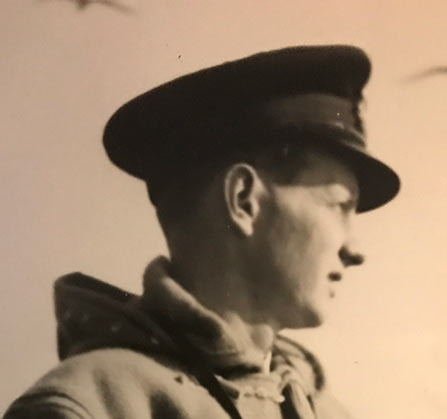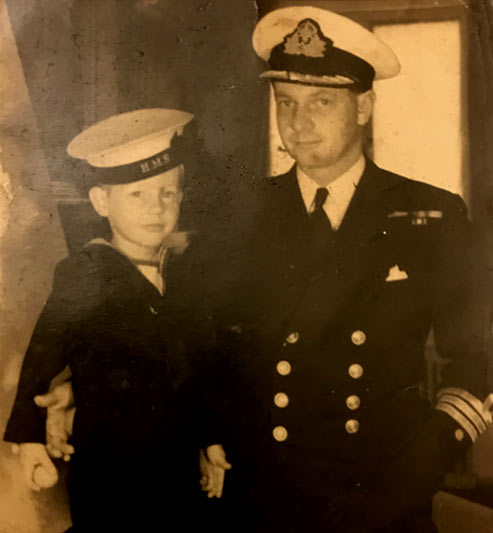 Lt.Cdr. Cecil Hamilton Holmes, RN was CO of HMS

Witch

from 4 May 1941 to July 1942. He
is the only wartime CO of HMS

Witch

to have left a first hand account of his time as CO. It is brief and informal but gives a real insight into what it was like to be CO of a V & W destroyer escorting Atlantic Convoys from Liverpool to North America.


Cecil Holmes was born in Seoul, Korea, where his father worked for the British Legation, on 18 March 1906. Cecil was one of four children, two born in Japan where his father retired as His Majesty's Consul-General at Yokohama and was awarded the Companion of the Order of St Michael and St George (CMG) by King George V in his 1928 birthday honours. This seems very remote from Northwich in Cheshire where his son was born but his father's family came from Ireland and Cecil Holmes was born near Liverpool.

He was 13 when he joined the Royal Navy in 1919 and by 1929 was a Lieutenant.
At his own request he
was sent to Japan to study the language from 1933-6
.
His family tree has been traced by Nina Challenor and can be seen on Ancestry. By 1937 he was a Lt Cdr and on 20 January 1940 was appointed CO of HMS

Scout,

an S Class Destroyer based at Hong Kong, his first command. He was 33 and travelled to Hong Kong on the liner

Aeneas

with his 21 year old Danish wife,
Lisbet Kampmann. He returned a year later to take command of HMS

Witch

while it was having a six week refit at the Vickers Yard at Barrow in Furness. His wife, now pregnant, stayed with his sister in large house near Windermere. He joined HMS

Witch

on the 4 May 1941 and in July they moved to the Gladstone Dock at Liverpool, the base for the Atlantic escorts of Western Approaches Command.

His son Jasper
"was born in Northwich as it was seen as good luck for the ship"
on 14 November 1941
(Kate Holmes, his daughter in law)
which led to the adoption of HMS

Witch

by Northwich in March 1942 after a successful Warships Week National Savings programme.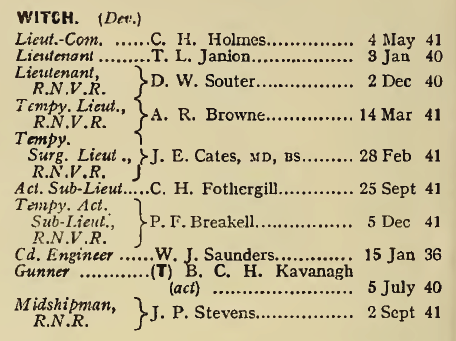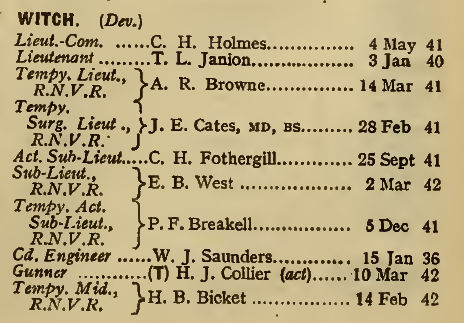 The members of the wardroom of HMS

Witch

when Lt Cdr Cecil H Holmes RN was the CO from
4 May 1941 to July 1942
The entries for HMS

Witch

in the Navy List for Februry and April 1942 - HMS

Witch

was adopted by the Cheshire town of Northwich in March 1942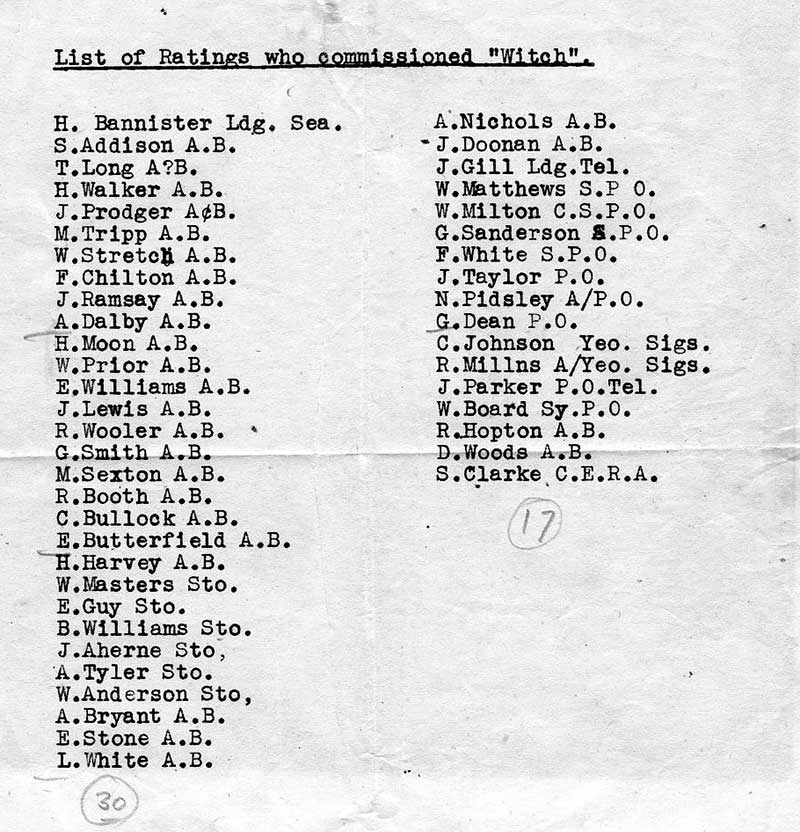 Undated but thought to be the the names of the 47 ratings who joined HMS
Witch
at the start of her new Commission after her refit

But could be the names of veterans who joined
Witch
when she was commissioned at the start of the war
Some of them are in the photograph of ther elderly reservists in the photograph below
Found in the papers of Lt Cdr Cecil H Holmes and reproduced courtesy of Jasper and Kate Holmes

"The ship's company of about 200 consisted half of 'pensioners' older men called up from the reserve at the beginning of the war, postman, caretakers, farmers and Jacks of all trades. One of the best sailors in the ship had driven a funeral hearse in a top hat and frock coat for years before the war. The other half were young 'hostilities only' men who were kindly and firmly pummeled into shape by the old hands. As a combination they were grand. The young ones seemed to supply the youth and enthusiasm and the old ones to supply the steadying influence and experience." Lt.Cdr. Cecil Hamilton Holmes.
The
Manchester Evening News
reported on Tuesday 19 October 1943 that:
"More veterans than any other ship of her size in the RN is the boast of HMS
Witch
an 18-year old destroyer adopted by Northwich. Among her ratings are 19 men who are more than 40 years of age. Oldest of the veterans is Leading Stoker L. Anderson (50) of Tavistock, Devon."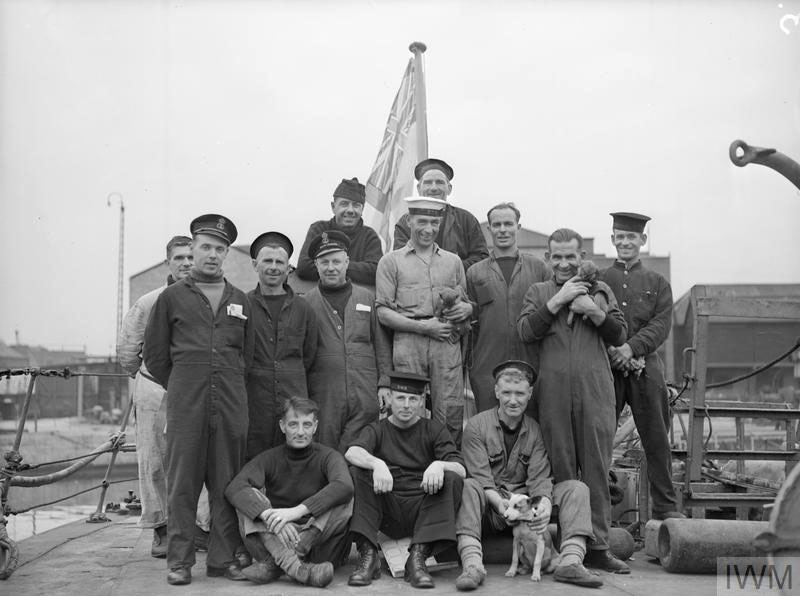 "HMS
Witch
has more veterans than any other ship of her size in the Royal Navy"
A group of veterans on the

Witch

including Petty Officer G L Dean of Gloucester, aged 30, A/B W Prior, of Teddington, aged 41, A/B H Dalby, of Wimbledon, aged 47, A/B M Tripp of Newport, aged 46, A/B J Rammsay of Kirkcadly, Fife, aged 43, Petty Officer W W Drummond of Newcastle, 48, A/B M Sexton of Middleton, Co Cork, 47, Petty Officer H Bannister, of Woking, 36, A/B T Long of Harrow, 46, Stoker L Anderson of Tavistock, Devon, 50 A/B E Stone of Gillingham, Dorset, 38, A/B H H Walker of Swindon, 49.
Photographed at London Docks on 13 October 1943 (
Imperial War Museum A 19677
)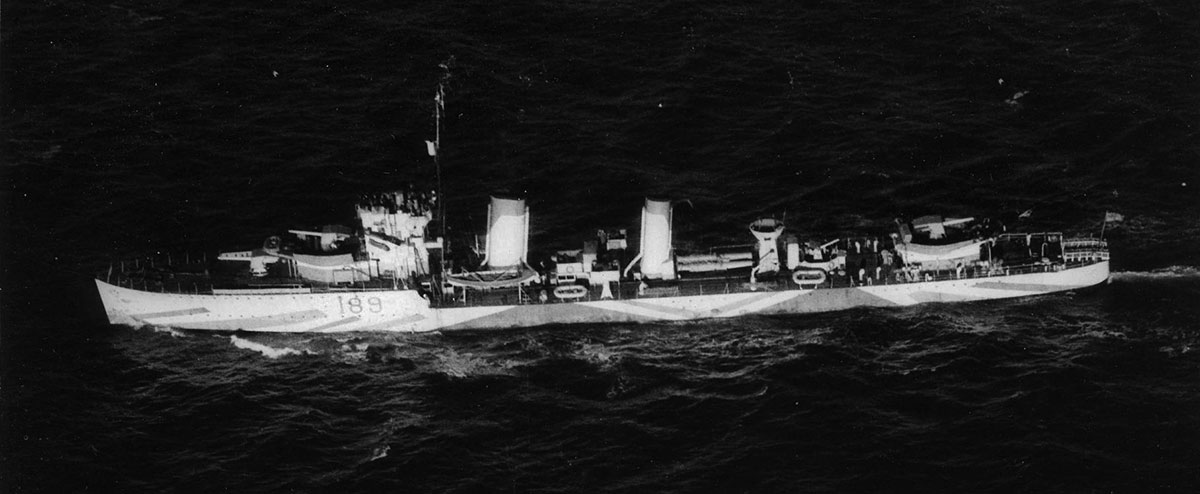 HMS
Witch
(I89) after refit in 1941
From the collection of Lt Cdr Cecil H Holmes , reproduced courtesy of Jasper and Kate Holmes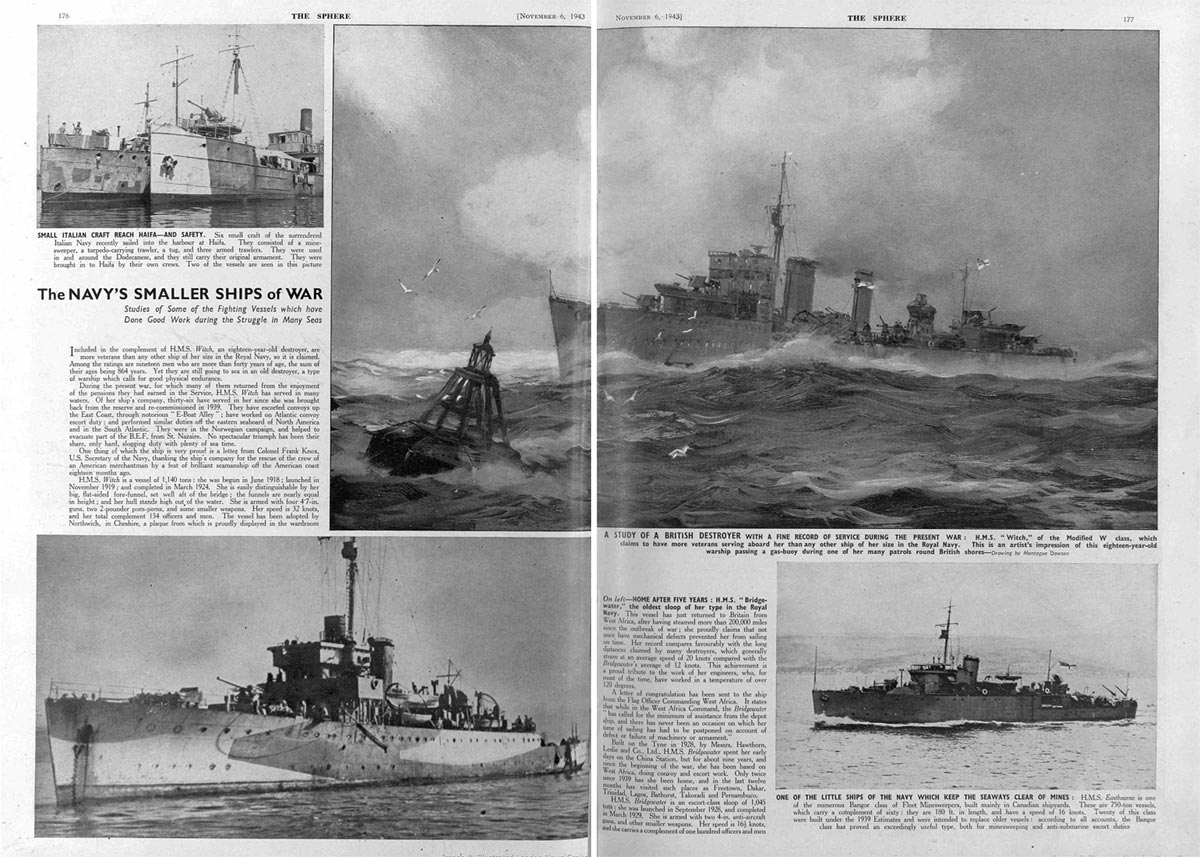 I would like to trace the owner of the fine painting by Montague Dawson in this issue of the
Sphere
dated 6 November 1943

The article mentions
the adoption of HMS

Witch

by Northwich
and the crest of the town hanging in its wardoom

HMS

Witch

as an Air Target Ship in May 1945

The superstructure of Air Target Ships was painted white to make them more conspicuous to the pilots of the Barricuda TBR planes
IWM A29277
Towards the end of the war some of the V & Ws and the "four piper" Town Class destroyers transferred from the USA to Britain under Lend Lease in 1940 were no longer suitable for front line use and were converted into Air Target Ships. They were mainly stationed at Rosyth on the Firth of Forth and used by Barracuda Torpedo Bomber Reconaisance planes (TBR) based at RNAS Crail to practice dropping air launched torpedos slung beneath their fuselage.
They began with dummy concrete torpedoes before moving on to "runners" without warheads which had to be retrieved for reuse. The live torpedo was 20 ft long, weighed just over a ton with 500 lbs of warhead. The Barracuda had a crew of three: pilot, observer and air gunner who also served as wireless operator.
The Barracuda was the RNAS first monoplane and it took some time for pilots used to flying"stringbags", Swordfish or Albacore biplanes, to become accustomed to them. They descended from 12,000 feet at an angle of at least 70 degrees and used their large Yeomans Flaps, known as barn doors, to level out before releasing their torpedoes on the target ship.
Far too many trainee pilots failed to reduce speed and trim back soon enough and flew into the sea.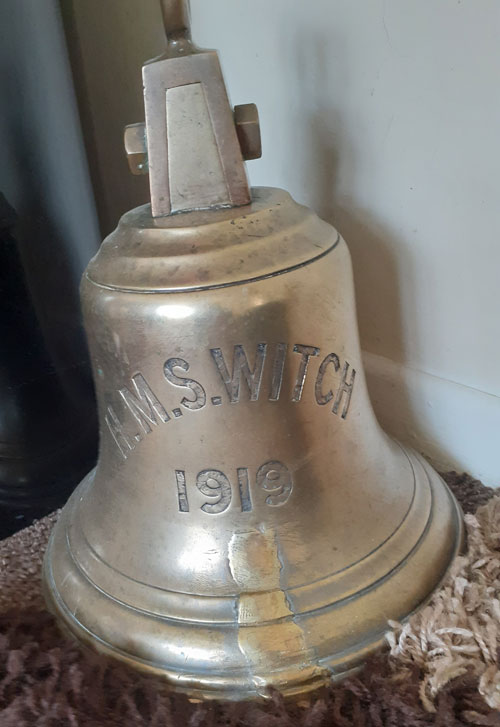 Is this the original ship's bell of HMS
Witch
?

The date is correct, the lettering looks right but "the top bracket looks wrong"
One needs to take expert advice and I am no expert!

If you have stories or photographs of HMS
Witch
you would like to contribute to the web site please contact

Bill Forster
---
Return to the Home Page of the V & W Destroyer Association
Return to the Index Page for the 69 V & W Class Destroyers
---