---


HMS

Verity

, the ....


Commanding Officers
Lt Cdr Meredith S. Spalding RN (May 1927 - June 1928)
Lt Cdr Cecil A.N. Chatwin RN (16 Sept 1929 - 01 Nov 1930)
Lt.Cdr. Arthur Ronald Mawson Black, RN (31 Jul 1939 - 29 May 1940)
Lt.Cdr. Robert Henry Mills, RN (29 May 1940 - 7 Jun 1942)
Cdr. Charles Graham Thompson, OBE, RN (7 Jun 1942 - Aug 1942)

Lt. Charles Poynder Adams, DSC, RN (Aug 1942 - 2 Oct 1942)
Lt.Cdr. Richard Horncastle, RN (2 Oct 1942 - mid 1943)
Lt. Charles Poynder Adams, DSC, RN (May 1943 - Aug 1943)
Lt. Charles Grenville Cowley, RN (Aug 1943 - Jun 1945)
A/Cdr. (retired) Lawrence Henry Phillips, RN (Jun 1945 - late 1945)

Officers

Former full members of the V & W Destroyer Association who served in HMS
Verity

A. Barber (Colyton, Devon), R. Bone (Sidcup, Kent), R. Savage (Leicester).
Please get in touch if you knew these men or had a family member who served in HMS Verity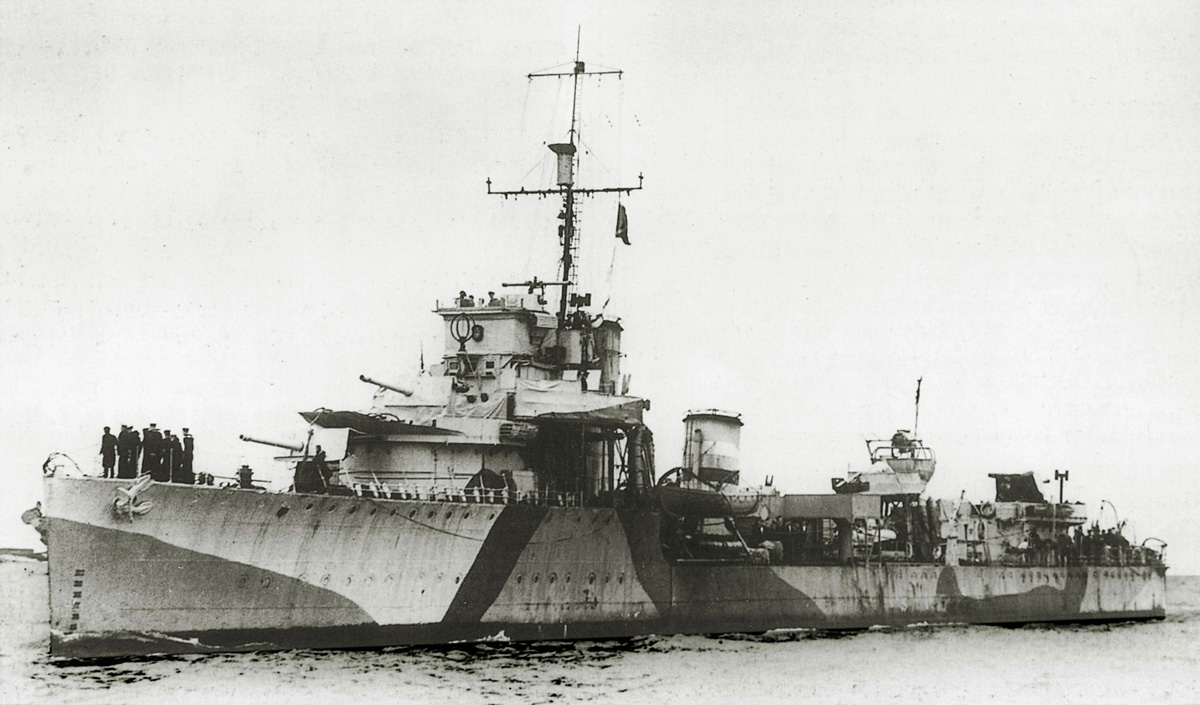 HMS
Verity
and the sinking of SS S
trathallan
December 1942
After about eighteen months of Atlantic convoys, using Halifax, Nova Scotia, Boston. Massachusetts, St Johns Newfoundland as our bases

Verity

was ordered to take part in the North African invasion, so that brought us to the Mediterranean where we did a spell with 'H' Force.
Of course during this time we were involved with other activities, the most memorable being when we were part of the escort of a convoy which included the troopship SS
Strathallan.
This ship was making its way to Oran, loaded with supplies and transporting nurses and their medical equipment together with army and RAF Personnel. They were destined to join up with the First Army who were in North Africa.
We were ordered to leave the convoy but why, or where we were heading for is unknown to me. Some time later we were ordered to return to the convoy as the SS
Strathallen
was in trouble.
I had the morning watch and when I went to the mess to grab a cup of tea, it was piped over the ship "Stand by to pick up survivors". So I gulped my tea down and hurried to the upper deck.
Arriving on the upper deck there was room for me on the starboard side scrambling net. Being left handed was an asset as I could hold on with my right hand and with my left, help the survivors out of the water. The Captain could not of course, delay the safe passage of the ship, so we were only able to pick up a few men and women. This procedure went on all day long during which time we managed to pick up 1,007 survivors. So many in fact that the ship was 'listing' so we had to move them around to remedy this.
It was getting dusk by the time we reached Oran where we landed these survivors, who 'fell in' on the jetty in their respective groups. Amongst these survivors were many nurses as well as Army and RAF Personnel.
The order came to 'Clean Ship' before we set sail, no one knew where to. We finally realised when we arrived in Iceland! This was Christmas Day 1942 as we tied up alongside HMS
Renown.
We then had 'Big Eats'
S/M Bone (From the neck up!)

If you have stories or photographs of HMS
Verity
you would like to contribute to the web site please contact

Frank Donald
---
Return to the Home Page of the V & W Destroyer Association
Return to the Index Page for the 69 V & W Class Destroyers
---