---

HMS
Verity
in the Mediiterranean with the Third Destroyer Flotilla between the wars

HMS

Verity

was built by John Brown & Co on the Clyde and completed in September 1919. After service in Home Waters she joined the Third Destroyer Flotilla in the Mediterranean and in 1926 at the start of the Chinese Civil War between the KMT led by Chiang Kai-shek and the Chinese Communist Party the 3DF was sent to defend British interests on the Yangste, China's longest river. HMS

Verity

was sent to Chinkiang at the junction of the Yangste with the Grand Canal, 500 miles miles upriver from the British Concession at Hankow (Wuhan), the head of navigation for large ocean going ships.

The 3DF returned to the Mediterranean in 1928 and

Verity

was placed in Reserve at Chatham but was recommissioned and returned to the China Station when the V & Ws in 3DF replaced the S Class destroyers of the 8th Destroyer Flotilla in 1931 but the V & Ws returned to the Med in 1934 as the First Destroyer Flotilla led by HMS

Keppel

with Captain Baillie-Grohman as CO and Captain (D).

HMS

Verity

came out of Reserve at Portsmouth and joined the 15DF in Western Approaches Command in 1939. She spent August on "working up trials" at the start of her new commision before taking part in the Review of the Reserve Fleet in Weymouth Bay on 14 August. When the war started

Verity

was based at Milford Haven "on convoy duties in the North Atlantic", escorting convoys to about 14 degrees west and collecting incoming convoys (George Cohen). After escorting Gibraltar bound Convoy GC1 to NW of the Scillies on 6 September

Verity

returned to Plymouth and on 9 September sunk the British tanker

Kennebec

which had broken in half after being torpedoed the previous day.

On 17 April HMS

Verity

(Lt.Cdr. Arthur Ronald Mawson Black, RN) joined Dover Command and played a significant role in

Operations off the Dutch Coast

(ADM199/667). On 10 May she took a demolition party of Kent Fortress Royal Engineers (KFRE) to Flushing to destroy Oil Reserves to prevent them from falling into German hands (Operation XD, Party B) and on 12 May together with HMS

Venomous

took a party of Royal Marines to The Hook of Holland to destroy as many installations as possible, before the arrival of the Germans (Operation
Harpoon).
They returned later that week with

Keith, Wivern

and

Wolsey

to block the harbour at the Hook by firing torpedoes at the North Breakwater. The Dutch surrendered at 2200/14.

HMS

Verity

arrived at Boulogne as guardship at 0019/23 during the evacuation of the Guards and took on board General Brownrigg, the Adjutant General for the BEF, who had lost all radio communication with London and returned to Dover on

Verity

at 0450 to give his report. George Cohen vividly describes events at Boulogne, Calais and Dunkirk between 23 - 29 May.
The CO, Lt Cdr Arthur R.M. Black RN, was badly wounded by gunfire from shore while escorting troop carriers to Dunkirk on 27 July and handed over command to Lt L.E. Jones RN who wrote the RoP in letter form to Vice Admiral Dover, dated 27 May, on events at Boulogne, Calais and Dunkirk.
George Cohen left

Verity

at Dover on 29 May and spent two weeks in Gillingham Hospital suffering from shell shock.

Following release from

Dynamo Verity

resumed Flotilla duties. On 19 June she carried out the first sea trial of the RAF radar ASV Mark 1 Radar at Spithead. This was later introduced into naval service as Radar Type 286M. In July she transferred to the 18th Destroyer Flotilla based at Liverpool. Most of the convoys she escorted were trans Atlantic to Halifax, Boston or New York, but there were occasional excursions to Gibraltar and Freetown. In March 1941 she was with Convoy OB293 when it came under attack from four U Boats, including U47 commanded by Gunter Prien. U Boat U70 was sunk by the Corvettes

Camellia

and

Arbutus

. In December 1941 she escorted Military Convoys DS018 and SD018 from the Clyde to Reykavik and back.

In October 1942 she was allocated to escort Military Convoys from UK to Gibraltar and North Africa in support of Operation

Torch

. Early on 21st December

Verity

was escorting UK – Middle East Convoy KMF005A North of Oran when the former PO twin screw passenger liner SS

Strathallan

, requisitioned for use as a troop carrier, was torpedoed. Jim Gormley, one of the troops being carried from the Clyde to Oran, described what happened and "Bonehead" described the rescue of 1,007 survivors by HMS

Verity.





Verity

remained based at Gibraltar in support of North African convoys until March 1943 when she returned to UK for refit and conversion to Long Rang Escort. She was taken in hand by HM Dockyard Portsmouth in April. After trials and work up in October 1943

Verity

was initially based at Liverpool. On 17 January 1944 she sailed for Gibraltar with Convoy KMF028 and continued to Freetown with Convoy RS014 arriving 1 February. From then on she was employed escorting convoys between Gibraltar, Freetown, Takoradi (Gold Coast), and Lagos (Nigeria). Initially she was based at Freetown, shifting to Gibraltar in July. She then escorted convoys into the Mediterranean, to Oran, Algiers and ultimately Naples. She remained based at Gibraltar at least until September 1945.


She was sold to J. Cashmore at Newport, Monmouthshire, for scrapping and arrived there 14 September 1947.


Commanding Officers
Lt Cdr Meredith S. Spalding RN (May 1927 - June 1928)
Lt Cdr Cecil A.N. Chatwin RN (16 Sept 1929 - 01 Nov 1930)
Lt.Cdr. Arthur Ronald Mawson Black, RN (31 Jul 1939 - 29 May 1940)
Lt.Cdr. Robert Henry Mills, RN (29 May 1940 - 7 Jun 1942)
Cdr. Charles Graham Thompson, OBE, RN (7 Jun 1942 - Aug 1942)

Lt. Charles Poynder Adams, DSC, RN (Aug 1942 - 2 Oct 1942)
Lt.Cdr. Richard Horncastle, RN (2 Oct 1942 - mid 1943)
Lt. Charles Poynder Adams, DSC, RN (May 1943 - Aug 1943)
Lt. Charles Grenville Cowley, RN (Aug 1943 - Jun 1945)
A/Cdr. (retired) Lawrence Henry Phillips, RN (Jun 1945 - late 1945)

Officers

Former full members of the V & W Destroyer Association who served in HMS
Verity

A. Barber (Colyton, Devon), R. Bone (Sidcup, Kent), R. Savage (Leicester).
Please get in touch if you knew these men or had a family member who served in HMS Verity
George Cohen's story came to me in a very curious roundabout way which is I think is worth recording here. On August 14 2020 I received an e-mail from DaniŽl Brabander in the Netherlands:


"I am sending you this email after buying and reading your marvellous book about HMS

Venomous

. We live in Hook of Holland overlooking the quay where this ship amongst others played a big role in the troublesome days of May 1940. I am very interested in the history of all the naval operations during the war in Holland. In those four days I have counted up to 21 ships from the Royal Navy, almost all destroyers arriving in Hook of Holland. What is less well known is that, as well as the locals and Guards loosing men due to the constant German bombing of the harbour and village, on two occasions the Royal Navy lost a lot of sailors here in Hook (HMS

Versatile

and HMS

Wivern

) due to the Luftwaffe."

In a lengthy exchange of e-mails during the Corona Pandemic lockdown when archives and libraries were closed Daniel told me about his research in Britain and the Netherlands. He sent me low resolution scans of photographs taken aboard HMS
Verity
at the Hook of Holland in May 1940 which he obtained from NIOD, Institute for War, Holocaust and Genocide Studies in Amsterdam, followed by a letter written by a G Cohen to the Dutch Embassy in London in 1990 offering to send these photographs to a Dutch Museum for adding to their collection. This letter enabled me to identify George Cohen as the photographer and contact his son Roger Cohen via the RNLI Lifeboat Station at Brighton where he is the volunteer Operations Manager.

Roger Cohen sent me a PDF of a document from 2002 combining a personal first hand account by his father of events at the Hook of Holland with research by his father's friend Andrew Saunders who lived in Denton, Newhaven. It includes a quite harrowing description of the Dunkirk evacuation which exposes the grim reality behind this often romanticised story which led to George Cohen being hospitalised
and leaving HMS

Verity
.

What follows is a reformatting of George's story told in his own words combined with the photographs he took plus extracts from his service certificate and
additional material
.


George Cohen was born on 17 December 1917 at Newhaven in Sussex and was living at home in Newhaven with his Mother Alice Cohen and working as an apprentice joiner when he enrolled in the Newhaven Branch of the RNVR on 14 October 1935. His Service Certificate gives his rate as a Boy Sailor when he joined his first ship, the V & W Class destroyer HMS
Walker
, on 19 August 1936 for two weeks training.


1936
19 August
"I joined HMS

Walker

at Devonport.

Whilst on her I had to fall in on the forecastle for duties, which that day was 'coaling ship' for the galley. I was at the end of the line being the shortest. The 'Buffer' (Chief Boatswain's Mate) took one look at my 5ft 1 in. height, and gave me a broom to sweep in what the others didn't get in the hole. The bags of coal were on the dockside.

At sea, on watch, I was the Bridge Messenger and at 0345 hrs I was told to go down and call the First Lieutenant for his morning watch, I nearly got put on a charge, as I went down to his cabin and shook him awake. He shot bolt upright and I fled out of the cabin back up on watch. About ten minutes later he came on the bridge and called me over - he told me in no uncertain terms 'You never touch a naval officer and you're lucky not to be on a charge'."
1937
10 May


He joined

the battleship HMS
Revenge
as Ordinary Seaman (OD) George Cohen (SD/X 998) for a further ten days training.


"I joined her at Southend where she was showing the flag. We set sail the next morning for the Spithead Review for the Coronation of King George VI, we were up at 0600 hrs and put to work holystoning and scrubbing the decks. All the fleet was dressed overall in lines. On our starboard side was the Russian battleship

Marat

, and right behind her was the German pocket battleship

Graf Spee

. It was a marvellous sightwith warships and other shipping from all over the world. We manned the side for three hours while the Royal Yacht Victoria and Albert went round the fleet. As the Royal Yacht went by us we had to off caps and give three cheers (we had to shout hooRA not hooray as apparently it sounded better and carried further!)"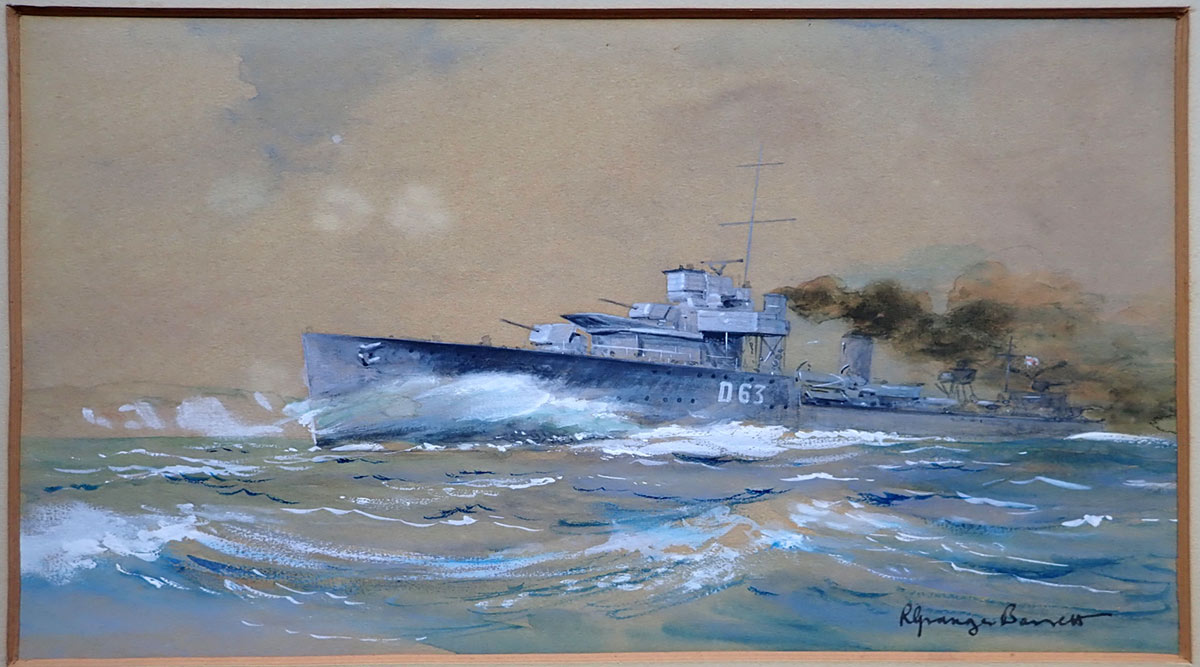 A painting of HMS

Verity

by Richard Grainger Barrett


Comissioned from the artist by George Cohen
1939 31 July
With war looming, George was called up and on the 31 July 1939, joined the destroyer HMS
Verity
(D63) as an Ordinary Seaman.
"We were called up, but were sent straight back home again when Chamberlain came back from his famous meeting with Hitler, waving his piece of paper and declaring 'Peace in our time'. We were ordered to report again on the 31 July. It seemed as if all the Reservists were being called up. Fifteen of us from Newhaven went in that first call, at the end of the war only two of us survived, myself and Bill Wilkes. He was invalided out of the service with a broken back.

We marched from Portsmouth Station to the Royal Naval Barracks, did the barrack routines and collected our draft chits. If you had a blue cross on your draft chit it meant your ship was in the harbour, mine did, and I arrived on board HMS Verity at about 4 p.m., dead beat from lugging a kitbag around all day.

Next morning we ammunitioned, unmoored and went to sea on exercise. The whole of August was spent on 'working up trials' as it was a brand new commission."




George Cohen on the left
at the door of the wheelhouse below the bridge on

Verity




George Cohen at the stern of HMS

Verity




with his Bosun's Call hanging from his neck



1939 3 September
"When war broke out we were in Milford Haven. All we had on the forward Mess deck was a small wireless, unless you were in the first ten around it you couldn't hear it. I got it second hand. When I heard the announcement I thoughtm My God what happens now? We darkened ship at dusk and set sail for Plymouth.

From then until the end of March we were employed on convoy duties in the North Atlantic, sailing to about 14 degrees West, leaving the convoy and picking up another coming to the U.K. These we would escort as far as Plymouth then other escorts took over. The winter of 1939/40 was a very hard one, high gales and bitterly cold, the mess decks were awash nearly all the time. The worst weather we sailed in was a force 12. We had just left a West bound convoy, when we received an S.O.S., a large merchant ship had lost its rudder in the gale. HMS Verity and another destroyer went to her aid, we managed to get a wire to her, but it snapped like cotton, and they would not try to reconnect. We both had to carry out an asdic watch for submarines for two days and nights, until a tug came out from Falmouth. We lost our motor-boat and whaler, smoke floats, and the bridge was smashed in by the heavy seas. When we returned to port we had six weeks in dock for repairs, so the crew were given three weeks leave each.

On another occasion escorting an East bound convoy, we came across a raft about 12 feet square, two men were lashed on it but had died, another was still alive but was so weak and frozen that he had to be lifted aboard as he could not move his arms or legs. We buried the dead at sea. We heard the other man died in Devonport Hospital. The survivor did tell someone they were off a Danish cargo boat torpedoed by a U-boat.

We made quite a few attacks on submarines, but nothing confirmed as a kill. We did get a feed of fish, sometimes."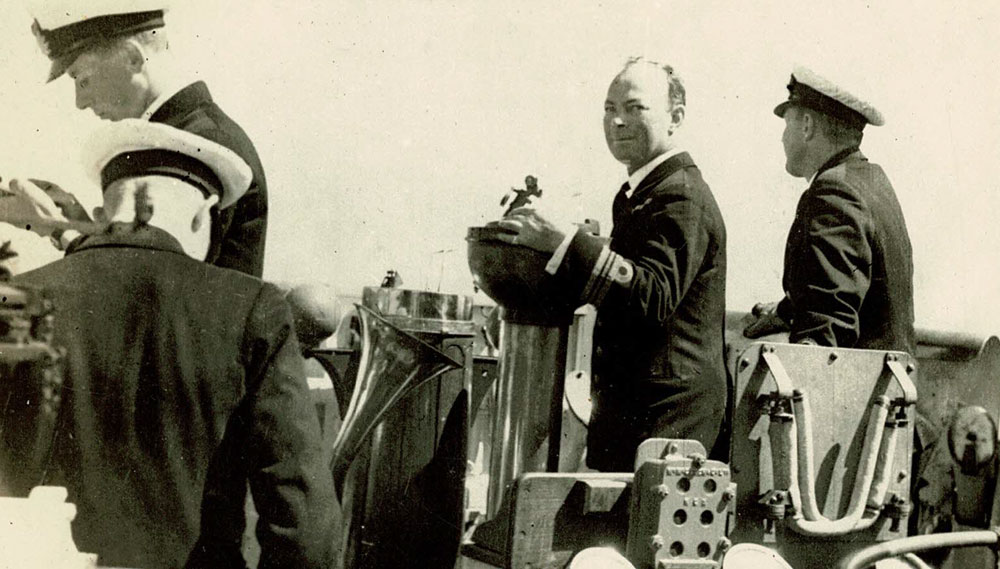 Lt. Cdr. Arthur Ronald Mawson Black (centre) and First Lt. E.L. Jones (right) who took over as CO of HMS

Verity

when Black was wounded on 27 May
1940 17 April
HMS
Verity
, under the command of Lt. Cdr A.R.M. Black, was appointed to the Dover Command Flotilla, along with HMS
Whitshed
and HMS
Wild Swan.
"We went out every day doing exercises. The Admiral said the war came second to him, until the Patrol was smart and efficient. Then the 'Phoney War' was over and the action started."


1940 10 May
At 0355 on Friday 10 May Germany invaded the Netherlands.
HMS

Verity

left Dover at 1200 carrying demolition party XD.C (Cdr P. G. L. Cazalet) to Flushing (Vliessengen) on Walcharen Island at the mouth of the River Scheldt to destroy oil reserves to prevent them falling into German hands.
Lt.Cdr. Arthur Ronald Mawson Black's
Report of Proceedings (ADM 199/667) is in The National Archives but can be read as a PDF by clicking on the link. HMS

Verity

departed Flushing at 0545 and arrived back at Dover at 1110/11th.


At the same time HMS

Brilliant

took XD.D (Cdr A. C. Stanford) up the Scheldt to Antwerp, Belgium and
HMS

Wild Swan

took XD.B (Cdr J. A. C. Hill) for the Hook of Holland to destroy oil plant and stocks at Rotterdam and retrieve Dutch gold from the Rotterdam branch of the National Bank. HMS

Wild Swan

and

Brilliant

remained at their ports to support the evacuations. In the North of the Netherlands HMS

Whitshed

took Cdr Goodenough's naval demolition team of eighty plus a sixteen strong Royal Enginers "demo team" from the KFRE led by Capt Peter Keeble to Ijmuiden to destroy the fuel reserves at Amsterdam and block the harbour at Ijmuiden, Operation XD(A). They left on a harbour tug

Atjeh

and were picked up in the English Channel by HMS

Venomous

on 15 May and landed at Dover.


Operations XD to destroye fuel reserves in the Netherlands, Belgium and northern France are described by Clifford Brazier, in overall charge of the KFRE "demo teams", in
XD Operations - Secret British missions denying oil to the Nazi's

(Pen and Sword, 2005).
1940 12 May
HMS
Verity
in company with HMS
Venomous
, took a party of Royal Marines to the Hook of Holland to destroy as many installations as possible, before the arrival of the Germans (Operation
Harpoon).
"We were in port when we received 250 marines on board and set sail at 0600 hrs for the Hook of Holland. They had to go ashore to blow up dykes and bridges to try and stem the German advance. We returned to Dover, then with three other destroyers we returned to Holland in line ahead. We fired all our torpedoes at a line of dykes. We were bombed by Stuka dive bombers and shelled from the shore. We sailed for Holland again, four destroyers, each ship landed a watch. I was in the port watch, and we were the ones that landed and took up positions in the docks. We were issued with a rifle and bayonet, and 150 rounds of ammunition. I think it lasted about one and a half hours, and then back to our ships and sailed. I was thankful to get on board again. It was when we got back to Dover we found out we had been supporting the Dutch Royal Family being brought back to England."

AB Sydney Compston, a gunner on

Venomous,

recalled in Chapter Five of

A Hard Fought Ship: the story of HMS Venomous

(2017) that the troops were reservists, wearing the old-fashioned uniform that was standard issue in the Great War. A large quantity of demolitions and stores was also hurriedly embarked, and

Venomous,

together with

Verity

and her consignment of Marines and demolitions, left harbour just before midnight on the 11th. They were met off the Hook by HMS Wild Swan which had landed Cdr H.A.C. Hill and the XD-B Demolition Party on 10 May.

HMS
Venomous
(D75)
on Hook Raid her decks crowded with troops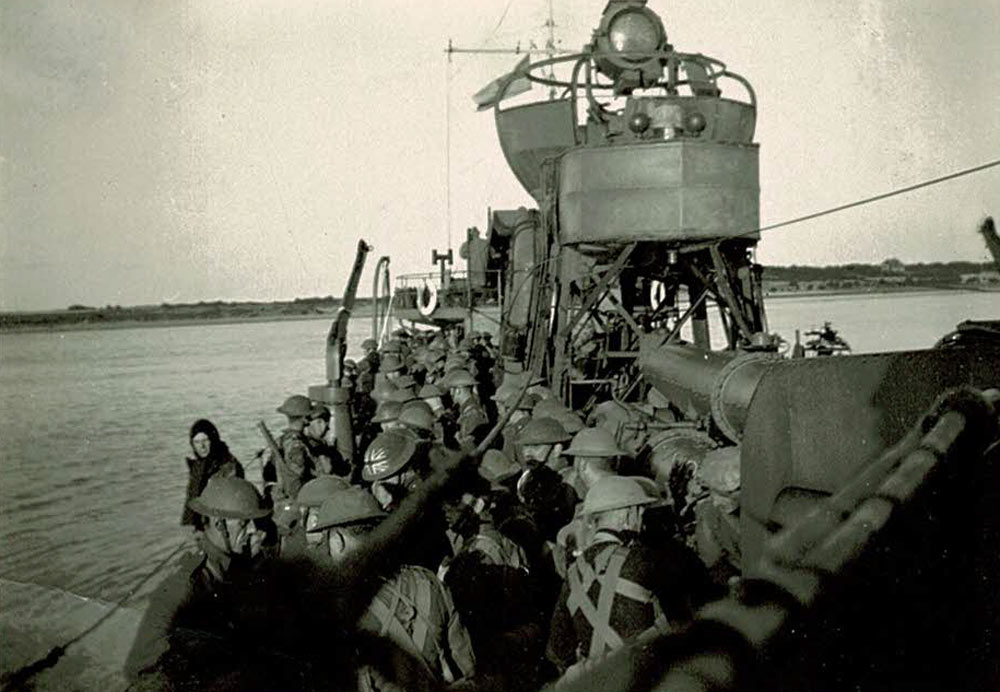 HMS
Verity
taking the "Guards" to the Hook of Holland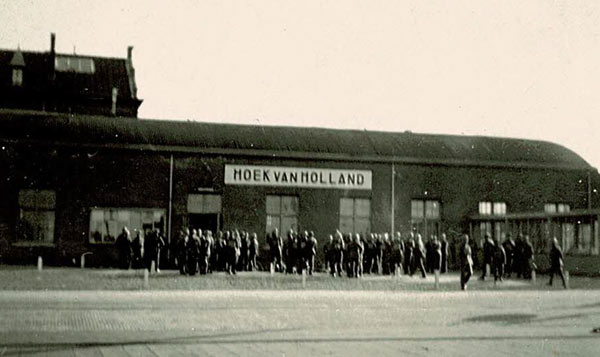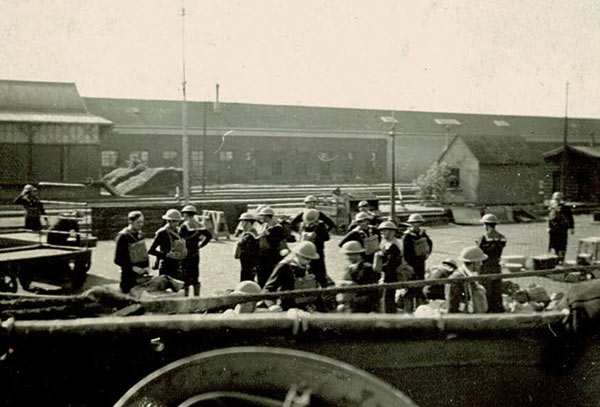 HMS

Verity

berthed alongside at Hook of Holland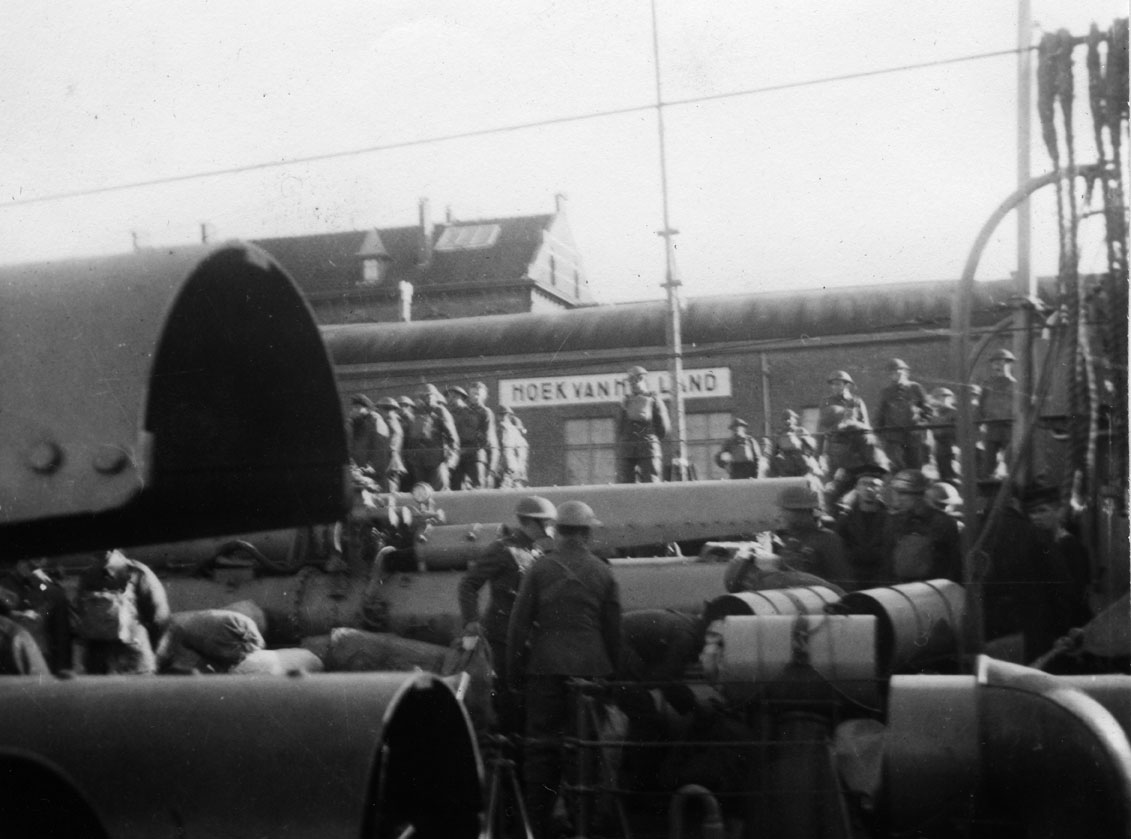 HMS

Venomous

berthed alongside

Verity

at the Hook of Holland while troops disembark

Photographed by Lt Peter Kershaw RNVR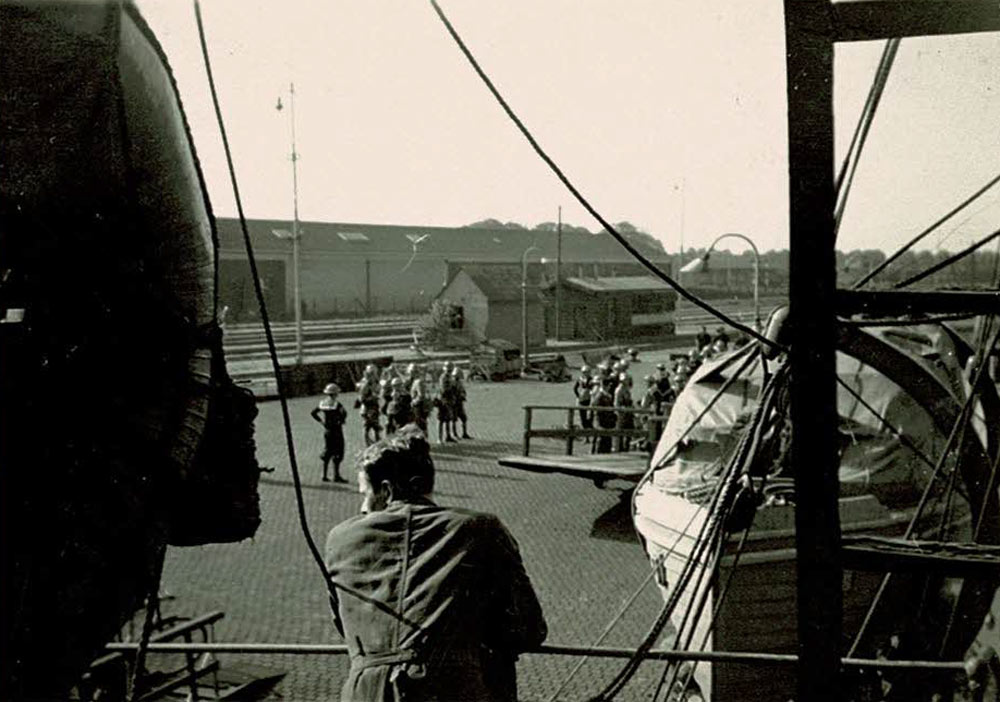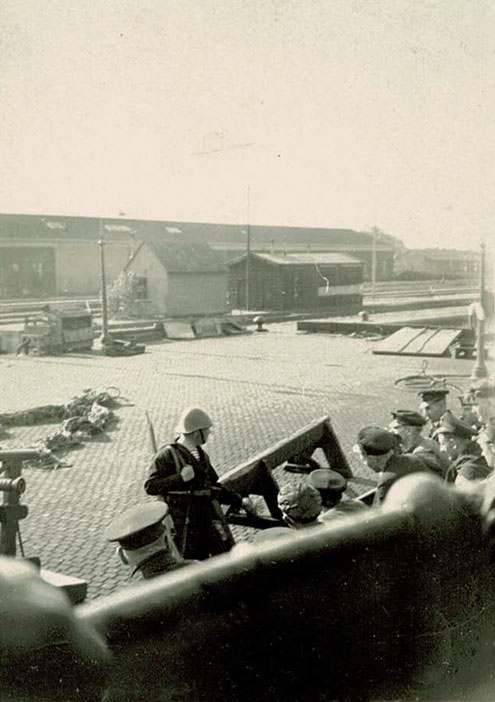 HMS

Verity

berthed alongside at the Hook of Holland with troops disembarked on the quayside
Taken from between a Carley float and one of the ship's two whalers
The Dutch Crown Princess and her family were embarked at Ijmuiden on the 12 May in HMS
Codrington
.
Queen Wilhelmina embarked at Hook of Holland in HMS
Hereward
on the 13 May and the Dutch Government, foreign legations, industrialists embarked in HMS
Windsor
and HMS
Vivien (?).

1940 16 May
HMS
Verity
relieved HMS
Whitshed
on the North Goodwin Patrol.



1940 23 May
The Welsh and Irish Guards had disembarked at Boulogne on 22 May to defend the harbour city blocking the advance of German forces eastward towards Calais and Dunkirk.
HMS

Verity

was the guardship at Boulogne on the night of 22-23 May.
She embarked General Brownrigg, the Adjutant General for the BEF with his staff, who had lost all radio communication with London and returned to Dover on

Verity

at 0450 to give his report
. It became clear that Boulogne was indefensible and the Welsh and Irish Guardss were evacuated from Boulogne on the 23 May by the seven V & W Class destroyers of the 19DF and HMS

Venomous

of the 16DF. HMS

Verity

left Dover for Calais the same day with General MacNaughton (Commanding Officer of the Canadian Division); the last reserves were to be thrown into the battle to defend Calais which Churchill decided must be held at all costs.


"In the next few days we were taking and bringing high ranking Army officers to Calais and Boulogne, running the gauntlet of bombs and shelling." George Cohen



1940 24 May


HMS

Verity

and the tug

Lady Brassey

were despatched from Dover to assist HMS

Burza,

which had been hit by two bombs forward, off Calais, but she made it back under her own power.



1940 25 May


Admiral Ramsay, expecting to receive orders to evacuate the troops, sent a force of minesweeping trawlers and drifters, under the protection of HMS

Verity

and HMS

Windsor

, to Calais.


Verity

entered Calais at 0050 hrs, under heavy fire from 6 inch howitzers, and landed 76 Royal Marines and stores. The force returned at dawn, in the absence of orders to evacuate the troops.



1940 26 May


Calais fell to the Germans.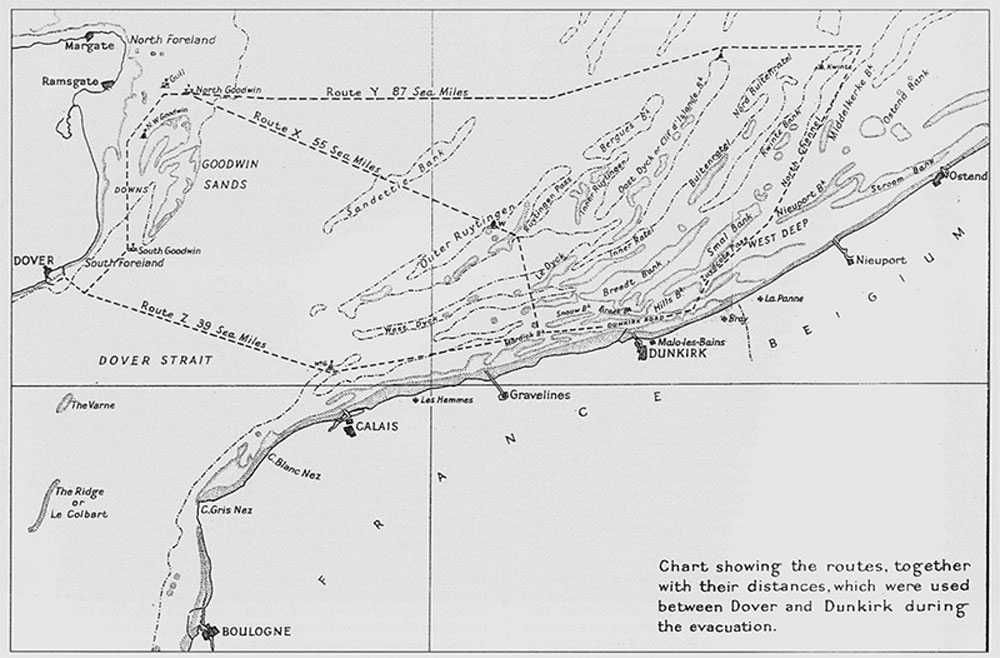 Routes to Dunkirk during the Evacuation



1940 27 May


At 0342 hrs, HMS

Verity

left Dover to escort the passenger ships

Biarritz

and

Archangel

to Dunkirk, but all three were damaged by shore battery fire from the French coast near Calais, when proceeding along Route Z.

Biarritz

and

Verity

suffered casualties which included the destroyer's Captain. The

Biarritz

turned back for Dover, but HMS

Verity

and the

Archangel

intended to try the Route Y, but then the latter reported she had insufficient fuel for the 174 mile round trip.


"My action station was Director Sight Setter but as every gun was being fired independently I had nothing to do. In one attack on us the blast threw up mud and water, and hurled us across the bridge. I looked at the skipper Lt. Cmdr Black and I could see he had been wounded, blood was filling his small wellingtons, and the Sub-Lt. had also been hit. I had to go down aft and get the First Lieutenant."
Admiral Sir James Somerville:


"I reached Dover at 6 am and at once took over from Admiral Ramsay in order that he might have some rest. Found that the German guns on the coast were in action as far as Gravelines and that

Verity

and a transport had been hit and had had to turn back. Thy had been endeavouring to get to Dunkirk by the Southern channel which passes within range of the guns in the vicinity of Calais. The officers from GHQ arrived during the afternoon and reported that the main body of the BEF were completeely cut off from Dunkirk and that we should be lucky if we got 25,000 men off altogether. In view of this information every small boat and craft of every description which had been arriving at Dover in response to urgent requests for boats were sent over at once to the beaches to bring off our men.

Heard that there was some trouble in the

Verity

which had had an exceedingly trying time for the last three weeks in addition to some casualties, including her Captain that morning. I went on board and addressed the men and managed to get them into a fairly cheerful frame of mind. Captain Tennant had been appointed as SNO Dunkirk and had sent a signal over to say that that in view of the bombing of the harbour there most of the evacuation would have to take place from the beaches."

The Somerville Papers
The Naval Records Society, Vol 134 (1995)

1940 28 May
"Then there was Dunkirk, a sight I have never forgotten. As we approached the coastline I thought I could see bushes, but as we got closer, we could see it was soldiers, all moving around. We got as close as we could, and lowered the motor-boat and whaler, and started to ferry Army personnel back to

Verity

. I had one turn in the whaler towed by the motor-boat. We did about three trips to the beach, returning to Dover each time, and two alongside the jetty at Dunkirk, being bombed by Stukas and machine gunned."



1940 29 May


HMS

Verity

entered Dover at 0615 hrs, with 315 troops on board. She landed them and returned to Dunkirk. HMS

Verity

, now commanded by Lt. E.L. Jones, entered Dunkirk in the afternoon.

Two big steamers,

Fenella

and

Crested Eagle

, were on the east side of the mole. Against its inside face were the destroyers HMS

Grenade

and HMS

Jaguar

, with six trawlers further inshore. Astern of these was the personnel ship

Canterbury

and further in were the destroyers HMS

Malcolm

, HMS

Verity

and HMS

Sabre

. The French destroyers

Mistral

and

Siroco

were at the guiding jetty and at the Quai Felix Faure was

Cyclone

. They made a perfect target and the searching Stukas split up into sections at once and plummeted down on the mass of shipping and men.



Fenella

was loading stretcher cases from the quay and had almost 700 men on board when she was hit by a bomb which passed through her deck, killing many soldiers. A second bomb hit the mole, to blow pieces of concrete through her side below the waterline and flood her engine room and wreck her pumps. She transferred her survivors to

Crested Eagle

. Two of the trawlers were also hit and disintegrated.

Canterbury

and HMS

Jaguar

were badly damaged but managed to struggle clear.

Mistral

had her superstructure smashed by blast and flying metal which caused heavy casualties. Completing the embarkation of survivors and crew from

Fenella

,

Crested Eagle

had just slipped her lines when she was also hit. Blazing furiously, she headed for the beach at Malo-les-Bains.

MV

Fenella

was one of eight Isle of Man ferries belonging to the Isle of Man Steam Packet Company which took part in the evacuation of troops from Dunkirk. Three of them –

Mona's Queen, King Orry

and

Fenella

– were lost within 24 hours on 29th May 1940. They could carry far more troops than the destroyers but their often elderly civilian officers and crew came close to cracking from the stress.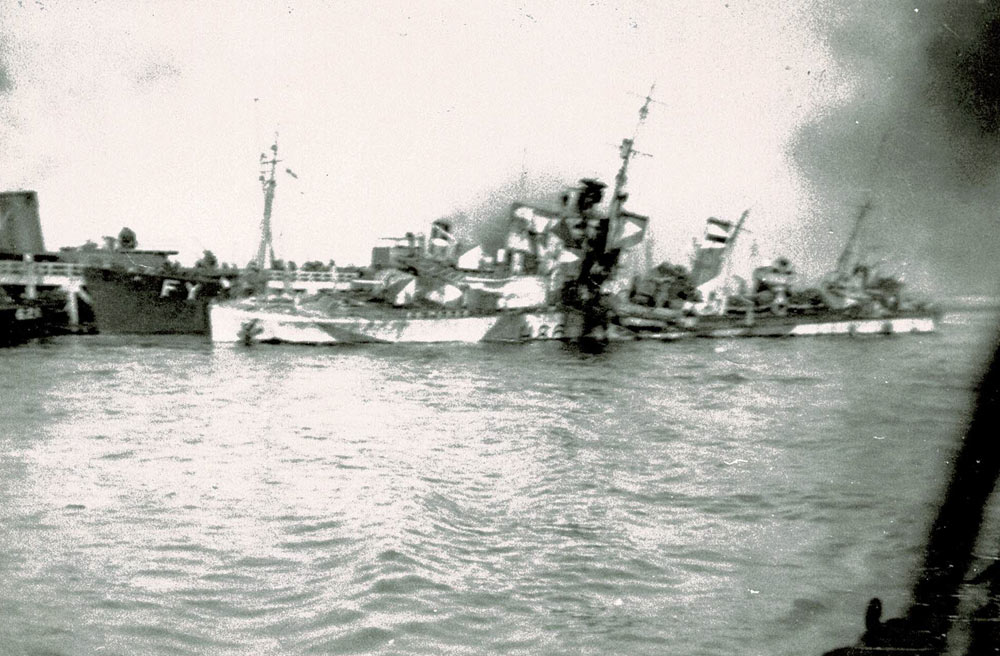 HMS
Grenade
(H86) at Dunkirk



At 1602 hrs


HMS

Grenade

(Cdr. C.R. Boyle), which was also alongside, received a direct hit. She was packed with troops and the carnage was terrible. Raging fires turned her into an inferno, and she drifted out of control in the harbour. Fortunately, a line was got aboard and she was towed clear of the harbour just as the flames reached her magazines, which exploded and she sank with few survivors. As HMS

Verity

cleared the harbour she hit the submerged wreck of a sunken drifter, but managed to get clear. She arrived at Dover at 0115 hrs on the 30th, and was ordered to remain there.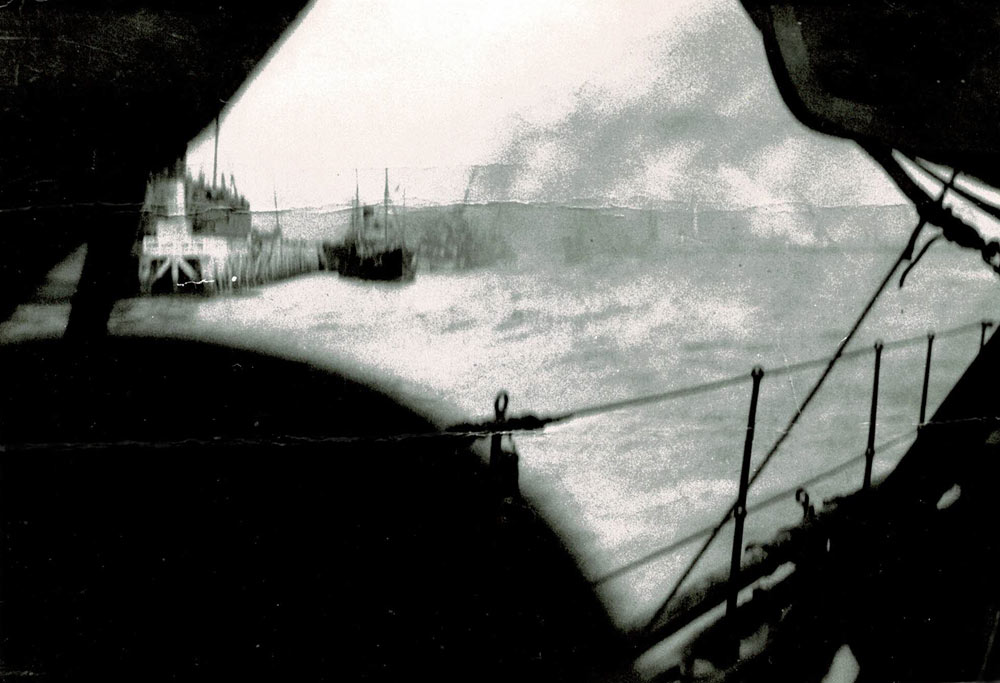 HMS

Verity

leaving Dunkirk - with HMS

Grenade

on fire and obscured by smoke - on the evening of 29 May






Fenella

on fire alongside the North Mole

George says:
"I collapsed with exhaustion, crying and shaking, and with two other crew members was sent to Gillingham Hospital, where I was kept in for a fortnight. For two days and nights I could not sleep, just shaking. I was never proud of that, but the Medical Officer said after a month of dive bombing, shelling and hardly any sleep, men were bound to crack. Ten other members of the crew jumped ship, but were caught by a patrol off another ship, put in cells for the night, and sent home the next day on sick leave. When I was fit enough I was sent home for 10 days sick leave."

Lt. Commander Arthur Ronald Mawson Black R.N., and Midshipman William Campbell Neill R.N.R., both of HMS

Verity

, were mentioned in dispatches for their part in the Dunkirk operations.

The evacuation of troops of the British Expeditionary Force at the Fall of France from Dunkirk and other French coastal locations across the Channel, while under heavy air attack from the Luftwaffe, was effected at heavy cost to the Navy. In a period of eight days 338,266 men were lifted in 848 craft of all types, some naval, most non-military. Almost all equipment and arms were left in France, but the rescued troops formed the basis of new armies which went back to France during 'Operation Overlord' in Normandy 1944.

Naval vessels played a large and vital role in the evacuation. More than fifty destroyers were engaged in the operation (Operation Dynamo) and nine of them were sunk and nineteen damaged. Destroyers lifted a total of 102,843 men.



1940 3 June


George officially left HMS

Verity

and joined HMS

Noneta

the next day but

a

ctually joined at the end of his period of hospitalisation and sick-leave.

HMS

Noneta

(N33) was built as a modern 49 gross ton steel hulled yacht for a private client in 1935 but was requisitioned by the Government in 1940 and formed part of the coastal defence force on the South coast, commanded by Sub. Lieut. A.J. Potter-Irwin. She was dispatched to Dunkirk, arriving on the first day of the evacuation and has an entry on The Association of Dunkirk Little ships (ADLS) website. After Dunkirk she arried out coastal patrols in the English Channel.


"I joined her at Hamble and we began by patrolling Southampton Water at night from dusk to dawn. Later we moved to Littlehampton and, after a couple of months, round to Newhaven. Whilst at Newhaven we patrolled the coast three miles off, between Brighton and Eastbourne, carrying out anti-invasion and mine spotting patrols. We had a very small crew consisting of Lieutenant Potter-Irwin R.N.V.R., C.P.O. Legg R.N. as coxswain, C.P.O. Hallett as Engineer, Leading Seaman Charles Brown R.N., A.Bs. M. Hardy R.N., and myself R.N.V.R.
The ships armament consisted of 2 Lewis guns, 3 mines on the stern, 2 depth charges, 3 rifles, one box of grenades, two rockets on the wheelhouse and the Lieutenant had a revolver. As our speed was only nine knots, if we had ever been forced to use the mines or depth charges we would have more likely sunk ourselves. The mines were tied together with rope, the idea being that they were pushed over the stern if we were chased by an E-boat. I stayed on her for about 18 months and I then applied to do an Anti-aircraft Gunnery Course."
In March 1997 George Cohen contacted Tony Cassar, the present owner of HMS

Noneta

in Malta and was invited to visit his former ship.
He presented Tony Cassar with a painting of her as she would have appeared in wartime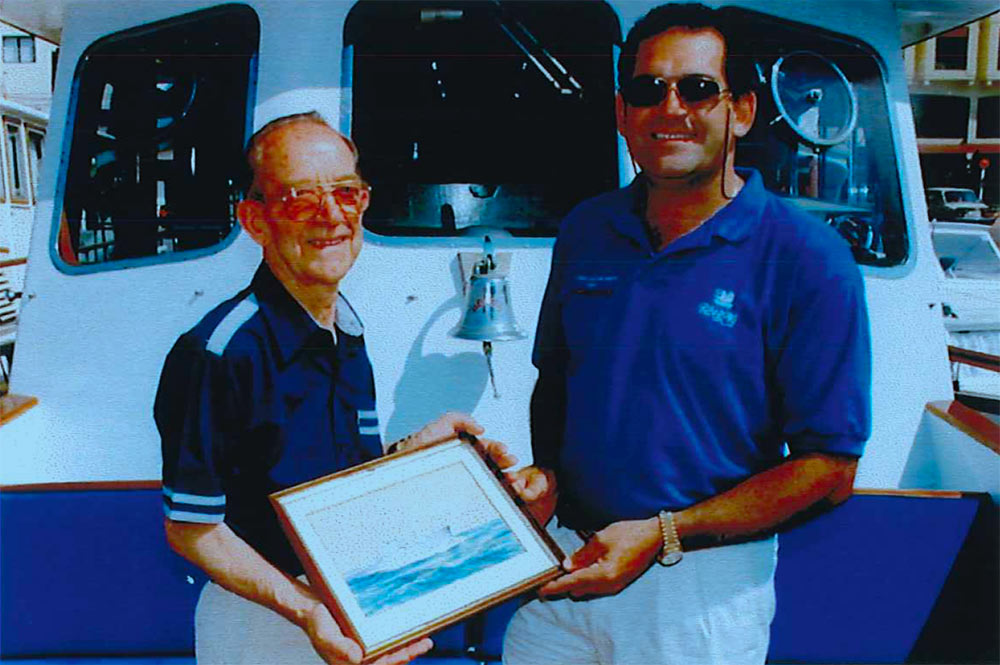 Officers in HMS

Verity
The entries in the Naval Lists for May, June and August 1940



Lt Cdr A.R.M. Black was relieved of command by


Lt Cdr R.H. Mills on 29 May but did not join

Verity

until later

HMS
Verity
had two Captains during Operation Dynamo. The first was Lt Cdr Arthur Ronald Mawson Black. After he was seriously wounded First Lt Eric Lister Jones took over, and Martin Mace provided the "Notes" he made (not a formal Report of Proceedings) in his edited collection of the RoPs of ther COs of the warships involved in the evacuation of the BEF from Dunkirk:


The Royal Navy at Dunkirk, Commanding Officers' Reports of British Warships in action during Operation Dynamo

; presented by Martin Mace
Frontline Books 2017, an imprint of Pen and Sword Books
ISBN 978-1-47388-672-8.
Lt Eric L. Jones
was appointed CO of HMS
Wrestler
on 28 September 1940 and on 25 October was awarded the DSC for his service in HMS
Verity
during Operation Dynamo.

HMS

Verity

ROP Monday 27th May 1940


HMS
Verity
at No 10 Buoy with steam at half an hour's notice.
0342
Left Dover, escorting
Biarritz
and
Archangel
to Dunkirk

NOTE:
Lt Jones spelled her name as Arkangel after the Russian port on the White Sea but the SS

Archangel

was a former LNER passenger ferry on the Harwich to Hook of Holland route which was requisitioned by the Admiralty and used as a troop carrier. She was bombed on 16 May 1941, beached near Aberdeen and abandoned as a total loss.

0520
Shore batteries around Oye Church opened fire on
Verity
and convoy. As convoy proceeded
Verity
zigzagged laying smoke and being continuously straddled with HE and SAP. Returned fire at 7000 yards.
0533
CO Lt Cdr Black severely wounded. Lt Jones assumed command. Convoy ordered to proceed to Dover, and VA Dover informed.
0558
Verity
ceased fire. Convoy in Channel
0600
Biarritz
damaged in Engine Room and had difficulty in keeping steam. VA Dover ordered to returned to Dover.
Archangel
reported all well.
Verity
sustained two direct hits with 4 inch SAP shell which penetrated the after boiler room causing minor damage. Little damage was caused by HE Shell.
0608
VA Dover ordered
Verity
and
Archangel
to return to Dunkirk.
0655
Man overboard. Whaler launched.
0700
Man recovered.
0748
Observed Hospital Ship and small vessels being shelled from French coast. Due to heavy firing and ammunition exhausted, and slow convoy speed of 15 knots considered it advisable to use north route to Dunkirk.
0845
Archangel
reported she had insufficient fuel for round trip.
Verity
and
Archangel
returned to Dover.
Verity
had damage to after Boiler Room, fan intake casings port and starboard and escape hatch torn and holed. Deck between casings holed so unable to keep up boiler room pressure. Voice pipes to after guns and torpedo tubes damaged.
It was considered that the conduct of the Ship's Company had been highly commendable. All guns and instruments had functioned correctly.
Some records state that Lt Cdr Robert Henry Mills RN assumed command of HMS Verity on 29 May 1940 but examination of the ship's Dunkirk account suggests that the remainder of the text was also written by Lieutenant E L Jones.
Report of Proceedings of HMS
Verity

from 1345 27th May to 0130 30th May
The morale of the Ship's Company had been undermined by the shelling from shore batteries and aerial bombing during the last few days: it is considered that this was aggravated by long hours and lack of sleep. This situation came to a climax during the first Dog, when one rating attempted to commit suicide. This incident caused a marked increase in the men's uneasiness. Shortly afterwards a report was made by the Leading Seamen that the ship's company were considering breaking out of the ship.
I reported this state of affairs to VA Dover. Vice Admiral Somerville returned to the ship with me and addressed the ship's company.
I was then informed that
Verity
would not be required until AM Tuesday 28th, endeavouring to allow the men a night's rest. This news when broadcast greatly relieved the men.
"In the book the narrative continues without break to the end, I have split it so that each part relates to the foregoing chronological record;" Frank Donald.
28th May

1330
Proceeded to Dunkirk via the northern route at 28 knots. Off Dyke buoy joined

Greyhound

and

Impulsive

. Occasional enemy aircraft were fired at during the voyage.
1705
Anchored off Bray. Lowered boats to embark BEF. Occasional bombing raids during the night.
29th May
0148
Weighed with about 40 troops including 30 stretcher cases and wounded men, and proceeded to Dover.
0602
Arrived Dover and disembarked troops.
1145
Oiled.
1415
Proceeded to Dunkirk via Route "Y" at 28 knots.
1700 approx
Passed Dunkirk Harbour and received orders from SNO Dunkirk to proceed into Dunkirk.
1720
Went alongside East Mole Pier ahead of
Grenade
and Trawlers.
1725
Heavy Dive Bombing on pier and ships.
1745
One trawler hit,
Grenade
hit forward and commenced sinking.
Verity
continuously straddled for 35 minutes.
1800
Slipped and turned ship in the channel. On clearing trawlers and
Grenade
it was considered that
Verity
touched forward.
1805
Cleared entrance and proceeded to Bray.
1820
Off Bray in company with
Sabre
and
Saladin
, being bombed.
Saladin
ahead being hit,
1840
A Paddle Trooper was observed on fire, endeavouring to Beach. Instructed Trooper to stop and let
Verity
get alongside and embark her troops. This was not possible as she could not stop.
1845
Embarked 20 BEF and remained under way in the channel,
1850
Dunkirk and Bray under heavy bombing, during which time
Verity
especially was under constant bombing and machine gun fire.
1910
Embarked 20 more BEF.
2010
Bombing ceased, and as ammunition was expended, no embarkation boats were available, and the ship's whaler was holed,
Verity
proceeded towards Dunkirk. AS Dunkirk was again heavily bombed I followed
Sabre
out of Dunkirk Roads to Dover.
30th May
0130
Secured alongside
Express
at Admiralty Pier, disembarked troops
During the embarkation of the BEF troops off Bray the Ship's Company greatly assisted and worked hard in comforting the wounded and feeding the troops. Again on 29th May the men showed determination in repelling the dive-bomb aircraft, and seemed in good fettle on the return journey.
On Thursday 30th May, when
Verity
had secured alongside in the Submarine Basin, members of the ship's company broke out of the ship, of these three were detained at the Dockyard gate and three returned AM Friday 31st. Six men are still absent. The men who had returned, on being interrogated, stated that their nerves had given way, and they could not "stand it". Verity was then ordered to stay in Harbour.
It is considered that this situation was caused by lack of rest, and the fact that our "Chummy ships" of the Dover Patrol had been damaged by enemy action causing casualties, and then steadily growing belief that
Verity
's turn was certain to come. The final effect being the attempt of suicide in the Mess Deck, and later this was increased by one rating developing shell shock.
I wish to emphasize the devotion to Duty of Chief ERA Hill and S.B Whitter during these operations off Dunkirk.
The beautiful 1938-built SS

Strathallan

a large twin-screw six-turbine passenger liner owned by the P & O Company of London, built for the service to Australia via Bombay, India, was serving as a troopship in 1942.
At 02:23 hours (Central European Time) on the morning of 21st December 1942, carrying 4,600 troops and nurses on board, and a crew of 430, the vessel was in a position North of Oran, off the Algerian Coast of North Africa, when she was attacked and torpedoed by the German submarine U-562. The torpedo struck the British vessel at 02:31 hours.
According to the log of the U-Boat Commander, two hits were heard and it was believed that the vessel may also have been under attack from enemy aircraft and suffered a hit from an airborne torpedo. Although badly damaged, the vessel was considered salvageable and taken in tow. However, the following day, 22nd December 1942, a fire broke out and she subsequently capsized and sank in position 36' 52" North, 00' 34" West.

The order was given to the 4,408 British and American troops and 248 Queen Alexandra's nurses to abandon ship in calm seas, which they did in the four motor boats, 16 lifeboats and rafts. A rescue mission was launched with soldiers transferred to destroyers, including HMS

Verity.

Events are described by one of the troops, Jim Gormley, and by "Bonehead", S/M Bone from Sidcup, a member of he V & W Destroyer Association who served in HMS

Verity.

Further accounts of the loss of SS Strathalan are given on the website of the P & O Company.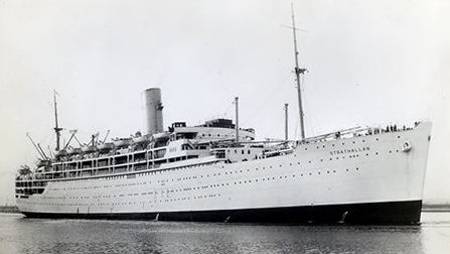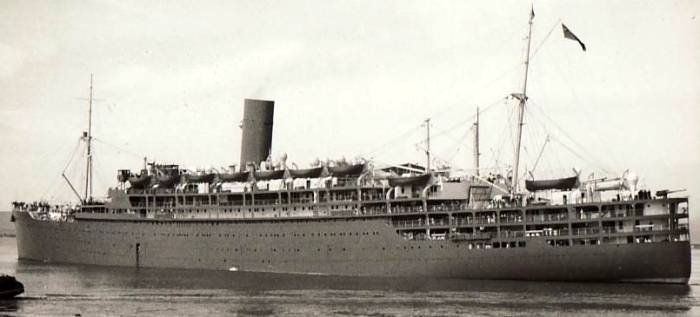 SS
Strathallan
: P & O liner on left and and wartime troop carrier on right
The Convoy from the Clyde
"The Firth of Clyde was packed with dozens of ships in all shapes and sizes. There were warships, destroyers, corvettes, minesweepers, cruisers and troopships. Merchantmen included oil tankers and cargo liners carrying tanks, guns and supplies in abundance. It was a magnificent sight. My regiment was ordered to embark on SS Strathallan a former passenger liner of the P&O Shipping Company that had been converted into a troopship. It was enormous with "umpteen decks". It appeared to me that every regiment in the British Army was onboard. I could not say how many soldiers were on the ship but it ran into thousands".
"We were sent to "G" Deck well below the water line. There must have been ...A...B...C...D...E...F decks above us and there was some below us. I slung my hammock next to a watertight door (WTD), which led to the engine room, which gives an idea how far we were in the bowels of the ship. We were packed like sardines. Bulkheads had been removed to make open spaces to get more troops in. There were rows and rows of tables and benches of the very basic type. Each table had 24 soldiers. We had to eat, sleep and have recreation in that area. We had a duty roster to get up on deck for fresh air and exercise". Continued Jim "It was not unlike HMS Victory now a museum at Portsmouth Royal Dockyard. On Lord Nelson's Flagship sailors slept and dined between the cannons on gun decks".
On the 12th December the mighty armada of ships slipped into the Irish Sea bound for North Africa. SS Strathallan was the largest ship in the convoy and became the Flagship with the Commodore of the Fleet onboard in overall command.
From the first day, inclement weather set in with winds reaching gale force. It was a godsend in one way that submarines could not operate in such weather allowing the convoy to reach the Straits of Gibraltar without loss. Jim takes up the story of that unforgettable 11 days until the Mediterranean Sea was reached.
"It was like being at a Rangers and Celtic match on cup final day. We were shoulder to shoulder above and below decks. The humidity and smell was appalling. We were ordered to remain in our uniforms at all times in case of emergency even as we slept but the heat was such dozens of the troops disobeyed the order. I kept my uniform on at all times. I was a bit of a rebel and didn't like to follow the leader". As we will see the order was a very sound one. "Mealtimes were an ordeal. We had a duty roster of bringing meals in 24 canisters from the galleys to the table. Each man had his 'Dixie' and a fork knife and spoon. They were like diamonds. Woe betides if they were lost. The 'Dixie' was a metal container, which had two parts that closed together. One half was for main course the other soup or desert when we got it of course. Improvisation was the then buzzword".
"We would queue for an hour at a time all-staggering against each other as the ship pitched and rolled. Carrying back the 24 canisters to the table was a nightmare. Most of the troops were seasick with decks covered in vomit. We were slipping, sliding, sometimes falling with the canisters going in all directions. I was never sick and proving that every cloud has a silver lining, there was always extra food available, as many never ate for days. The weather never let up until, reaching a crescendo as we crossed the Bay of Biscay, sometimes the ship going into 45% angled rolls. It was a nightmare voyage. As we sailed into the Mediterranean Sea at last the weather abated. We were all delighted but many realised bad weather was their saviour as events were to prove."
Torpedoed!
"I was in my hammock trying to sleep against the loud noise of the engines thundering away. It was exactly 1.30 am in the early morning. Lights remained on all the time although they were dim. A clock was fitted on a bulkhead perhaps electronically controlled from the engine room. I heard an enormous explosion as a torpedo hit the ship. As I discovered later two torpedoes were fired one hitting the other missing. The Strathallan gave an almighty shudder and all the lights remained out for a considerable period while soldiers tried to climb the stairs in darkness. Mercifully emergency lighting came on although it was very dim. It was sheer havoc. Everyone was pressing forward towards the companionways with an element of crushing. The ship began to tilt to port, water was coming and eventually reached my waist. I thought we were going to drown. Water was coming in and I was in the centre of a mass of bodies finding difficulty in breathing. To this day I suffer from claustrophobia because of that experience. I have been on a ship many times since but never will I go below decks".

"We were just like rats trapped in a sewer unable to move. Slowly but surely, seemingly like a lifetime, troops managed to get up the stairwells. They met others from different decks that were trying to escape. It became a gigantic bottleneck with movement in centimeters to remaining stationery for long periods of time. The situation was exacerbated by the shouts and cries of hundreds of panic stricken and frightened men".
Jim cannot recall exactly the amount of time it took him to reach the upper deck from the moment of torpedo impact but it seemed a lifetime. "We have all heard of hell" said Jim "We can only wonder what it is like, I discovered my private hell as an anti-tank gunner many times under enemy fire of machine guns, shelling and especially mortar fire...but none of it compared to being below decks on the Strathallan. At least on dry land I had the sky above me and not waiting for a slow death expecting the ship to sink at any time".
(For info) Jim thought the bows were below water but they weren't. The ship was listing heavily and this probably gave him that impression.
Finally Jim reached the upper deck where pandemonium existed.

Strathallan

was listing heavily with the bows below the water, giving the appearance of sinking at any moment.
"It was still early morning but there was ample light. We don't get completely blackout nights in the Mediterranean closer to the equator. The decks were at an angle. I was surrounded by hundreds of soldiers. Dozens upon dozens in front of my eyes were jumping and diving into the sea. It was like a mass hysteria. Many were in underwear without lifebelts. I could see hundreds upon hundreds of heads in the sea. The air was full of cries for help. People were throwing life rafts into the sea. Some were landing on the heads of the hapless soldiers in the water. One thing saved my life. I couldn't swim. I thought the Strathallan was sinking but I had more fear of the water than remaining on a stricken ship."
Amazingly, SS

Strathallan

did not sink. It was at a crazy angle and low in the water but somehow watertight doors must have prevented the water spreading, allowing sufficient buoyancy keeping the liner afloat. The countless soldiers who leapt into the water and drowned as a result would have been saved if they had stayed put.
Jim remembers a Royal Navy Corvette either named HMS

Panther

or HMS

Tiger

coming out of the gloom while hundreds were in the water. An officer on the bridge was shouting through a loud hailer:


"Keep away from this ship we cannot pick you up we are searching for the submarine Keep away from this ship" Jim was eventually rescued by jumping on a mattress onto a warship alongside from a great height.
The

Strathallan

was taken in tow by Naval Tug HMS

Restive

attempting to reach Algiers but she capsized the following day 22nd December 1942.
Bonehead's Story
HMS

Verity

rescued 1,007 survivors


After about eighteen months of Atlantic convoys, using Halifax, Nova Scotia, Boston. Massachusetts, St Johns Newfoundland as our bases

Verity

was ordered to take part in the North African invasion, so that brought us to the Mediterranean where we did a spell with 'H' Force.
Of course, during this time we were involved with other activities, the most memorable being when we were part of the escort of a convoy which included the troopship SS
Strathallan.
This ship was making its way to Oran, loaded with supplies and transporting nurses and their medical equipment together with army and RAF Personnel. They were destined to join up with the First Army who were in North Africa.
We were ordered to leave the convoy but why, or where we were heading for is unknown to me. Some time later we were ordered to return to the convoy as the SS
Strathallen
was in trouble.
I had the morning watch and when I went to the mess to grab a cup of tea, it was piped over the ship "Stand by to pick up survivors". So I gulped my tea down and hurried to the upper deck.
Arriving on the upper deck there was room for me on the starboard side scrambling net. Being left handed was an asset as I could hold on with my right hand and with my left, help the survivors out of the water. The Captain could not of course, delay the safe passage of the ship, so we were only able to pick up a few men and women. This procedure went on all day long during which time we managed to pick up 1,007 survivors. So many in fact that the ship was 'listing' so we had to move them around to remedy this.
It was getting dusk by the time we reached Oran where we landed these survivors, who 'fell in' on the jetty in their respective groups. Amongst these survivors were many nurses as well as Army and RAF Personnel.
The order came to 'Clean Ship' before we set sail, no one knew where to. We finally realised when we arrived in Iceland! This was Christmas Day 1942 as we tied up alongside HMS
Renown.
We then had 'Big Eats'
S/M Bone (From the neck up!)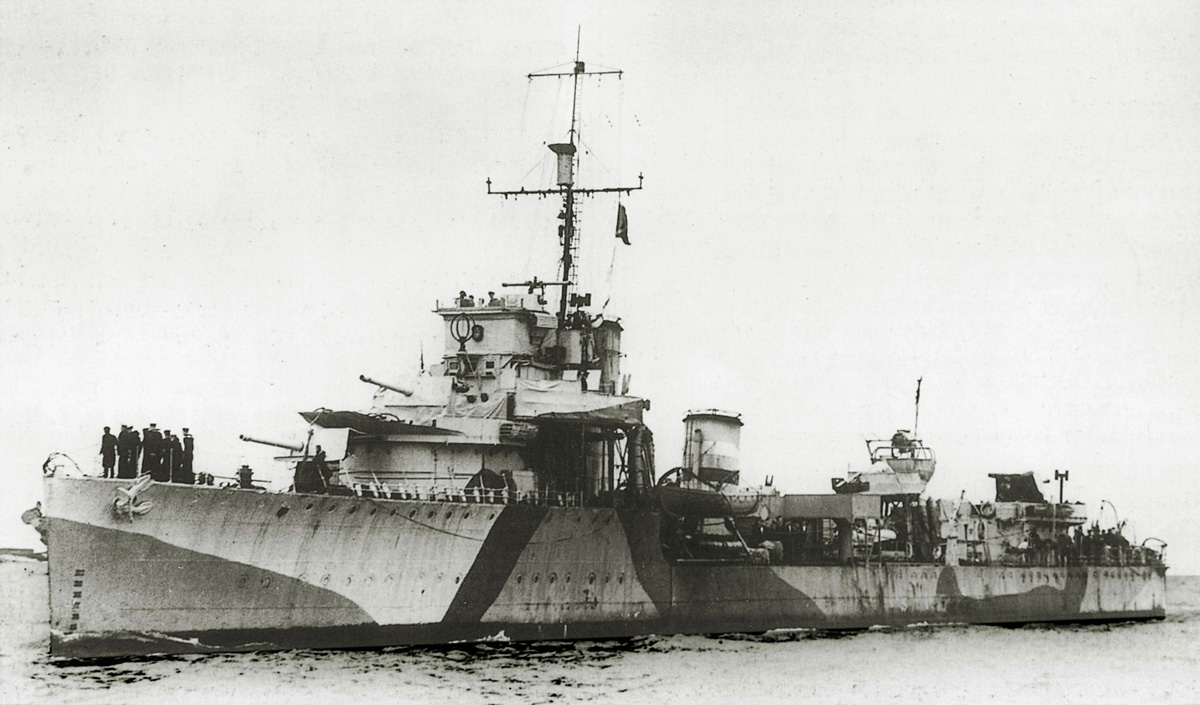 If you have stories or photographs of HMS
Verity
you would like to contribute to the web site please contact

Frank Donald
---
Return to the Home Page of the V & W Destroyer Association
Return to the Index Page for the 69 V & W Class Destroyers
---